Seriously: The Best Places to Eat in Moscow Right Now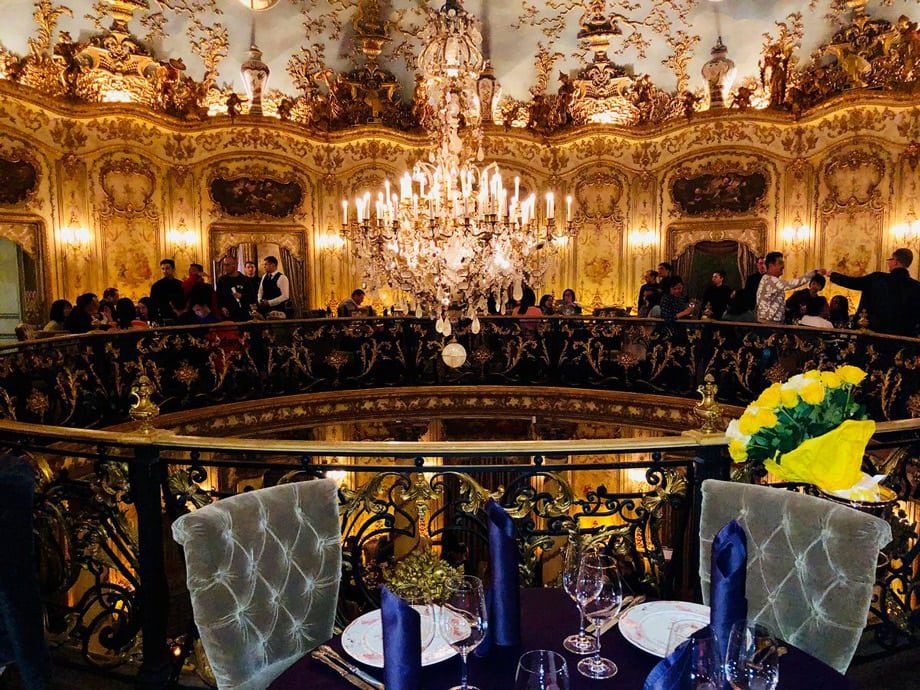 For a lifetime it seems, Moscow wasn't known as a destination for culinary delights or fine restaurants. I can tell you first hand that this stigma has changed. The marriage of visionary restaurateurs and innovative chefs is pushing the culinary scene to new heights and the truth is that restaurants have now been improving for nearly a decade.
You don't need to be an oligarch and go out for caviar, vodka and Champagne in Red Square to have a good time or a fine meal. You don't even need to read Russian anymore to order. The prices are reasonable and 2018 World Cup brought in English-language menus to make it easier for visitors to order. Sounds like the perfect recipe for culinary splurging.
So move over France, Italy and Poland (yes, Poland) and get a taste for Russia, one of the most surprising food destinations on Earth. Do it before the world catches on. Here is my curated collection of the best restaurants and beloved choices from a non-stop week of consumption around Moscow.
Gorynych is the big hot spot everyone was buzzing about during the Moscow City Days. (Trust me, that's a big buzz considering three million people attended the festivities over those two days).  Named after the Russian Zmei, a mythical three-headed dragon, Gorynich is the creation of Boris Zarkov, Vladimir Mukhin, and Ilya Tutenkov. The troika created this bakery, grill, and bar as an open space where diners can see firsthand how every dish is made. There are open ovens with exposed flames that create an open kitchen environment were they make "new Russian cuisine' (traditional dishes with a twist) in a relaxed, stylist chic setting. It's a picture-perfect spot for a dinner out with a date, friends, or for business. As a matter of fact you could spend an hour walking up and down the prep lines taking photos of the dishes up close. The staff is friendly and willing to tell you about each one. 
There's equal footing for the meat lovers—dry-aged striploin on the bone, pizza enthusiasts—burrata and truffle, anyone?, pescatarians—scallops with hummus, and the vegetarian crowd—truffle fries, rich pumpkin soup, and artichoke aioli. And these are just the start of the choices on a robust four-page menu. Don't forget the baked apples for dessert and the gluten-free bread that will leave you looking room in your luggage to bring back home.
For the 24-hour traveler, there's no better place to dine than the Café Pushkin. Open round the clock, the Pushkin's "old aristocratic mansion" carries you back in time, circa the 1820s. Named after Romantic Era Russian poet, playwright, and novelist Alexander Pushkin, the cuisine is as traditional as his legacy. Locals will say that you come for the espresso and you stay for the food. One can argue that the Pushkin has the most delicious pelmeni (stuffed dumplings made in Russian style).
Serving up the classics like borscht, Salade Olivier, pelmeni (stuffed dumplings) boiled sturgeon, salmon caviar with millet, honey cake, and blinchiki (Russian crepes), this is the spot to go for an elegant, straightforward dining experience.
Andrei Makhov has been the head chef since the doors opened in 1999 and starts every day with a simple mantra, "'Chef that's a profession, not a position!' It's not just my credo, I'm deeply convinced in this. You cannot automatically perform a set of tasks, follow the algorithm without emotions and constant concerns, take on trust the frames set by someone else. I am against 'deafness' in all aspects, and above all, heart 'deafness'. I feel flavor with my nose and texture and shapes with my hands, and I do certainly analyze. That's the way the best recipes are born and new tastes are discovered. That's the way how real chefs grow up."
The Pushkin truly understands service and it shows. The staff speaks beautiful, pre-Sovietized Russian (not that non-Muscovites would ever know) and their English is excellent as well. You're treated as if you were an aristocrat who's there to meet with the Tsar and they are on the ready with a vodka recommendation (or an espresso).
Restaurant Matryoshka
➤Kutuzovski Avenue, 2/1, Building 6, Moscow 121248, Russia
☎+7 495 025-25-65
Website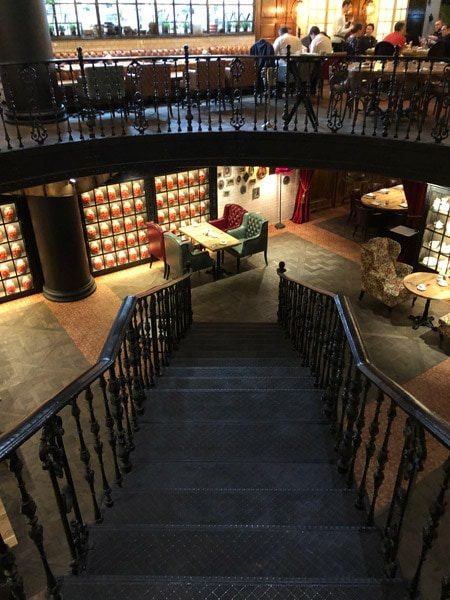 Restaurant Matryoshka
➤Kutuzovski Avenue, 2/1, Building 6, Moscow 121248, Russia
☎+7 495 025-25-65
Website
I didn't know what to expect as we rolled along the streets paralleling the Moscow River en route to one of the new additions to Maison Dellos' collection of fashionable eateries. And when we arrived to the embankment in the shadow of the Radisson Collection Hotel I still didn't know what to expect, but when we entered Congress Park complex I didn't want to leave.
Occupying two floors, the interior design of the Matryoshka is inspired by Flapper Era New Your City were the industrial palaces once thrived. The entry floor mingles contemporary essentials—overhead manufacturing ventilators, an open kitchen—with high-end dining lounge chairs, potted plants, wooden panel tables, along with potted plants. On the lower lever, a custom cast-iron staircase leads you to the vintage room with leather sofas, antique lighting and vintage-style artwork set against caged racks of pickled tomatoes.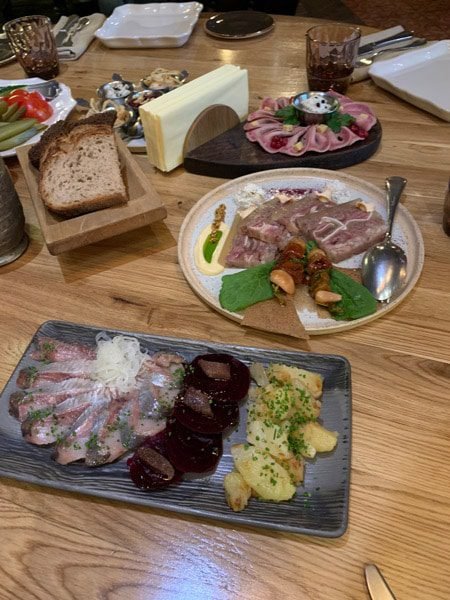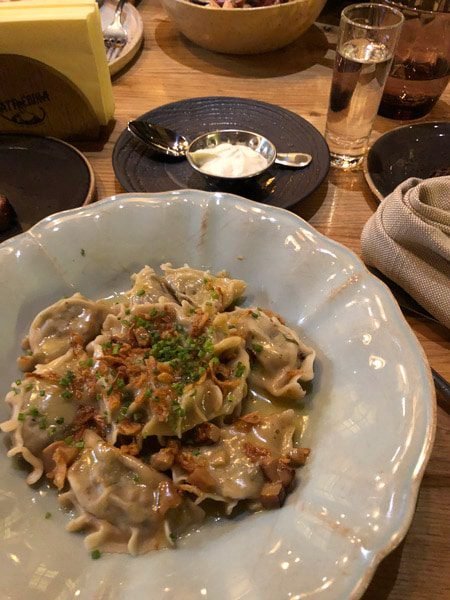 But enough about the décor, because the food and drink are why we all go out to eat. Matryoshka's reinterpreted Russian cuisine masters this tricky culinary fusion perfectly. First they take the finest ingredients from every corner of Russia and then they put them into 19th and 20th century recipes to conjure something special. Ingredients like salmon from Murmansk, wild white salmon from Yakutia, cloudberries from Arkhangelsk, Altai honey, Zander from the Volga River, black nuts from the Caucasus, and on it goes. Local Russian goods with traditional Russian cuisine, this combination can't be beat.
This is the spot where I feel in love with Russian dumplings. Something I never knew about before Matryoshka. With six choices you can't go wrong: cherry, potatoes and mushrooms, halibut with fist soup, Sakalin scallops, beef, and lamb. If I had associated these delights with Russian cuisine I would have sought them out in the many great places in Los Angeles. Other delights you shouldn't miss are the pumpkin pirozhki (small pies), the thin Russian pancakes, the plum-sauced veal cheeks, and the vologda ice cream with red billberry.
The other thing that will keep you there are the wine and spirits. GQ magazine lists Denis Kryazhev, the mixologist, as one of the best in Russia and he has the CV to back it up as the winner of Diageo Reserve World Class 2012 and Bartender of the Year 2013. There are literally hundreds of choices, including some rare vintages from the northern regions of Russia. The bar itself is a conversation point having been recovered from a French pharmacy.
Shinok is a term created during the Bolshevik Revolution for a comfy Ukrainian tavern where you could take a quick respite in safety. Everyone in Moscow seems to know Shinok, now a symbolic slice of Ukraine in the heart of the financial district. It stands as one of the city's seminal restaurants and always had a certain je ne sais quoi attracting statesmen, presidents, movies stars, and even the Rolling Stones.
Here, Ukrainian delicacies are prepared in accordance with age-old traditions. But what I liked the most about Shinok is that it combines all of the best things of Russian cuisine—innovative culinary methodology and classic national cuisine—and serves them up in a modern setting that still loyal to its roots. They brought in a theatre lighting specialist to create an exclusive atmosphere in the restaurant with distinctive lighting arrangements that vary depending on the time of day. Out back, there a vintage-styled courtyard with a roomy atrium that allows you to dine under the shade of the trees (particularly a delight in the warmer times of the year).
The friendly and knowledgeable provided a welcoming docent tour of the menu, offering an assortment of sharable starters including forshmak (herring with green apple and egg), veriniki (Ukrainian blintzes), gherkins (a pickled cucumber type of vegetable) and an amazing selection of breads with generous hand-churned butter. I avoided the lard platter but the table next to us gobbled it all up and ordered more (this one seemed for the bold only, for sure). I ordered the Chicken Kiev (obviously) and it was a delight and cooked in such a way that I could imagine my great grandparents in 1880s Odessa enjoying it by kerosene lamp.
Turandot is not your average restaurant. If you replace the tables with stadium seating and added a stage, it could be a high-end opera house. If it had bedrooms, it could be a Tsarist palace. They took the baroque, classicism, and renaissance styles and made them uniquely Turandot. A team of woodworkers, sculptors, and painters worked around the clock for six years to create the Turandot look—real paintings, murals, bejeweled porcelain vases, ornate wall and ceiling moldings, hand-painted furniture, ornate tapestries, antique clocks and fireplaces, along with a masterpiece of a chandelier immerse you while you dine. Every evening live classical music (violoncello, harp, violin) warms your palate to the incredible Pan Asian tastes that await you.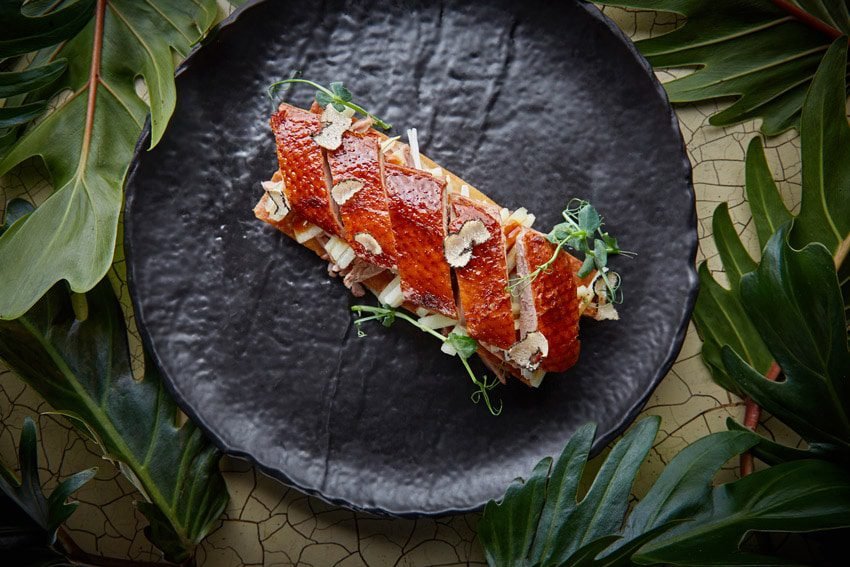 The no limit" principal of cuisine ensures one of the finest meals around.
This is as dashing as dining gets and Turandot's chef, Dmitry Eremeev, ensures that the food  (impossible as it sounds) outdistances the décor. His "no limit" principal of cuisine crafting makes that possible. Try the unrestrained wasabi shrimp and the black caviar sushi rolls as a starter or one of the many vegetarian options like the homemade baked cabbage pies. If you're into experiments, try the assorted dim sum "Turandot" with the best ingredients from around the world. For your main course, may I recommend the crispy chicken with two sauces (picture-perfect skin and immaculate white meat) or the Japanese-marbled Kobe meat (melts in your mouth)? Whatever you choose, trust me, you won't regret it.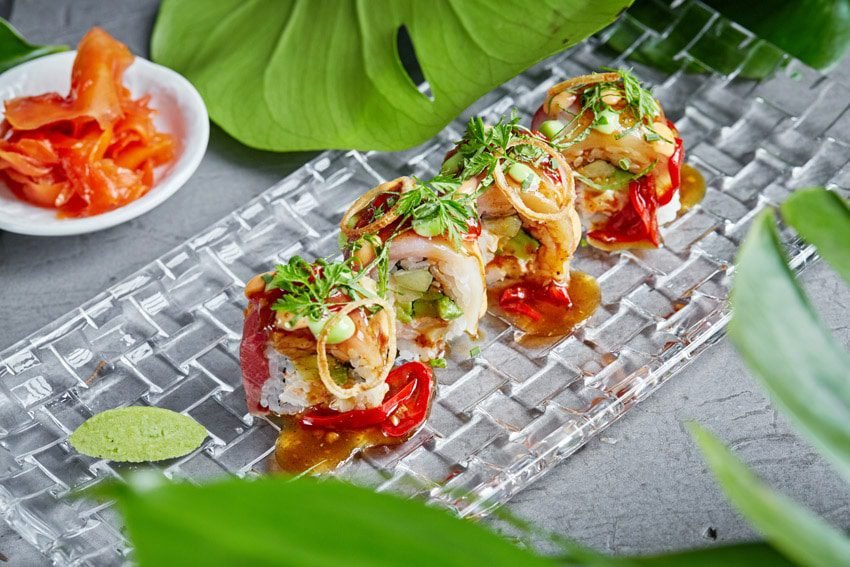 If you're even reasonable close to Russia, Turandot should top your dining list. It's worth a visit to Moscow all by itself.
Easily the most enjoyable evening in a 10-day Moscow run was a night in the former at Kazbek. The minute you step inside, you feel transported to emblematic apartment inside the Soviet republic of Georgia. You're greeted warmly at door with an envelope that holds the menu and friendly conversation as you are shown to your table. The staff is dressed in old spirit traditional Georgian clothing. Eclectic family pictures hang over old world wallpaper; hand-made carpets partially cover the coarse wooden floors; and ethnic jars and ceramic plates add to the setting. What awaits you is a Georgian family feast you aren't soon to forget.
Old wood stoves bake the incredible bread and the traditional-recipe khachapuri (traditional Georgian flatbread with cheese). And, whatever you do, don't call it pizza (it's a slice of heaven you can't get from the traditional cheese on dough places you find in the United States). Try the classics like the pkhali—my favorites being the beet leaves or the spinach with herbs walnuts, and the vast Georgia cheese platter. If you're adventurous, garlic-dressed lobio, a dish comprised of beans and countless herbs. The odzhahuri with lamb is exceptionally good, as is the Ostri (beef in tomato sauce). The highlight of the meal was the hinkali (dumplings with broth and mutton), which came with a special tutorial from our waiter. They have a bunched handle where they are tied off during prep. You pick up the dumpling with your fingers, bite the side of it and suck the scrumptious juices from it before devouring the rest of it. It's almost a meal by itself.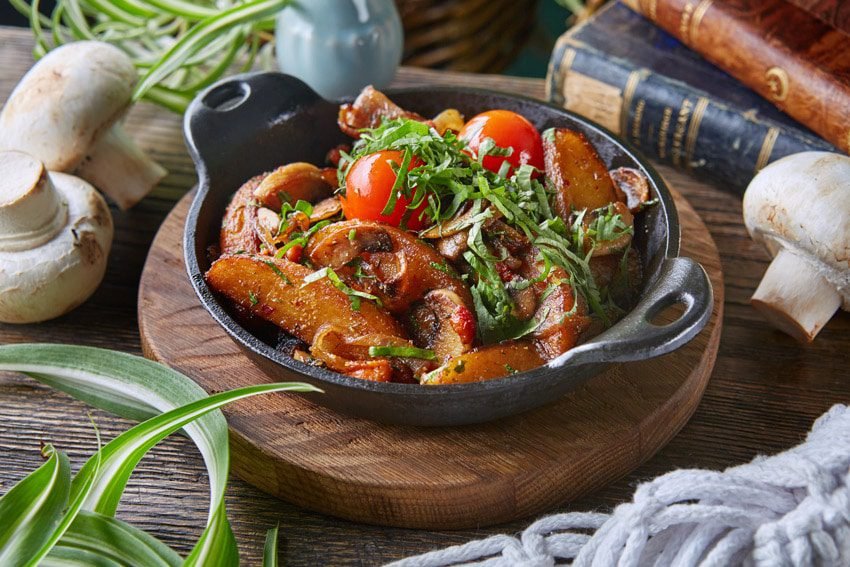 The odzhahuri with lamb is exceptionally good.
Try the fruity Georgian red wine if you like, but if you want to get into the right frame of mind pair your meal with several shots of the Chacha. a clear pomace brandy that's typically 80 proof or more. Simply order the "Georgian vodka" and the staff will know you understand the ways of the Caucasian Mountains.
If you want to sneak in traditional Middle Eastern breakfast while in Moscow, then Taksim is your place. Scrumptious olives, mixed cheeses, friend eggs with soujuk (or simply tomatoes), Tulum cheese, and flatbreads with decadent jams await you there.  For lunch or dinner, the standouts are kefta kebab (which are accompanied perfectly with spinach and mashed potatoes), luscious lak bajun (Middle Eastern pizza), and their traditional pastry with eggplant.
If you want to sneak in traditional Middle Eastern breakfast while in Moscow, then Taksim is your place. Scrumptious olives, mixed cheeses, friend eggs with soujuk (or simply tomatoes), Tulum cheese, and flatbreads with decadent jams await you there.  For lunch or dinner, the standouts are kefta kebab (which are accompanied perfectly with spinach and mashed potatoes), luscious lak bajun (Middle Eastern pizza), and their traditional pastry with eggplant.