The Olive Tree is Surely the Richest Gift of Heaven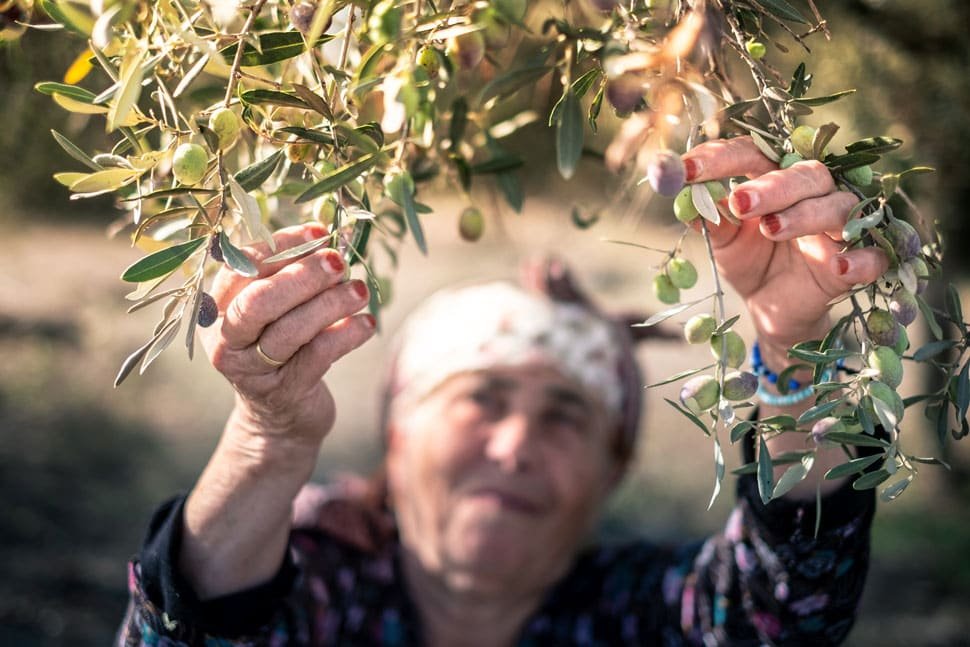 There are few things humankind benefits from today that go all the way back to the beginning of time. It turns out the olive tree is one of those things. Cultivated before the written word, these trees have provided sustenance to humans for millennia. These slow growing hardwoods originated in Asia Minor, spreading from Iran, Palestine and Syria to the neighboring regions of the Mediterranean where they have been grown for generations. Passed down through the ages, these living heirlooms gifted their communities with life enhancing nutrition. Entire regions grew up around the olive groves that gave so much to those who tended them.
I was born in America, but was lucky enough to grow up in an area with ancient olive trees, where I played for endless hours with my friends in the olive groves. Life in Jerusalem in those days was carefree, and I experienced so much just by watching what was going on around me. I noted the new fruit as it began to grow and mature, and I watched as the peasants working the land harvested the olives at the end of the season. I learned that the time to harvest the olives comes after the 'second rain' which usually meant early October, when the pungent smell of olives filled the air. I learned that uncured olives are terribly bitter, and the overwhelmingly astringent taste would remain in your mouth for what seemed like days after trying one. A mistake I only made once…
Olives need time to cure before they can be eaten, and their flavor relies very much on where they are grown; affected by soil, temperature and region. I feel very fortunate to have grown up in a place where beautiful green olive oil was a dietary staple. Oil that has a wonderfully smooth and rich flavor, one that is world class. Palestinian olive oil is some of the best out there, such as the Zaytoun brand, available on Amazon.
Once olives are picked some are designated for oil, and some are cured for a steady supply of olives for the year ahead. I would watch as my grandmother cracked each and every olive that was to be cured. She did this while sitting on the ground using a stone. Cracking the olives speeds up the curing process and is one of the telltale signs that you are eating olives from the Levant. After filling a jar with the olives my grandmother would include hot peppers, garlic, and lemon along with the brine that filled the jar, then she would store them in a dark place. After four to six weeks we would have the most delicious olives.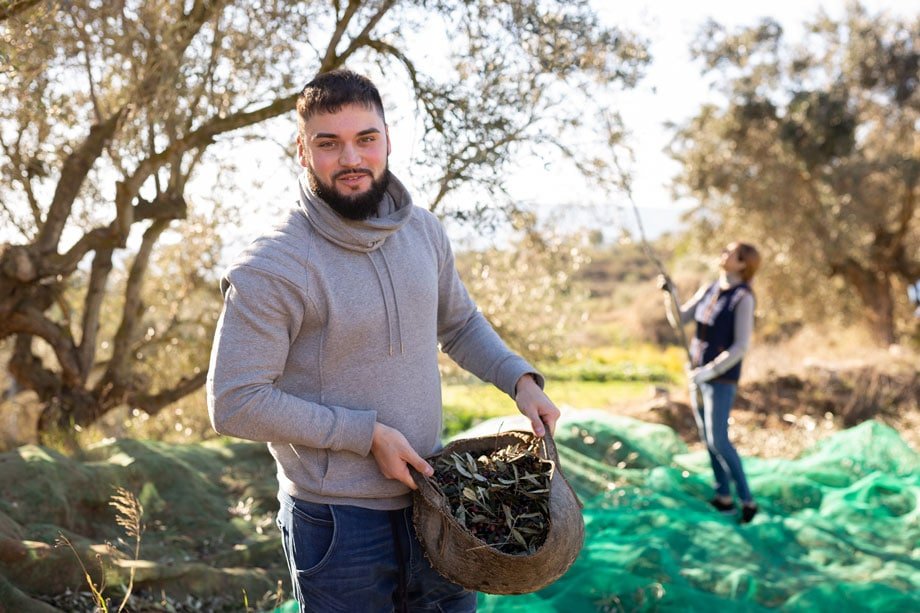 The olives for oil would be taken to what is known as the maarsarah in Arabic, literally meaning the squeezing place, or the press. Getting the olives to the press needs to be quick, as olives begin to degenerate after being picked, and will lose nutritional value. Nowadays the olives designated for oil are washed, then put into a press and squeezed until all the moisture in the olive is released. From there the paste is put through the next and very crucial stage known as malaxing which is the mixing process. Through malaxing the small bits of oil will come together forming bigger and bigger pools that will separate from the water.
Then the paste is put into centrifuges which separate out all the various parts of the crushed olive, leaving behind the pure unadulterated olive oil. In the old days presses were used to do this by letting the paste sit, while allowing gravity to let the oil to seep out.
This is the ideal method for extracting the best quality olive oil, there are several additional steps that can be employed such as heat or the addition of chemicals. All of which will shorten the shelf life of olive oil, be less nutritional, and ideally should be avoided.
Once we had our olive oil it would go into most everything that we cooked, it was drizzled onto our food, and used to preserve everything from labneh to stuffed mini eggplants (makdous), hot pepper sauce and so much more. My grandmother would spend hours jarring all the bounty of the season and olive oil was always a big part of the process. The olive oil keeps the air out of the jars which allows for preservation.
Keep in mind that olive oil is not just for eating. When I was a kid, olive oil was used for whatever was ailing any of us. My grandmother would bring out the olive oil to drink, gargle or slather on a wound regardless of what happened. My grandfather drank a small cup of pure olive oil every morning (along with his two raw eggs), and my father puts it in his hair for a day once a week. He is ninety and still has a full head of thick hair. Is it the olive oil? My grandmother would say, "definitely yes!"
Good olive oil can be expensive and therefore subject to fraud via mixing with other oils or selling lesser quality oil incorrectly labeled as higher grade. It is definitely good to know what you are choosing. Always go for trusted brands and know what you are buying. The categories to be aware of are, Extra Virgin Olive Oil, which is the highest quality olive oil on the market and of course the most expensive. Virgin Olive Oil is a second pressing of the olives and is of lower quality but still a good standard. Refined Oil is when heat or chemicals are used in the extraction process of the oil, making this the lowest tier of olive oil. One more type that can be found in supermarkets is known as Pure Olive Oil. This is when a little extra virgin olive oil is mixed with what is mostly refined olive oil.
I miss those simpler days as summer came to an end, when the excitement of the olive harvest was in the air. It felt like a restorative time, and the beginning of a new chapter in our lives when the new olive oil of the season began to flow.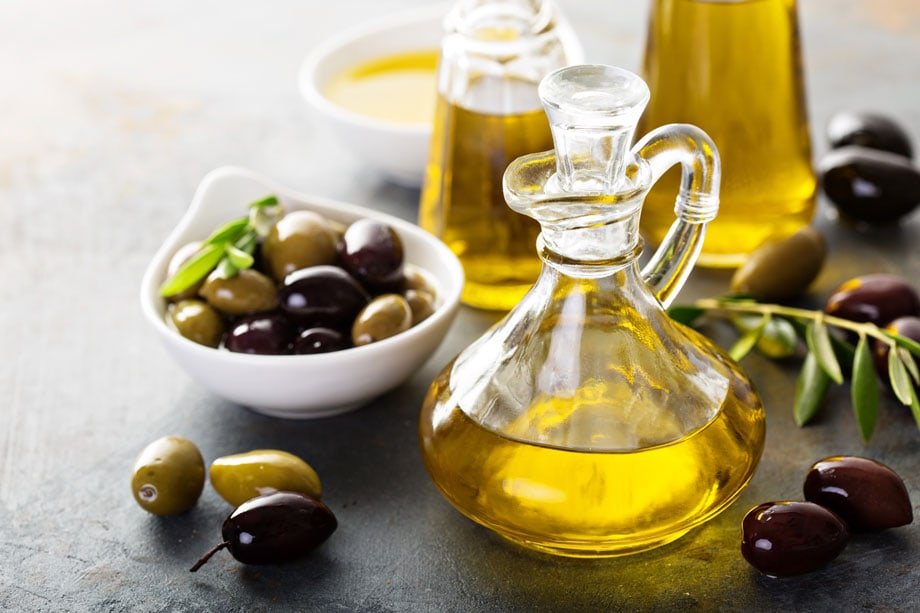 Types of Olive Oil and Best Uses (available online)
O-Live & Co – best for dipping
Agrumato Lemon Extra Virgin Olive Oil – best for salads
Sky Organics Greek EVOO – best organic brand
Nuñez De Prado EVOO – best extra virgin olive oil
Zaytoun Extra Virgin Olive Oil – best for tasting
California Olive Ranch EVOO – best for cooking
LUBIA BIL ZIET (Green Beans Cooked in Olive Oil)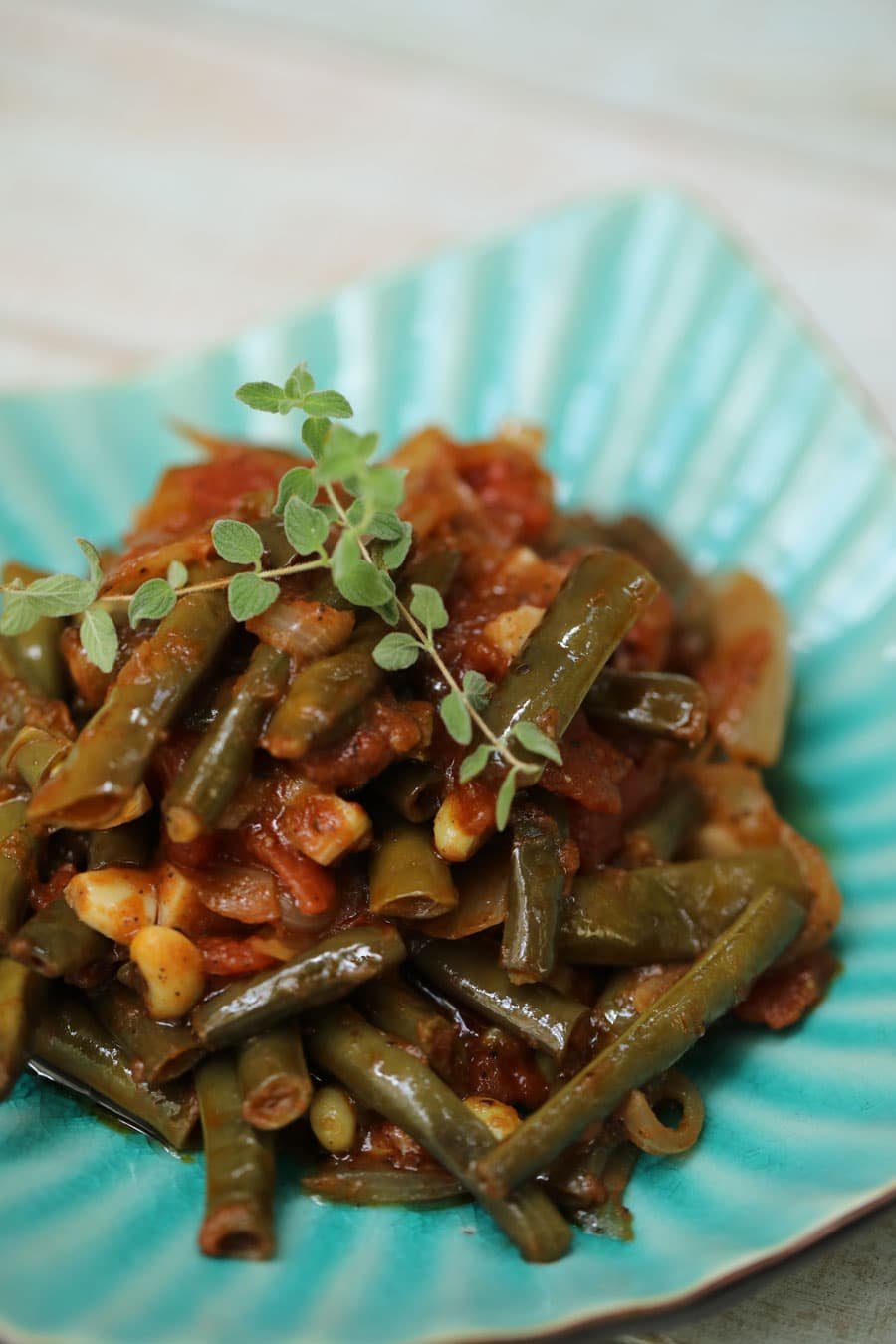 ¼ cup olive oil
1 onion, chopped in half moon shapes
8 garlic cloves, cut in quarters
1lb lubia or green beans, cut into thirds
1 tsp salt
¼ tsp 7 spices
½ tsp pepper
1 can diced tomatoes
1 tbsp tomato paste
½ cup water
Heat the oil in a heavy bottom cooking pot.
Sautè the onions and garlic until they begin to soften.
Add the beans, and sautè for five minutes.
Stir in salt, pepper, and spice.
Add diced tomatoes, tomato paste and water.
Stir well and bring to a boil.
Turn heat down to a simmer and cover the pot.
Cook for about 20 minutes or until beans are done.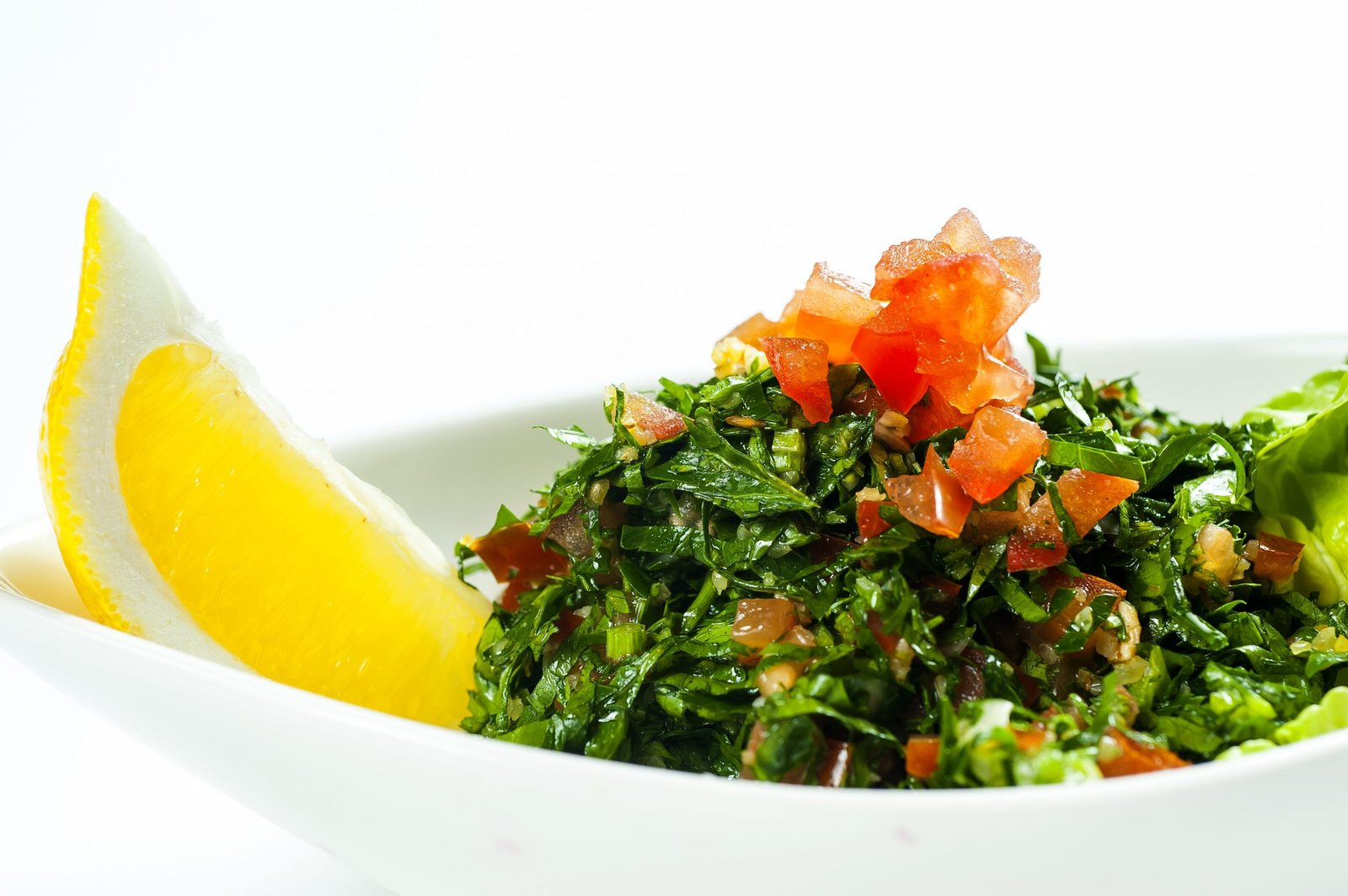 2 cups parsley leaves, finely chopped
⅛ cup bulgur wheat
⅛ cup boiling water
⅛ cup olive oil
½ tsp salt
1 tomato, diced
½ cup onion, diced
½ cucumber, diced
3 tbsp mint, finely chopped
2 tbsp olive oil
2 tbsp lemon juice
Combine the bulgur, boiling water, and ⅛ cup olive oil until liquid has been absorbed and bulgur becomes soft.
Mix parsley, tomato, onion, cucumber and mint.
Add the burger mixture, and stir well.
Add the 2 tablespoons of olive oil, and lemon juice.
Toss so all ingredients are well incorporated.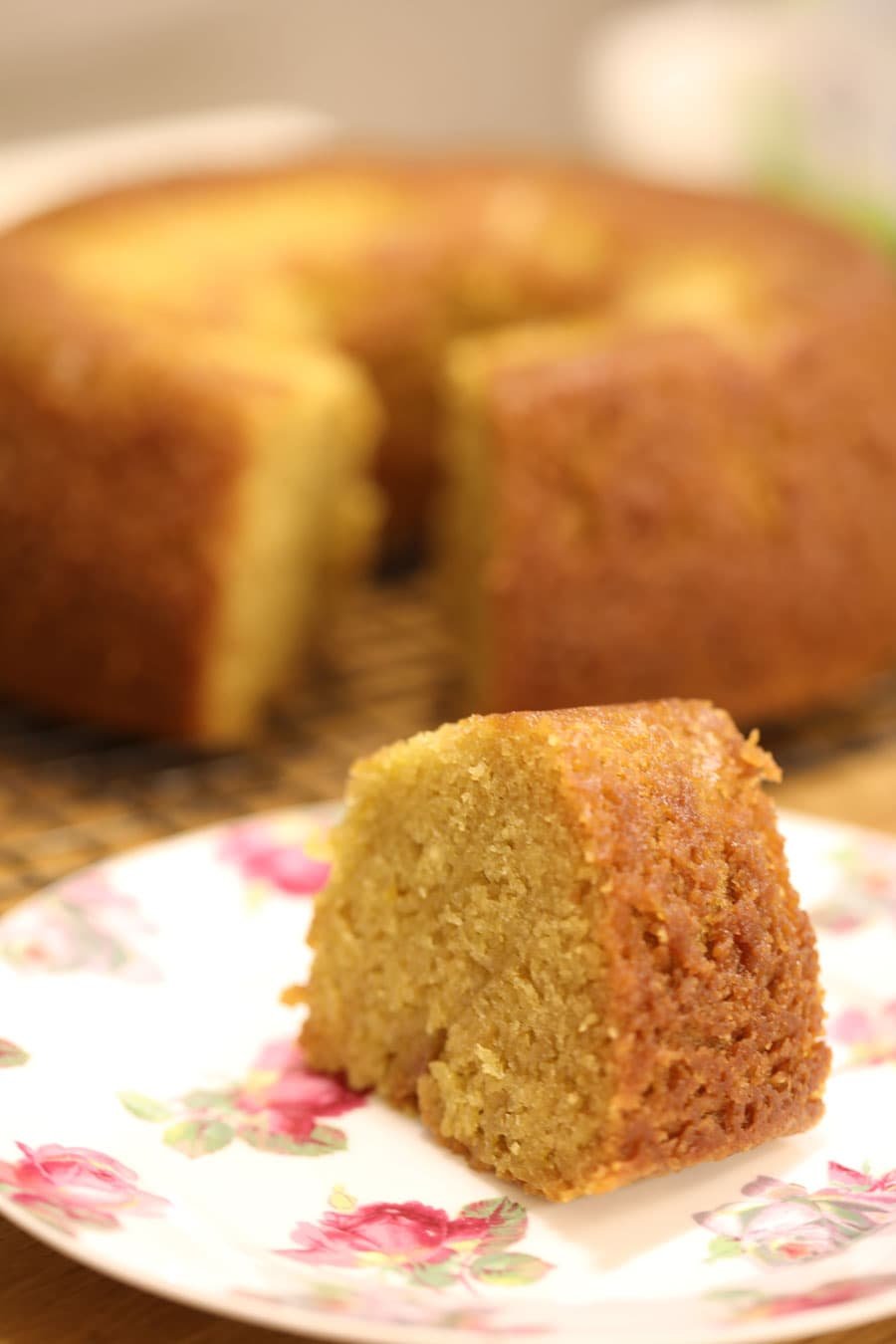 3 eggs
1 cup sugar
½ cup honey
1¼ olive oil
¾ cup milk
¼ cup orange blossom water
2 cups flour
⅓ cup almond flour
¾ tsp baking powder
¾ tsp baking soda
1 tsp salt
1 tbsp orange zest
Preheat oven to 350ºF (176ºC)
Mix the sugar, honey and olive oil in the bowl of a stand mixer.
Add eggs one at a time, fully mixing after each addition.
In a separate bowl whisk together the dry ingredients.
Mix the orange blossom water with the milk.
Add a third of the dry ingredients to the stand mixer and mix until incorporated.
Add another third of the dry ingredients followed by the final half of the liquid.
Mix in the remaining flour mixture.
Scrape down the sides of the bowl to make sure the ingredients are well mixed.
Pour into a well greased bundt pan.
Bake for 50-60 minutes until a toothpick inserted in the cake comes out clean.
Turn the cake out once it has cooled.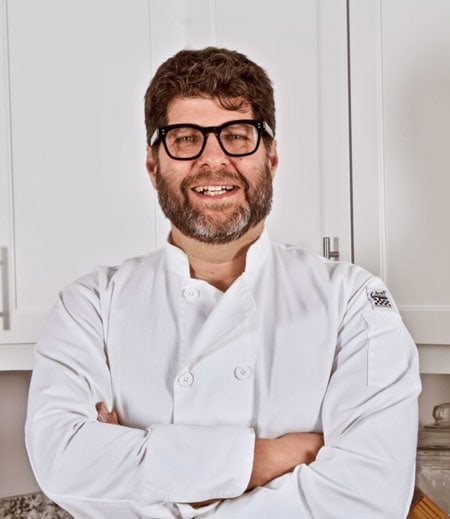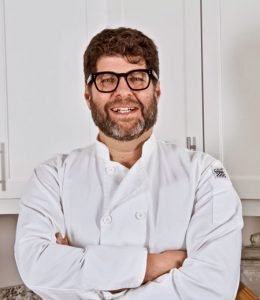 Tariq Nasir is an Arab American food blogger and founder of ChefTariq.com. He empowers the everyday home cook to bring Middle Eastern cuisine to their table. Growing up as a refugee, Tariq has a passion for bringing people together and has found that the dinner table is the perfect place.
Tariq has spent his time travelling the globe immersing himself in diverse cultures. As an American Airlines Concierge Key member, Tariq has travelled an astonishing 3 million miles over the last 20 years – that's equivalent to 120 trips around the world!
Tariq lives in Jordan with his wife Harriet and two dogs, Max and Charlie.