Cool Beans: Legumes Usher in Autumn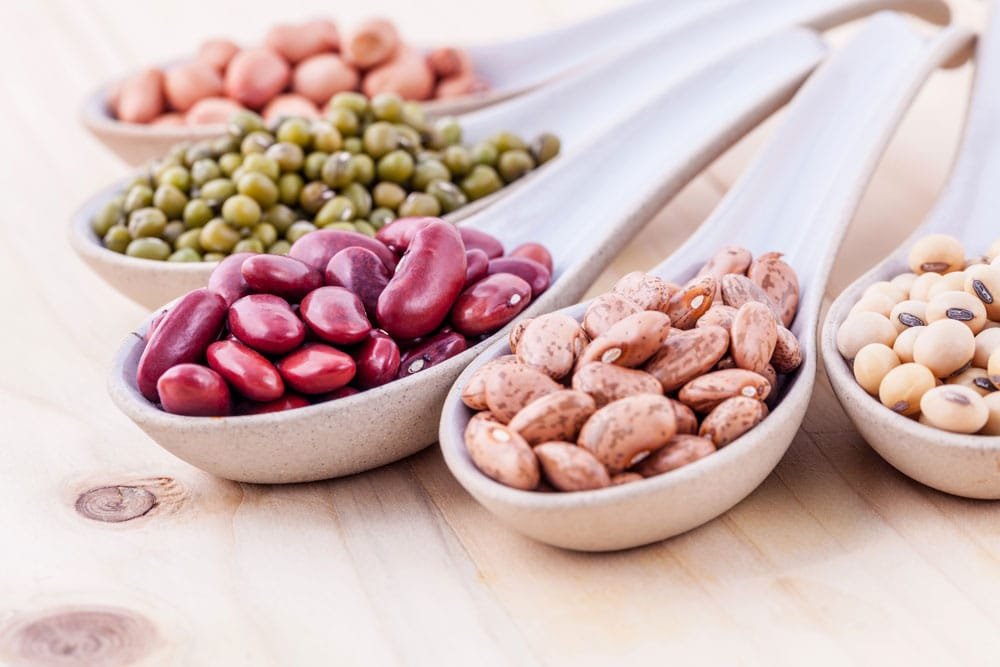 As we turn the page on September a feeling overtakes us. With what feels like little warning there is a difference in the light, and the temperature as the new season takes hold. I feel the cooler freshness of the air informing me of the arrival of Autumn. The arrival invokes the spirit of Oscar Wilde whom eloquently pointed "all at once, summer collapsed into fall."
The sudden change is a welcome relief after what seemed like a long hot end to summer. As the temperatures begin to cool, the days grow shorter, and so does our list of summer foods. Autumn is a time to come inside, to stay warm, and get cozy by the fire. It is the season of soups, stews and hearty meals. And nothing makes food hearty and warm quite like beans can.
Beans are a sizable part of the cuisine in the Middle East; first cultivated in areas of the Fertile Crescent several centuries ago. They are a staple in countries all around the world, mainly due to the amazing nutritional benefits that legumes provide. Beans are easily grown and dried, and can be stored for long periods of time. This makes them the ideal food for long term preservation and consumption.
As early humans settled down, they began to till the earth and purposefully plant crops that they could eat. And although farming methods have changed over the years, the crop being cultivated remains the same. At the end of the growing season, bean plants are cut and left in the field to dry. The bean pods are later gathered—usually mechanically these days—and the beans are harvested. The legumes are then stored, most often in silos, until they are either packaged or processed into other bean products.
One of my favorite bean dishes in this part of the world is fasoolia beida, which simply translates as white beans. And yes, any white beans will do, from navy and great northern beans to cannellini; you can use any and all. Maybe it comes down to the preference of the person cooking, or maybe what is on hand. I am partial to white kidney beans, even though they generally have a longer cooking time. I like the fact that they hold their shape and remain a bean even after a lengthy time cooking over a flame.
Other beans that are popular in the Middle East are fava beans, haricots, black eyed peas, and chickpeas. Lentils and split peas are also frequently eaten for their wholesome benefits and low cost. Legumes are the most commonly consumed foods in the Arab world after cereals. This makes a lot of sense since beans are packed with among other things, protein and complex carbohydrates, that together with a grain provide a plant based complete protein. Meaning the meal contains all nine amino acids that are not made in the body, and therefore are required to be sourced from food. Beans are also fiber rich which is very good for your digestive system, and can even help to lower cholesterol.
Besides all the health-giving benefits, beans taste really good, and can keep you feeling full for longer. This is one of the reasons that several typical breakfasts in Arab countries are made with beans. Well known dishes like hummus, foul, and falafel are all bean-based breakfast fare. All of these dishes are typically served with bread of some kind, which provides the other component for a complete protein. All very inexpensive ingredients in a part of the world where people often have to live on very little.
One of the reasons people are oftentimes not as fond of beans is because they have a tendency to cause flatulence. The reason for this lies in a sugar molecule that is in the bean called oligosaccharide, which is just as complex as it sounds. The human body does not have an enzyme that can deal with this sugar and therefore relies on bacteria to do the job, the side effect of which is the release of gas. This is the reason that beans are often soaked, boiled and cooked in some way. These processes help pull the indigestible sugars from the beans making them less of an issue.
My preparation method involves soaking beans overnight, draining and using fresh water to boil them in the next day. Then transferring the mostly cooked beans to a third pot of liquid for final cooking and flavoring. Typical flavors used with beans in the Middle East are cumin, cinnamon and allspice, giving them a nice warm taste.
Next time you want something to eat that is warm and satisfying, think about having beans. Try mujadara, a popular Egyptian dish that is made with lentils, rice and crispy onions. Served with salad and yogurt, you will find this meal delicious and pleasing. Or maybe you would prefer making falafel for your breakfast, another way to enjoy delicious chickpeas. As for me, I'm going to light a fire in my wood stove to stave off the chill of this Autumn evening, while I soak a pot of white beans for tomorrow's lunch.
2 cups white beans
½ lb lamb cubes (optional)
1 cup vegetable or beef broth
2 cups of water
2 cups tomatoes, freshly pureed
½ cup tomato paste
1 tsp allspice
1 tsp cinnamon
2 tbsp ghee or olive oil
2 garlic cloves, minced
1 medium onion, diced
Salt & pepper to taste
Step by Step Instructions
Step 1
Place the beans in a bowl and cover with water to about two inches above beans, and soak overnight.
Step 2
Drain the beans and place in a cooking pot, cover with fresh water and bring to a boil.
Step 3
Lower heat to a strong simmer for 45 minutes to an hour.
Step 4
The beans should be mostly cooked and somewhat softened, cook longer if necessary, and add water as needed
Step 5
Add the ghee to another cooking pot and brown the lamb, remove and set aside.
Step 6
Add onions and garlic and saute until translucent.
Step 7
Add the browned meat back to the pot.
Step 8
Add allspice and cinnamon.
Step 10
Add the broth, 2 cups of water and tomato puree.
Step 11
Drain cooked beans and add to the pot.
Step 12
Add salt and pepper.
Step 13
Simmer for 30 to 45 minutes until beans are done.
1 cup Lentils
1 cup Rice
2 tsp Salt
1 tsp Seven Spices
1 tsp Cumin
2 Onions large
½ cup Vegetable Oil
4½ cups Water
More water for boiling the lentils
Step by Step Instructions
Step 1
Put lentils in a small pot and cover with water, boil until lentils are soft but still a little al dente. Add more water while cooking if necessary. Drain.
Step 2
While lentils are cooking, slice onions in half moon shapes.
Step 3
In another pot mix cooked lentils with the rice, salt, seven spices, and cumin.
Step 4
Add the water and bring to the boil. Once it boils turn down to a simmer and cook with the cover a quarter off the pot, until all the water is gone and rice is cooked through.
Step 5
While the rice and lentils are cooking heat oil in a pan and fry onions until they are crispy.
Step 6
Top the rice and lentils with the crunchy onions.
Step 7
If you like, also top with yogurt, and salad.
1 cup Chickpeas dried, soaked overnight
3 tbsp Cilantro finely chopped
3 tbsp Parsley finely chopped
2 Garlic Cloves minced
1 tsp Coriander ground
1 tsp Cumin
⅛ tsp Cardamom ground
1 tsp Salt
¼ tsp Black Pepper
1 tsp Baking Soda
2 tsp Water
Step by Step Instructions
Step 1
Soak chickpeas overnight in a generous amount of water.
Step 2
Drain chickpeas and add to a food processor.
Step 3
Add cilantro, parsley, garlic, spices, salt and pepper.
Step 4
Process until well mixed and mixture resembles coarse wet sand.
Step 5
Use a falafel scooper or shape into balls.
Step 6
Deep fry until golden brown.
Step 7
Drain on paper towels.