A rare retrospective provides a deep dive into Persian artist Shirin Neshat's work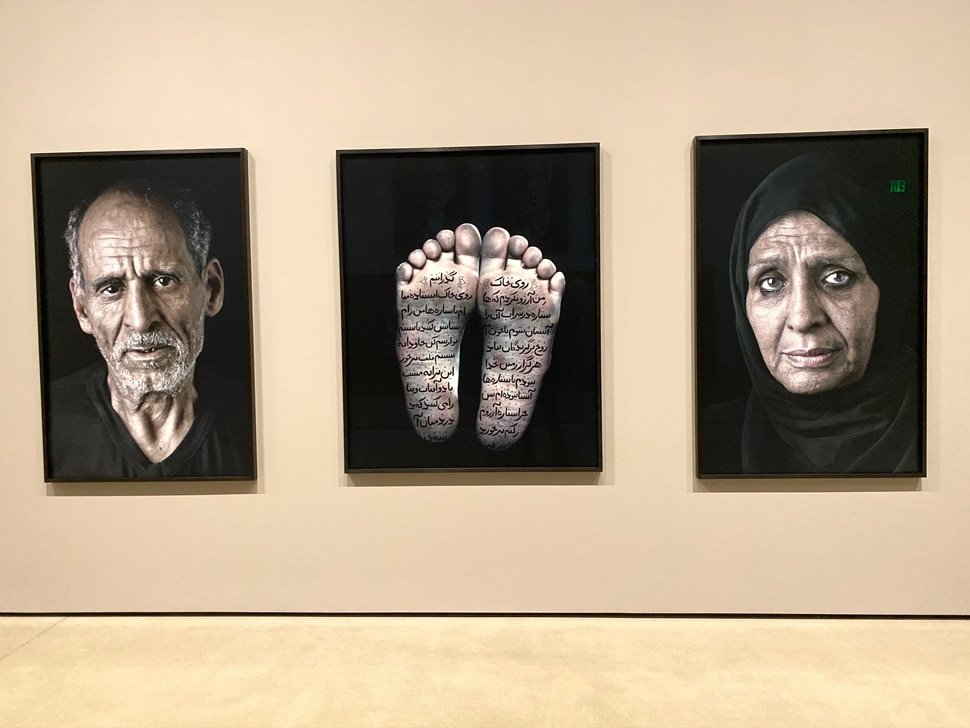 Persian artist Shirin Neshat has lived in exile for decades. Fortunately for Americans, her trenchant work has graced U.S. museums and galleries with an unparalleled view of her native Iran and culture.
"Shirin Neshat: I will Greet the Sun Again" is the largest exhibition to date of Neshat's work, presented at Los Angeles' Broad Museum earlier this year. The exhibition included over 230 photographs and eight immersive video installations –– a rare look into the 30-year span of her genius.
The exhibit's location is significant: Los Angeles has the largest Iranian population in the world outside of Iran. Born in Qazvin in 1957, Neshat traveled to California for schooling at age 17. She has lived in New York City since 1983.
The evolution of the artist's work has never been so clear –– an artistic journey that explores exile, displacement, identity and a complex and multi-layered beauty.
Women of Allah
The Broad exhibit placed Neshat's "Women of Allah" series, begun in 1993, front and center. Most of these works are self-portraits that depict Neshat in traditional Persian dress, her arms, face and hands covered in exquisite Arabic and Farsi script. The artist poses with a handgun or a rifle.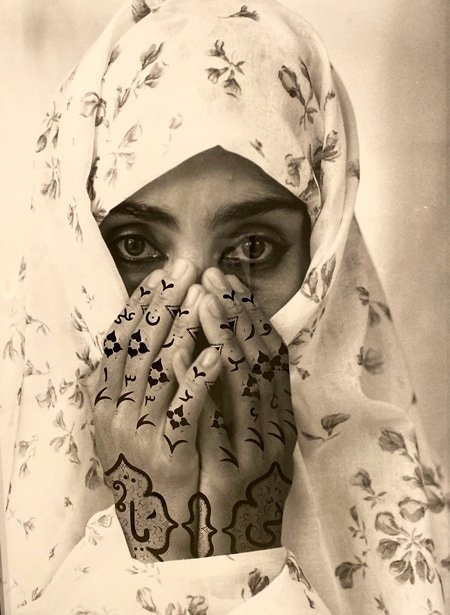 Although Neshat was trained as a painter, she chose photography as her primary medium –– yet she approaches the lens as a sculptor: "I'm interested in constructing images, carving monuments," she has said.
Her Allah series explores the psychology women's martyrdom (and its repercussions) in the Islamic Republic of Iran –– as institutionalized during the country's 1979 revolution.
A skewed perception of women's character
"These Iranians were caught between self-sacrifice, devotion, love of god – and cruelty, violence and death," said Neshat in a 2017 Guardian interview. "We often think of women with an Islamic background as being passive and submissive to men, but here they were really empowered by bearing arms."
Using classical Islamic art and calligraphy as her inspiration, Neshat borrows motifs from such sources as Persian carpets, repeating and sometimes abstracting the designs.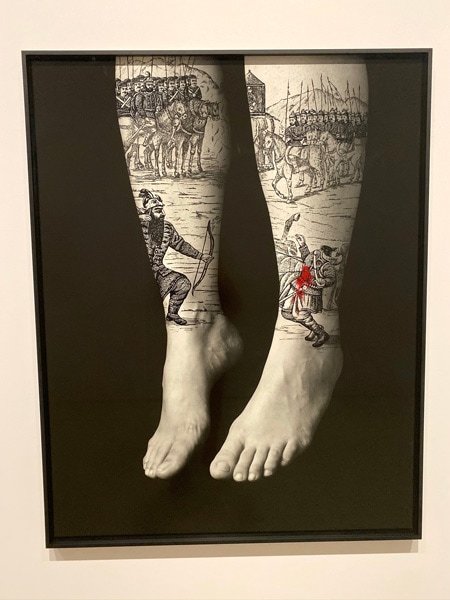 The Allah series includes a full-size photograph of a Muslim woman, clad head-to-toe in black, her right arm extended from her garb to hold the hand of a small naked boy, his skin liberally covered in traditional Persian decorative patterns.
The work is a striking commentary on the esteemed male role in Persian and Arabic cultures, one that is set in stone from birth. Women merely stand by in support –– wholly erased.
Photographs as poems
Neshat's work is innately poetic, drawing on Iran's rich culture of poetry.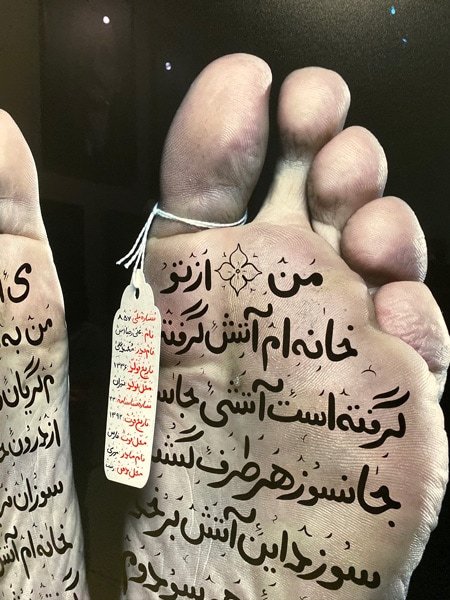 "We are all deeply poetic in the way that we express ourselves," she said of Persians in a 2019 New York Times interview. "There's a lot of longing, there's a lot of nostalgia."
Neshat's new film, "Land of Dreams" debuted at the Broad exhibit. The work explores cultural identity as found in the U.S. immigrant experience –– a response to an increased mistrust of immigrants. Shot in New Mexico in 2019, the film highlights how immigrants in the U.S. feel "cornered."
"Dreams have references to reality but they are not real," Neshat explained in a 2019 Los Angeles Times interview. "We dream regardless of where we come from. Our nightmares are common: fear of abandonment, death.
"Me as an immigrant going to New Mexico — I started to feel I had so much in common with these people. We are all foreigners inside a country we call home."