Working Remotely From Hotel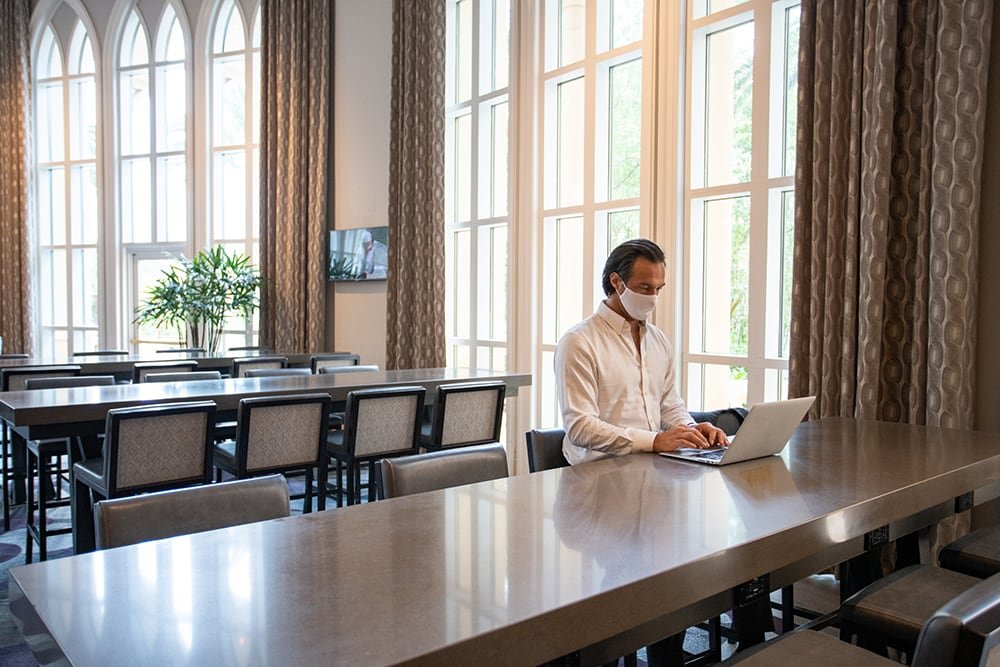 As we look toward a new year with hope and possibility, chances are things are still going to be rather different. Covid-19 has ravaged lives and businesses, and it has also toppled our daily work-life routine. More time spent at home affects our ability to maintain productivity, and those with kids home from school must balance an entirely different dynamic at the same time. Many are feeling overwhelmed and anxious about the future staring down more months of working (and playing teacher) at home.
Luckily, hotels are stepping up to keep their doors open, but with a focus on helping people stay productive, energized, or simply relaxed. While vacations may not be front and center for everyone, staying on top of our work probably is. Several hotels are implementing "work from hotel" or "school from hotel" packages to give people a change of scenery, more space for productivity, and hopefully, a renewed sense of vigor to carry us through to the end of this destructive pandemic. It also helps to preserve jobs in hospitality at a time when the industry is hurting.
Depending on what you need and how far you want to go, these hotel brands are offering reimagined stays while also following the appropriate protocols to keep guests and staff safe. Best of all, you can earn loyalty points for your stay to get you closer to that real vacation when you're ready to travel.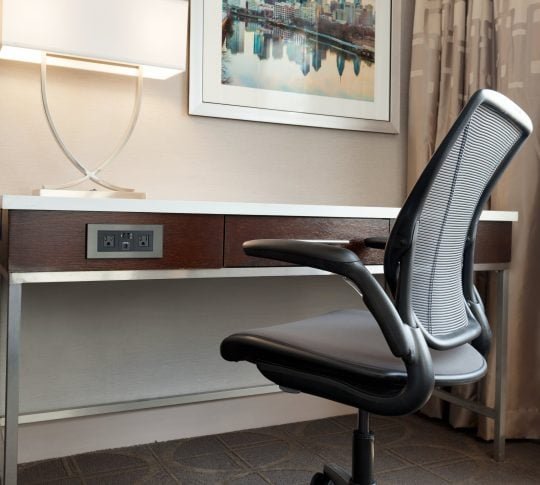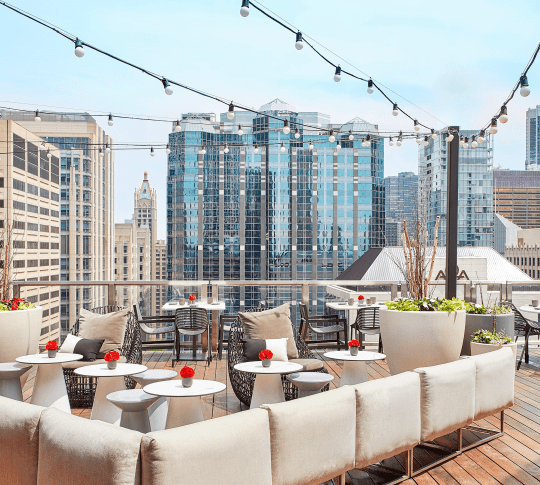 Hilton
WorkSpaces by Hilton packages deliver different benefits depending on the destination but are designed to give people more space to work away from distractions at home. They are mostly day rates meaning guests book a room to use as an office or classroom space for their kids doing remote learning. The goal is to separate your work life from your home at least for a short period. Rates vary by date and must be booked by calling the hotel directly.
These day rates also provide access to the hotel's facilities including pool, gym, and lounge areas. When you book your first WorkSpaces by Hilton package, you earn 10,000 bonus Hilton Honors points between now and March 31, 2021 in addition to the points you earn for booking the package.
You can spend half the day working and half the day skiing at Waldorf-Astoria Park City in Utah, which also offers an impressive spa and swimming pool. Or reward yourself with a cocktail by the fireplace after spending the day working.
At The Curtis, a DoubleTree by Hilton hotel in Denver, guests can book a day-use rate in one of the property's themed rooms. They include Barbie, I Love Lucy, Ghostbusters, and Star Trek themes among others. It could be the perfect backdrop for your next Zoom meeting or an entertaining reward for your kids to impress their friends. At the end of the day, the hotel offers complimentary, socially distanced activities like beer tastings and yoga as a reward for a day's work. Teachers of any grade level are also getting top treatment from the hotel including free use of one of five meeting rooms to conduct classes.
Guests can relax in cabanas at Hilton Cabana Miami Beach and use the non-motorized watersports equipment after they finish a day's work. At the Conrad New York Downtown, day-use room guests enjoy more than just private workspace. The rate also includes room service breakfast and lunch plus a 4pm cocktail delivery among other perks like a spa discount and a welcome box of snacks and goodies.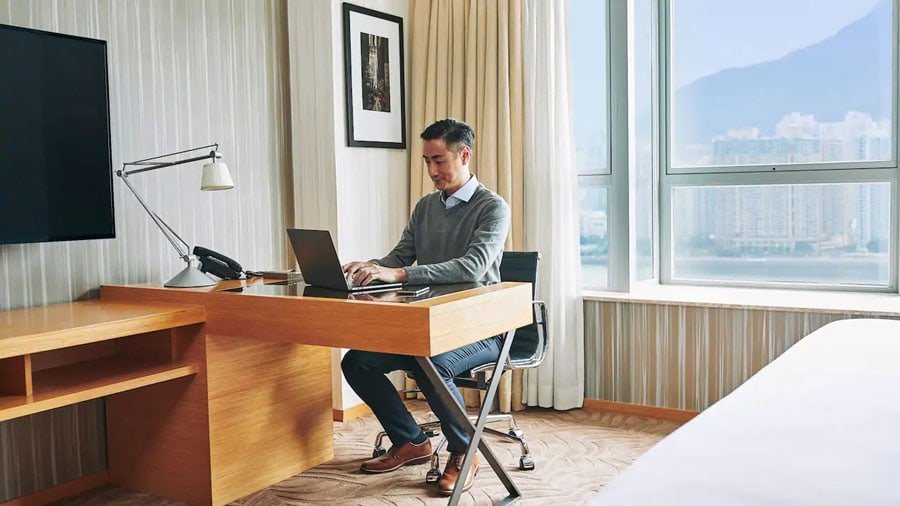 Hyatt
Work from Hyatt is the brand's solution to breaking free from the stressors of working from home. The day-use and overnight "workation" packages provide a host of benefits including guaranteed extra work space in the form of a suite living room, connecting room, or meeting room plus a food and beverage credit. These offers are not just for one room, but the assurance of extra space beyond the traditional guest room. Many properties are also throwing in free (or discounted) parking, laundry services, and wireless Internet in the package, too. There is a minimum stay requirement for most of the overnight packages; if you choose to use this at a Hyatt Ziva or Hyatt Zilara all-inclusive resort, there is a 14-night minimum stay.
Still, these offers deliver the space you need to stay productive while also providing the opportunity to de-stress from the anxiety of daily pandemic life. Hyatt is also a leader in health and wellness with guests able to access mindfulness content through its app or via in-room TVs at participating hotels during a stay. That moment of Zen could be just the thing you need to quell anxious feelings.
Outdoor activities can be a great way to unwind and eliminate stress, too. Guests of Hyatt Regency Lost Pines can go horseback riding, play golf, or go kayaking among other activities while roasting s'mores is a fun family activity. At Hyatt Centric Las Olas Fort Lauderdale, guests can book accommodations with in-room workout equipment if they want a midday endorphin boost. At Hyatt Ziva and Hyatt Zilara in the Dominican Republic, there are even free Spanish classes if you want to brush up on a foreign language.
There's also an offer for as much as quadruple points on stays before the end of February for those who register. Instead of paying, you can also redeem World of Hyatt loyalty points by calling Hyatt to find out how much it costs at the particular property you want to stay.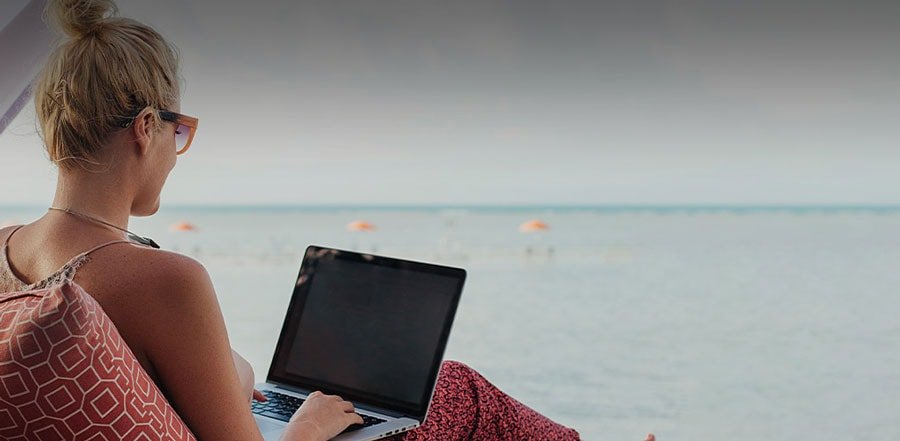 Marriott
Day Pass, Stay Pass, and Play pass are Marriott's answer to staying productive and relaxed during this strange time with its Work Anywhere offerings. Whether you are looking to get away and tackle an important work project that requires total concentration or de-stress from the pressures of a daunting news cycle, its participating hotels offer plenty of options.
Day Pass rates offer a full day's use of a hotel room as well as all of the property's business amenities like business center with printer or fax machine. Top-level elite members in the Marriott Bonvoy program also receive welcome snacks and amenities or access to a club lounge if there is one. These rates are available in many major cities around the country including Dallas, New York, and Phoenix among many others.
Stay Pass combines both day use at the same Day Pass properties with an overnight stay allowing guests to have access to their room from 6am on the day of arrival to 6pm on departure day. This gives travelers access to any available hotel amenities including the gym, pool, or spa; a food and beverage credit, free breakfast, and evening cocktails are part of the offering, too.
Several resorts and luxury properties in destinations like Arizona, Florida, and Mexico are offering Play Pass, which is an ideal option for families looking for a break from their traditional routine. It comes with supervised kids' activities, dedicated work space (popular with remote learning for kids), and a business concierge assistant.
All rates are eligible for earning Marriott Bonvoy points, which can get you closer to that next free redemption vacation.
Orlando's Grande Lakes, which has both a JW Marriott and Ritz-Carlton, has a "work from resort" offer that includes the assistance of a "business butler."
These are the three major brand initiatives that have been announced so far. Of course, if you have another hotel in mind, give them a call and ask about organizing a day-use rate to work or just get away from it all. At a time when hotels are looking for more business, you might be able to negotiate your own offer that fits your needs. Whether you choose to "workcation, staycation or schoolcation," hotels are making it easier than ever to organize a getaway to look forward to in the coming year…even if it is different than what you had planned.