Hotels respond to Coronavirus in smart, creative ways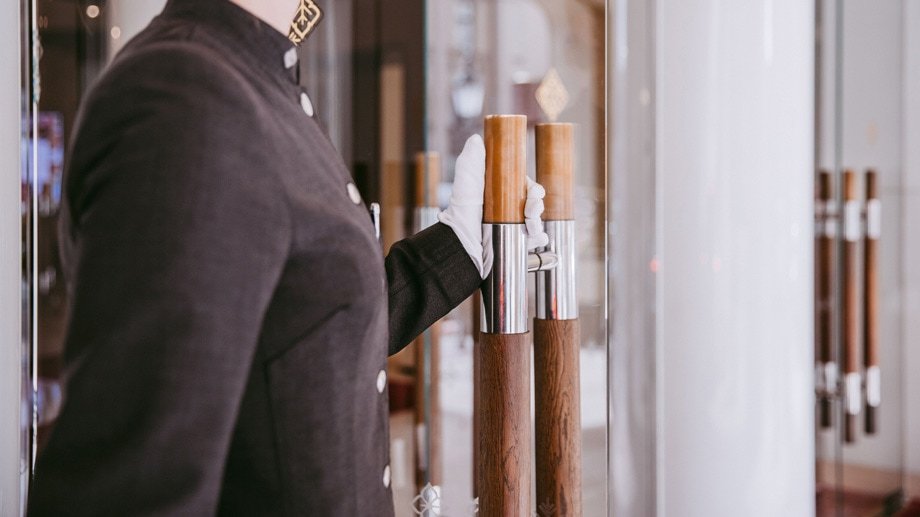 Like airlines, hotels around the world are taking important measures to assure travelers that they offer the utmost in safety and sanitation. This is especially true in the Middle East where hotels are social hubs for dining and entertaining (more so than in North America and Europe). As economies around the world begin to re-open with caution, hotels are introducing exceptionally stringent and impressive standards.
Almost every major brand has announced commitments using hospital-grade cleaning products, which means that your next hotel stay is sure to be noticeably different. There will be regular (even hourly) cleaning of public areas including wiping down high touch point surfaces like elevator buttons and co-working areas with tables and power points. Travelers will notice more signage in restaurants, elevators, and reception desk areas to encourage social distancing. Some reception desks may be completely partitioned with plastic or glass barriers to limit any type of face-to-face contact.
Remember that entry restrictions vary by country, and just because a hotel is open, does not mean that everyone will be able to visit. Still, many hotels are open to domestic and regional travelers as well as essential workers in the region.
While it is wise to bring your own sanitizer, hand-sanitizing stations will be everywhere in airports, hotels, and public areas. When flying in the United States, the Transportation Security Administration (TSA) has loosened restrictions to allow fliers to carry liquid sanitizer on the plane in bottles larger than 3.4 ounces (100 mL). This is great news for domestic travelers, but international restrictions on carry-on liquids have not changed. Foreign airport security agents will take these from you, so plan accordingly.
Hotel brands respond
By September, Hyatt will have a "Hygiene and Wellbeing Leader" on staff at each of its hotels worldwide to oversee health and wellness measures. Many of its hotels have one in place already managing the brand's Global Care & Cleanliness Commitment. Several Hyatts around the Middle East will be open in July and welcoming guests including the new Andaz Dubai The Palm, Grand Hyatt Amman, and the O Monot Boutique Hotel (part of Small Luxury Hotels of the World) in Beirut.
The Andaz Dubai The Palm has reopened its beach to guests albeit with social distancing guidelines in place. The resort outlined many of their safety measures in an online video. They include sanitizing the check-in desk between each guest, waiting 24 hours for housekeeping to service between guests, and exchanging printed restaurant menus for QR codes that guests scan with their phone to see a digital version of what's on offer.
Hilton consulted with the Mayo Clinic Infection Prevention and Control teams when launching its CleanStay with Lysol Protection initiative across North America. It will conduct similarly stringent cleaning initiatives under the CleanStay name around the world including the Hilton Doha and DoubleTree by Hilton Hotel Doha-Old Town, both of which will re-open in July.
Anantara Hotels & Resorts, which has hotels on Palm Jumeirah in Dubai and at Al Jabal Al Akhdar in Oman, is checking guest temperatures when guests arrive as well as sanitizing luggage. Both of those resorts will be open in July. All Anantara properties also will have a "Guest Guardian" position whose role is to oversee the new cleanliness and safety standards. Anantara, like other brands, will disinfect room key cards between uses and limit the number of people using the fitness center to allow for spacing and proper cleaning.
Accor launched the ALL Meet Well program, which in addition to its new cleanliness protocols for guests and staff, pays particular attention to meeting groups and social functions. Part of the economic recovery, especially for hotels in the Middle East, relies on group travel for business and personal events like conferences and weddings. Accor's many Middle Eastern properties include Swissôtel The Bosphorus Istanbul and the Sofitel Casablanca Tour Blanche.
ALL Meet Well targets nearly two dozen touch points that conference attendees encounter when traveling for events. For example, banquet tables will have things like cutlery, food, and drinks served once visitors are seated rather than being pre-set or arranged via buffet. Single-use condiments and bottled water will be used as well as signage to indicate one-way travel in meeting room passageways.
Kempinski unveiled its "White Glove Service" as part of its precautionary efforts at hotels. In keeping with a luxury focus, guest rooms are stocked with extra perks like hand sanitizers and masks while staff wear designer white gloves instead of plastic ones. They are washed and cleaned multiple times per day. Kempinski Mall of the Emirates and the Royal Maxim Palace Kempinski Cairo are two of the many Kempinski properties to be open in July in the region.
What to expect
Mamoun Hmedan of Wego, the largest online travel marketplace in the Middle East and North Africa (MENA) said, "Most countries in the MENA are introducing precautionary measures to curb the outspread of the virus and revive the industry. As a result, we will see an increase in the demand for intra-regional travel in the MENA region."
Each country's response to Covid-19 will vary. Egypt, for example, is reopening in phases, which is good news for a country that relies so heavily on tourism. Before a hotel can reopen there, a property must receive a health certificate from the government guaranteeing its compliance with new protocols. This includes testing incoming guests for the virus and making an in-house health specialist available.
Jordan, which has received widespread praise for its pandemic response, is not yet reopening to foreigners although its hotels have seen a shift in use. For the past few months, many four and five-star hotels were used as quarantine centers for those arriving from outside the country. A reduction in flights has meant that fewer people are entering the country. Many of its hotels are bookable online again although entry restrictions for foreigners remain.
While still in a state of emergency, Morocco has said it will lift its response measures in July although it would vary by region around the country.
The Department of Culture and Tourism in Abu Dhabi launched a certification program to oversee how businesses reopen and implement health and safety programs. The emirate's reopening is occurring in phases with the first phase specifically dedicated to seeing hotels cautiously reopen. Through this tourism board led program, we hope to boost the confidence of consumers when considering Abu Dhabi as a tourism destination," says Ali Hassan Al Shaiba, the organization's executive director of tourism and marketing.
Travelers can turn to technology
To reduce contact between people and to speed up your life, there is a host of technology options available to travelers. Digital check-in has long been an option for guests via hotel company apps. Marriott Bonvoy, Hilton Honors, and World of Hyatt have offered keys via Bluetooth functionality with your mobile phone to unlock rooms for a few years. This might be something to explore in the coming weeks if you must travel.
The Covid-19 pandemic might just push this program to the forefront of travelers' minds; for many, it can be a big timesaver as you upload your payment details via the app and bypass long check-in lines.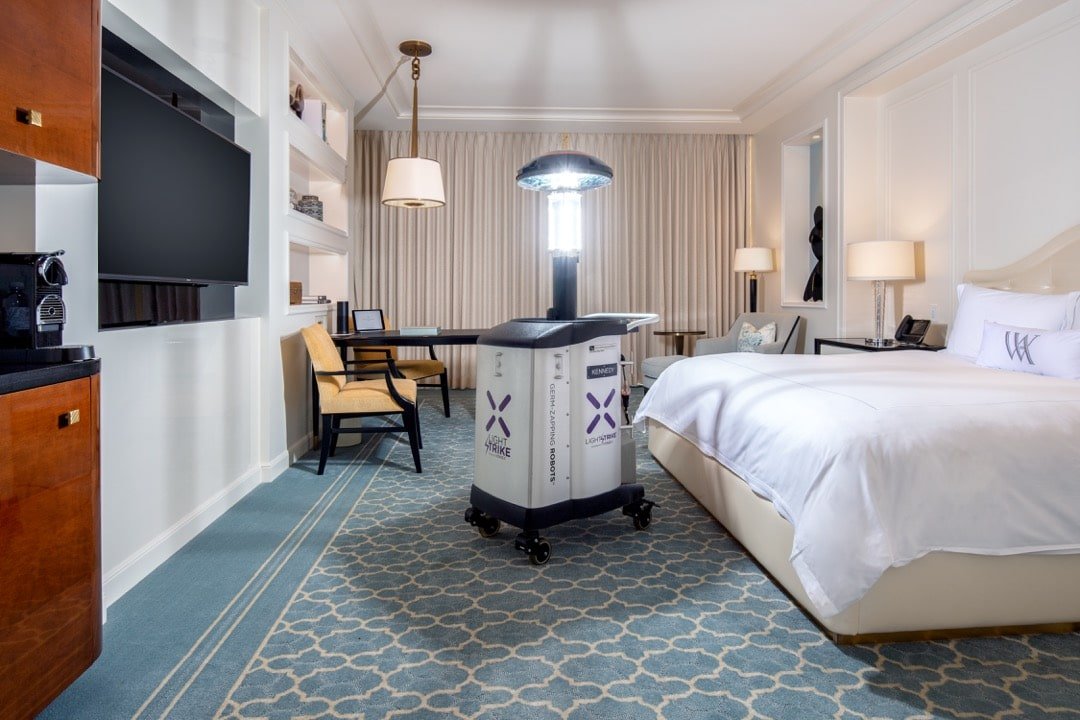 Many hotels in the United States have introduced robots to help clean rooms and sanitize them with ultraviolet light. These include The Beverly Hilton, Waldorf Astoria Beverly Hills, and The Westin Houston Medical Center. The robots follow the standard housekeeping service between stays and are meant to zap any germs or signs of virus; these same robots are used in hospitals including the Mayo Clinic.
Other hotels around the world are sure to invest in similar technology in the coming year to give the perception that travel is safer while assuring their properties conform to the highest standards.