Travel During A Pandemic
As the travel industry looks to restart its engines, consumer confidence is the fuel that will rev it back up. As a result, the airline and hospitality industries are implementing large-scale sanitizing efforts to reassure travelers. Many of these new protocols are temporary while others may be here to stay.
What is permanent is that the way we travel will never be the same.
Perhaps that is a good thing as we focus more on cleanliness and hygiene so that we can enjoy travel whenever you are personally ready to get back out there. The travel industry is making the changes you want to see so that is as safe and enjoyable as practically possible.
Is it safe to fly?
Airlines around the world are requiring passengers and crew to wear masks as they travel through the airport and inflight. Exceptions, on some airlines, are being made for young children or for everyone while eating or drinking.
While airports, office buildings, and grocery stores may look strange with everyone wearing masks, this is not new for many parts of the world. For frequent travelers to and within Asia, this is reminiscent of what daily life was like during the SARS outbreak (just one of many viral outbreaks we have seen in recent decades).
Masks are not a fail-proof or permanent solution, but it sends the message that transmission of the virus can be reduced among travelers in close quarters until a vaccine is developed. Travelers are wise to bring their own masks, but some airlines are providing masks for free to those that need one. Airport stores are also selling them, and one organization, the ALO Cultural Foundation, is giving away limited-edition masks to anyone who donates $25 or more.

It is not easy to "social distance" on an airplane, but some airlines are spreading passenger seat assignments out as much as possible when flights are not full. When more fliers begin to travel, this social distance luxury may not be an option as airlines cannot afford to fly empty seats. The airline announced this, but yesterday backtracked due to customer outrage that they were charging for it.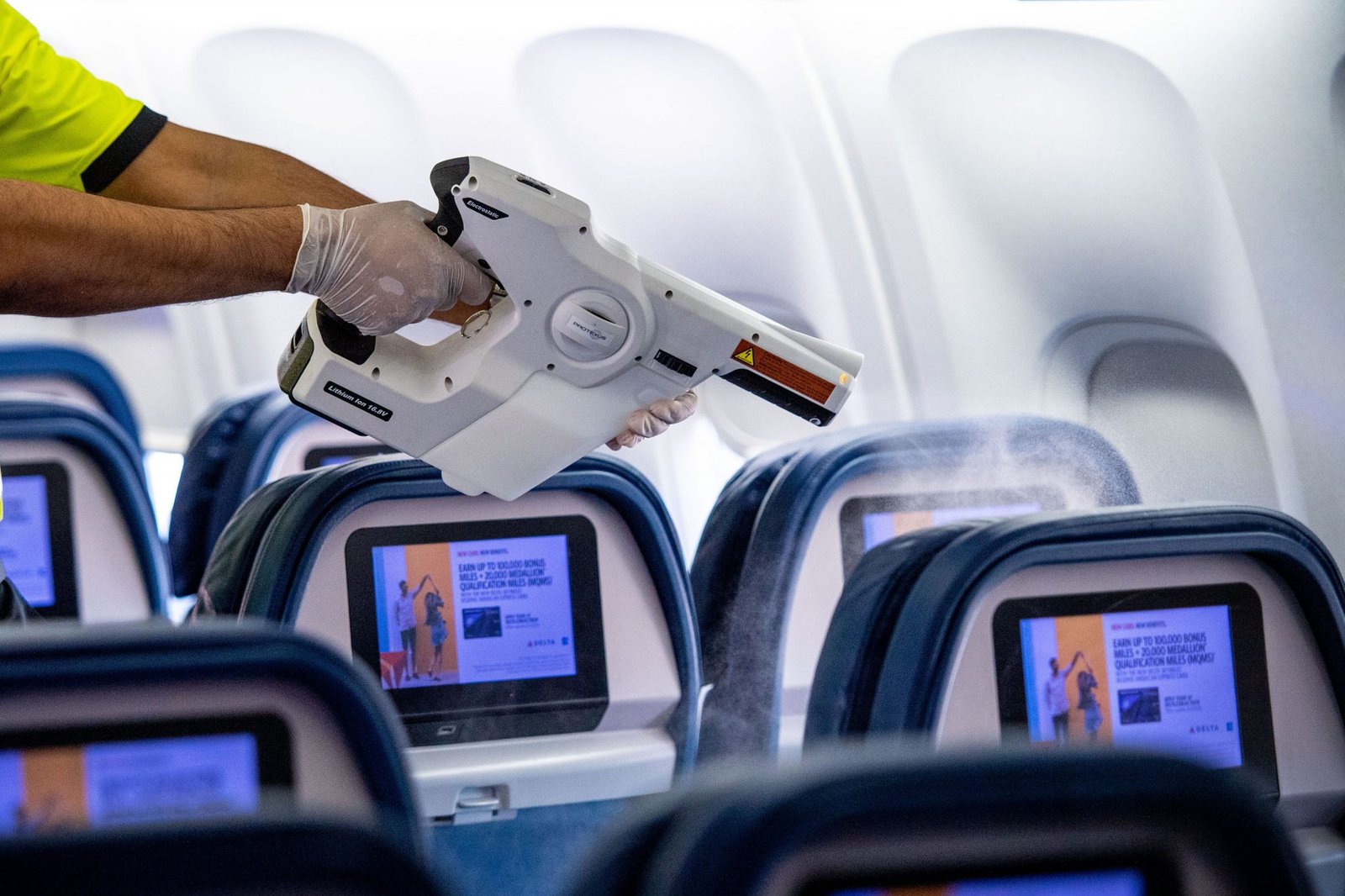 Going forward, people should expect that airplanes (like trains, subways, stadiums, elevators, and other public areas) are not ideal for social distancing. However, airlines are going out of their way to sanitize aircraft between flights and at regular intervals through the day at airport facilities. Delta Air Lines is using a complex fogging procedure to clean aircraft seats, tray tables, screens, and lavatories.
Until a vaccine is readily available, wearing a mask might just be the next safest way to prevent virus transmission. Still, traveling by air is a necessity for many people, and it is part of the pleasure of travel that we all need to enjoy albeit at our own pace.
What will the experience be like?
Many of the conveniences and perks we recall may not spring back to life right away. Inflight service is reduced on many airlines. In North America, most airlines have reduced service to "bare bones" on shorter flights, and on longer flights, snack packs plus a bottle of water and a sanitizing wipe are the new norm on some airlines.
International flights on many airlines still include the familiar inflight meals and beverages we are used to, but the frequency and quantity of service might be less. Food might also arrive wrapped or covered. Instead of reusable utensils and cups, everything is disposable.
In premium cabins on domestic flights, service tends to vary with airlines cutting meals entirely or offering them only on flights over a certain length (American, for example, is only serving first class meals on flights over 2,200 miles). This is meant to minimize interaction between passengers and crew.
SAS has temporarily instituted a policy that reduces carry-on bags to one per person no matter what cabin you are traveling in or what your frequent flier elite status. Boarding processes have changed including some airlines only boarding by row from back to front and leaving out some of the promised perks that come with holding certain co-branded credit cards.
Many of these restrictions are irritating to passengers, and some might wonder if airlines will use the pandemic as an excuse to downgrade the onboard experience. That is yet to be seen, but for now, these changes are meant to reassure customers that you can minimize your personal interactions on plane travel for the moment. This should get more people back into the air.
How are hotels responding?
Hotels have an equally daunting task, especially since their product is a fixed asset. Airlines can move their fleet around the world based upon demand whereas hotels (especially those in hard-hit areas by COVID-19) are saddled with the stigma that their region may still be unsafe.
Most major hospitality companies have introduced impressive plans to build up their cleaning efforts. For example, Hilton launched "Hilton CleanStay with Lysol protection," a program using Lysol brand products and training protocols designed to maximize sanitation at every customer touch point. Hilton enlisted experts from the Infection Prevention and Control team at Mayo Clinic to assist in devising the plan.
In addition to increased cleaning in high-traffic public areas and readily available sanitizing wipes, Hilton is introducing a CleanStay Room Seal. This indicates that the room has not been accessed by anyone since it was cleaned. Housekeepers will clean areas like light switches, door handles, and remote controls with disinfecting wipes. In-room items like pads and hotel directories are being reduced, too. Hilton CleanStay is being rolled out at Hilton properties worldwide starting in June.
Other hotel companies are offering similar programs and following guidance from the World Health Organization and the Centers for Disease Control and Prevention. Marriott's Global Cleanliness Council includes various experts including a senior corporate scientist for Ecolab and professors and leaders from the hospitality and food science fields. The emphasis is on safety, and people will see this loud-and-clear message when they next travel.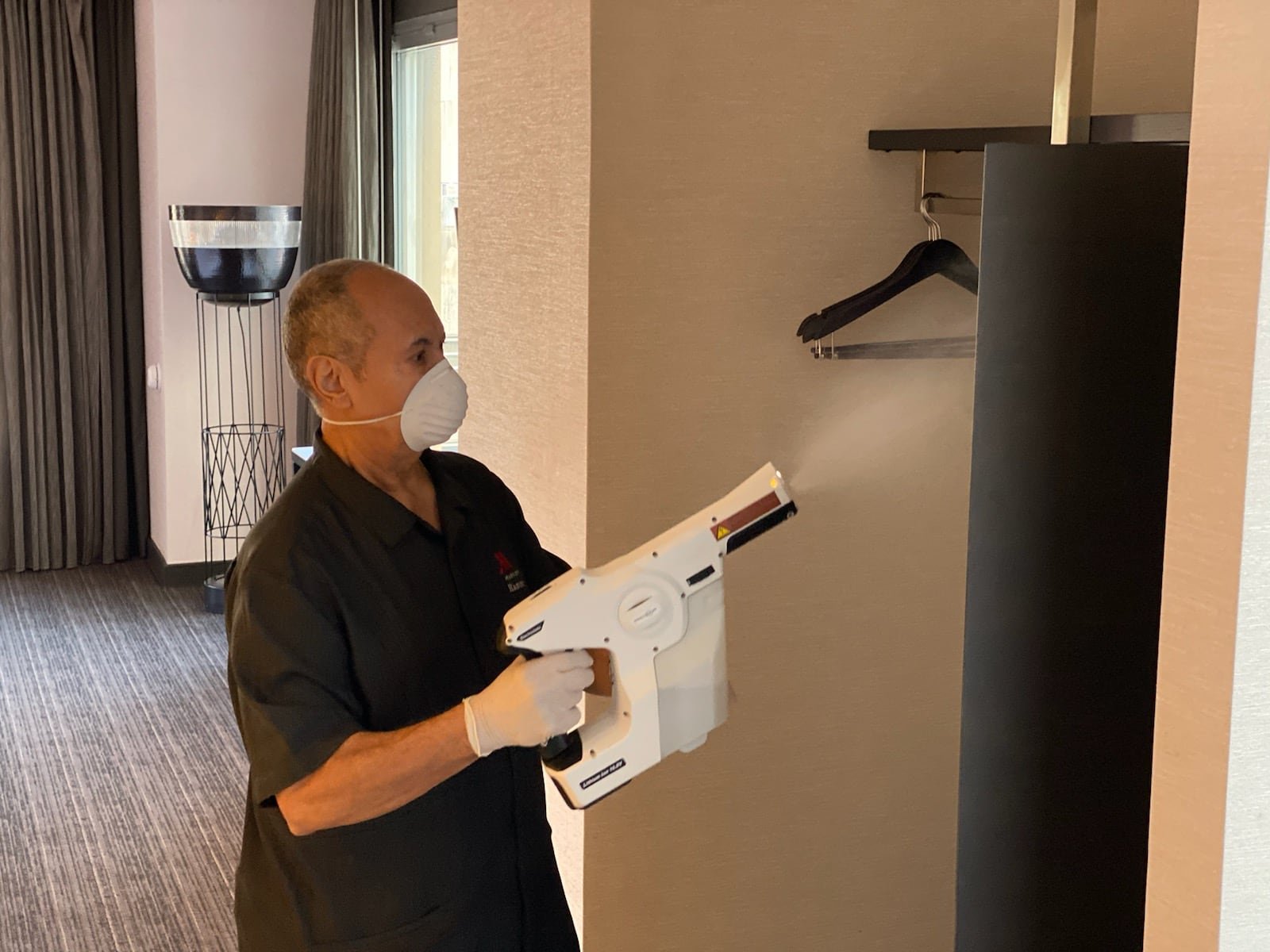 The pandemic has surely created a rather surreal feeling, as if we were living within a Hollywood screenplay rather than real life. Since we are all cast as actors in this film, there are some surprising cameos coming our way when we travel.
More robots and high-tech gadgetry will be apparent in airports, airplanes, and hotels. Both Marriott's Global Cleanliness Council and Hilton's CleanStay protocol involve electrostatic sprayers with disinfecting mist and ultraviolet light to sanitize surfaces and objects.
The Westin Houston Medical Center is using LightStrike Germ-Zapping Robots in guest rooms and public areas. Housekeepers will activate the robot, the same type used at healthcare facilities, to quickly destroy any viruses, bacteria, and fungi using intense pulsed xenon ultraviolet (UV) light.
Whether you deem it safe to travel this summer is a personal choice. It will be a slow return to normalcy, and for now, it is advisable to stay closer to home until we see a reduction in COVID-19 cases. Guidelines and restrictions are changing rapidly so keep an eye out for both local restrictions and those of anywhere that you plan to travel (even if it is to a neighboring county or state).
A vaccine is not imminent, but in the works, and travel companies are already hard at work creating cleaning programs that will make us feel safer whenever you choose to travel.