Spending Weekends with Cleo on Third
A decade ago, Cleo Mediterráneo at the Redbury Hotel in Hollywood introduced stylish, trendsetting diners to Executive Chef Danny Elmaleh's zesty but refined approach to Middle Eastern dining. Elmaleh first made a splash in Miami's South Beach by combining those flavorful eats with sophisticated cocktails blending top shelf spirits and fresh fruits, vegetables and herbs. It was an equation so solid that parent company (and longtime hospitality trendsetter) sbe expanded Cleo's reach in Los Angeles to Downtown Los Angeles and Third Street in West Hollywood.
While Cleo's locations nationwide quickly generated a buzz through fresh, global takes on Mediterranean classics, Elmaleh encouraged the lead chefs at other locales to add their own personal touches to keep customers coming back. Chef Jan Claudio, who helms the kitchen of Cleo on Third in West Hollywood (sbe.com), has relished the opportunity to expand his own knowledge of Mediterranean cooking techniques and ingredients and pass it on to his staff and the customers.
"My work with sbe and Cleo enabled me to expand my cooking knowledge," affirms Chef Jan. "Applying the fundamentals that Chef Danny Elmaleh already established, reflecting his fascinating Israeli-Japanese heritage, to what I already knew results in creating a really fun and interesting culinary concept for people to experience. Developing these recipes was a new and interesting experience for me, but very welcomed."
This is all the more true on weekends with the recently rolled-out Sunday brunch menu. While it is relatively small, Chef Jan explains his take on Elmaleh's vision combine American and Middle Eastern sensibilities as well as some coming from his Puerto Rican background. On the savory side, highlights on his menu include a breakfast burger with harissa and fried egg and a Moroccan fried chicken sandwich. Traditional omelets and other familiar dishes are enlivened with a side of twice-baked potatoes and tzatziki. Even those not into anything sweet or light may be swayed with the decadent ricotta pancakes, Greek salad and Greek yogurt parfait.
"I cross-utilized a lot of ingredients I have used before, but what surprised me the most was the use of dried fruits in Mediterranean cuisine," Chef Jan Continues. "Those energy bursts are so good for you too, especially now that we are all trying to keep our immune systems in top form (with COVID-19 currently a part in everyday life). Dried fruits, for instance, provide a lot of minerals and vitamins like calcium, iron, magnesium, potassium, vitamin A (beta carotene), vitamin B1, B2 and B3. These will help strengthen your bones and muscles, reduce fatigue and enhance your well being. I was surprised to learn that their nutritional value is about five times as much as fresh fruit since when the fruit dries the nutrients are concentrated.  And just a handful of dried fruit can brighten up a salad or turn a chicken dish into something special."
Chef Jan also enjoys dispensing advice to customers who are home cooks, reminding them that "Mediterranean" food is global by nature as well as healthy when prepared correctly. This dispels the myth that food has to be bland and unexciting in order for it to qualify as healthy.
"It's actually food from any of the countries that border the Mediterranean Sea like Turkey, Europe, northern Africa, and southwest Asia," he continues. "When you think of it, embracing Mediterranean cuisine is a lifestyle choice that is healthy and flavorful. It provides a mix of bold and subtle, but always delicious, flavors. Because of the increase in awareness of Mediterranean food's health and sensory benefits, I think people now expect those (attributes) in all kinds of cuisine today."
When it comes to stocking your kitchen for a brunch or lunch, Chef Jan stresses fresh is always better when it comes to Mediterranean fare. Whether you're prepping a complex dish or doing your own version of eggs and twice-baked potatoes and tzatziki, you should be sure to have herbs on hand like mint, coriander, cumin, dill, fennel, garlic, lavender, marjoram, mint, oregano, parsley, paprika, rosemary, saffron, sage, savory, sumac, tarragon, thyme and turmeric. As some fresh herbs or spices may be more challenging to find, he recommends an upscale gourmet supermarket like Bristol Farms as well as farmers markets.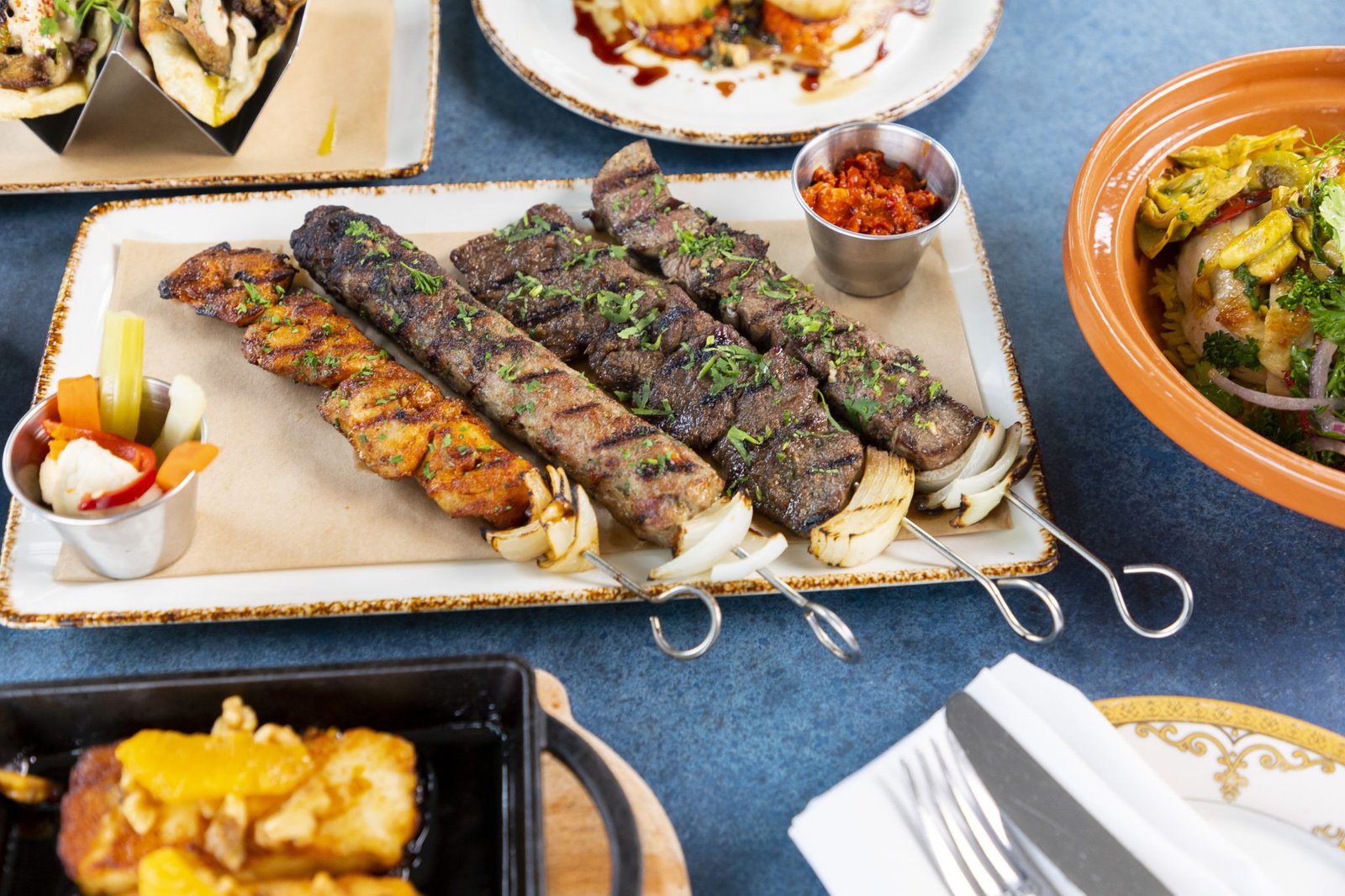 "Farmer's Markets are great resources, but during the COVID-19 shutdown, you should check your market's website ahead of time to see if it is open and what the modified hours are," he continues. "Interestingly, since the shutdown, I have observed more people are actually growing their own vegetables on their patios and balconies, which provides one of the most amazingly fresh options. Having a high-quality extra virgin olive oil in your pantry will also make a big difference."
In terms of maintaining the freshness of herbs and spices, Chef Jan offers a few trade secrets from the Cleo on Third's pantry and dining room:
To maximize the shelf life of spices, store them in a cool, dark cupboard away from direct heat or sunlight, and keep the containers tightly closed when not in use. "While we use 'working' glass jars of fresh spices and herbs as part of the décor at Cleo, if you try this look at home, be sure you put the jars away when you are finished entertaining," he says.
Herbs also play a role in  "Fresh herbs add beautiful colors to the presentation of a dish."
"One of the most fun things about the look of Cleo is the mix and match of the beautiful Middle Eastern and antique flower plates that we use," he says. You can add a splash of color to dining by creating your own mix of plates from antique stores or places like Pottery Barn or Tuesday Morning.
In bringing Mediterranean flair to any kind of dish, Chef Jan suggests taking the time to get to know different techniques and cooking methods from the Middle East. "My favorite part is the process and products is adding new skills," he says. "For example, braising as a cooking method, marinating different meats, baking fresh bread daily, the abundance of rice in Mediterranean dishes and definitely the variety of spices that are used."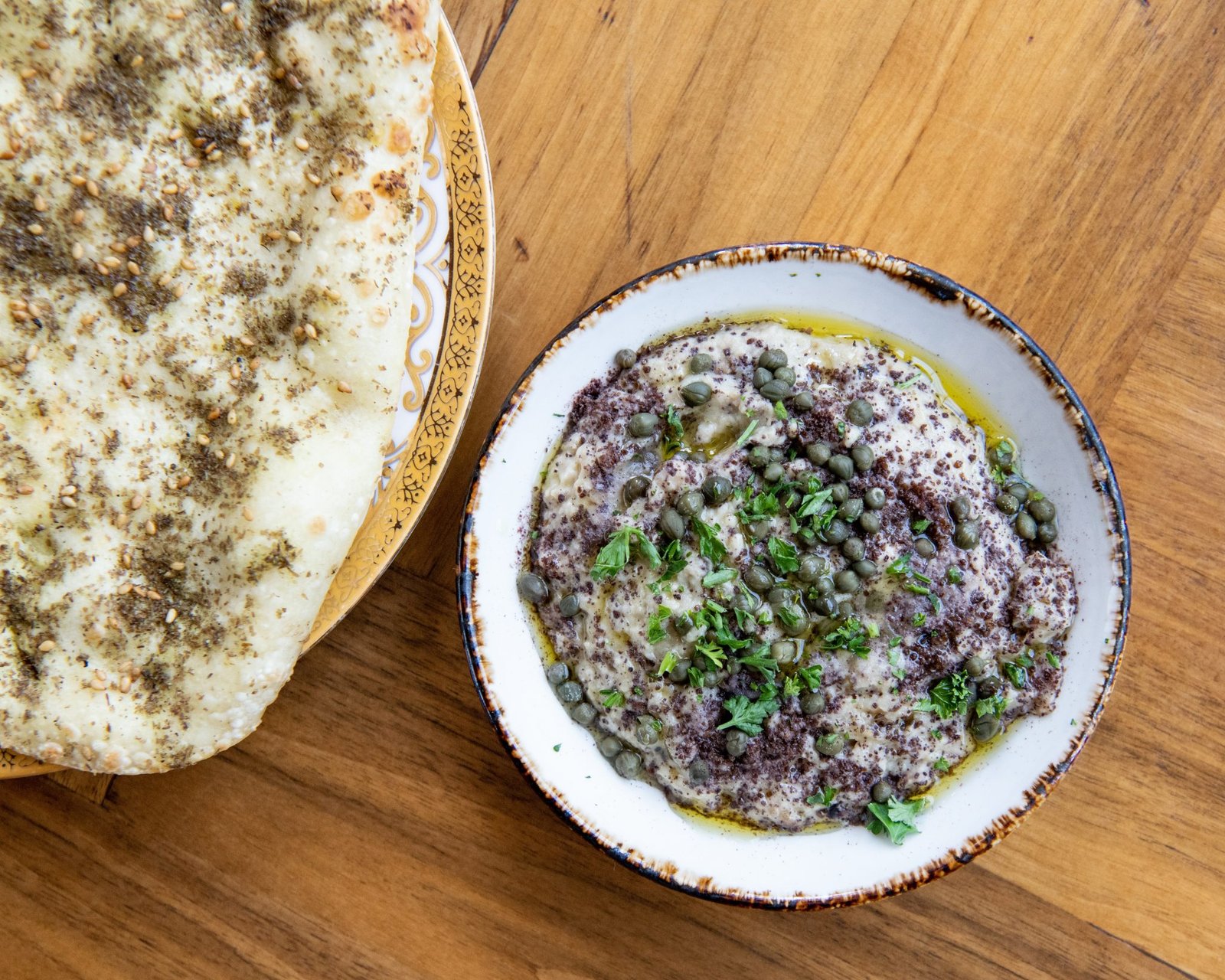 2 lbs eggplant
¼ cup tahini
2 tbsp lemon juice
2 cloves garlic, grated
1 tbsp cumin
¾ tsp salt
1 oz eggplant liquid
Place the whole eggplant, skin on, over an open flame and char until it is soft.
Once tender, place the eggplant inside of a bowl covering, it with plastic wrap and let it steam.
Once steamed, let it cool down at room temp, and peel the skin off.
Cut the stems, and roughly chop the eggplant, place it into a Chinoise strainer and let it drain overnight to get your eggplant liquid.
Place into a mixing bowl and add the tahini, lemon juice, garlic, cumin and salt.
Add eggplant liquid and stir until you get the right consistency.
1 small watermelon
1 large bunch (3 oz) frisée lettuce
Frantoia Extra Virgin Olive Oil
½ cup Bulgarian feta, crumbled
8 mint leaves (fresh picked)
2 breakfast radishes
1 small bunch (6-7 oz) purple watercress
¼ cup fresh lemon juice
Fresh Black Pepper—to taste
Clean the watermelon skin and cut the flesh into 1-inch cubes with a ruler to ensure consistency in size and shape.
Place the pieces of watermelon in the plate and start dressing the salad.
Clean the frisée greens and keep them in cold water to ensure it will stay green and crisp.
Shave the breakfast radish with a mandoline slicer, nice and thin.
Drizzle fresh lemon juice on all of the watermelon cubes.
Crumble the Bulgarian Feta, place the frisée, radish and the mint leaves around the plate.
Crush some fresh black pepper and drizzle the Frantoia Olive Oil all over the salad.