A Private-Plane Safari is Easier to Organize Than You Might Think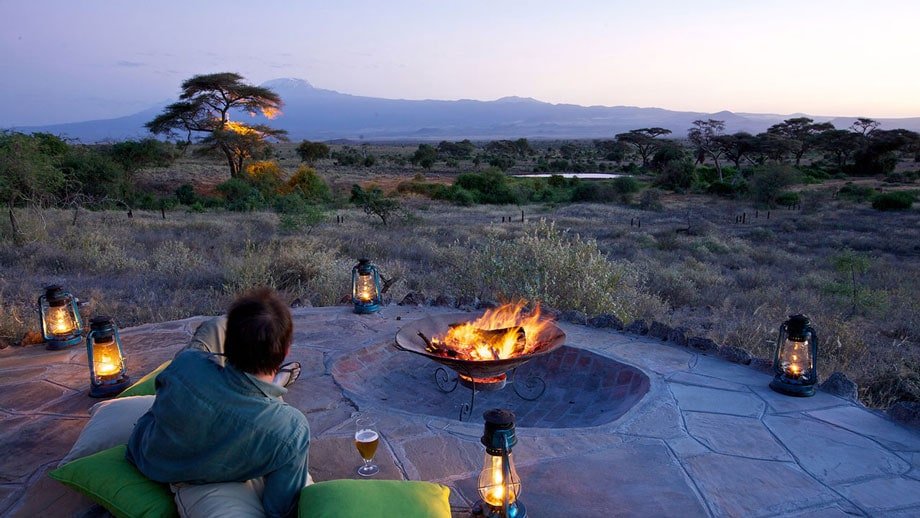 Photo credit: Elewana Collection
Tortilis
Safaris, by nature, are built for social distancing. They are designed around getting out in nature and witnessing animals in their natural habitat. These days, safari travel is an exceptional opportunity because there are minimal crowds, and it allows those that prefer to stay within their own "travel bubble" to do so.
The ultimate luxury is the bespoke safari experience that allows travelers the freedom to visit the places they want without interacting with others. SkySafari by Elewana Collection has been offering just such an opportunity for years, long before the term social distancing bubbled to the surface of our vernacular. Travelers can do a buyout of the entire experience (nine passengers) to include friends or family or opt in to one of the regularly scheduled trips. Either way, the groups remain small. 
Photo credit: Elewana Collection
Using a new Cessna Grand Caravan nine-seat aircraft that has been furnished in the style of a business jet with reclining leather seats and mahogany woodwork, travelers can set their own schedule for a visit to the "African bush" and book the entire plane as a "buyout" should they wish.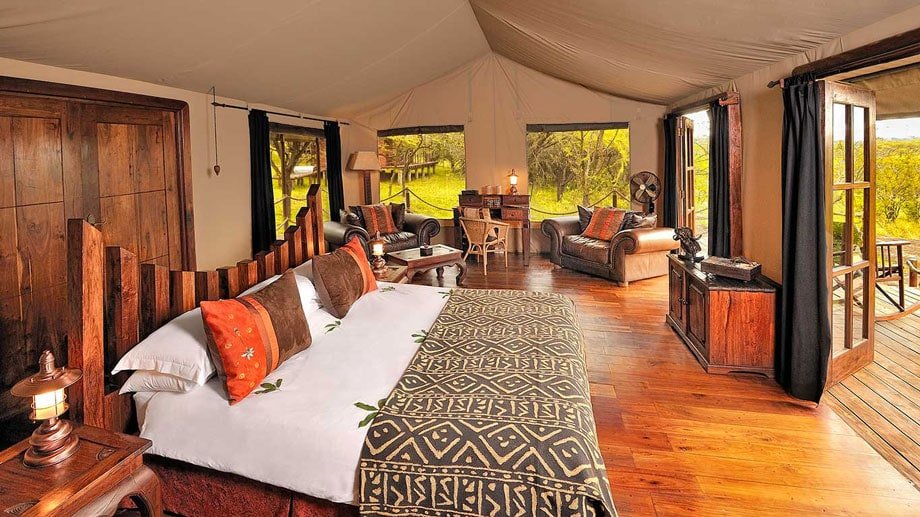 Photo credit: Elewana Collection
Serengeti Pioneer
Elewana Collection is known for its unique collection of safari lodges and tented camps across Kenya and Tanzania. The SkySafari experience is a customizable trip where people can choose between different schedules and lodges that fit the needs of their group. These days, many travelers are looking for more intimate travel experiences, and a private-plane safari, while not cheap, certainly fits that need.
Typically, safari companies rely on commercial operators like Safarilink to take travelers between the dirt runways and air strips that separate the various lodges within the Masai Mara and Serengeti. These are often multi-stop flights that can add hours to a trip when traveling between camps. This means they have less control of when travelers must depart each lodge and with whom their guests are flying since flights are set using the airline's open timetable.
Commercial planes in the region typically carry 13 people, but SkySafari has fewer seats, strong air conditioning, and fold-out tables between seats.
SkySafari by Elewana Collection is unique in that groups of nine can have their own passengers on one aircraft with a private pilot giving them the freedom to leave when they want and travel with their own friends and families. It's this ability to have more control over the trip that makes it especially worth the extra money.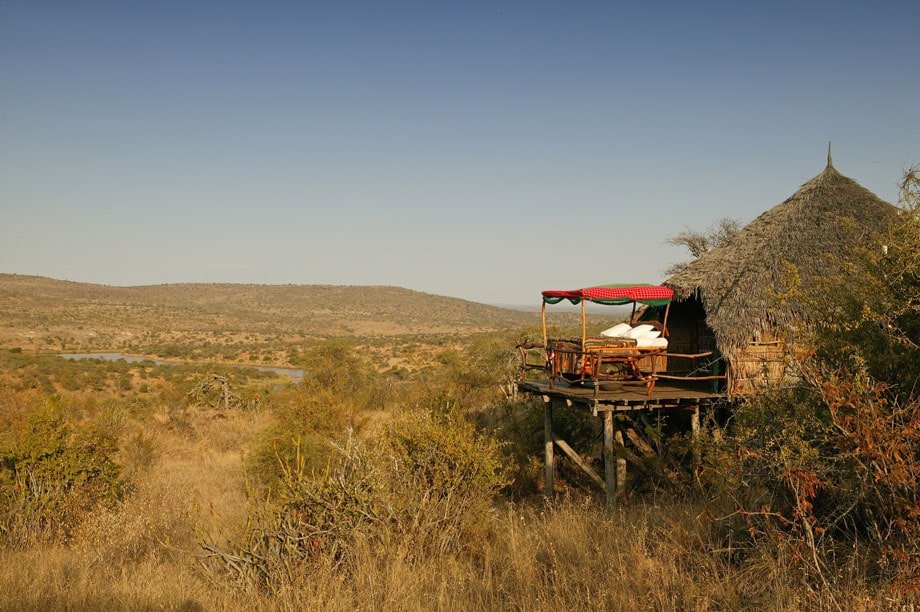 Photo credit: Elewana Collection
Loisaba
There are lots of camps and lodges where travelers can visit with accommodations that range from rustic to truly opulent. Elewana Collection's properties are all on the high-end scale with some being more elegant than others.
Loisaba Star Beds in Kenya is a traveler favorite that is known for its famous "star beds," private tented bedrooms situated high on a cliff. Guests can stargaze the night away while listening to the animals meander below. There are also more traditional tented camp accommodations that offer modern comforts, but without the isolated clifftop locale.
Photo credit: Elewana Collection
Arusha Coffee Lodge
For an entirely different setup, travelers can opt to sleep on a coffee plantation at Arusha Coffee Lodge in Tanzania, which is at the foot of Mount Meru. While here, guests can learn about the region's rich coffee growing history.
What's especially fun about the SkySafari is that it curates several of these properties into a set itinerary that takes visitors can book as a private trip. It includes a private pilot that travels with them allowing them to coordinate departures and arrivals with more flexibility without having to wait for anyone else.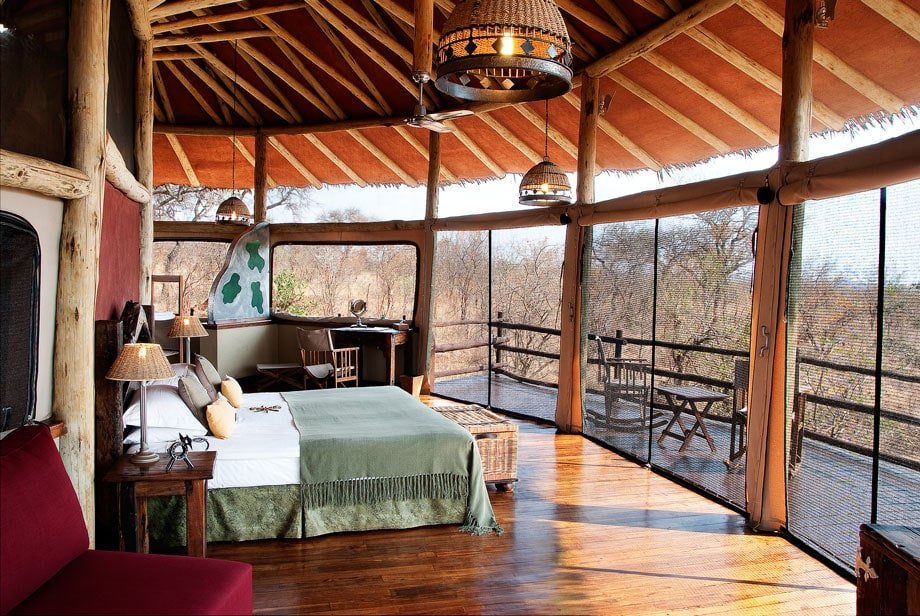 Photo credit: Elewana Collection
Tarangire Treetops
If you're looking for something different from the traditional luxury tents and private lodge, guests can sleep in a tree house at Tarangire Treetops for a birds-eye view of the savanna below.
Travelers on a SkySafari do not need to follow the same stringent weight restriction on luggage that they might when flying commercial planes between camps (often an issue when these small planes are full). This means you can stock up on souvenirs along the way. Many area tribes create beautiful handicrafts and jewelry that make great gifts to bring home while supporting the local community.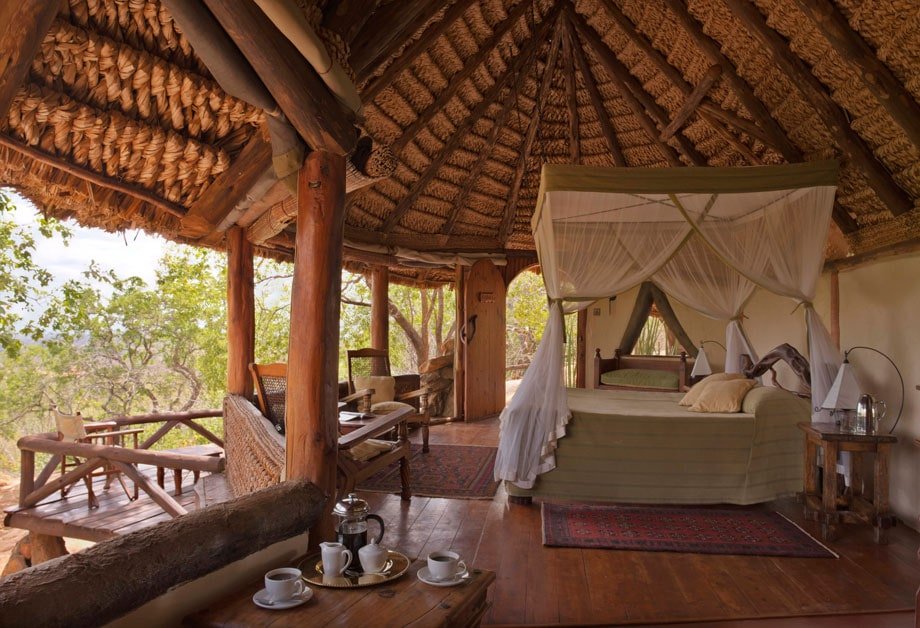 Photo credit: Elewana Collection
Tarangire Treetops
At the Elsa's Kopje Meru, travelers can relive the exciting tale of George Adamson, which was eventually made into a book and a movie, who raised and released orphan lions. Within Meru National Park, guests have a vast expanse to explore on twice-daily game drives where they can spot the big five (lion, leopard, elephant, rhinoceros, and Cape buffalo).
At Elewana Serengeti Pioneer Camp, the tented camps are a guest favorite, but so is the focus on leaving "zero footprint" behind is a notable environmental achievement. This is a common theme that runs through many of Elewana's properties.
Once aboard the Executive Grand Caravan, travelers can enjoy the savanna scenery below from plush leather seats with pull-out dining and work tables, air conditioning vents, and plenty of space to stretch out.
Photo credit: Elewana Collection
Kilindi
After several nights in the wild, the grand finale might include a few nights at the exotic beachfront Elewana Kilindi in Zanzibar, which is designed and originally owned by members of the Swedish band ABBA.
In regards to Covid-19 protocols, Elewana Collection and its lodges adhere to strict new health standards to keep guests safe. Kenya and Tanzania, two East African countries well known for safaris, have reopened to American travelers. There are testing requirements in place prior to entering the country although those with negative test results are able to explore without restrictions. The only exception at the moment is for travelers coming from California, Florida, and Texas who must quarantine in Kenya for two weeks before embarking on any travel adventure.
The variety of animals, landscapes, and luxury overnight options is what can make a safari such a special experience, but having the entire plane to yourself is a hallmark of the SkySafari.