The Caribbean's Punta Cana
A Luxury Resort for the Masses
Luxury comes in two sizes: boutique and grand.
While boutique resorts may signify personalized service, luxury on a grand scale—done right—can offer that and much more.
In the Caribbean, Barcelo Bavaro Palace Deluxe has done luxury on a grand scale just about right. Spread over an improbable 1,800 acres, the 26-year-old resort recently completed nearly $300 million in renovations. In fact, not much of the old property remains.
Located on the eastern edge of the Dominican Republic's Altagracia province, the property is one of 40 hotels in the region that began development in 1985. The area, known as Punta Cana, has been called the next Cancun.
Barcelo is a near hermetically sealed resort. Your biggest exposure to Dominican Republic culture will most likely be the staff. There are ways to escape, but after a few days relaxing in infinity pools or visiting the nearly two mile long beach, 18-hole golf course, seven tennis courts, spa, theater, casino and nightclub – you may decide to stay put. This is a todo incluido (all included) resort – which makes leaving all the more difficult.
The all-inclusive policy means just that: all activities, food and drinks (except for premium varieties) are covered in the price.
At first, Barcelo can seem overwhelming. Familiarization with the realm's vast spread can take a few days. But after several rounds, you'll know where the seven specialty a la carte restaurants are—a choice of Mexican, Japanese, French, Spanish, Italian as well as seafood and a steakhouse.
Cuisine on this grand of a scale does have its drawbacks. Stick to the restaurants that keep preparation simple—Japanese (hibachi style), Coral (seafood) and the steakhouse. There's also Striker's Sports bar, open 24 hours, but it's best reserved for late nights (post casino and nightclub) when no other options exist.
Club Premium is the resort's value added package—worth purchasing for the exclusivity it affords: private check in and check out at a lounge off the airy lobby, personalized concierge services, best room views, free wireless and more.
While most of the other 5,000 guests may crowd one of two morning buffets, Club Premium members enjoy personalized lounge service at tables set with white linen.
Various other rooms and perks are scattered throughout the resort for Premium members. After late night casino gambling and dancing, this writer and friends slipped into an exclusive area overlooking the nightclub. Later, we entered another VIP smoking lounge that overlooked the casino. Sitting on couches, sipping brandy – it was well worth a small increase in cost.
In truth, with guests spread far and wide, there's always some spot beneath coconut palms that feels private at Barcelo. Several discreet pools cater to adults (reserve one of the cabanas early in the day). In contrast, the swim-up pool bars can rock with activity. And guests are not required to belong to Club Premium to take advantage of many of these areas.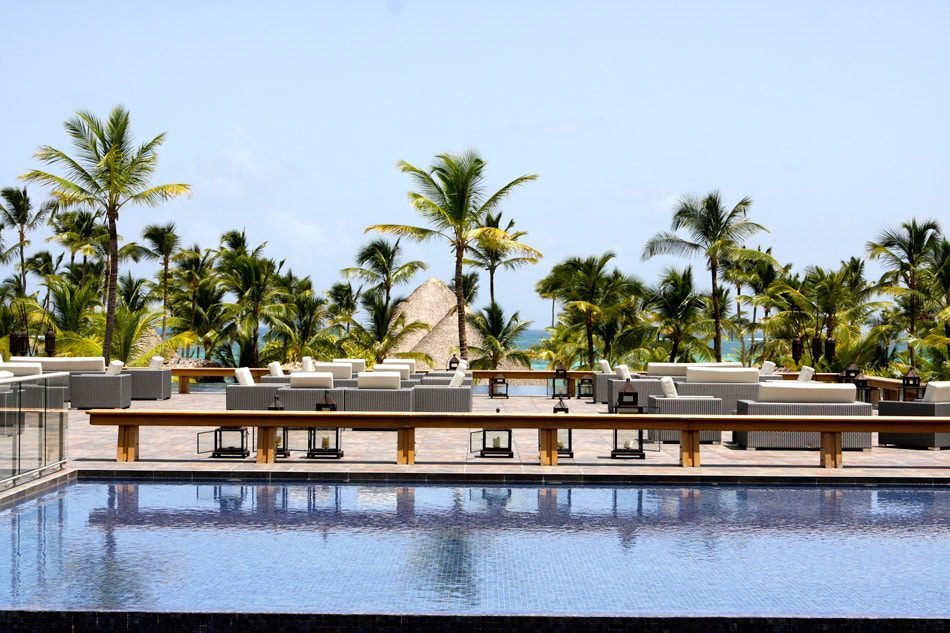 One of the best-kept secrets at the resort may be an outside lounge area above the spa and across from the theater. With a view of the ocean, set with fire pits and candles, the area is probably the optimal spot to enjoy a late evening drink. During a recent four night stay, it was nearly always empty.
December through June is prime season at the 1991-room Barcelo, when occupancy rates can top 5,000. During a visit in early September, the resort had 2,100 guests and 2000 employees, a great ratio. Plan the month of your visit accordingly.
Most visitors hail from Europe, although the hotel has begun wooing an American clientele, mostly from the East Coast because of proximity. Americans have tended to favor the Bahamas, but flights from New York City are about three-and-a-half hours in length, and packages to the resort can be quite affordable.
One couple during the stay reported a $1400 per person price for nine days including airfare – from the West Coast. It's an excellent bargain, considering one doesn't have to drop a penny, except for tips, when at the resort.
A high percentage of guests are honeymoon couples. "Absolutely wonderful," agreed a newly married couple from San Paulo, Brazil, when asked about their stay.
The honeymoon suites, also called panorama suites, feature wider views, private terrace and a Jacuzzi inside and out. The vast majority of rooms, in fact, include a Jacuzzi on the balcony.
Increasingly, Barcelo has parceled out various areas for differing needs and purposes – a wise master plan for a mega resort. Satellite concierge stations (for the family and golf suites) enable guests to access services without making lengthy walks back to the lobby.
One can spend an entire visit at the resort without leaving, and not be worse for it. Whatever experience you desire, you can create it – from midnight swims in the ocean to numerous water sports: paddle boats, kayaks, snorkel and scuba gear, windsurf boards, sailboats, water polo and more. There's even a shark pen anchored off shore for the intrepid. The cost? Activities and dance lessons are included in the price.
It's worth it to learn at least the meringue while at the resort, since it's the country's national dance.
"In the Dominican Republic, you learn to walk by dancing," says Francisco Mora who was raised on the island and now lives in San Francisco, California. "The whole island lives in dancing mode – on holidays, with your family. Even the elderly go to dance parties at social clubs."
With tempos that can reach 160 beats per minute the meringue keeps the island, and the resort, moving. The dance was invented in the 1920s by Dominican Nico Lora.
"All the dancing – it makes the island almost unbearably happy," says Mora who was born in San Francisco de Macoris.
If Mora's anecdote is enticing, there are ways to escape Barcelo to directly experience the Dominican Republic, which is about the size of New Hampshire. Cars can easily be rented for excursions to nearby Higuey, the province's capital city dotted with fruit stands and swarming with motorbikes.
An all-day excursion to Saona Island, at the island's southeast point, will also pass by Higuey. This government protected nature reserve is set-up for resort visits. The journey that delivers you there winds its way around several towns giving visitors a more intimate view of the Dominican Republic, home to ten million.
Endless fields of sugar cane backed by mahogany forests are common views on the journey to the island, passing the towns of Veron, Otra Banda and Higuey. Most trips stop for an hour at Altos de Chavon, a mock 16th century town built in 1976.
The hour van ride takes you first to Bayahibe beach. From there, a 45-minute speedboat ride to Saona Island stops midway for a dip in the famed turquoise ocean. The island beach is set-up for lunch when you arrive, barbeque style, along with beach volleyball, massage stations and lounge chairs.
Saona Island's setting is idyllic, and while you'll have a near duplicate oceanview as at the Barcelo, the lack of infrastructure is both refreshing and calming.