The Best Places To Eat In Poland Right Now
Move over, Paris. Get a taste for one of the most surprising food destinations on Earth:
Poland

.
This European nation is located at a geographic intersection that connects the forested lands of northwestern Europe to the fertile plains of the Eurasian frontier and sea lanes of the Atlantic Ocean. It often flies under the radar, but its food scene is starting to cause a stir. We spend a lot of time, here at 
ALO
, trying to figure out the best things to eat. And, we also spend a lot of time arguing about the places we'd want to live all over the world. So, we decided to take those two constants and showcase the best places to eat in Poland—from Krakow to Warsaw.
In the middle of Old Town Krakow is an amazing restaurant and we only recommend it if you want to be spoiled. We wouldn't be exaggerating if we said that Szara Gęś easily ranks amongst the best cuisine choices in all of Europe. The restaurant has it all: excellent wines and spirits, exceptional service staff, inviting decor, innovative and well-plated dishes, and incredible desserts. Order up the Grey Goose Nest, which resembles an actual large goose egg in a nest. This gastric invention is an unexpected, over-the-top delight that must be sampled if you get anywhere near Poland. Seriously, it's worth a special trip.
The Michelin Guide 2017 says this about the Pod Baranem Restauracja: "Traditional family-run restaurant set over five rooms, with rug-covered stone floors, homely furnishings and contemporary artwork by Edward Dwurnik. The large menu offers classic Polish cuisine; sharing dishes must be ordered in advance…" … and did the meal ever live up to the guide's recommendation. The modest façade is seemingly like every Europe eatery on a quiet street. Yet, the minute you enter the restaurant, you're greeted to a full house with enough energy to power a small town. Once you check your coat, you are certainly ready to try the vast menu. The salmon (pictured) and duck main dishes are exquisitely prepared and the friendly staff is on point during the entire meal. Add some delicious mulled wine and bespoke vodka martini and you're in business.
After a long, long stretch of less than impressing experiences while testing new restaurants this spring, all we wanted to eat was a full menu at Pod Nosem Restauracja in Kraków. There no place else we've found where fine dining feels so cozy while being so surprising, inspiring, and taste-bud-pleasing. Their approach is definitely fitting the ongoing trend of focusing on local food sources without ever being overly intellectual about it…
Baltic Salmon with vegetables and broth
Baltic Salmon with vegetables and broth
Rabbit and polenta with beetroot
Guinea Fowl, steppe boletus, buckwheat and Brussels sprouts
Loin of Venison with chestnuts and kale
The flavor and texture profiles of their dishes are spot, yet unusual enough to leave a lasting impression. Add in the homemade dumplings and fois with figs and you just want to stop and go to heaven. Wait, you're already there! Oh, and their rhubarb pavlova with pomegranate dessert is heavenly.
A five-star hotel and spa on a quiet corner of the Wisła, the Niebieski is a fantastic boutique hotel with a harmonious holistic interior arrangement and philosophy of wellbeing that extends from the sumptuous Vanilla Spa and throughout the entire hotel. The spacious rooms feature wide, comfortable beds, unique modern furnishings and soothing colors, while the Vanilla Sky restaurant serves light fusion cuisine with certified organic ingredients, and features great views of Wawel Castle within walking distance of the main attractions.
Don't Miss While In Kraków
We went there for the food, but stayed because of the steeped historical significance. The main draws of this European city are its Old World architecture and connection to World War II. History enthusiasts will appreciate seeing the planes at the Polish Aviation Museum and revel in walking around Oskar Schindler's Factory, Old Town, and the Jewish Quarter. The Auschwitz-Birkenau Memorial and Museum will leave you utterly and emotionally drained, while architecture aficionados will love eyeing the Wawel Cathedral and St. Mary's Basilica.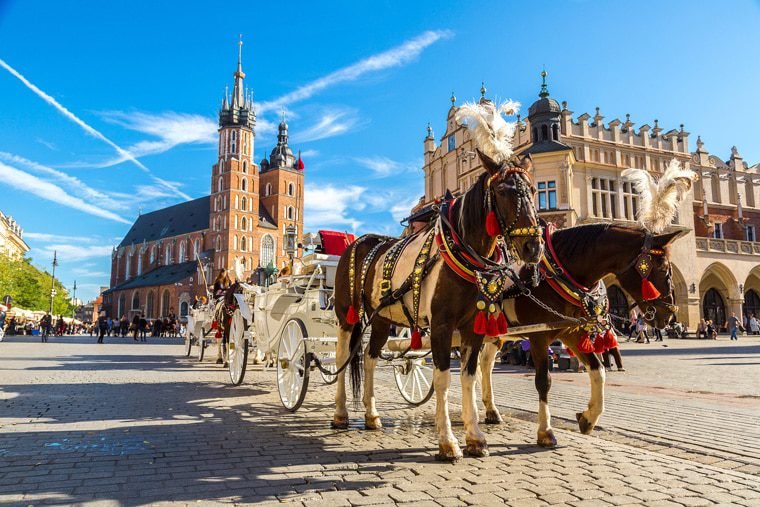 If you have a few hours in the afternoon, a must see is the Wieliczka Salt Mine, a UNESCO World Heritage site, where salt was churned out for centuries. The mine's undisputed climax is St. Kinga's Chapel, a full-blown underground temple made out of salt. A visit to the mine also doubles as a workout—during a typical visit, you'll navigate down 800 steps, 350 of which are part of your initial descent.
Also known as The Vodka House—there are currently over 250 vodkas ready to pour—we sadly skipped the alcohol during the lunchtime visit. This fine dining restaurant, in the heart of Warsaw near the National Opera House and Museums, has pushed the local Polish food scene to a new level. Their kitchen showcases the diverse flavors and textures of Polish cuisine with a unique drive and ambition. Specially prepared by Tomasz Małek, a four-time Flair Bartending world champion, the menu is fully paired with cocktails, wines and liquors. Since it was lunch, we stuck to soup and salad, which both ate like a meals of their own. The Krupnik soup arrived at the table with the millet and vegetables, free-range chicken meatballs, and dill looking delicious, yet lonesome in the bowl. The broth was added tableside and it couldn't have been more delightful. The goat cheese and beetroot salad ranks among the finest meal salad we've ever tasted One can only wonder how amazing this meal would have been at night with some vodka. Bravo!
Really good food gives us the shivers. We also kind of want to clap our hands, when we eat it, and sometimes we even do (like, a silent mental clap, but still, we're applauding the chef). Eating at Warszawski Sen, located in the trendy Koszyki Hall, gives us that feeling. Their cauliflower cream soup with truffle oil is very, very high on our list of absolute Warsaw faves. It's made with the best local truffles and so creamy and delicious that we (almost) lack the words to describe it. But we also love all the other veggie dishes like the super creamy risotto with mushrooms (as you can see we were on a cream kick in Warsaw!) and the baked yolk, sour cream and roasted spring onion salad.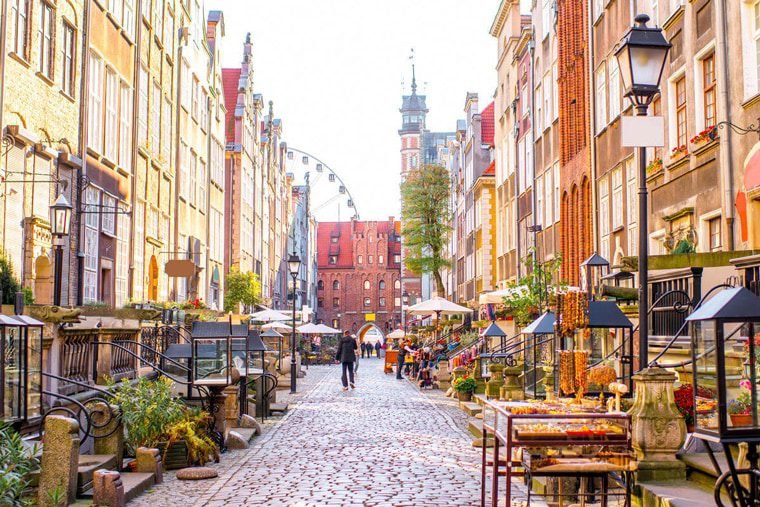 We cheated a little bit when it came to visiting Gdańsk. Rather than switching hotels and staying outside of Warsaw, ALO opted to take the two-and-half hour train ride from Warszawa Centralna (see Where to Stay in Warsaw to understand why) to Gdańsk. Gdańsk is a hidden treasure and once you step off of the train you immediately why this town in a must see. Start at St. Mary's Basilica and the 46-foot tall Astronomical Clock that is both a work of art and highly-functioning information source. Its complex dials show the time and date, phases of the moon, the position of the moon and sun in relation to the zodiac signs, and the calendar of saints. Adam and Eve ring the bell on the hour, and at noon the Three Kings, the Apostles, and Death join them in a historic precession. Visit the Amber Museum to see hundreds of interesting ways the most rare amber on Earth's is used in everyday life. Without a visit, you might never know that as much as 90% of the world's deposits can be found near Poland, with some of it extremely valuable. Exiting the museum there is a huge street where you can buy an amber treat of your own (we opted for the petite lamps with the fashionable amber shades).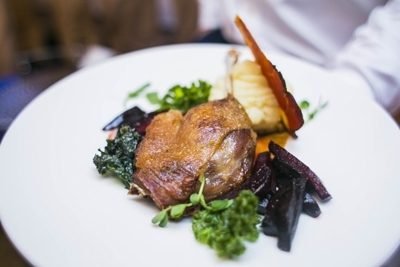 Lunch at Brovarnia in the Hotel Gdańsk
➤ 
Szafarnia 9, 80-755 Gdańsk, Poland
☎+48 58 320 19 70
Website
After a longish walk past the shipping canal, a small respite was in order and we stumbled upon the Brovarnia and just like Gdańsk, it was secret gem that exceeded expectations. The five-course lunch was a mesh of local delights that excited the palate:
Veal Loin Carpaccio with arugula and truffle olive
Young spinach salad with goat cheese, beetroots, pine nuts with lemon-nut vinaigrette
Wild mushroom consommé with truffle dumplings
Beef cheeks confit with roasted vegetables, potato dumplings and red wine sauce
Apple Crumble with Baileys sauce and ice cream
After lunch, we immediately proceeded to The European Solidarity Centre for one of the best museum experiences anywhere. In 1980, the American news media caught wind of Solidarity, a Polish labor union led by the charismatic Lech Walesa. Every night, the national news would show this David standing up to the Goliath of communism. Who would have guessed that this union would be instrumental in the eventual collapse of the Soviet Union, and the primary catalyst that would transform Poland from a repressive communist satellite to the EU member democracy it is today? Our visit to the Solidarity museum reminded us of the daily anti-commie rhetoric, which fueled our nuclear fears and dislike (hate) of the Soviet Union. The museum's 'Roads to Freedom' exhibit is centered in the Gdansk shipyards where Walesa rose to lead the shipyard workers. Inside, elaborate dioramas and props recreate the bare cupboards and empty shop shelves with only lard and vinegar of Poland in the '80s. Slideshows and crackling film-reels tell the stories of the political uprisings and the nightmare of martial law. The famous 21 demands of the August 1980 shipyard strike, handwritten on plywood boards and honored by UNESCO's World Heritage List, are also on display along with letters of support from all over the world.
Before catching the train back to Warsaw, dinner was slated for the Winne Grono Restaurant and it seemed to take forever to get there. More than once we thought about getting by on the first class train meal that awaited. Boy, are we glad we didn't skip this restaurant. If you want to know why the Polish food scene is as good as it is today, come here. The modest restaurant tucked into a residential area was a gastronomic delight. The smoked duck breast with celery salad, walnut, Roquefort cheese, red beets, and apple sorbet is easily the best duck we had in Europe. If you want a vegetarian option, there's nothing better than the fried goat cheese with pear in red wine, marinated pumpkin, rocket and sunflower pesto.
Kozłówka / Lublin / Kazimierz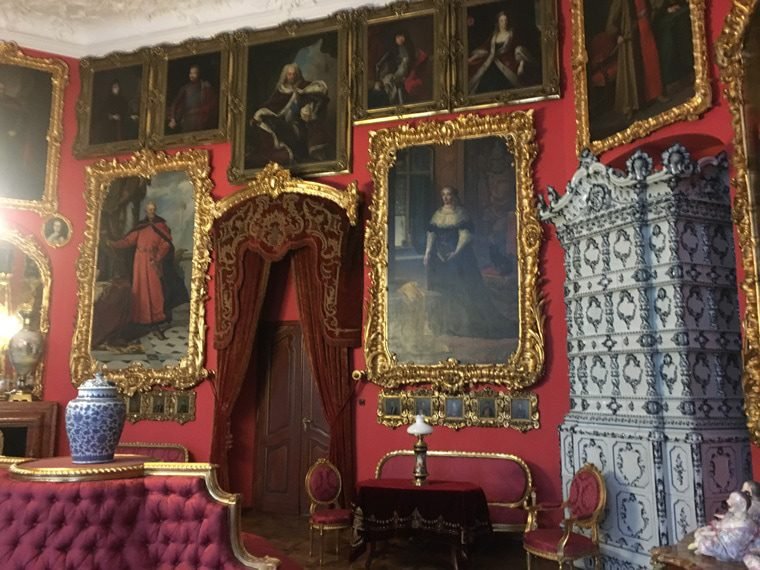 Traveling further southeast to Lublin marked another day of remembrance to those we, as a people, let perish through racism, ignorance, and indifference. Majdanek was a concentration and forced labor camp that evolved into a death camp. It was located in a suburb just three miles from Lublin in Poland in the center of the General Government area. Majdanek opened in September 1941, initially for Soviet prisoners of war, and was liberated by the Soviet Army in July 1944. During this time approximately 360,000 victims died or were murdered, 120,000 of them Jews. The inmates of comprised people of 54 nationalities from 28 different countries. They included Soviet prisoners of war and Jews from Poland, Germany, Czechoslovakia, the Netherlands, France, Hungary, Belgium and Greece. In addition, many non-Jews from Belorussia, the Ukraine and across Poland were taken to the camp as political prisoners or slave laborers.
With Majdanek draining us of all available energy, the Ego was just the remedy to recharge. The brilliance of Chef Karol Zając lights the way through a rediscovery of the long hidden secrets of polish cuisine merged with flavors from the far-reaching corners of the world. Nothing can compare to the beef tartar with anchovy-sephia emulsion and pickled boletuses. As a matter of fact, the pumpkin ravioli with burnt butter foam is worth the 11-hour flight and three-hour drive alone. The wine was so good that each of us packed two bottles of wine and brought them back in our suitcases. After Lublin, we zipped over to Kazimierz Dolny for a night tour. It is one of the highlights of anything in the general vicinity of Warsaw as one of the most beautifully located little Renaissance towns in Poland. Its greatest prosperity dates back hundred of years and has become a popular holiday destination, attracting artists and summer residents. The tour featured visit to their iconic 16th century Parish Church, the ruins of medieval castle and tower, and Old Town filled with studios and local artisans. The highlight of the trip was the torch lit hike in the driving rain through the Jewish cemetery followed by local liqueur tasting—a tour of a lifetime.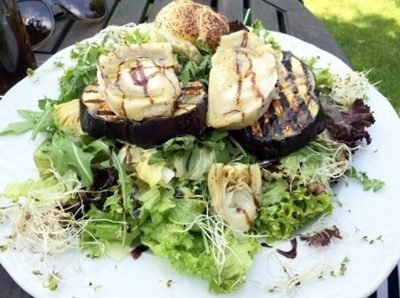 Zielona Tawerna
➤Nadwiślańska 4, 24-120 Kazimierz Dolny, Poland ☎+48 81 881 03 08
We had heard the buzz around Zielona Tawerna and were curious about trying it. Now we cannot stop thinking about going back. It's simply that good; some of the best Polish flavors you will find in town. The moment you enter the old house, with a garden, the scent of herb—sage, mint, rosemary, and lavender—engulf your senses. Since it was the forest mushroom season, our hostess recommended the chanterelle soup, fried cabbage, and Ruskie pierogi (dumplings with cottage cheese and potatoes) and it was if your aunt from the old country spent all day cooking in her own kitchen. A wonderful meal before our long trek back to the hotel.
Located in Warsaw's beautiful Nowe Miasto (New Town) whose origins date back to the 15th century, the Mamaison Hotel Le Regina is housed in the Mokrowsky Palace. One look at the hotel's terracotta-colored façade and you know you couldn't possibly find a better place to stay in Warsaw (and you won't want to leave either as evidenced by our affinity to take long train rides so at the end of the night we could rest our heads there). Standing on a narrow, quiet street, this 61-roomed hotel boasts luxurious interiors, a year-round pool, a quirky good spa, and the acclaimed La Rotisserie restaurant.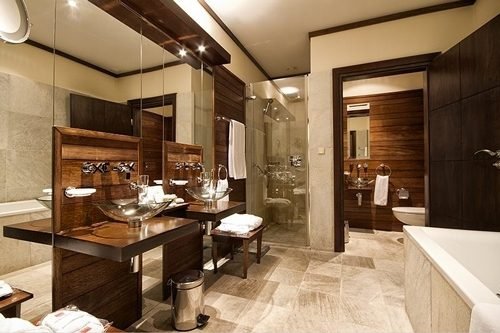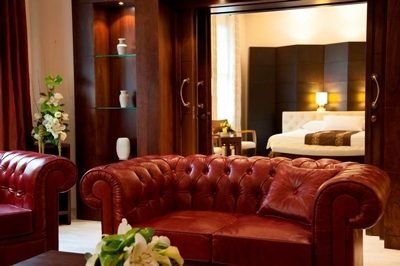 Don't Miss While In Warsaw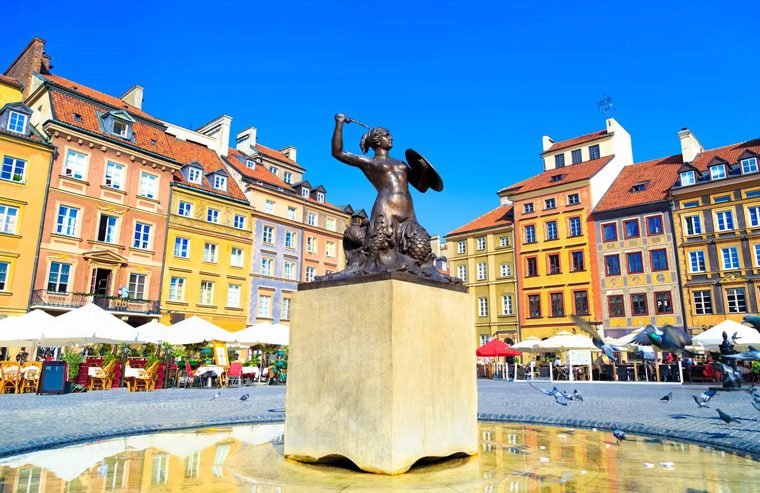 Poland's capital city is filled with educational attractions—the POLIN Museum of the History of Polish Jews and the Warsaw Uprising Museum focus on the country's history, while The Royal Castle in Warsaw and the Copernicus Science Centre feature art or science collections. Music lovers can admire Frédéric Chopin-focused sights along Krakow Suburb Street. No visit to Warsaw is complete without wandering around Old Town where the charm overwhelms you no matter where you look.