Penang: The Virgin Paradise
There's something cooking in Malaysia's virgin paradise, better known as Penang Island. As a matter of fact, eating is the single topic on everyone's tongue from the minute you hit the beautiful tropical island. Despite its British roots—under British rule since its sultan gave it up in 1786 in exchange for protection against his Siamese enemies—Penang produces a bevy of culinary delights. Locals have been crafting char koay teow (stir-fried rice noodles), nasi kandar (biryani rice with naughtily spicy curries) and congee (milky rice porridge) since then, blending in Western flavors for unique delicacies now native to only Malaysia. To find out what the buzz is about, stroll into Chinatown in Georgetown, the capital of Penang state, for a taste and a tour of the eclectic blends of spice and rice.
But satisfying your taste buds isn't the only thing on this island's menu. Interwoven between the cafés and coffee shops are amazing combinations of cultures, Buddhist temples and shopping that make for a fascinating side trip. Here nearly everything you can imagine is available for sale in what amounts to a negotiator's dream: aditional lanterns, vintage British cigarette lighters, joss-sticks, Malay jewelry and local artisan crafts. And, no, you won't find any of the opium that was once traded with India and China when this was a burgeoning port town in previous centuries. But you will find some soothing Malay teas and a friendly smile at every stop.
Remember to bring an umbrella, usually supplied by your hotel, as two-inch downpours can happen at a clap of thunder.
Most people don't understand the importance of spices. At one time, the spice trade made merchants across the globe untold fortunes. They preserved meat and were the key ingredients in perfume making and embalming the dead. They were more valuable than gold. All told, they established immense empires, tipping the balance of world power at thedawn of the seventeenth century.
Tucked away behind Teluk Bahang, the fishing village on the north western tip of Penang, in an eight-acre valley, lies the Tropical Spice Garden. This sumptuous example of nature conservation is all that remains of the resources that fueled Penang's once booming trade. After one visit there, you get the picture perfect introduction to the plethora of spices—over 500 local and introduced varieties— that made Southeast Asia rich and famous. This bewitching jewel of a garden, established on an abandoned rubber plantation, opened in 2003 and, we're told, never fails to amaze. The minute you stride up to the conservatory, your senses are treated to savory treats as a gust of flavors wafts over you. The walking guided tour—one of the finest this side of a docent visit to the Metropolitan Museum of Art—meticulously takes you across three garden experiences:
THE SPICE TRAIL WITH ITS 100 HERBS AND SPICES.
This isn't your typical hands-off walk around a national park. The English-speaking guide goes into great detail about the trees and plants, often plucking a leaf and rubbing a seed pod on your wrist to allow you to smell the sweet aromas. He will even direct you to a lily pond, where you can dip your feet for a brief respite to the often oppressive Malaysian humidity. There, the guppies nibble your toes as part of your organic pedi-spa treatment.
THE JUNGLE TRAIL, REPLETE WITH WILD ORCHIDS AND OTHER JUNGLE SPECIES STRETCHED ACROSS AN ELEVATED PATHWAY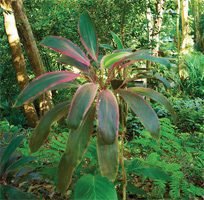 THE ORNAMENTAL TRAIL, HIGHLIGHTING NEVER SEEN (BY ME, AT LEAST) PALMS, FLORA, GINGERS AND FERNS.
The highlight is when you reach the on-site Tree Monkey Restaurant, serving Asian fare prepared with many of the garden's own spices. The views overlooking the South China Sea and daunting rain forest are enchanting. As are the restaurant's sticky rice, tom yumseafood soup and onion omelets.
Daily Admission with tour is approximately $8 USD. There are cooking classes too, but call ahead to make sure they are staffed for the day.
A trip to the Tropical Spice Garden is almost worth the 25 hours of flying from Los Angeles through Japan to Kuala Lumpur, plus a quick flight to Penang.