The Colors of Qatar
As Qatar quietly becomes a tourist destination with major civic and cultural renewals, SAM STONE finds a city at a crossroads awash with color.
No one has ever looked happier than my wife on our third day in Qatar.
When I remember that day, sometimes I see red. That's the color of my wife Moira's angry face when I told her that we had to travel to Qatar for a lengthy assignment for the architectural firm I consult with. She's a person with roots; doesn't mind me traveling but definitely being one for two months required her to pack with me. And while I was very excited about the trip, Moira was decidedly less enthusiastic about this consulting gig in the middle of Arabia. Red is also the color of her embarrassed face when our new neighbors brought over an enormous platter heaped with rice and a whole lamb and made us tea and coffee in our temporary home.
There was one moment when this young couple—husband and wife no more than 25 years old—and both speaking nearly perfect English, integrated so well with us that we knew that Qatar would turn out to be a perfect match for our stay in a foreign land. I can't even really describe it. Moira's passion towards family, friends and horses puts her right at home in this traditional Middle Eastern environment. When somebody makes you feel this way, well, you remember. You always remember.
Sometimes I see brown. That's the main color of the majestic falcon as it flies above 1,000 feet or more. From the outside, falconry seems boring. But when you allow yourself into the fascinating reflection of this Qatari heritage, you discover that the sport is transferred from generation to generation reflecting how men from this region have lived on this land and dealt with its environment in a give-and-take manner. It is said to encourage the values of chivalry, courage, patience and diligence. The falcon, too, seems bored by it all, endlessly circling for little challenges during his flight to maintain his interest. Above head, that little brown dot lingers.
Suddenly, after you flush the game from its nest, the falcon spots it. The eyes of the falcon and its prey seem to lock, and he begins his headfirst swoop (or stoop as it is called in falconry). Your adrenaline rushes, and the falcon looks like it might slam into the ground. But then as he gains steam and changes directions shortly, you think he might actually get to that thing. In a flash the falcon hits the game on the fly, binds it and then carries it to the ground. He then returns to the falconer's glove; a bite-size reward is given. The falcon returns to the air, and the brown dot hangs up there forever.
Sometimes I see a blur. That's the speed of development in Doha, Qatar's capital. The city's master beautification program is in full effect. Entire dilapidated neighborhoods are torn down to make way for immense parks. Urban housing and commercial quarters are designed and built with traditional architecture. Though less publicized, Qatar is developing faster than Dubai. The lack of publicity won't last long. The rapidly approaching Asian Games this December will showcase the new sports venues, each an iconic architectural marvel in its own right. His Highness Sheikh Hamad bin Khalifa Al Thani and Her Highness Sheikha Mozzah have empowered this program. Qatar has matured from dirt roads with negligible opportunity to an alluring skyline with worldclass businesses. Did anyone imagine this from Qatar? It transforms in front of you daily. I can still see the cranes and the miles of blurring development.
Sometimes I see silver. That's a pile of fish on a dock, freshly caught and waiting to sell to the locals. Prior to the 1950s, Doha was a small village whose survival depended exclusively on pearling and fishing. There were hundreds of boats in the Doha harbor with a sole purpose to hunt and gather so the fishermen could provide for their families.
Maybe it happened this way, maybe it didn't, but I always imagine an older Qatari man rowing out to sea to catch the fish to feed his family. Then I imagine him battling the fish like Spencer Tracy in "The Old Man and the Sea." He's determined, he's fierce, he's kicking butt and taking names, he's feeling like he could climb Mount Everest, just him and the sea. He's suddenly a force in the sea, and he's utterly and completely invincible. And he brings back a huge pile of silver. He feeds is his family with strength of his hands and his strategic handling of the currents.
In the 1980s, Qatar emerged as the world's third largest natural gas provider, making it one of the fastest growing and highest per-capita income countries. The desperate need to catch fish for survival has made way for education and more lucrative careers. Moving through the old fishing port of Al Wakrah at the southeast tip of Qatar brings you to a beautiful example of the lure of Qatar: the inlet of Khor Al Udeid. Here the sea slices through the land, digging a long channel dividing Saudi Arabia from Qatar and then curving to create a shallow lake. Pink cliffs rise on the Saudi side; pure white dunes line the Qatari side. The view from Al Wakrah leaves you with a hint of what used to be.
Sometimes I see yellow. Yes, there are traffic signals there, and while in most of the world a yellow light suggests caution and prepare to stop, that is not the case in Doha. There, a second yellow light before the green seems to say, "gotta go, gotta go—rev up your engines and prepare to burn rubber." This isn't the only place where this happens— and in Lebanon they don't even stop for lights. A deeper analysis (which I am prone to) reveals this behavior as extremely appropriate in a country on the move, where every project, every day deserves superlatives.
After our first cab, or karwa, ride, we ended up at one of the several souks in Qatar. I am not usually a shopper, but we meandered up and down for three inexplicable hours. I'm not kidding. Three hours. I walked up. I walked down. I walked up. I walked down. Shopped left. Shopped right. You can drive yourself crazy seeing all of the deals. And you know what? I almost did.
Shopping in Qatar is a great experience, and you never know what you're going to see—clothing, tools, spices, perfume, candy, jewelry, olive oil, brass, gold, incense, and more. Western suited- Americans, burka-wrapped women and hip teenagers walk side-by-side, shoulder-to-shoulder looking for the deal of the day. The shopping is infinitely more enjoyable than in years past I am told. Recently souks were outdoor narrow walkways. Today, the old is still there, but the newer parts have marble floors, air-conditioning and escalators.
The best color of any shopping trip is gold. Prices for 18- and 24-carat gold throughout Qatar are unbelievably inexpensive. At first sight you may think you are being conned. Is it really this price? Is it true? Is it possible they screwed up? Are we absolutely, positively positive that it's genuine? Is this a joke? Is this even possible?
Possibly it is due to the wealth of historical experience and expertise the Qatari gold craftsmen possess. Skills come down from older generations. It takes years to learn how to carve the exquisite designs into the beautiful Arabian jewelry distinctive to Qatar. The pride in gold is rooted in nomadic times. For people traveling from one oasis to another, gold was seen as a movable asset. It could easily purchase any kind of goods or buy your way out of trouble. Think instant ATM. The past makes you think about the future of Qatar. Everything you see reminds you that its high-speed progress is inextricably linked to the past.
I thought about how, despite the publicity machine stating the contrary, the Gulf is fundamentally peaceful. At first I was defensive when someone asked me how I liked Qatar, describing it as "quiet." I rushed to its defense since I interpreted this to be a veiled criticism, synonymous with boring. Now I realize "quiet" means something quite different. It means safe, it means low crime, little government interference in daily life and, above all, it means stability.
In Qatar, your daily essence is a combination of the Gulf's cultural traditions of courtesy and respect; it makes for a gentle world. Moira was honored that some of her friends' mothers called her their daughter. Whenever they met, she was greeted by them in the same manner as they do their own children, with a kiss on the head and the hand.
Some of these traditions are threatened by the predictable consequence of modernization—an increasingly frenzied lifestyle, growing capitalism, large shopping malls, and the potential of electronic communications to weaken old-school family values. You can see it happening; the Qatari society is changing from a tightly controlled, segregated society—men from women—to more integrated one.
Doha is a city still a little bewildered from standing at a crossroads where multiculturalism clashes with tradition. That in itself is the tempest that makes Qatar so dynamic. This is where I sometimes see green.
Green is the envy I feel when I see a country with a quiet balance and hidden treasures. Throughout this past very hot summer, the Qatar Summer Wonders Festival of Fun provided a wealth of activities, all at no cost. High-wire trapeze artists spun above the city center ice rink. Flamethrowers at the circus and Spanish dancers at the Exhibition Center provided endless hours of fun. That's not to mention the world-class golf and tennis venues with easy access and affordable fees.
Everything revolves around the Corniche, a palm tree-lined boardwalk bordering the Persian Gulf. The locals stroll on their daily walks, pass time at chic seaside restaurants and smoke the hookah. For leisure, you can visit Palm Tree Island, a short eight-minute ferry ride from the Corniche, replete with beaches, dining and a Gulf feel of utter relaxation. There's also 4×4 dune bashing. For this increasingly popular activity, tourists are driven into the surrounding desert in a 4×4 to zoom up and down the dunes. Camel races are also big, with mechanical jockeys replacing the underprivileged children who used to serve as camel masters. And no legal betting.
There are several clubs in Doha where the younger residents party to the spins of worldwide DJs who are attracted by the prospects of this burgeoning area. Clubs heat up after midnight, with one playing exclusively Western music and nary a hint of Arabic pop. Bodies sway on the dance floor, and women mingle with men—unheard of in many parts of Qatar. Here the kids tell you how easy it is to forget how quiet Qatar is "out there." This general disregard of accepted social rules symbolizes the changing atmosphere of a changing city.
Afternoon tea at the Ritz-Carlton is quite a treat. Located by the West Bay Lagoon, 20 minutes from the airport, the hotel lays its table with the finest, crisp white linen, adorned with garlands of flowers in the most delicate almondsugar colors and with Wedgwood bone china and silver cutlery. Delicate finger sandwiches—of salmon and dill, lebneh (kind of an Arabic cream cheese), capers and cucumber—and scones complemented by freshly brewed herbal tea. It was as if we teleported to London for a few hours. Simply sublime.
After all of this, I realized that other parts of the Middle East such as Dubai have a swagger to their modernism—it seems much more contrived, almost like they are saying, "Hey, look at me!" Nothing about Qatar is contrived. It exhibits a refreshingly honest amount of passion and heart. In Qatar you can experience all of the tourism without the incredible expense you find in most hot spots. And that is what leaves me green.
So when the job was complete and Moira and I were set to return home, I thought about all of our experiences and our new friends, family almost. I had spent a lot of my time there learning about the entire Gulf and neighboring Middle Eastern countries. I can see that other than Dubai, no country in this part of the world will resonate with Americans quite like Qatar. It reminds me of everything that we valued about our own land just a few decades ago— the breathtaking industrialism, the competitive fervor, the individuality and those plentiful family moments. I thought about all of the little things that made the last two months something bigger. Something special. I couldn't take the thought of leaving? Truly one of the saddest days of my life. I was lost.
Finally Moira nudged me, snapping me out of my stupor.
"What are you thinking about?" she asked me.
"Leaving," I said.
Then she said something that changed my mood and will remain with me the rest of my life.
"Moving to Qatar was one of the most rewarding experiences of our lives, and now it is home as surely as the United States. We know will never be just visitors in Qatar."
Yes, we will be home, going home- in any color.
When You Go
Sunshine is guaranteed year-round, with the best time to visit from October to March. During the other months the temperatures are warm to hot with the maximums in July and August.
Accommodations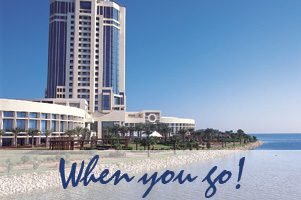 Sheraton Doha Resort & Convention Hotel
Overlooking the West Bay of Qatar's capital city, Arabian luxury awaits with attractive rooms and outstanding restaurants.
From $245
1-800-325-3535
Website
InterContinental Doha
You can't beat the location of this property overlooking the sparkling waters of the Arabian Gulf. The city's largest free form pool and longest beach warm, sophisticated feel. From $270.
1-877-424-2449
Website
Ritz-Carlton Doha
The picture of opulence featuring Qatar's most luxurious spa, nine restaurants, aerobics and yoga studios and luxurious rooms, the Ritz-Carlton is the ideal place to unwind. From $300
974-4484-8000
Website
Four Seasons Hotel Doha
Featuring its own private beach and marina, expansive views of the Gulf, and marble bathrooms, the resort is tops for its ambiance.
From $355
974-494-8888
Website
Dining
Ras Al Nasaa
. Modern Middle Eastern cuisine sitting inside a Qatari wind tower. Hard to beat the drinks and Hookah served up here. Table minimum of $6 per person. At the south end of the Corniche.
Assaha Lebanese Village. Straight from Beirut, the Lebanese restaurant is set in style with waiters in traditional outfits, bejeweled swords and heavenly food ranging from Lebanese to Italian to Western. From $13 per person in the Al Hilal Building on Grand Hamad Street.
Sights
Palm Tree Island Water sports
, fine dining and more are just a short dhow ride away from the Corniche on this beautiful man-made island.
Qatar National Museum
At the fully restored Fariq Al Salata palace of Sheikh Abdullah bin Qasim (emir from 1913 to 1951), sits the country's main museum, which houses historic Qatari artifacts and a gallery that traces and records the country's development; (974) 4452 5555.
Dunes Discovery Tour
Air-conditioned 4-wheel drive along the Arabian coast, climaxing with stunning views of the sand dunes and the Inland Sea; 974/431-5555.
What to Wear
Modesty rules! Most Qatari women wear an abaya (long cloak) in public. Wear it if you want to blend in, but if you wear modest clothing – this means no short skirts or shorts or revealing tops – you will be just fine. Men should wear casual clothes or modest vacation wear.
The beautifully scripted Arabic invitation is accompanied by a decadent package of chocolates. A wedding is to take place; actually one wedding and two celebrations, one for the groom and one for the bride, which will take place on entirely different days.
At the bride's party, typically at a family garden or hotel ballroom, there is a strict no camera policy and it is ladies only. (Go ahead, try to find a picture of a Qatari bride.) Ceremonies and celebration range from old school solemn ceremonies to top line parties with full orchestras and DJs. At the party-themed celebrations, hijabs and burkas are dropped, revealing Western couture gowns, styled hair and mind-boggling jewelry. Once the guests are greeted by the bride, the music begins, food is served and the ladies dance until morning.
The groom's ceremony is very structured, with men dressed in their pressed disha dashas and their classic Arabian smaghs. After hours of ceremonial sword, fertility and wedding dances, the wedding feast is served on a single giant platter and eaten with the hands.