The Bodrum Peninsula
Escaping the hustle and protests in Istanbul is a quick fifty-something minute flight to the Milas-Bodrum Airport. There's arguably no better place to enjoy the sea (and I'm talking the stained-glass blue of the Aegean) than Bodrum, Turkey. With nearly three million visitors a year, you'd expect a shoulder-to-shoulder crunch of tourists fighting for every last piece of Turkish Delight.
That couldn't be farther from reality, and it's entirely inexplicable. Perhaps it's because you barely want to lift your head off your beach club pillows after sampling grilled octopus and zucchini-flower dolma (meat-stuffed flowers) chased with a chilled raki (anise flavored brandy). Or maybe it's because the would-be jetsetters are rubbing elbows with the raven-haired Eastern European heiresses on one of the passing sailboats or yachts. Probably many are exploring one of the Greek Orthodox churches not yet crumbled to the ground or one of the white-domed gümbets (cisterns) dotted amongst the surrounding rustic villages.
Whatever it is, you might not want to let all this pastoral luxury interrupt your shopping, where artisan jewelry shops with locally crafted evil-eye bracelets outnumber cheap Made in China souvenir shops at least three to one.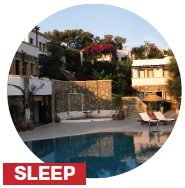 The 4 Reasons Hotel & Bistro is a humble, yet modish 20-room villa set amidst olive groves. Doubles from $100 – you read that right, $100.
Ready to set up shop in paradise? It's not as pricey as you think, and the price for a flat with a Peninsula view—with the Greek isle of Kos just a stone's throw away—is surprisingly affordable: around $100,000. While that's not chump change, compare that to the expense for a second place locally. Call the Century 21 Marina office if you're so bold, +90 (0252) 316 13 28.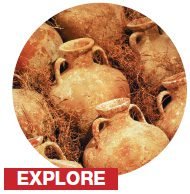 The Bodrum Museum of Underwater Archaeology. Built in the 1400s by the Knights of St. John, the Castle of St. Peter literally towers over Bodrum and now harbors this impressive museum tucked inside its stone walls. The tour through ancient maritime wreckage and amazing ocean floor finds is a fascinating look into a world we seldom get a peek into.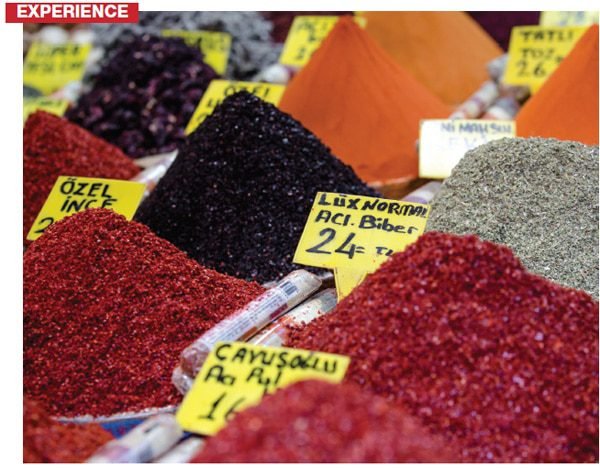 Pul Biber isn't your father's red pepper flakes; it's oily (in a good way) with a damp texture. It will spice up stews, soups and even add to your carnal grilling pleasures with a dash in your kabob mix. The best part about taking spices home is that customs doesn't care a bit. However, if you tried to bring some of the fruits back, they'd be instantly confiscated.
Downtown Bodrum Farmer's Market
An interesting tidbit rolled across my desk the other day. A random press release said that most city kids have never seen a sheep or cow up close. More alarming, many of us have never tasted fruits, vegetables, figs and nuts that didn't spend two days in a truck or are loaded with preservatives. As a younger person, I remember gazing at the local markets in Boston, which carried whole goats and buckets of potatoes and onions with the earth still on them.
I like speaking with the farmers and seeing where my food comes from. And then there are the scents of nature. What smells better than strawberries pulled straight from the soil or grapes plucked from the vine or jabbing your nose in a bouquet of fresh basil? Nothing screams organic block party like the local farmer's market. So, when given the opportunity to sample the tasty wares at the
Downtown Bodrum Farmer's Market, I jumped at it. With the diversity of offerings typically available at regional markets, the chances to enjoy agricultural bounty are, well, bountiful. Thee best part about the market – held in a vast covered building reminiscent of an indoor parking garage – is that it's big enough to offer variety at decent prices, but small enough to wander around in fully relaxed. I ran into Aydin at his spice stall, and he was shy about asking what kind of food I liked and how I liked it to taste. My reply was, "Spicy enough to bring out the flavors without scorching the roof of my mouth." Instantly he introduced me to Turkey's popular red spice Pul Biber, aka chili pepper. Who knew there were so many, many varieties of Turkish dried red pepper, each with a distinct flavor, color and heat level? Here's the rundown:
MILD – Urfa Pul Biber, a tangy flake with a slight woody flavor.
MEDIUM – Ipec Pul Biber Maras, a fruitier spiced crimson flake.
HOT – Aci Pul Biber, a dark red flake with a bitter aftertaste.