Luggage for Women Designed by Women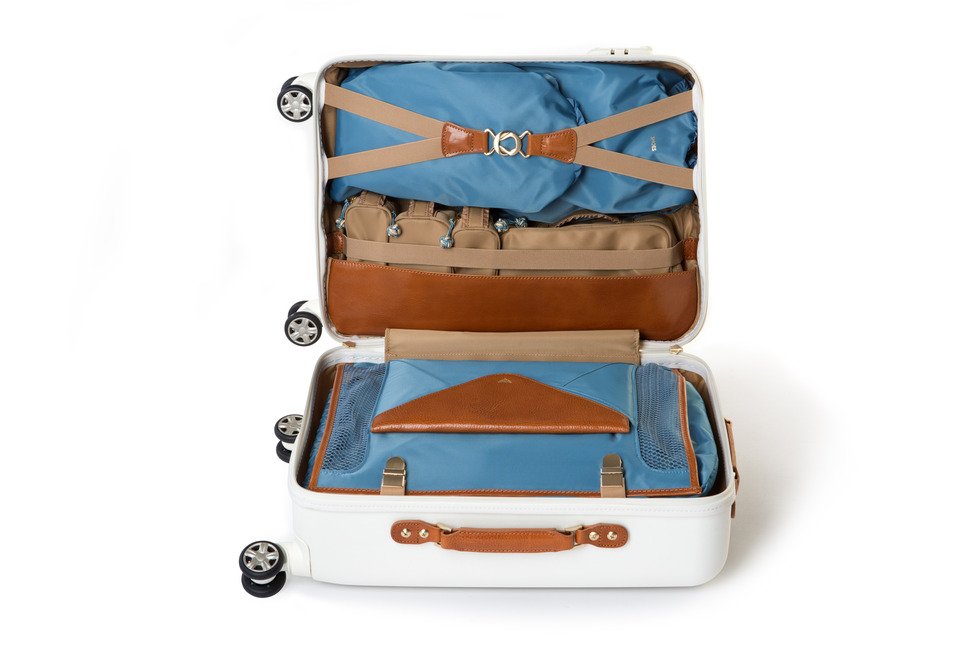 The white Quartermaster, like all of Ebby Rane's hard cases, includes an ingenious packing system.
As the world's only luggage firm started by women, Ebby Rane has tailored its line for the way women travel. That starts with the ethos "travel simply"––the firm only features carry-on bags, either valises or hard cases with rollers.
"Our longer-term plans include an expansion of our line," said Ebby Rane President Aynsley Wintrip Harris, adding that a few new items will be added this fall––light blue and black versions of its Valise line. To be sure, the carry-on-only trend has its devotees and doubters. But more than one of the company's loyal customers has encouraged the Toronto-based firm to roll out a complete luggage set.
About three-quarters of Ebby Rane's clientele are women; their travel needs seen after by the firm's all-female staff. The company has an additional distribution office in Kenmore, New York.
Ebby Rane founder Sonja Salmon, a former corporate lawyer and banking executive, left her career to found the company in 2014. A regular business traveler, she had grown frustrated with "packing my heels in a Ziploc bag," she told Atelier in 2019.  She found women's luggage selections to be paltry, often distinguished by "polka-dotted or hot pink bags."
Elegant touches designed for women
The company's signature rolling Quartermaster case ($995) is the line's most popular. Customers often pair it with Ebby Rane's Valise clad in cognac leather and tweed. Its organizational pockets include a 15-inch laptop/tablet sleeve. A rear strap enables the bag to slip over the Quartermaster's handle, making for a single rolling package. The Valise also comes in cork and vegan leather. Both are priced at $325.
The Quartermaster is trimmed in caramel-colored leather; the polycarbonate shell is available in black or white, the latter designed specifically for women. The white Quartermaster comes with 12 pieces, including bags for shoes, laundry, wet items, jewelry, tech, liquids, and cosmetics.
Elegant touches include gold stamping, hand-woven monkey knots, and ruffles edging the top of the bags.
Such detailing has caught the eye of notables who've purchased Ebby Rane cases. They include Meghan Markle, actor Kim Cattrall of "Sex and the City" fame, Sophie Grégoire-Trudeau, Canada's first lady, and "The View" co-host Sunny Hostin.
To arrive at the company's name, Salmon cobbled together the first and last names of her two Jamaican grandfathers––Ebby Salmon and Clarence Rainford. The men came from humble beginnings and modeled a dedicated work ethic and genuine warmth, according to Salmon.
As a Black woman, Salmon knows that women and minority-owned businesses face distinct challenges. Her vision is to see Ebby Rane become a noted North American travel brand.
She's taken cues from others with remarkable success. They include Natalie Massenet, a British-American fashion entrepreneur who founded the innovative fashion portal, Net-a-Porter (since merged with Yoox Group, an Italian e-commerce company). Also: Sallie Krawcheck who in 2014 co-founded Ellevest, an investment and financial education platform geared toward women. It now has over 120,000 users and manages over $1 billion.
Cases inspired by the romance of Victorian times
Customer Audrea J. Golding bought her first Quartermaster in 2014, and she's recently purchased a new Quartermaster for herself and a Q2 Aviation Gray for her husband. It comes with five packing carryalls for $495. Before her first Ebby Rane purchase, she wasn't "attracted to hard cases, but I just liked the design––very classic, sophisticated," said Golding who works as a corporate immigration lawyer in San Jose, California. "It just reminds you of that old school kind of trunk. It didn't look like a regular hard case."
Distinctive Victorian trunks and accessories inspire the Ebby Rane line of cases, manufactured in Shanghai. The leather and cork soft Valises are made in Bogotá Colombia. The craftsmanship is designed to be durable––in the years Golding owned her first Ebby Rane case, she didn't encounter problems. "With other bags I've had, the wheels went out, the zipper broke, the handle got stuck," she said.
Golding said the interior packing system with its various bags and compartments "focuses me on the key things I need for a trip, whether it's personal or travel." The system is a popular feature in Ebby Rane hard cases.
An additional standout for Golding and for other women is the line's elegantly simple women's "1887 Clutch" fashioned from Italian leather; it comes with the white Quartermaster or can be purchased separately for $195 (1887 is the year one of her grandfathers was born). It's fastened with a magnetic clasp and has an internal zippered pocket. Suitable for a business meeting or a cocktail party, the clutch, designed to resemble an envelope, fits into a dedicated sleeve within the case.
"It's very classy––I've just not seen it anywhere else," Golding said. "It's perfect for throwing credit cards in, some cash and cosmetics after you've landed, and then need to go out. It's one of their best selling points."
The clutch is available in a variety of colors—ebony, gray, white, and cognac. "We literally can't keep it in stock," Ebby Rane President Harris said.
The Valise's strap fits over the Quartermaster handle, making for one tidy rolling package.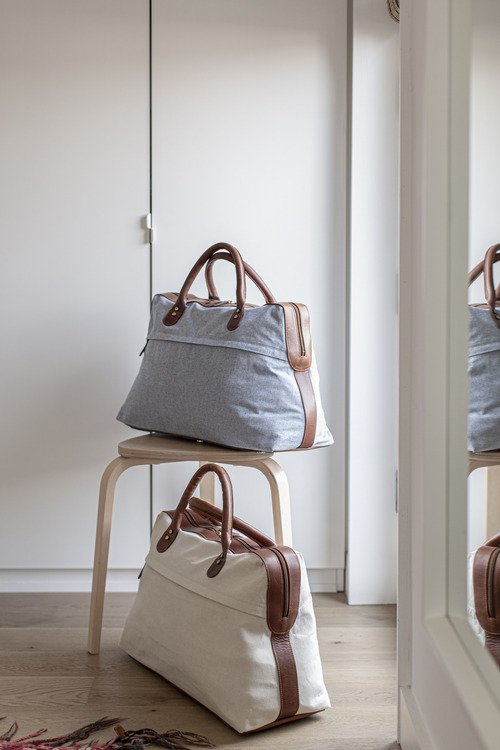 Ebby Rane's line of Valises also now come in blue as well as black (not pictured).
A trial run of the Quartermaster Homme
Intrigued by the design, we gave the Quartermaster Homme (designed for men), a trial run––during a few overnights at Los Angeles' iconic 1966 Fairmont Century Plaza Hotel, recently renovated. While the carry-on was decidedly handsome, the seven inside carryalls made organization a no-brainer. They include laundry and shoe bags, a Dopp kit, and cases for ties, tech, and shaving (which doubles as a container for various liquids).
Included is a leather valet, a catchall for keys, coins, a wallet, and watch among other stray items. Ingeniously designed, it lays flat and fits into a dedicated slot in the bag. Snaps at its corners form the shape when readying it for use.
Like all of Ebby Rane's hard cases, the Quartermaster included a TSA-approved combination lock along its zippered edge. Ebby Rane's hard cases thoughtfully ship with a dust cover for storage between trips.
From the doorman to various hotel guests, the compliments on the case were constant. Golding said she's had a similar experience.
"I get compliments all the time," said Golding, adding that women always mention her clutch, saying they've never seen anything similar. "Last year when my husband and I went away, we had our matching new cases and everybody said they looked like really good bags on the two of us."
Golding gave her former Quartermaster case to a niece. She's considered buying new Quartermasters as retirement and graduation gifts.
---
A portion of Ebby Rane sales is donated to Opportunity International, which supports women in developing countries to become financially independent.