Chilling With Frill: A Sweet Treat With a Little Something Extra
As temperatures start to rise, its not surprising that many of us will develop a craving for ice cream or frozen yogurt. However, great premium frozen desserts these days can be as challenging to mine as diamonds, given that most frozen yogurt and ice cream shops are closed. Furthermore, empty calories aren't going to do anybody any good.
This is where Frill comes in as that rare treat that covers all the bases, including some good-for-you ones not commonly associated with desserts. Its benefits transcend its ingredients (certified plant-based, Kosher and gluten free with no artificial sweeteners or added sugar; Halal and organic certifications pending), according to John Jomehri, who directs operations for Frill  in the U.S., and CEO Dr. Khosro Ezaz-Nikpay
"Frill offers something no other ice cream can: A real, nutritious, premium plant-based frozen dessert," affirms Dr. Ezaz-Nikpay. "All fruit and vegetables that make up our four flavors are selected carefully, picked at peak ripeness and frozen immediately after harvest to preserve their full taste and nutrients. Frill's smooth and creamy texture is the result of our high-quality ingredients and innovative technology, and the recipe is based on scientific evidence, not short-term hype or trends."
Jomehri, who cites additional research conducted on the frozen dessert line since its launch in 2014, notes that Frill's fiber-rich composition can bolster one's immunity in staving off or reducing the severity of lung infections resulting from COVID-19 and Influenza.
"Among many Frill's fiber benefits, it is metabolized by some of our gut bacteria into short-chain fatty acids3," he explains. "It is known to have a generally positive effect on inflammation, and immune response from the body in particular against airborne illnesses. Increasing dietary fiber consumption by five grams per day, equivalent to handful of berries or nuts), is an easy way to add this life-saving nutrient. Other studies show that the positive effects relate to improved protective immunity and reduced immune system-linked tissue damage when lungs are infected with the Flu or Coronavirus."
Although each of Frill's four flavors (Bursting Berries, Intense Chocolate, Nutty Carmel and Refreshing Green) is great on its own, its unique makeup makes them perfect bases for more elaborate warm-weather desserts and even some savory dishes. Furthermore, the preventative qualities of Frill are magnified when you add in other ingredients that are nutrition powerhouses in their own right.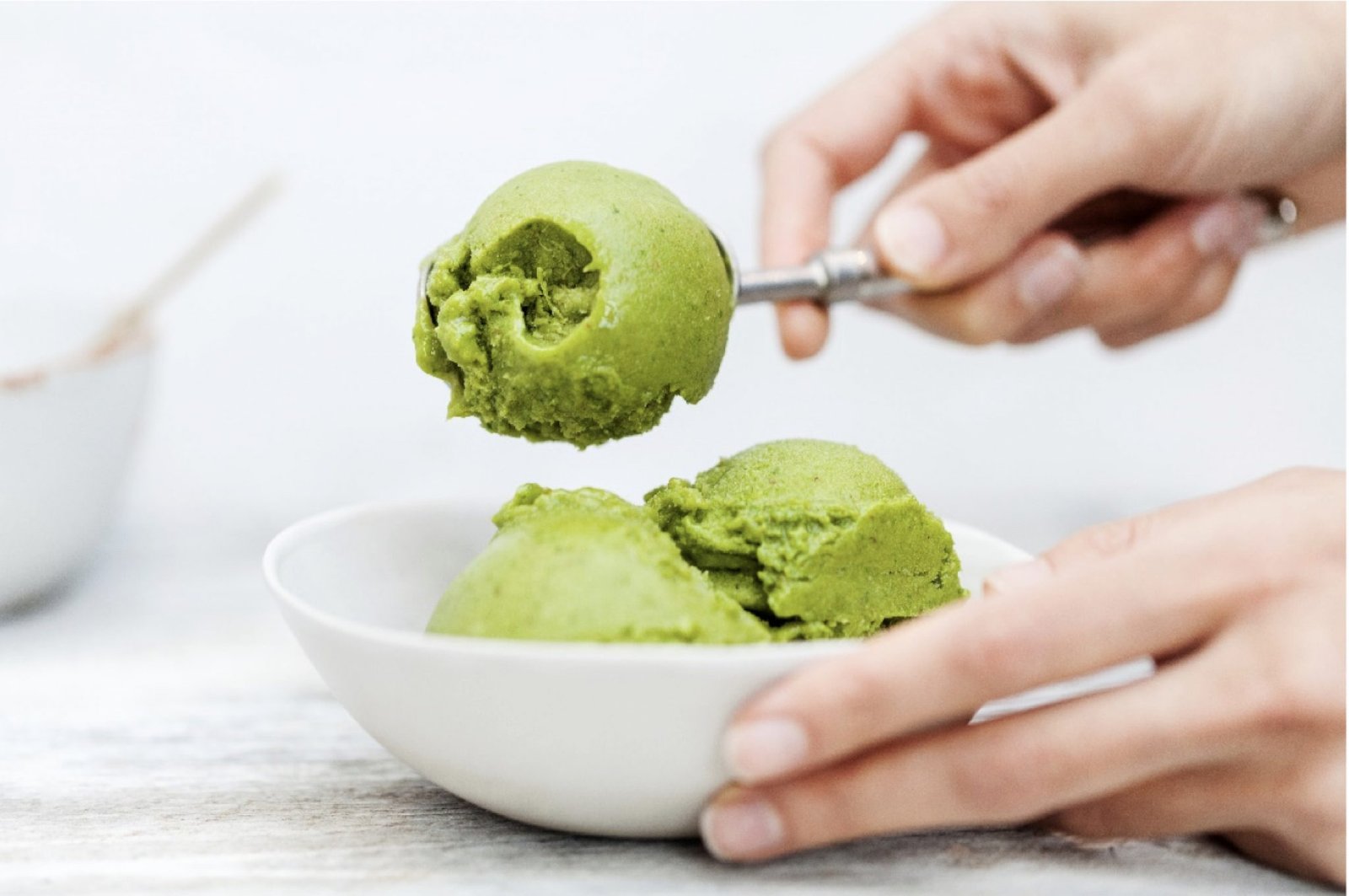 "In our salad there are walnuts, known for several benefits, including Omega-3, a healthy essential oil," he says. "Omega-3 has proven beneficial effects and at least in Europe assigned a qualified health claim about heart, brain and vision. Our cheesecake recipe, meanwhile, features a base that contains different types of fiber. The outer shell is made from oats, rich in beta glucans, a soluble fiber that through various studies has been found to aid in maintaining normal blood cholesterol concentrations and lowering blood cholesterol, which in turn may reduce the risk of heart disease."
While Frill can be found at Whole Foods and other better supermarkets, those ordering groceries can order pints at Frill's website. The brand is offering online customers a "free shipping" promotion for the next few months.
Persian-American Salad with Green Frill Dressing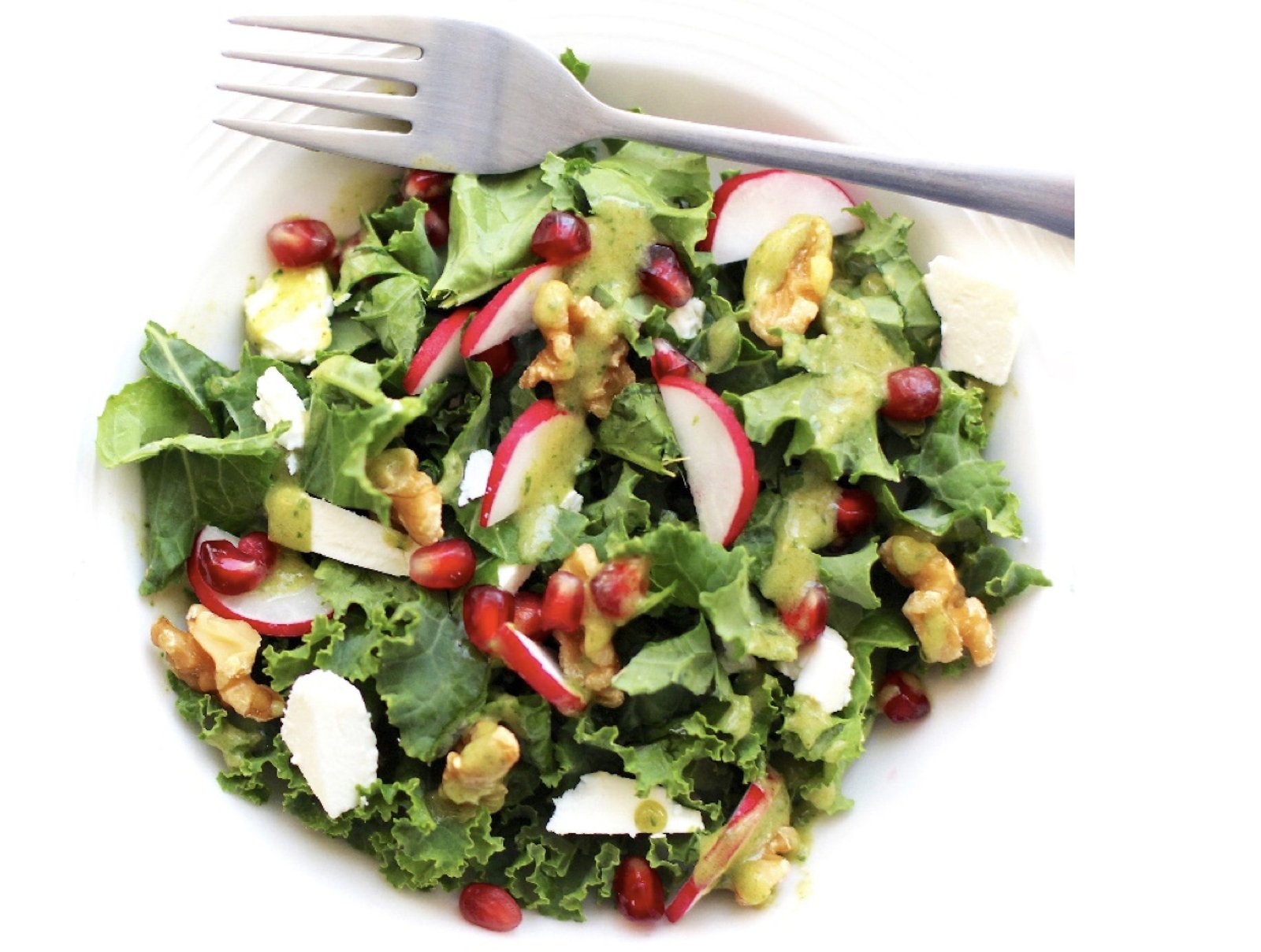 1 bag of fresh kale
3 tbsp of pomegranate
½ cup of walnuts
100 g-150 g of vegan feta cheese
4-5 radishes, depending on size
salt & pepper to taste lant based butter
1 scoop of Frill Refreshing Green
½ lime
1 tbsp extra virgin olive oil (or oil of your choice)
2 tbsp water
Roughly chop up the kale and quarter or slice the radishes.
Add the chopped kale, radishes, pomegranates and walnuts.
Crumb the vegan feta cheese over the salad.
Crumb the vegan feta cheese over the salad Crumb the vegan feta cheese over the salad.
Pour over dressing and serve.
Fiber Rich Cheescake with Berry Frill-Swirl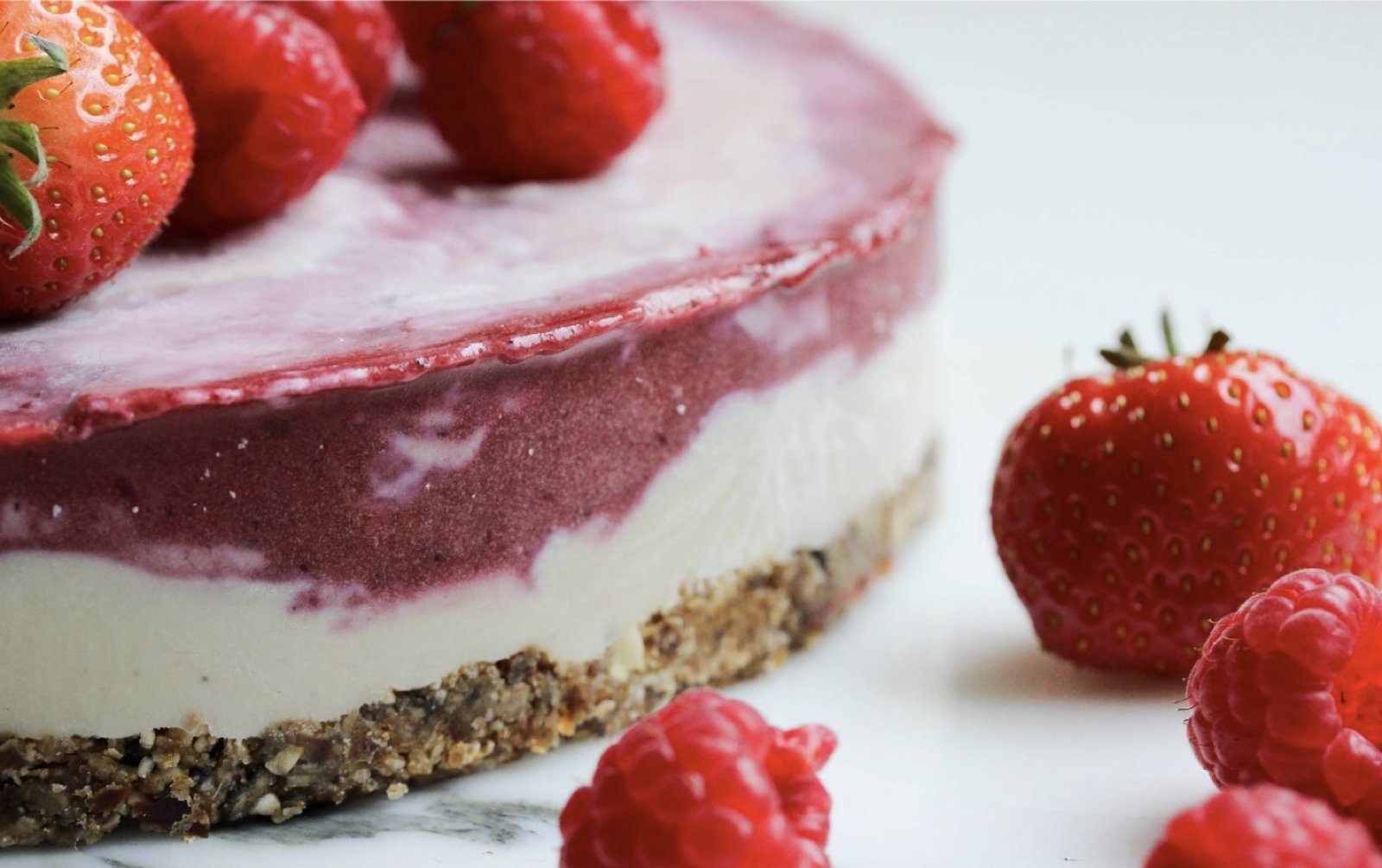 4 oz oats (gluten-free optional)
5 oz dates
1 tbsp coconut oil
Pinch of salt
10 oz cashew nuts
3 tbsp coconut oil, melted
½ oz fresh ginger, peeled and grated
5 oz dates, pitted
4 tbsp freshly squeezed limes
¼ cup cold water
1 tub of Frill The Frozen Smoothie Bursting Berries
1 pint fresh strawberries or raspberries to finish before serving.
Combine the gluten-free oats, dates, melted coconut oil and a good pinch of salt to your food processor.
Blend until everything begins to stick together.
Line the base of a small cake pan with cling film.
Pour the contents of your blender into the cake pan and press into the bottom to make the base of your cake. Set aside. 
Blend the cashew nuts, coconut oil, ginger, dates, lime juice and water until velvety smooth.
Spread some Bursting Berries Frill over your base, then some of the cheesecake mixture. Keep alternating until there is nothing left.
Take a skewer and swirl it around the mixture a few times to create a marbled effect.
Put the cake tin in the freezer overnight or until solid.
Decorate with fresh berries.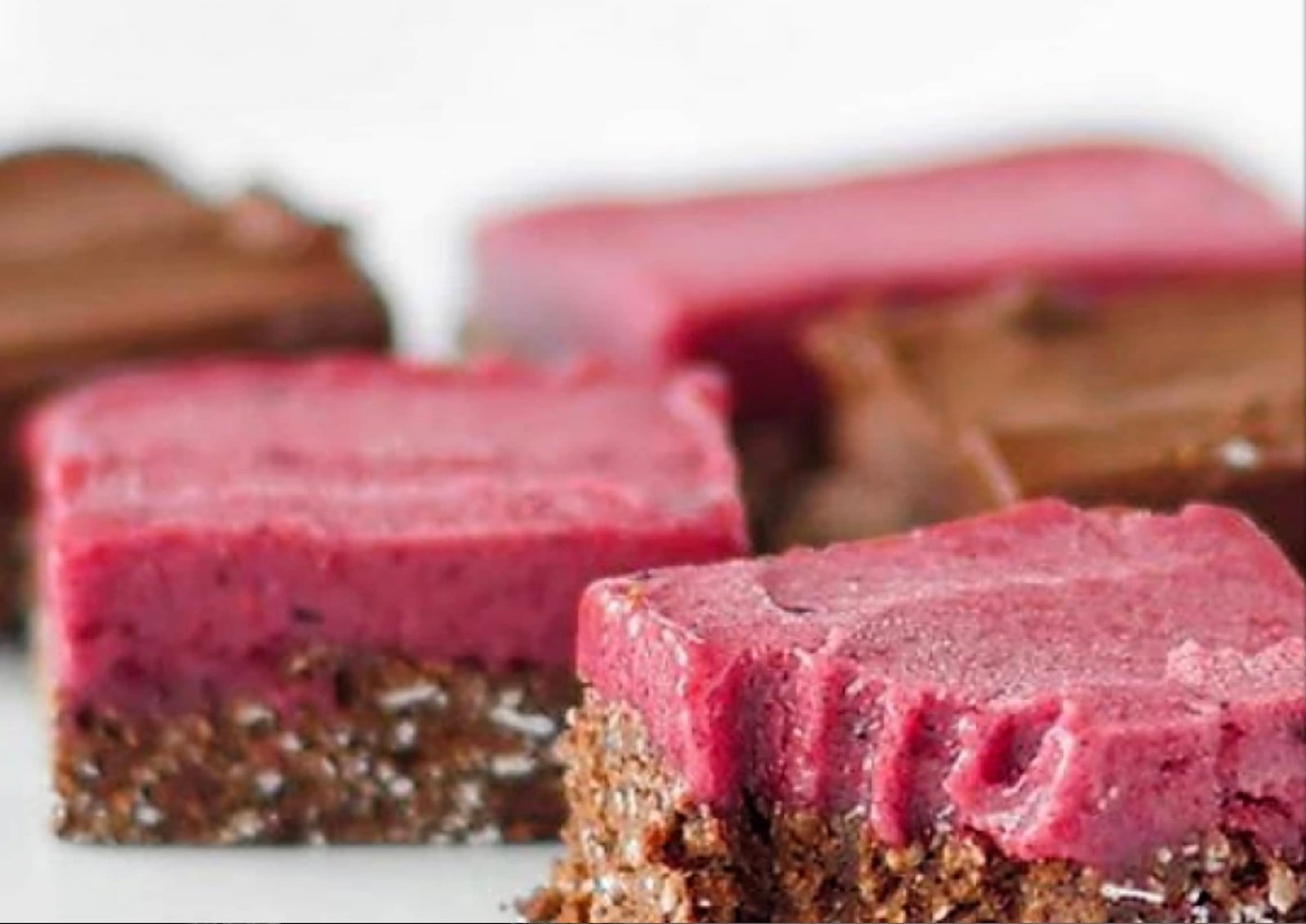 12 fresh dates
2½ oz gluten-free oats
2/3 oz desiccated grated coconut
3 tbsp raw cocoa powder
1 tsp coconut oil
Water (if needed)
Frill Intense Chocolate or Frill Bursting Berries to garnish
Mix all ingredients thoroughly in a food processor to a dough consistency.
Squeeze the dough on a baking sheet placed over a flat mould.
Spread a layer of ice cream on top.
Each of Frill's four flavors has its own added nutritional benefits. All numbers are per portion and RDA):
Bursting Berries
Vitamin C (tissue repair, immune system) – 20%
Manganese (Metabolism, bone formation, protein syntheses) – 13%
Refreshing Green
Vitamin C – 20%
Vitamin A (growth, immune support, vision) – 20%
Vitamin K (cardiovascular health, blood formation) – 50%
Manganese – 10%
Intense Chocolate
Magnesium (metabolism) – 12%
Phosphorus (metabolism) – 10%
Iron (most common nutritional deficiency, circulatory system) – 9%
Copper (role in iron uptake, bone, immune system, metabolism) – 7%
Nutty Caramel
Copper – 10%
Vitamin E (Nervous system) – 6%