Thriving in Place With Celebrity Chef Mareya Ibrahim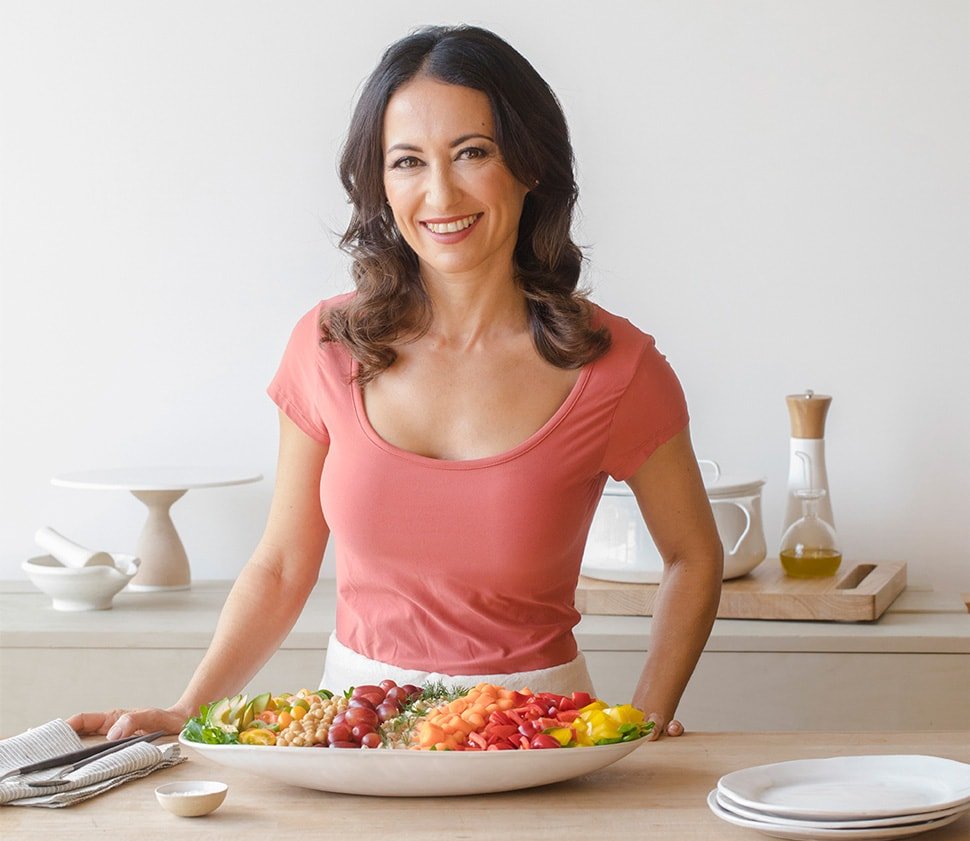 The title of Mareya Ibrahim's acclaimed 2019 cookbook says it all with regard to her philosophy on the right ways to eat and cook at home, "Eat Like you Give a Fork: The Real Dish on Eating to Thrive." Now, it's more than just a lively but practical book—it's a call to action suited for our times. As she sees it, everybody should transform their food storage into "purposeful pantry" and adopt what she calls 'Fridgeratorganization' and the 'make it once, double the batch' approach to cooking in order to make meal prep that much easier and allow for more creativity.
"With people hunkering down at home and ingredients sometimes scarce to find, it's that much more important to get your meals planned and have your ingredients go the distance and if you have a family, getting them involved in rethinking the pantry," she says. "A good place to start is with setting time aside to cleaning out your fridge and pantry to make way for the good stuff, and by 'good stuff,' I mean good-for-you stuff."
The fist step she suggests is having the family take a critical look at all of the labels of everything in your fridge and pantry. If it's processed, bleached, contains high fructose corn syrup, or the label has words like "hydrogenated," "artificial," '"trans fats," or any eight-syllable words that you cannot pronounce,  it's outta' there. She also suggests everybody keep their sodium and sugar intake in check, restricting sugar intake to less than 50 grams per day and sodium intake to less than 2300 mg (1½ teaspoons) per day."  
"Your refrigerator should look more like a salad bar with more fresh and colorful ingredients, and less shelf stable, processed foods in a box," she says. "Some of my favorite fridge items include seasonal produce, apples, pears, bananas, lemons and limes, greens, avocados, whole grain or sprouted grain tortillas and bread and organic eggs and chicken. I also suggest keeping plain and non-fat Greek yogurt as well as unsweetened nut or cocoanut milks."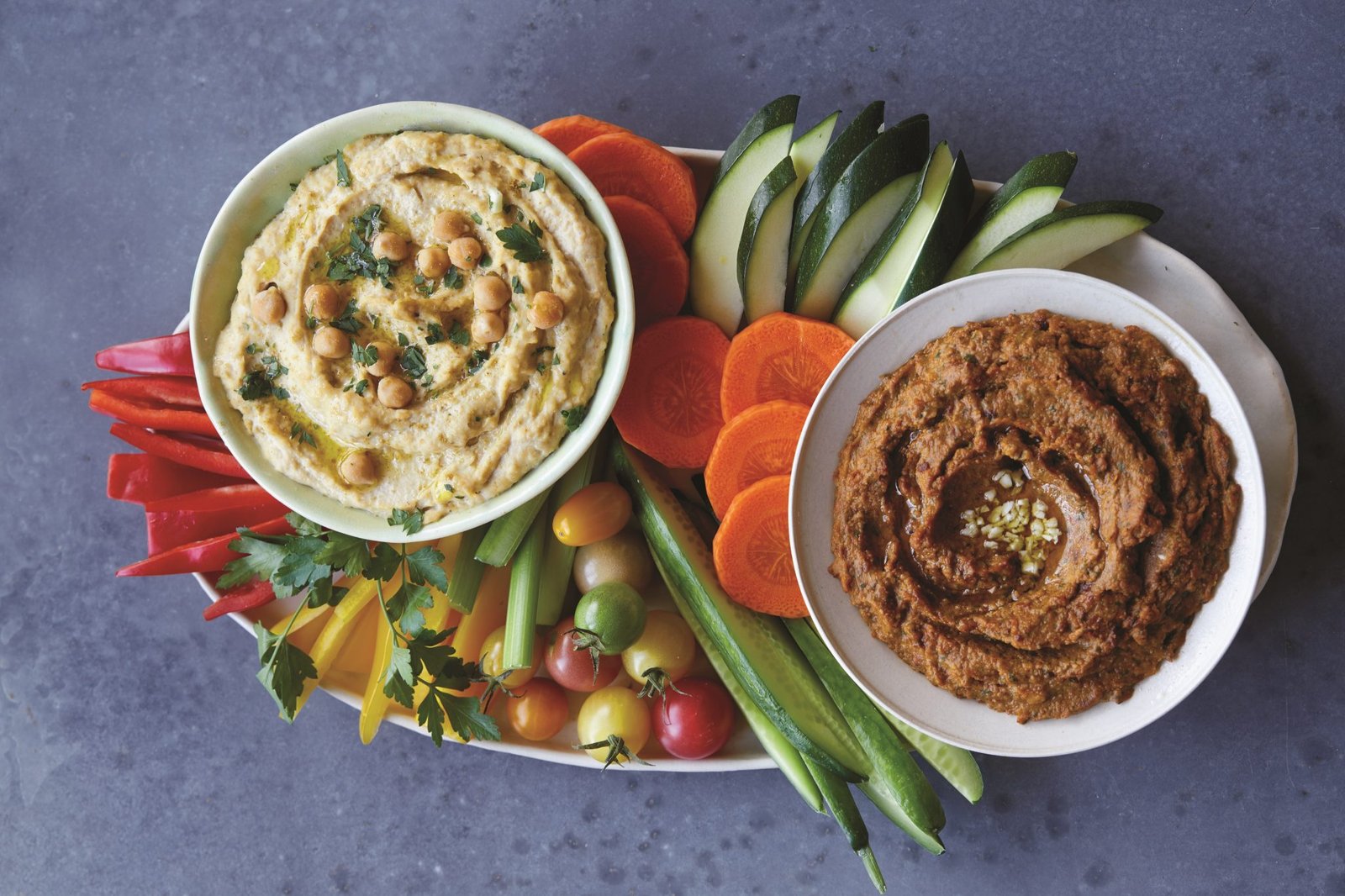 When you make a grocery run, it is always important to keep in mind even in the best of times that before some perishables hit your local market, they may have traveled an average of 1,500 miles. The further food travels, the more potential points of contamination, which makes anything sourced locally—proteins, produce or grain items—worth any extra charge and a priority that transcends its journey from farm to store being more environmentally sound.
"Shop for what's in season and ask your retailer or green grocer about where their food comes from," Ibrahim explains. "When picking produce, avoid bruised, cut skin as this can breed bacteria and contamination. Never sample grapes, cherries, strawberries and other produce items in the store. Even organic items can be picked and packed in the field, and could be teeming with stuff you wouldn't want to put in your mouth, including worms, parasites, fertilizers and other agricultural contaminants."
As "eating clean" also involves sanitary preparation practices when the family prepares dinner together, Ibrahim can't stress enough about ensuring produce is thoroughly washed and properly handled before it goes into a recipe. A harrowing experience with food poisoning from a restaurant meal in "normal times" a few years ago prompted her to create "Eat Cleaner Food Wash + Wipes," a line of products that provides an easy added step in keeping every snack and ingredient free of bacteria and toxins.
"I developed the line with my father, Dr. Shawki Ibrahim, Professor Emeritus and Environmental Science, after testing seven different formulations," she says. "As an environmental scientist, he spent his career researching the effects of toxins on human health, and when he was doing his Master's Degree, one of his projects was to identify a way to 'chelate' or remove pesticides from produce in the cleanest way possible. Together, we picked up where he had left off 35 years prior and began working on a version that would also remove harmful strains of food borne bacteria and the wax that traps the contaminants in."
Once you've thoroughly cleaned out and disinfected your cabinets and pantry, you should also be careful about what you put back into them. Like perishable items, there are several better choices you should keep in mind:
 Single ingredient gluten-free superfoods grains like millet, wheatberries and quinoa, which can go from breakfast (like my Buckwheat Breakfast Bowl) to lunch to dessert. Bonus: It's an ideal way to bulk up salads and stews.
Canned beans can be added to stews or processed into a dip like my Artichoke Hummus or Sun Dried Tomato White Bean Basil Dip.
Canned tuna, sardines and anchovies, which can be the main ingredients in a salad, like my Seafood Stuffed Avocados.
Other important ingredients include artichokes in oil, olives, roasted red peppers and capers, which are perfect additions to cooked veggies, pasta, meats or in a salad.
Always keep quick cook oats on hand for overnight oats. They are great foundations for things like my No-Bake Oatmeal Chocolate Peanut Butter Cookies and for my Protein Fit Bites.
Better than Bouillon makes a great stock or base for soups and is more cost efficient than buying big containers of stock.
I also keep dried fruit like sulfite-free dates and apricots on hand for a better alternative for a sweet tooth.
All recipes from "Eat Like you Give a Fork: The Real Dish on Eating to Thrive."
Moroccan Spiced Chicken Legs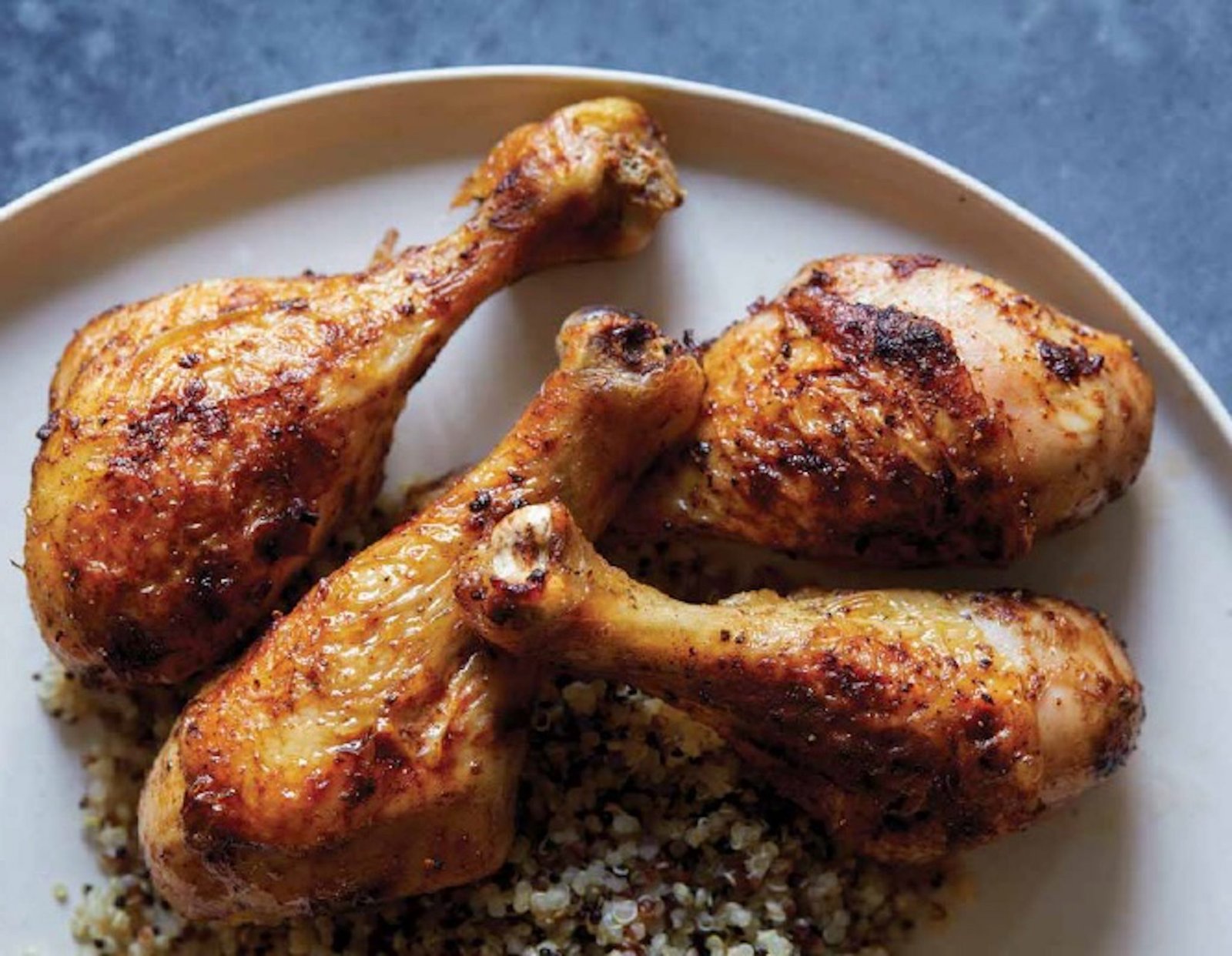 2 tbsp ras el hanout
2 tsp garlic powder
1 tsp sea salt
1 tsp ground white pepper
2 tbsp raw coconut oil, melted
8 large chicken legs, removing skin is optional
Preheat the oven to 400°F. Line a baking sheet with aluminum foil.
In a medium bowl, combine the ras el hanout, garlic powder, salt, white pepper, and coconut oil and stir to form a paste. Pat the chicken legs dry and slather them with the spice paste until evenly coated.
Place the chicken legs in a single layer on the prepared baking sheet (or in a baking dish), leaving room between them.
Cover with foil and bake for about 30 minutes.
Remove the foil and bake for 15 to 20 minutes more, until the internal temperature at the thickest point (without touching the bone) reaches 165.F and the skin or flesh is golden brown.
Chef's Note:
Ras el hanout is a North African spice mix, the name of which means "head of the shop" in Arabic (the best spices the shop has to offer). you pretty much don't need anything else for seasoning. It's got cumin, cardamom, clove, allspice, chile, ginger, turmeric, paprika, and a rainbow of other ingredients, so when you have it on hand, you can use it as a seasoning for anything your exotic heart desires.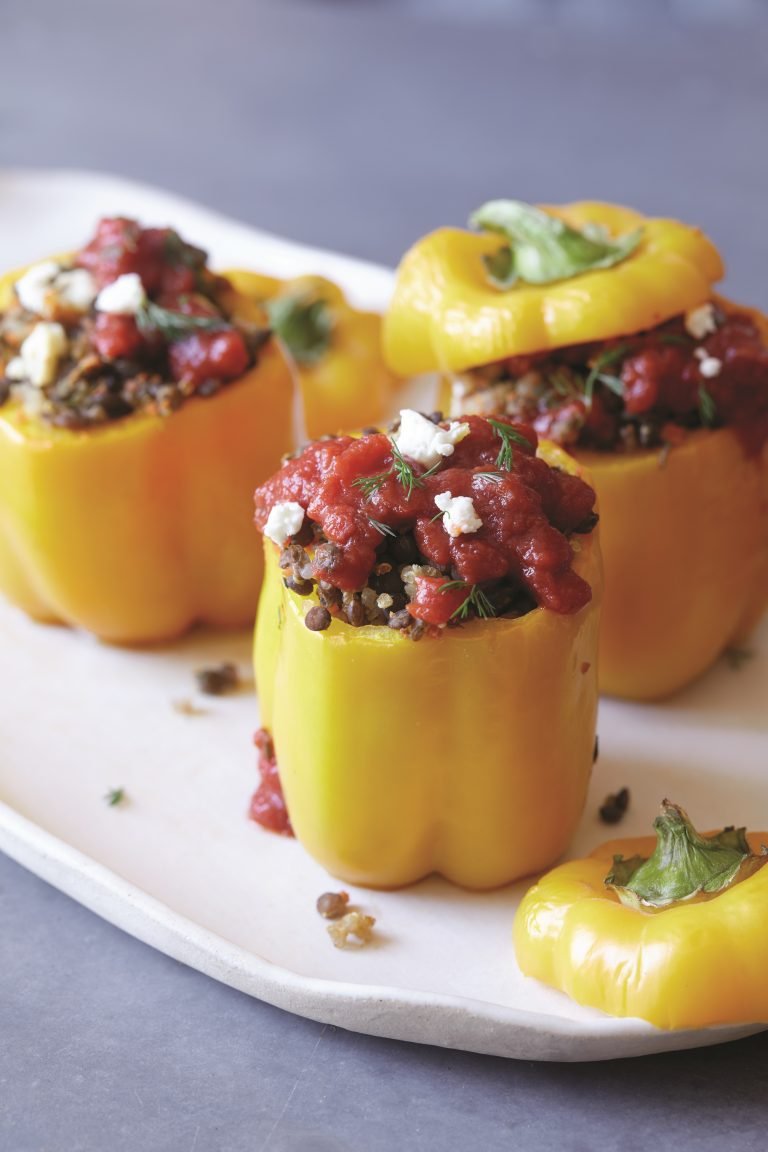 6 large bell peppers
2 tablespoons raw coconut oil
2 garlic cloves, crushed
1 shallot, finely minced
1 pound ground turkey or chicken*
1 cup quinoa, rinsed
1 cup lentils, rinsed
1 tablespoon tomato paste
1 cup low-sodium vegetable broth
1 tsp ground coriander
1 tsp ground cumin
1 tsp ground cinnamon
1 tsp Himalayan pink
salt
1 tsp black pepper
2 tbsp tomato paste plus 1 cup low-sodium vegetable broth
1 tsp raw coconut oil, room temperature
1 tsp black pepper
1 tsp chipotle chili flakes
1 tsp Himalayan pink salt
2 tbsp crumbled sheep's-milk feta cheese
1 tbsp plus 1 tsp minced fresh dill or parsley
Preheat the oven to 400°F.
Prepare the peppers and the filling: Cut the top (1 inch) off each bell pepper and remove the seeds and ribs. Set the peppers and their tops aside.
In a large nonstick skillet, melt the coconut oil over medium heat. Add the garlic and shallot and cook, stirring, until translucent, 3 to 4 minutes.
Add the ground turkey, quinoa, lentils, tomato paste, broth, coriander, cumin, cinnamon, salt, and black pepper. Cook the filling until most of the liquid has been absorbed, 15 to 20 minutes.
Make the "MedMex" sauce: in a separate medium saucepan, whisk together all the ingredients for the MedMex sauce until smooth. Bring to a simmer over low heat and cook until reduced by about half, about 12–15 minutes.
Stand the peppers upright in an 8-inch baking dish. Spoon the filling into the peppers, filling them three-quarters full, and place the tops back on. Cover with aluminum foil and bake until the filling is thoroughly cooked, 25 to 30 minutes.
Spoon the MedMex sauce over the top and finish by sprinkling evenly with the feta. Garnish with dill or parsley, if desired, and serve.
Chef's Note:
For a vegan swap, replace the ground turkey with tempeh or increase the quinoa to 1 cup. You can also slice the peppers in half lengthwise into boats and fill them. MexMex, my signature style, is a fusion of Mediterranean and Mexican ingredients and flavors and a perfect way to get more vegetables onto your plate.
Broccolini All'Arrabbiata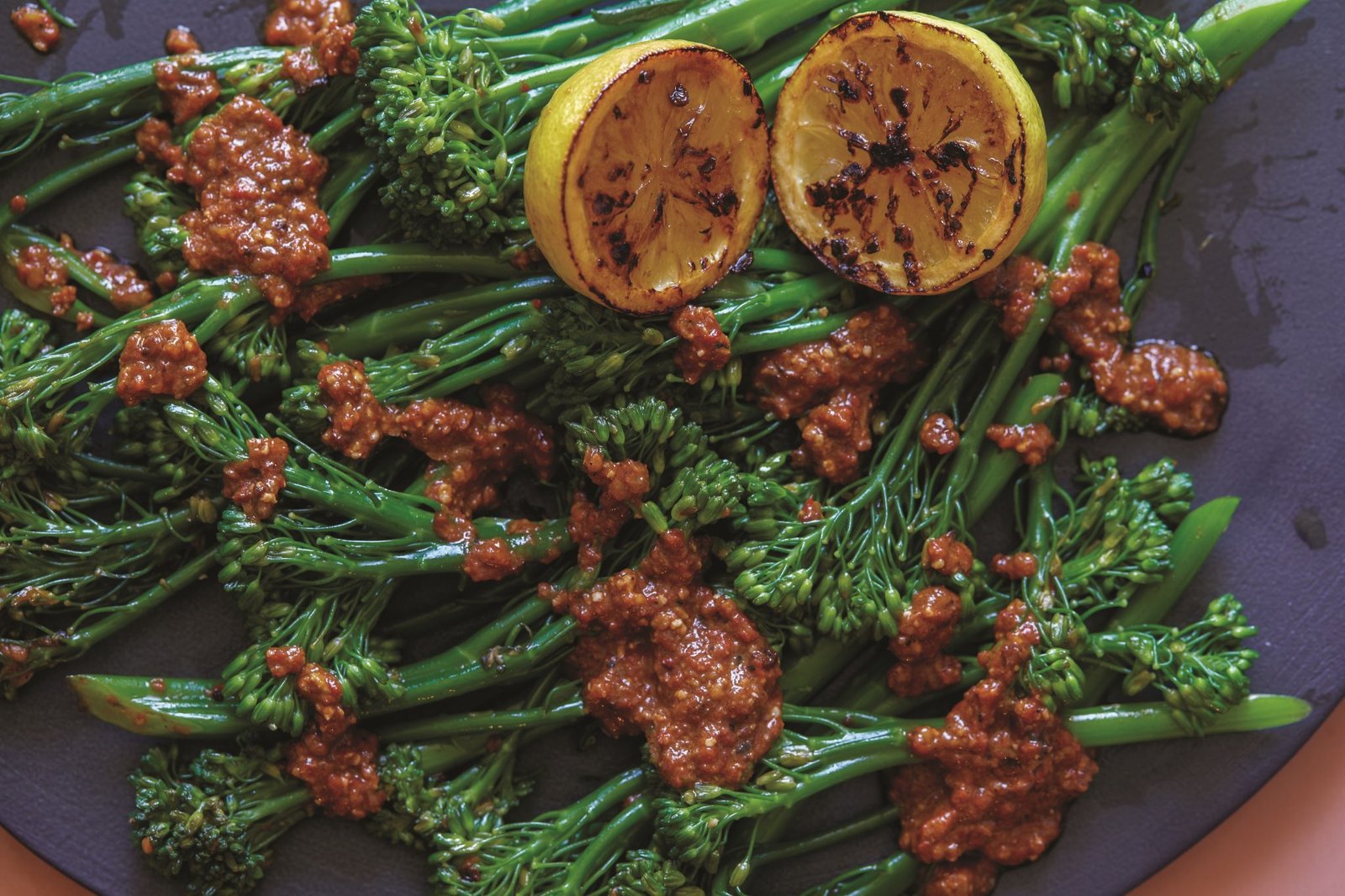 Sea salt, to taste
1 to 2 pounds broccolini
4 tbsp extra-virgin olive oil
1 lemon, cut in half
1 medium yellow onion, finely chopped
2 garlic cloves, minced
1 teaspoon red pepper flakes
1 (28-ounce) can crushed San Marzano tomatoes (no-salt added)
1 tsp Himalayan pink salt
1 tsp ground white pepper
2 tbsp raw hemp hearts
Bring 6 cups salted water to a boil in a large pot. Fill a large bowl with ice and water. Add the broccolini to the boiling water and cook for one minute. Transfer the broccolini to the ice water to stop the cooking process. Drain and set aside.
In a large skillet, heat 2 tablespoons of the olive oil over medium heat. Add blanched broccolini and sauté for 3 minutes, taking care not to overcook it. Transfer the broccolini to a serving plate. Add the lemon halves to the hot pan, cut-side down, and sear for 20 to 30 seconds. Squeeze the lemon juice over the broccolini.
In the same skillet, heat the remaining 2 tablespoons olive oil over medium heat. Add the onion and cook, stirring until translucent, 7 to 8 minutes. Add the garlic and red pepper flakes and sauté for another minute.
Add the tomatoes, pink salt, and white pepper and reduce the heat to low. Cook until the mixture has reduced by half, about 20 minutes. Remove from the heat and add the hemp hearts.
Spoon the sauce over the broccolini and serve.
To learn more about Mareya Ibrahim and improve the functionality of your kitchen, visit Eat Cleaner.