Spreading (Healthier) Warmth is a Piece of Cake
Deana Karim has brought the warmth of baking to customers from all walks of life, and more recently, has stepped up her company's philanthropic efforts during these challenging times by providing Amazon Gift cards to families in need. Now, she is sharing her secrets on the therapeutic effects of baking at home and using shortages of certain ingredients as a means to help family and close friend indulge more wisely.
And yes, she is also a proponent of using baking to strengthen family ties, rediscovering family recipes and making everybody's kitchen more "scratch" than it has perhaps been in generations.
"This is the best time ever to bake," affirms Karim. "Baking can be very therapeutic emotionally, especially during a quarantine (such as this one for COVID-19 and possible future returns of the virus). Being able to 'have your cake and eat it too' is a win-win, especially when you are showing your kids how to work safely in the kitchen. When I make my kofta for my mom's (Mama Hayat) famous dish, I use very traditional flavorings. The only difference is using almond flour as a binder instead of bread for lower carbs. I love to use allspice and pomegranate whenever I can. While pomegranate syrup throws a lot of people off because of its sweetness, when added to certain dishes like bamia (okra), it just makes it so good!"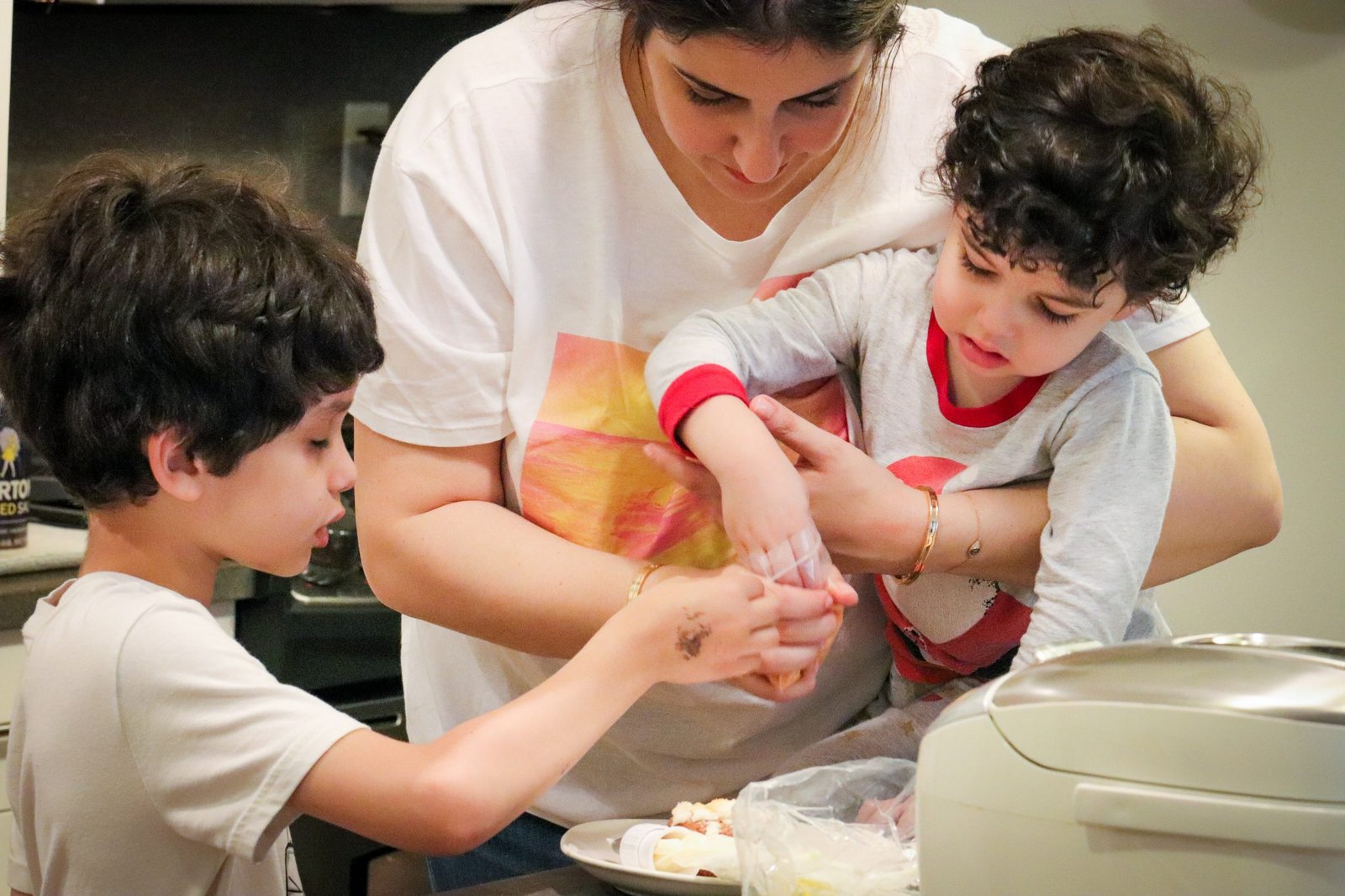 Karim also notes you can expose kids to creating dishes as "grandma used to do it" by doing things "to taste" when preparing sweets and savories instead of being a perfectionist. She enjoys cooking her mom's Lebanese recipes without measurements, or "all eye balled." This encourages kids to not only develop a love for baking but also being creative and taking traditional recipes in new directions.
"Many of my customers have mastered sugar free options and have created amazing, customized recipes with Good Dee's mixes. While this supports my business, it also teaches everybody about how they can make the kitchen their own."
Karim also supports the creative efforts of her customers, including the creator of the banana bread recipe below, as it enables people to connect in a meaningful way even if it is not necessarily in person. Many people can relate to the necessity for dairy free adaptation, whether it is dietary or religious. This prompted Karim to develop her Multi-Purpose Bread Mix, which when put to the test, proved baking up a low-carb, low sugar, vegan banana bread was not only possible but could rival a popular variation sold by a popular national coffee chain.
More bacteria-free and safe baking tips from Deana's kitchen:
I use and recommend naturally gluten free flours like almond flour as binder in Lebanese kofta instead of bread. Almonds have high protein to keep you fuller, and Vitamin E, which contains antioxidants.
Speaking of which, having fresh almonds and grinding them yourself to create almond flour is great!
I encourage the use of organic meat, and if I'm adding a veggie like bamia (okra) to a dish, I find that is it's much easier to have it properly frozen than fresh so I can count on having them available and not spoiled. Any suggestions on how to freeze veggies?
Did you know that there are some wonderful, surprising alternatives for oil, which is a key ingredient for cakes and baked goods? For instance, Greek yogurt or applesauce can substitute for oil, and may also work for recipes needing egg free alternatives.
If you are breaking out your nicer appliances, do not forget to wash right away after use to keep them working like new as well as clearing bacteria. I use them, wash them, and then store them right back!
I love to come up with themed items when I bake with my kids, which later end up getting incorporated with work. While I was working on my frosting, I found these old-fashioned ice cream cups and I had to use them! 
Good Dee's Vegan Banana Bread
Jena Pitman
1 Good Dee's Multi Purpose Bread Mix
2 Bananas (mashed) + 1/2 for decorating
2 tsp of granular erythritol or monkfruit
3 tbsp of your favorite plant based butter
1 tsp cinnamon
1 tsp vanilla extract
1 loaf pan (7×9 or smaller)
1 Good Dee's Multi Purpose Bread Mix
2 Bananas (mashed) + 1/2 for decorating
2 tsp of granular erythritol or monkfruit
3 tbsp of your favorite plant based butter
1 tsp cinnamon
1 tsp vanilla extract
1 loaf pan (7×9 or smaller)
Preheat your oven to 350°F
In a mixing bowl, mash your bananas with all your might. Your mash should be liquid-y and very little clumps. Add your sweetener to help the process.
Add in your baking mix + enclosed yeast packet along with all your other ingredients and mix well.
Line your loaf pan with parchment paper and pour in your batter.
If you love a presentation, cut half of another banana long ways and gently place on top of your batter, lightly pressing into your batter but not submerging.
Bake for 20 minutes and move to the bottom rack for an additional 9-12 minutes until a toothpick comes out clean.
Allow to cool before slicing, and enjoy!