Cleaning Up Our (Food) Act: The Ongoing Case For a Pork and Scavenger-Free Diet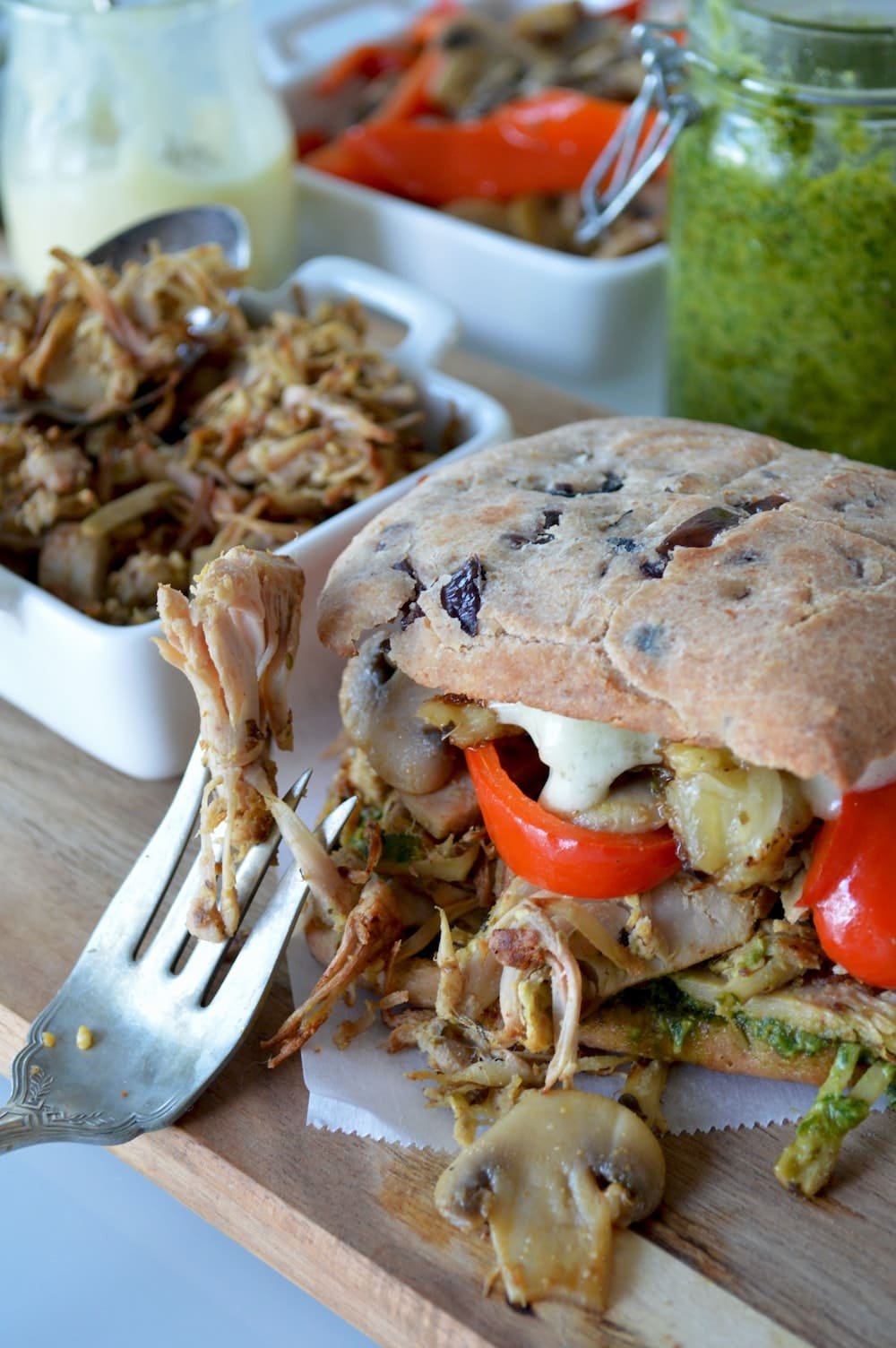 No animal was harmed in the creation of this sandwich, made with jackfruit, a plant-based meat substitute often used to replace pork and chicken in a variety of global dishes. Photo (and sandwich) by Nadine Primeau.
"You are what you eat." While those raised in a halal, kosher or vegetarian household apply the old truism to their faith, there are a growing number of health-based and ethical reasons why it should be treated with a greater sense of urgency. Although there are some differences between halal ("permissible"/"lawful") and kosher ("proper"/"fit") practices in terms of preparation and what foods fall into their parameters, they are both rooted in their respective holy books and forbid the consumption of pork products. Vegetarian and vegan individuals take a universal stance, embracing the belief that one can enjoy a diverse diet that doesn't involve the consumption of animals.
For the omnivores among us, old habits may be hard to break. However, in today's environmental, political and medical climates, the reasons to limit or cut pork and shellfish (forbidden in kosher diets) are increasing and emerging—and also tie in to the health of the planet as a whole.
While cancer, heart disease, high cholesterol and obesity are common and well-documented starting points for discussions on the health-related reasons to cut pork and shellfish, and our religious texts provide insight on why pork was forbidden (or at least discouraged) through the ages, current circumstances connecting to COVID-19 should give us more pause and prompt us to be more mindful when we consider what we put into our bodies.
"In 2020, there are countless reasons not to eat any animals at all," a PETA spokesperson affirmed in an interview with ALO. "Colon cancer, heart disease, and type 2 diabetes have all been linked to meat consumption. Animal agriculture is one of the largest contributors to greenhouse-gas emissions and other devastating environmental issues; and swine flu, bird flu, and COVID-19 all started with confining animals for human consumption. There's never an occasion, celebrated by any religion, nation, or individual, requiring that animals' throats be slit and their bodies be chopped up, because we can all choose nonviolence—and we should."
Lisa Richards, a nutritionist and author of "The Candida Diet" acknowledges that most people are aware that pork products can be harmful for our health, and that its saturated fat and sodium which increase one's risk of heart disease among other chronic diseases. And while some will use shellfish as a "healthier option" for protein, Richards reminds us that they can actually lead to high cholesterol and mercury in the body…and all the more so as major bodies of water have become more polluted and global warming has intensified the situation.
"Choosing to bypass pork and shellfish, along with other animal products, is largely more sustainable for the planet as less energy, land, and water are needed to provide plant-based alternatives," says Richards. "Choosing to eliminate pork and shellfish out of your diet is good for your overall lifestyle, as lessening your risk of chronic inflammation and disease will improve your overall quality of life and the planet's."
"(Pork) can lead to cellular damage that, if allowed to persist, replicates leading to cancer and a poor immune response," says Trista Best, Registered Dietitian at Balance One Supplements. "Shellfish can cause a buildup of heavy metals in the body. When the body carries these excess chemicals for long periods, it is unable to work at optimal capacity. While these forms of animal proteins are less expensive than many others that may be where the benefits end."
It's now common knowledge that the conditions the animals are raised in are often less than humane and sanitary, and Al Jazeera published a detailed, scientific editorial by Michelle Simon in 2015 that resonates more than ever when imploring the public to adopt a plant-based diet. 
While Simon pointed out that processing plants are among the most dangerous places to work, this reality was documented in Upton Sinclair's journalistic 1905 novel "The Jungle," which detailed the subhuman conditions and exploitation of mostly immigrant employees – with a particularly memorable section detailing the violent death of a meat plant worker. The 115 year-old book could have been written yesterday, but with the COVID-19 virus replacing dangerous machinery as the most deadly force at the moment. No less disturbin are studies released in the past decade documenting antibiotics are overused in the processing as well as the environmental ramifications of the industry.
On a more pleasant subject, once we understand all of the facts explaining why theoretically forbidden foods should also be practically excluded, we can then move on to a few problem solving ways to get the flavor and texture of protein without any compromise. The recently launched Upton's Naturals' Jackfruit, is an example of a plant-based meat alternative varieties (Bar-B-Que, Sweet & Smoky, Chili Lime, Thai Curry, and Original/unseasoned) ready to be pan-fried with a small amount of oil   until it's thoroughly heated and ready to work into meals. Free of the cholesterol associated with pork Upton's Naturals' Jackfruit offers a good source of fiber and is completely free of gluten, soy, oil, GMO's, and artificial flavors.  
Mexican food fans will point out that better brands of "soyriso" have the flavor and texture that ensures one will not miss its animal-based inspiration. However, as it can be high in sodium, it should be enjoyed in moderation. The same can go for tofu, though the extra firm variety nicely absorbs flavor and seasoning of other things it is cooked with. Vegetables and grains commonly found in Mediterranean and Middle Eastern dishes, if prepared and seasoned with care, can also provide the heartiness we crave. These include lentils, eggplant and different varieties of mushrooms, as you will see in some of the recipes below, created by Maria Squires.
RECIPES
All recipes (and corresponding photos) created by Maria Squires at Upton's Naturals
Phyllo Bites With Upton's Naturals' Chili Lime Jackfruit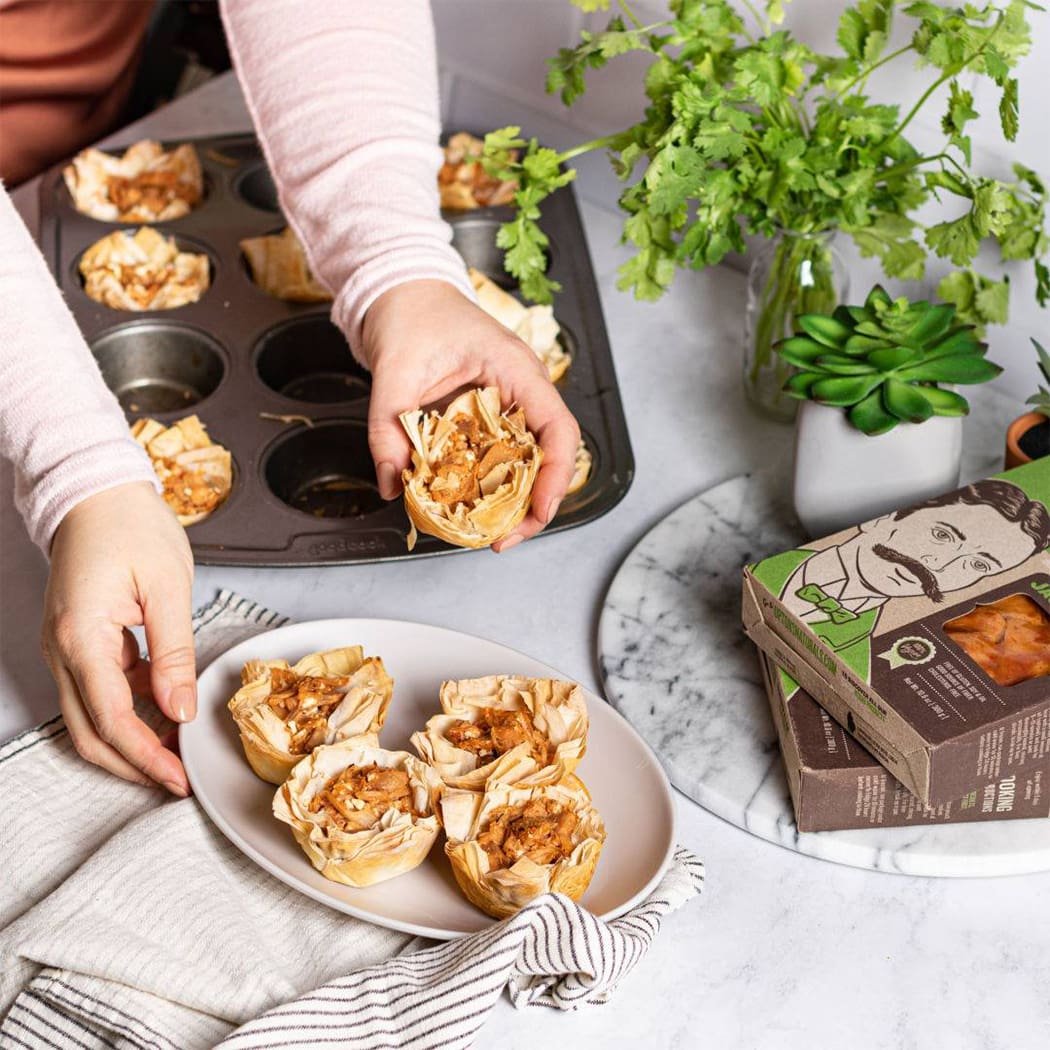 1 pound vegan phyllo, thawed
1 box Upton's Naturals' Chili Lime Jackfruit, cut into small pieces
4 to 6 ounces vegan feta cheese, crumbled
4-5 sprigs of cilantro
Salt and pepper to taste
2 tablespoons vegetable oil
Remove the phyllo dough from the package and stack it up. Carefully cut the phyllo dough into 2 x 2-inch squares; set aside.
Meanwhile, mix Chili Lime Jackfruit, vegan feta, and cilantro in a medium bowl.
Prepare your mini muffin pan by brushing oil in each well. Place 1-2 squares of phyllo dough into each well, pushing down to create a cup or crust.
Place a heaping teaspoon of Jackfruit filling into each well, filling the phyllo cup. Bake for 15-20 minutes or until golden brown.
Roasted Acorn Squash with upton's naturals Bar-B-Que Jackfruit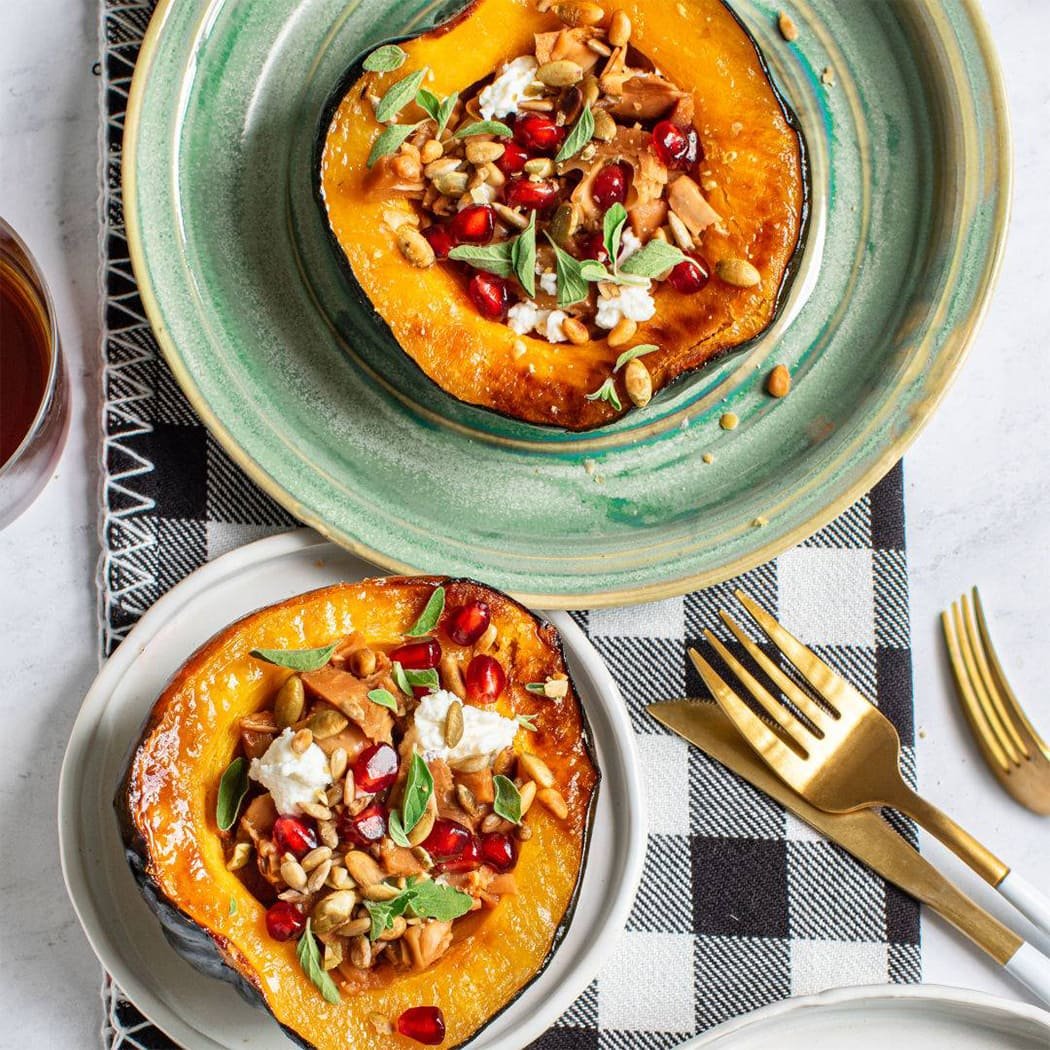 To roast the acorn squash:
2 tbsp of olive oil
3 small acorn squash, cut in half and seeds removed
Salt and pepper
For the stuffing:
1 box Upton's Naturals' Bar-B-Que Jackfruit, cut into small pieces
1 tbsp olive oil
Vegan ricotta cheese (homemade or store bought)

A handful of roasted seeds mix (pumpkin seeds, sunflower seeds, and pine nuts)

A handful of pomegranate arils
Herbs for garnish
To roast the acorn squash: Pre-heat the oven to 400°F. Line a baking sheet with parchment paper.
Drizzle the insides of acorn squash with olive oil. Using a brush (or clean fingers), and spread the oil all over the flesh.
Sprinkle each half with a large pinch of salt and pepper (depending on the size of your squash).
Place the squash cut side down and roast for 40 minutes or until a knife comes in and out easily when inserted in the flesh of one squash.
Let squash cool on the counter 5 minutes before stuffing.
To assemble, simply fill each acorn squash with 1-2 tbsp of Jackfruit, add a small amount of vegan ricotta cheese, and garnish with pomegranate arils, roasted seeds, and herbs of your choice.
Roasted Eggplant salad with Upton's Naturals' Chili Lime jackfruit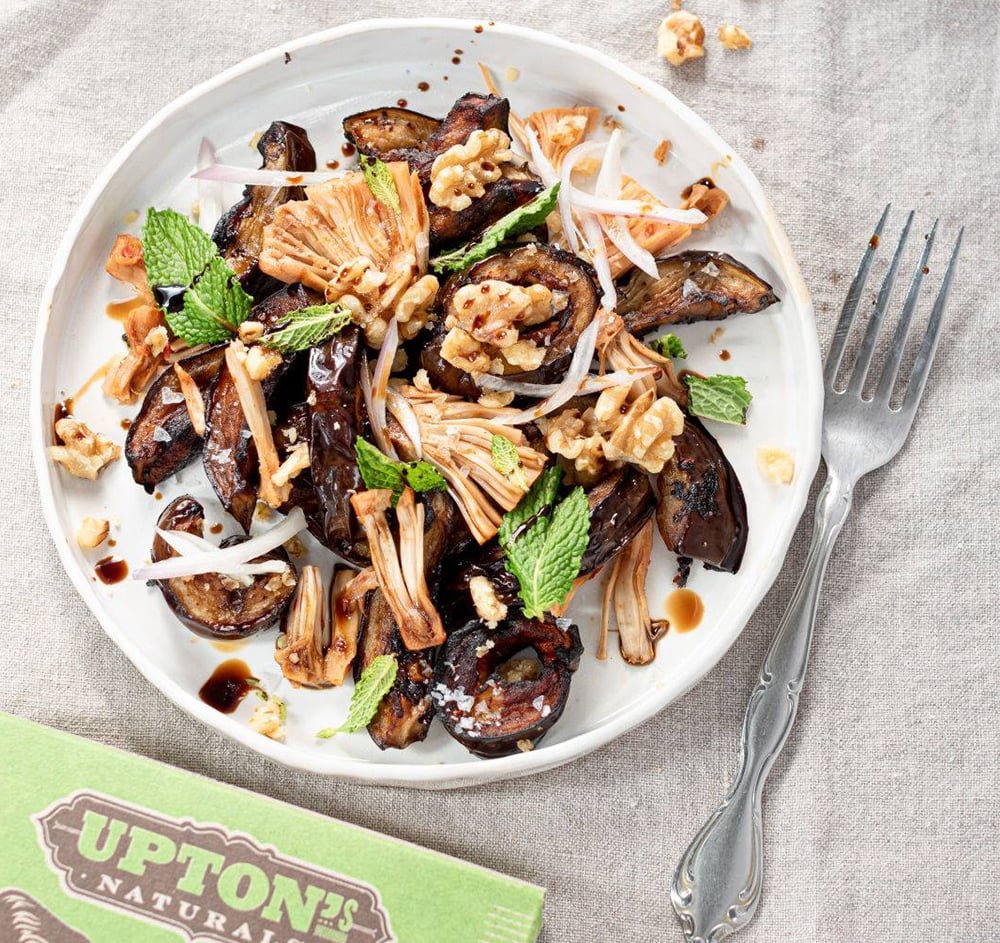 ½ eggplant, cut into strips

½ cup Upton's Naturals' Chili Lime Jackfruit, cut into small pieces

1 tbsp olive oil

½ shallot, sliced

Handful of walnuts

One sprig of mint

Balsamic vinegar for drizzle

Salt + pepper to taste
Add 1 tbsp olive oil to a pan and roast eggplant until crisp. 
To serve, combine eggplant and Chili Lime Jackfruit on a plate and give it a gentle toss.
Top the mixture with walnuts, shallot and mint, then drizzle with balsamic vinegar and sprinkle salt and pepper to taste.