Creating the Spa Retreat of Your Dreams at Home
Luxury linens, fresh flowers and special extras such as an Amba towel heating rack pull a spa-at-home's function and  look together seamlessly.
Although we can always use an immersion into tranquil, elegant surroundings for reflection and self-care under normal circumstances, making that much needed getaway might be more challenging than usual.
If you find yourself overthinking this dilemma, however, stop and take a deep breath. Meditate upon the small details that make your favorite spa the sweet spot where you can recharge and be yourself. One possible solution to the dilemma is investing the money and energy you originally budgeted for your spa escape on upgrades that will transform your practical bathroom or dressing area into a personalized interpretation of your happy (and holy) place.
According to Erica Reiner, founder of Los Angeles-based Eco Method Interiors, the bathroom is the one room where one can let their imagination run free. "You can have a lot of impact that works well in a room with a compact size, but that you're not spending all day in. Designing a bathroom with a luxurious, Middle Eastern vibe can make a huge difference in your mood, productivity and stress levels.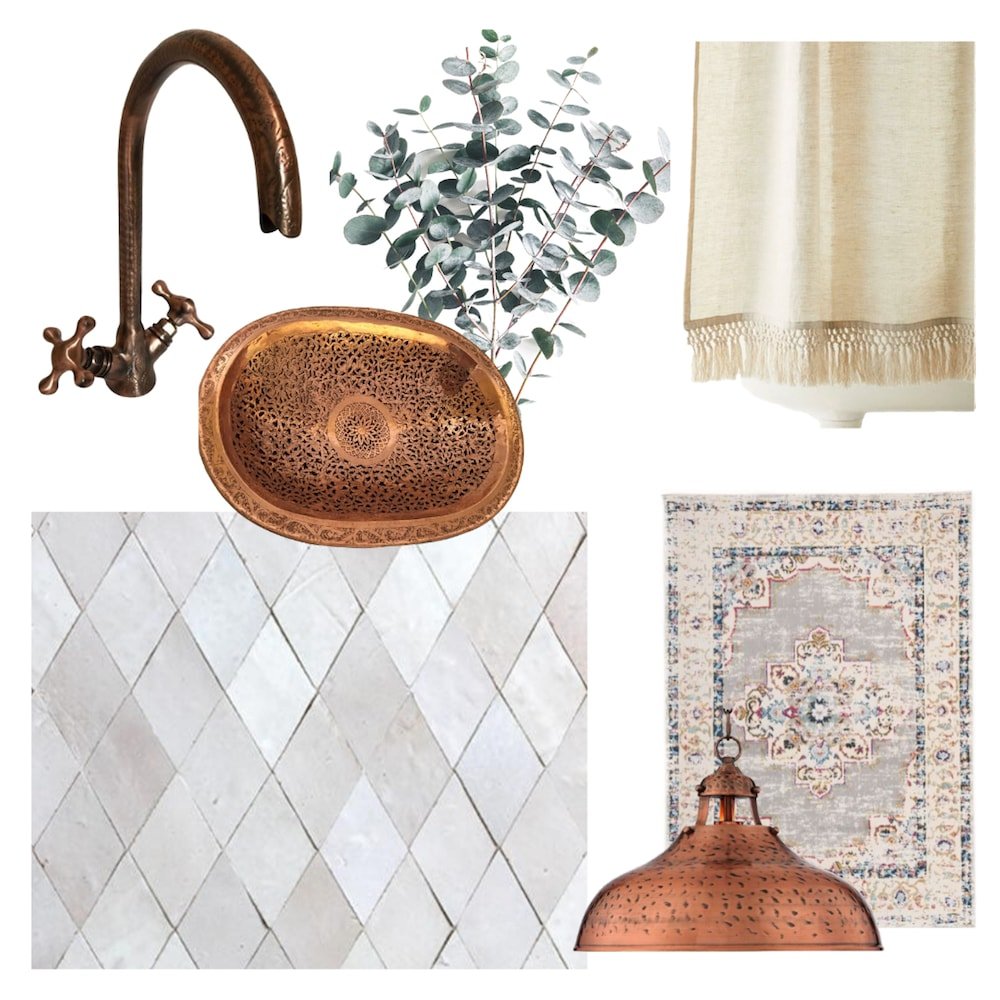 In Reiner's vision board (above), you'll note copper is trending as a fashionable metal, and works well with Middle Eastern and global chic when forged into light fixtures, sink and bathtub hardware and furniture enhancements.
Reiner's vision board underscores that copper is trending as a fashionable metal and works well with Middle Eastern and global chic when forged into light fixtures, sink and bathtub hardware and furniture enhancements. Designer Missy Stewart, meanwhile, demonstrates that a bit of bold goes a long way when adding in accents and accessories. In her contemporary bathroom, below, she adds in fresh flowers in sleek, simple vases and artwork, which adds a pleasant pop of color and imagery that lends itself to relaxation rather than distraction.
Attention to details further enhances that sense of escape one can feel in home spa surroundings. Reiner likes weaving in an eco-friendly natural linen shower curtain and a Kilim-style bathmat to add plenty of lush texture. Incorporate bouquets of eucalyptus into your hot showers weekly, so the steam releases the scent," she says. "Moroccan-inspired Zellige tile is a beautiful and ancient type handmade tile that would make a perfect backsplash over the vanity or even the entire feature wall, completed with a non-VOC grout sealer. Diamond or other interesting patterns create a look no one else has."
Designer Missy Stewart, meanwhile, points out that a little bit of bold goes a long way when adding in accessories. In her contemporary bathroom, below, she adds in fresh flowers in sleek, simple vases and artwork that adds a pleasant pop of color and imagery that lends itself to relaxation rather than distraction. "The idea here is to minimize sensory overload and evoke tranquility," she says. "For the room, choose an elegant color palette. I love a white and satin brass combo for bathroom hardware and furnishings…¦it feels clean and elegant."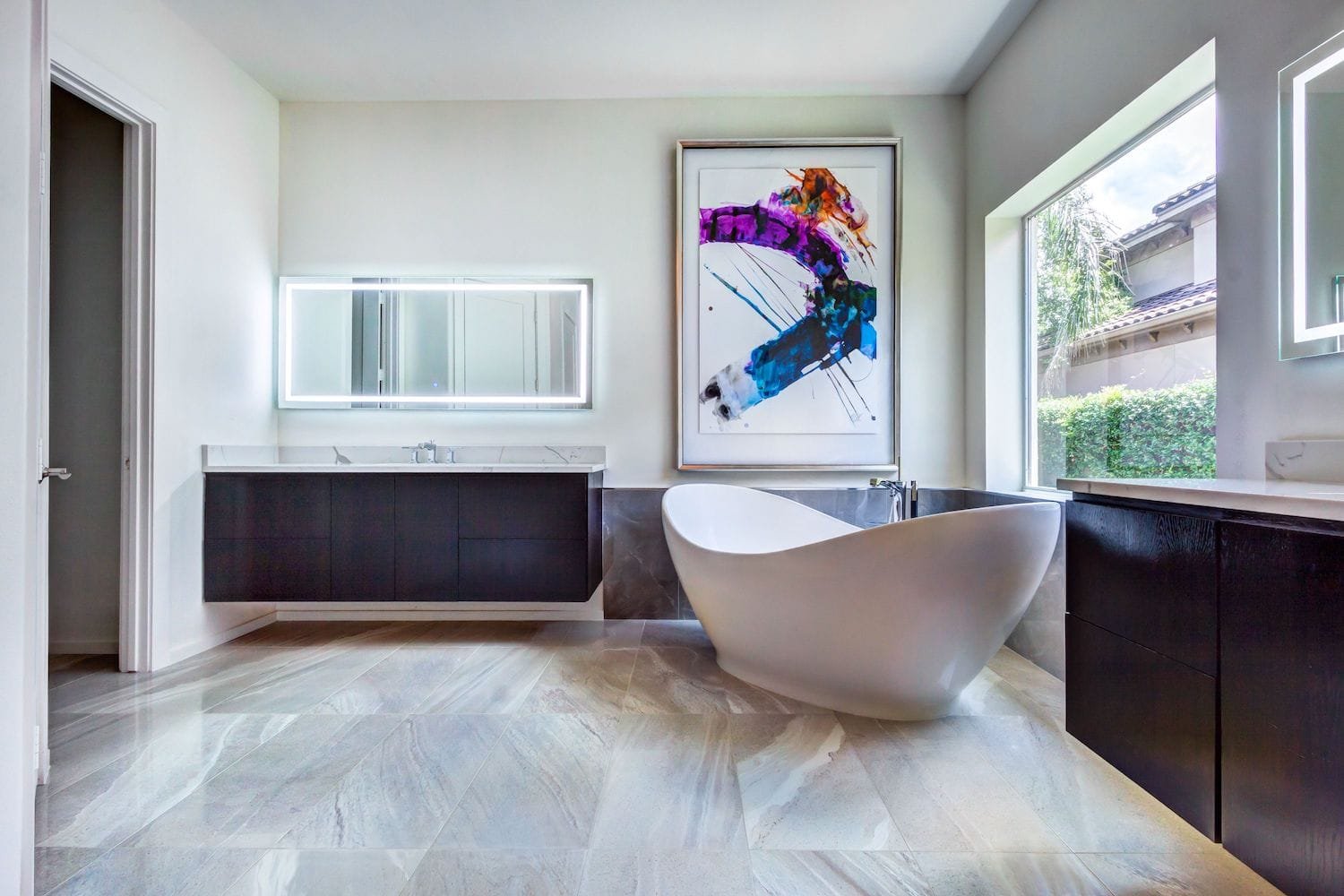 Missy Stewart's minimalist home spa is personalized with a a well-situated pop of color.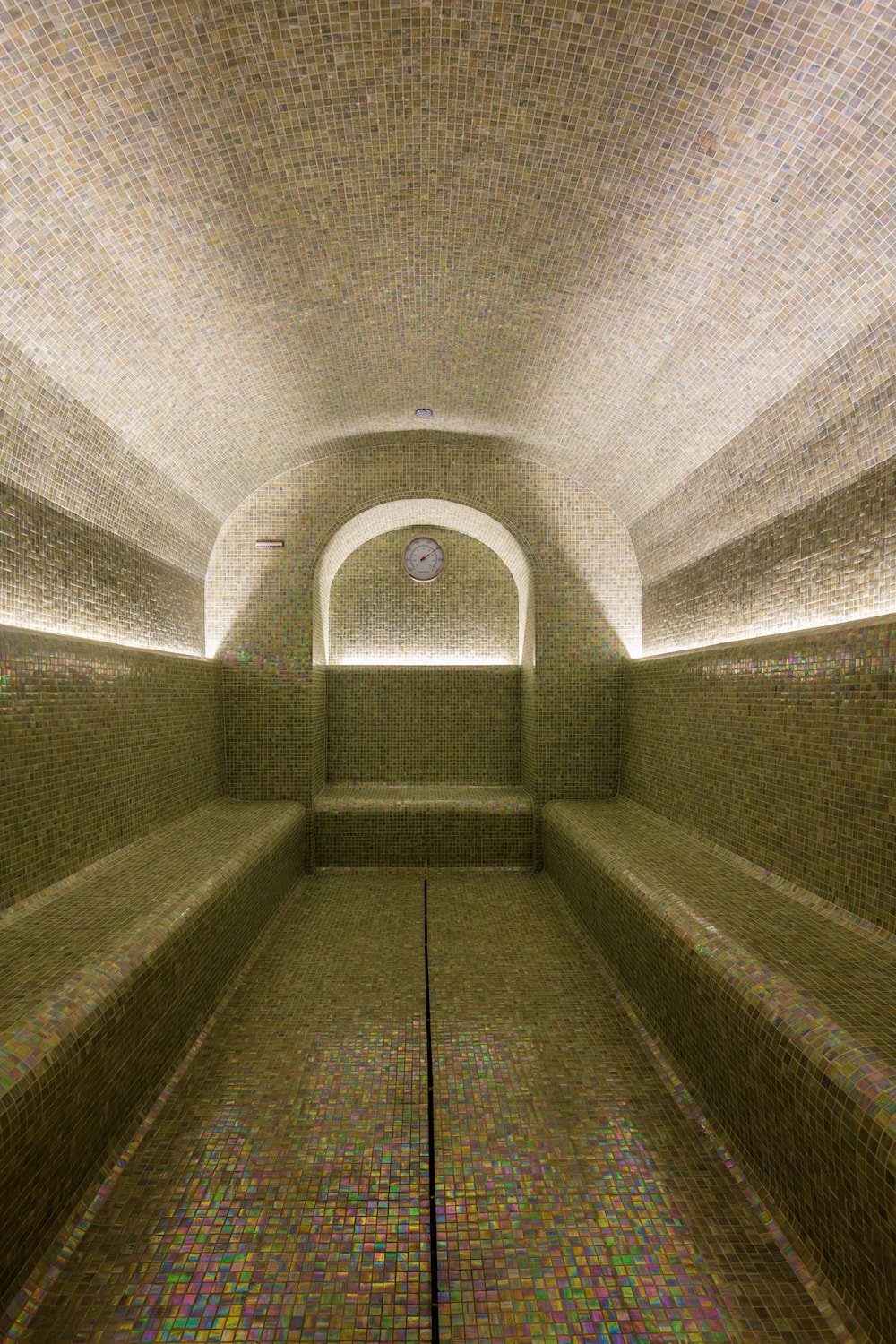 A Morccan-style hamman designed by firm CetraRuddy with luminescent brass-colored tile transforms a unit inside 443 Greenwich in New York City into an exotic retreat. Photo by David Sundberg.
Whether you prefer a Moroccan hammam, a Zen environment inspired by your favorite Asian aesthetics and treatments, Scandinavian minimalism or surroundings evoking Italian or French Riviera palaces, a good first step to bringing your dream spa resort escape home is to set down foundations that will work with the architecture and design of the rest of your house. From there, use your imagination along with a careful balance of natural materials and plush appointments.
Interior designer Nancy J. Ruddy, co-founder of the global architecture/interior design firm CetraRuddy, has built up an international reputation through high-profile housing and hospitality projects around the world that seamlessly blends a project's interior and exterior design with local architecture and the natural attributes of the region's geography. Ruddy points out spas at luxury resorts, by their intimate and cozy nature, can and should inform home bathroom design. Case in point is the aforementioned Moroccan hammam as well as the Zellige tiles.
"Bathrooms have always served as a respite from the busy and active lives that we all live," she says. "Our design of bathrooms—whether in a resort or a private home—always starts with the premise that they should transcend basic grooming and cleaning needs. We always begin with a goal that bathrooms should be a dedicated space that encourages both serenity and inspiration."
Ruddy explains that a well-thought out floor plan is the beginning of a bathroom that allows for relaxation and luxury, no matter the size. Even in a private home, there should be a shower area large enough for a seat for lounging or a slow cleansing. All sinks and plumbing products should also have a "UL" certified plumbing code, which indicates the basins and fixtures have been evaluated to pass nationally recognized health effects and performance testing standards. The floor plan should also allow for a two-sink vanity ensuring all bathroom necessities are within reach without clutter.
The home spa Nancy J. Ruddy created for a client at 443 Greenwich in New York City, features luxurious appointments and plenty of room to breathe. Photo by Eric Laignel.
"We design bathroom vanities to feel like a unique crafted piece of furniture," Ruddy continues. "Vanity fronts can be made of leather or shagreen, trimmed with metal and supported on articulated legs. Open glass shelves are ideal for display of beautiful accessories. Creating adequate storage behind mirrored or stone doors removes the clutter from a counter. Add a dressing stand, make-up table or counter with moveable mirrors on three sides with a whimsical upholstered chair for relaxed grooming.
At Choice Marina, a resort condominium in Cochin, India, the team created beautifully crafted wood screens based upon traditional Indian pattern. The screens slid over a wall of windows to create intricate light patterns on the floor while creating privacy. These were based upon the traditional jalousie screens on Indian balconies.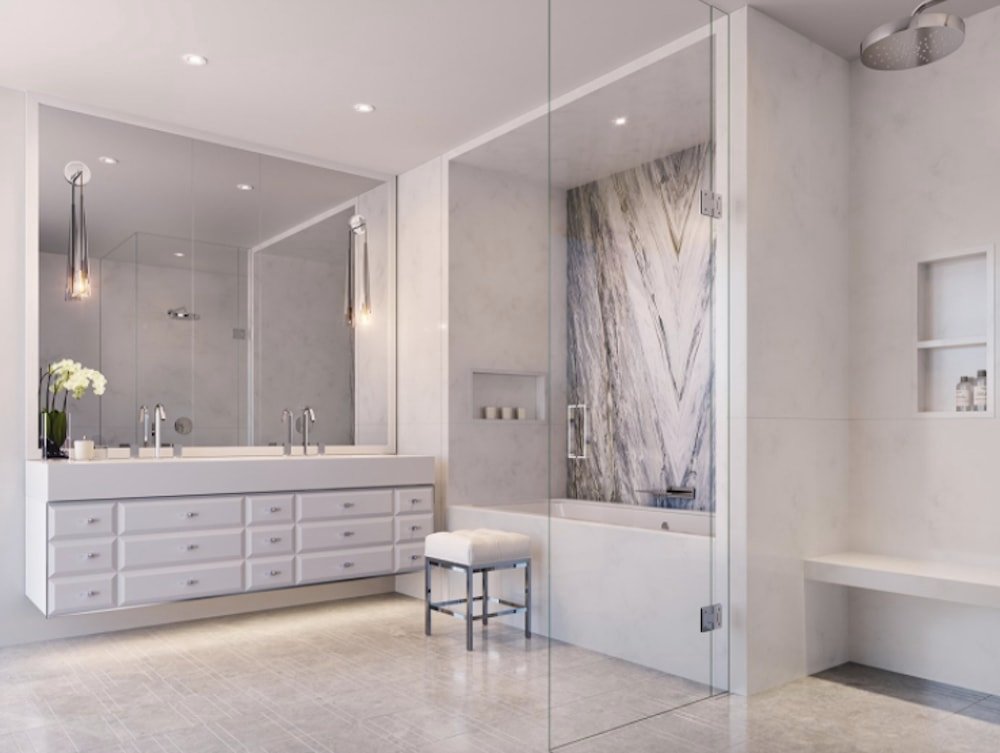 A CetraRuddy design for 200 Amsterdam in Manhattan reflects an afinity for neutral hues, dual sink vanity, a simple but inviting bench and relief from clutter. Photo by CetraRuddy.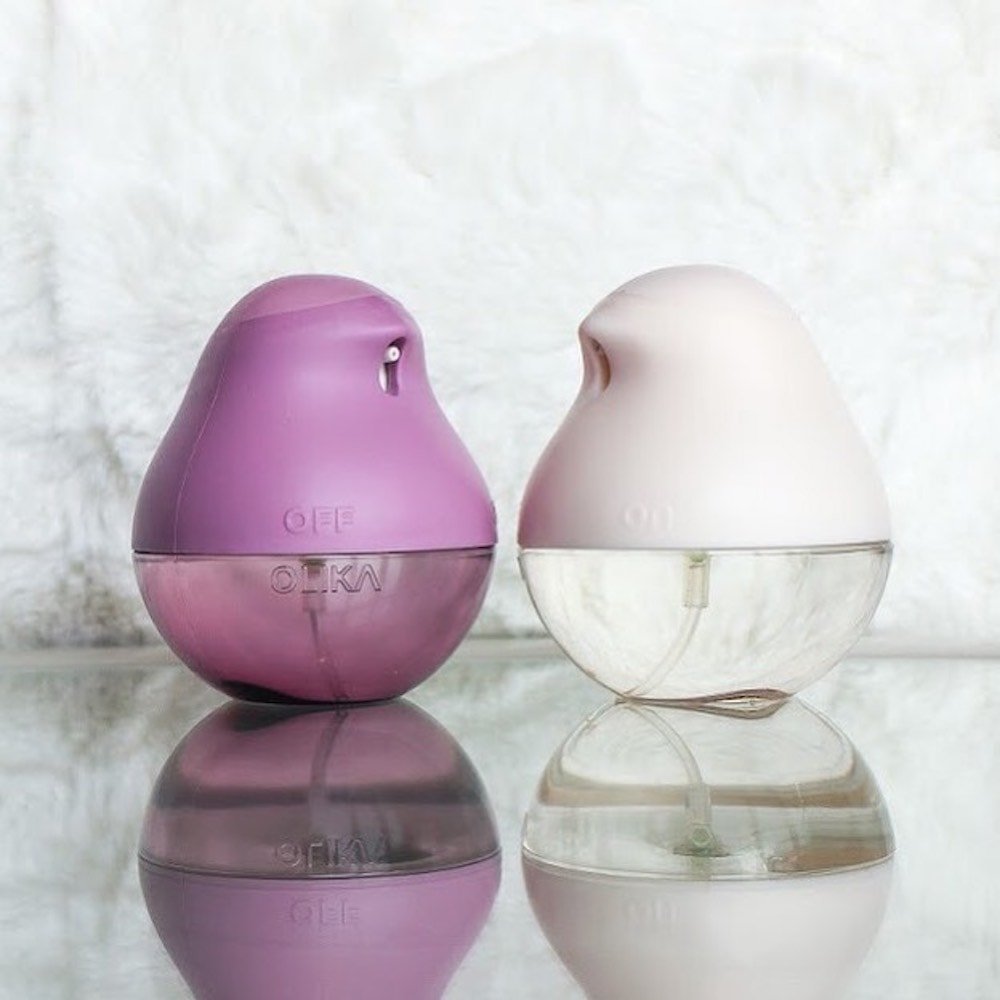 Olika Sanitizer Dispensers
Ruddy and Stewart are big fans of natural marble for floors and walls. While the versatile stone can be used in slabs it can also be installed with mosaic patterns sometimes offset with large, simple slabs. "When working throughout the world, we have taken traditional historic patterns of the area and then interpreted it into a modern vernacular," continues Ruddy. "Unique interpretations with marble and stones can be implemented with color, a white or off-white background with vibrant veining, or an exquisite palette can be developed with multiple textures one color, such as white."
Ruddy notes adding sleekly packaged necessities and wellness-based technology enhance the overall at-home spa experience. A flat screen that resembles a painting when not in use can be located near a bathtub or be incorporated into the vanity mirror as it would be in a five star hotel. Olika offers a natural hydrating hand sanitizer, distinguished by its chic packaging. Amba heated towel racks add a stylish accent to any bathroom's spa look while keeping towels warm, fresh and dry, reducing dampness, mildew and frequent trips to the washing machine—something encouraging water and electricity conservation, which is right in line with how better spas operate. The Atlanta-based company offers racks starting at $300 in a variety of colors and finishes.
"Great flexible lighting is most important in creating a luxurious bathroom," adds Ruddy pointing to her example at Walker Tower (illustrated below). "There needs to be adequate light for all of the functional elements of a bathroom, but having the flexibility to adjust the lighting to your mood is essential. When the overhead lighting is dimmed, a wonderful chandelier creates exotic mood lighting that can make the mosaics and metal trim in the design sparkle. Wall sconces can also be used for this same effect.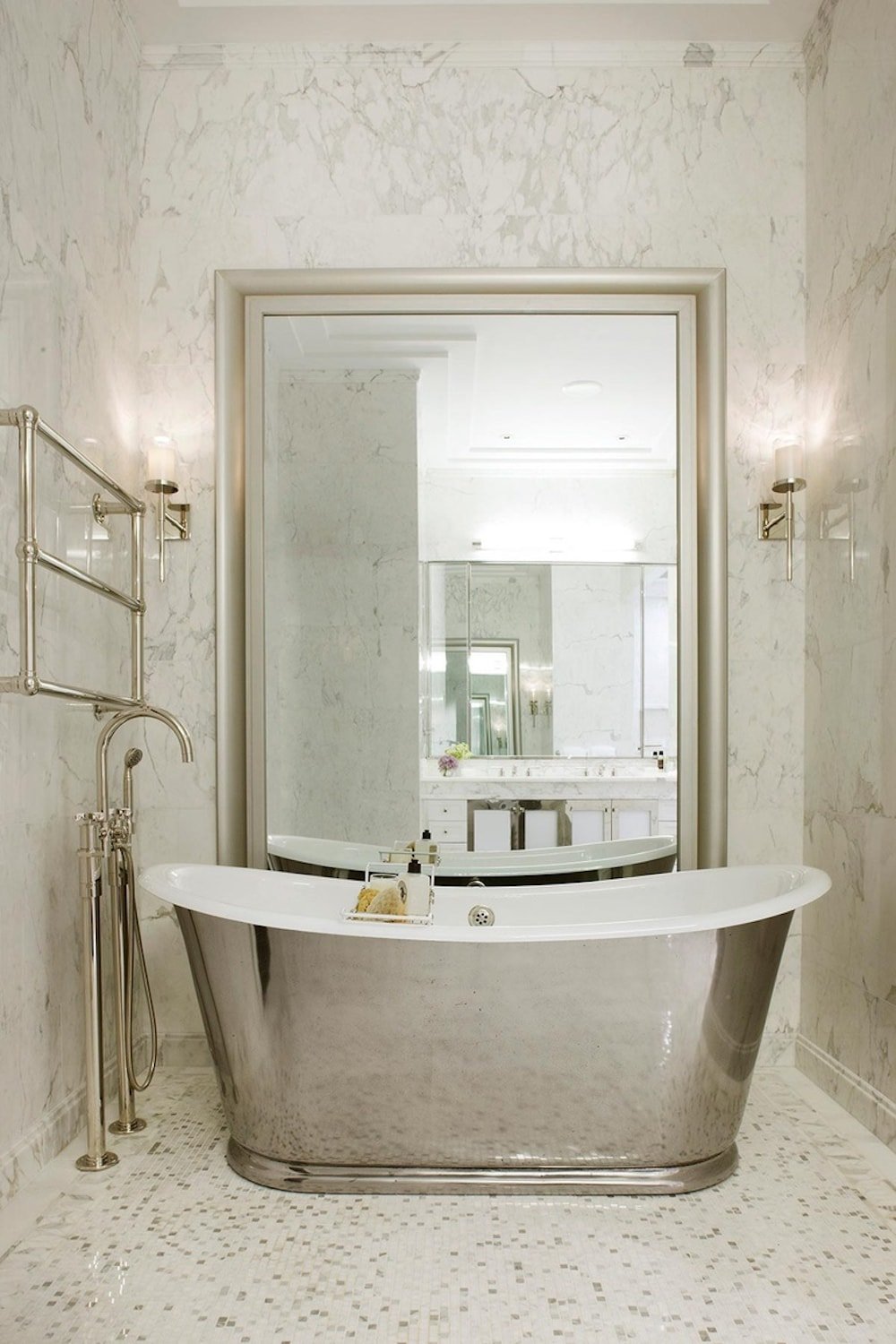 As high-end spas are also designed to incorporate visual connections to nature both their indoors and outdoors, indoor plants, windows or a door leading to a small private outdoor space with a chaise lounge in a home spa is another element one should factor in as are plump towels and robes. Finally, she recommends a full-length mirror to reflect the beautiful materials in the room and to provide ease of dressing.