Using Culture To Cure
Special to ALO by Melissa Hathaway of the Coalition Against Drug Abuse
We strongly believe in the power of art and exposure to cultural activities to help people in difficult situations. We have programs in place that focus on the use of art and literature to help those with various struggles, such as the Forever Wish program. This focuses on disadvantaged youth, and people with physical difficulties, but these are not the only areas in which art can help. There is significant evidence to indicate that an increased exposure to and involvement in the Arts can dramatically help those struggling with substance abuse and addiction, whether as the addict or somebody close to them.
There's a special match out three, connected by culture and cultural experiences. The ALO Cultural Foundation is focused on helping disadvantaged people to realize their dreams, get on the road to achieving life's possibilities, and reach their potential in life by providing a support system. The National Institute of Drug Abuse advises a combination of professional help and a look at implementing long term coping methods into an addict's lifestyle to help prevent a relapse.  Art therapy is one of the highly regarded coping methods used by many. Founded in the 1940s as a form of psychotherapy which uses art as the method of communication, it has helped countless disadvantage people to rebuild their lives.
Art for Control
Many people feel powerless over their addiction. English Comedian, Actor, and Author, Russell Brand, once spoke openly about his addiction, saying how he never used to know where the pain ended and where he began, and how he had no control. Art can bring a much-needed focus to an addict's world, encouraging the mind to center on the present. Furthermore, the artist is able to have complete freedom over what they produce, unbound by rules.
Art for Esteem
Substance abuse is a destructive activity, often damaging relationships between people and destroying the health and wellbeing of the user. Creating art, on the other hand, is a positive activity, with tangible results. An addict should be able to take pride in the artwork they create and enjoy the new found knowledge and education that is likely to be attained through increased exposure to cultural events.
Art for Expression
Art is a powerful tool for expression, allowing the exploration of inner thoughts and the articulation of them in many different ways. It can provide a communication outlet to those struggling with getting their message across in other ways.
There are endless other positive aspects to embracing art into our lives, such as:
Meeting like-minded people in a new community
Learning new skills and techniques
Immersion in art and mark-making processes can provide a form of relaxation and escapism that is sometimes chemically sought in drugs
Having a new hobby as a distraction from troubling thoughts
Helping us understand ourselves as we explore our thoughts
Producing many works of beauty that others may enjoy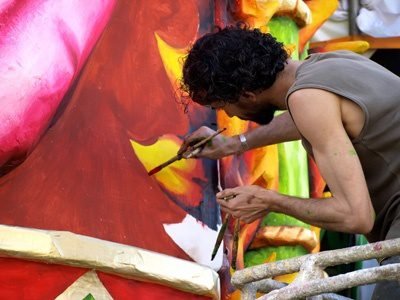 Art for Others
We are all part of a large network and community, and addiction can have a huge impact on those around us. As it is not only the addicts who are affected by addiction, but also the surrounding families, friends, children, communities, it is not only the addicts who gain support through art. If an addict embraces art into their life they may be able to help others understand what they are going through, as they will be able to communicate in other way.
Our foundation likes to focus on what unites, not what divides, and art can unite family and friends as it is an activity that most people can take part in to various degrees. Children tend to be especially fond of art and creative activities, therefore if an addict has children this is a highly recommended activity to help build up relationships that may have become distant.
Professional Help
As well as lifestyle changes, including the incorporation of art therapy into an addict's life, it is essential that research is done into the detox and rehab options available. Research shows that the quickest and most sustainable success is through the combination of lifestyle changes with a professional medical treatment program. The reason that this combination works so well is that the user and their families can get the immediate support they need during the difficult withdrawal process, while the positive lifestyle changes give hope for the future. The withdrawal process can be incredibly challenging, with expert medical care required while the body goes through the various stages of detox. Sites such as the New Jersey cocaine addiction treatment website offer a range of detox and rehab options, with people able to browse the site or call an adviser for information on different treatment available. An adviser is available 24 hours a day and there is no charge for the call. Users are able to browse for treatment according to the substance they use, by the city that they are in, by the length of program they are looking for. There is also information on gender specific centers.
By combining a medical assisted rehab program for initial treatment, with the power of art and culture as continued coping methods, a user and their family and friends are most likely to see positive results and be able to reach life's full potential. There is a wealth of support out there, and we are here to help you take the first steps.