Meet The 'Spice' Girls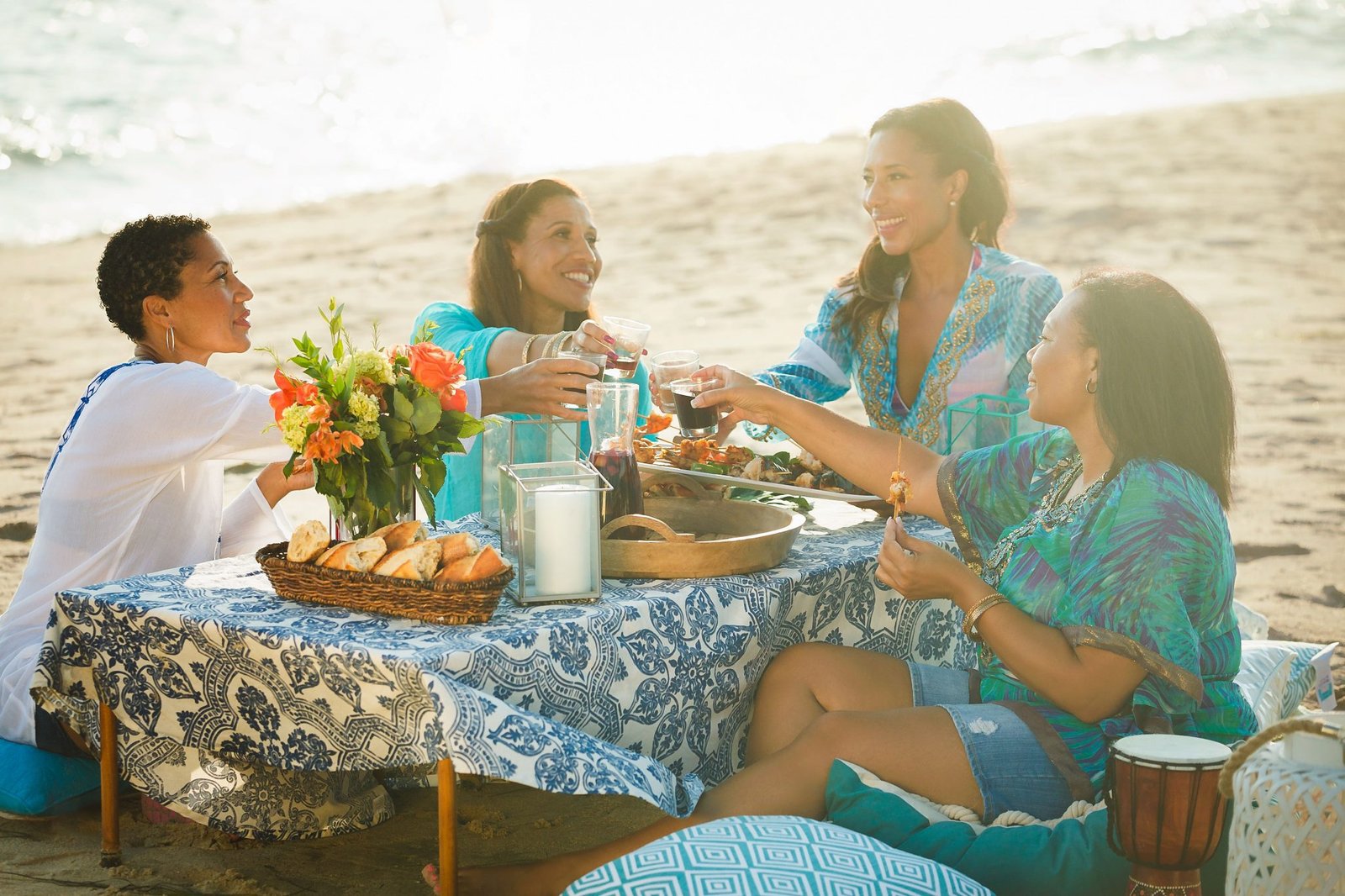 As we are using our spare time to recreate our family favorites at home, we are getting quite an education about what every ethnic group has contributed to the American diet and the joy of eating. "Variety is the spice of life" may be a well-worn truism, but there is a reason why it's a belief those of us who like to cook and eat share. The presence of the farm/sea/field-to-table movement and a collective awareness about what makes healthier food also puts spices and seasoning into a stronger spotlight.
While spices make foods more expressive and exciting, some of them add an extra punch of nutritional value, immune boosting, digestive improvement and other good things–an important thing to consider when sheltering in place during this COVID-19 crisis as well as future cold and flu seasons. Of course, our mothers and grandmothers have known about that for years.
As it is always fun to get tips from experts (chefs, restaurateurs or specialty food vendors, etc.) and, by extension, their mothers and grandmothers, we invited a few of them to weigh in on essential spices or spice mixes every household needs in their pantry.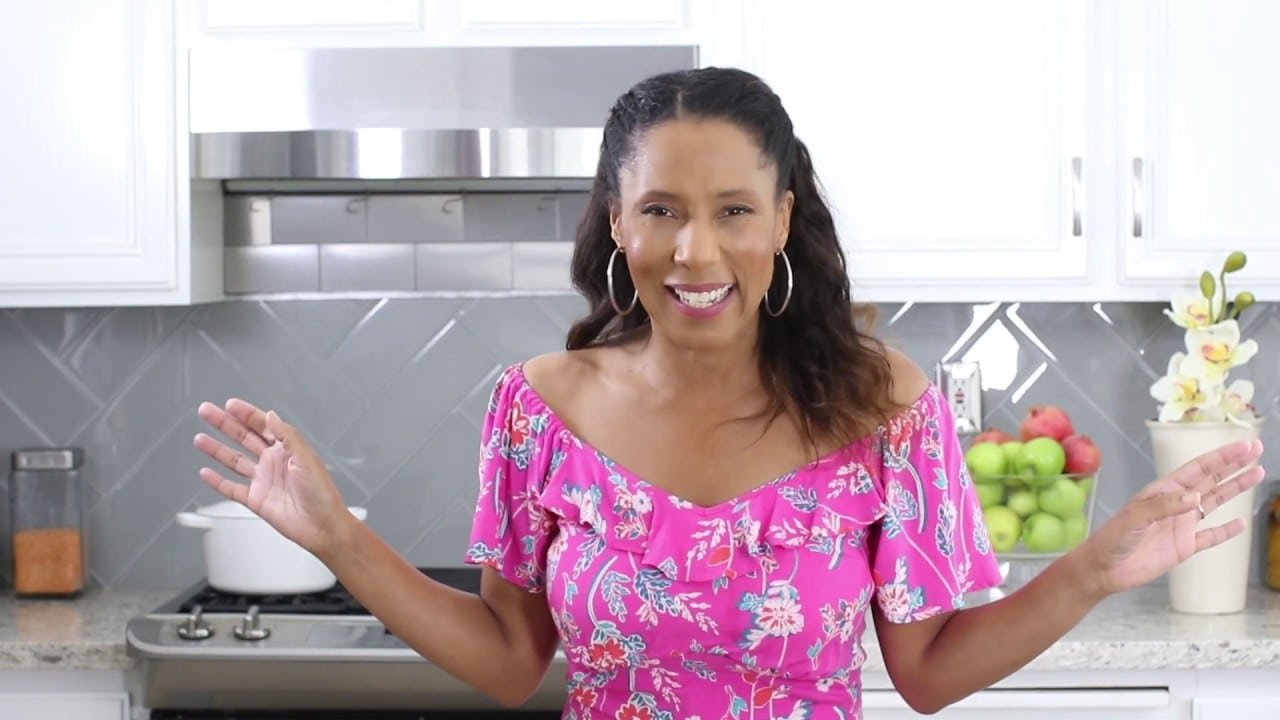 Stephanie Harris-Uyidi, the entrepreneur behind the international travel-adventure-cooking TV series, "The Posh Pescatarian: Appetite for Adventure!" airing weekdays in the U.S. on Z Living Network, knows spices can be a real lifesaver in the kitchen. While her professional mission is to share the benefits a plant-based diet supplemented with fish, she knows well-selected and cared-for spices add extra excitement when it's needed most.
"Everyday meals can get a little boring unless we make a deliberate attempt to spice things up," affirms Harris-Uyidi. "As a good music soundtrack can help make things interesting, a savory spice blend can make any dish more interesting and exotic dish. What I love about my version of the 'Turkish Baharat' spice blend and the Spice House's Garlic & Herb Mediterranean Spice blend is that it allows my family and friends to experience the flavors of the Mediterranean from home. The best part is these and other spice blends are easily accessible and simple to create at home. As I prescribe to a Mediterranean style of cooking, these spices are major pantry staples."
A dash of either, depending on the recipe, breathes life into whole fish, fillets and veggies as well as couscous, lentils and rice. Beyond that, Harris-Uyidi stresses that the flavorful garlic and herb mix is also salt free, making it easier for home cooks to use less sodium and still get a tasty result. Benefits of a low sodium diet include lower blood pressure and reduced bloating after the meal. The Spice House's blend also includes lemon juice, a source of Vitamin C. Her Turkish Baharat spice blend, meanwhile, blends cumin (a rich source of iron), mint (with eye health-enhancing vitamin A) and antioxidant-rich oregano.
"One of the things that I love most about cooking with internationally inspired spice blends is that it gets the conversation started about current events, places that we'd like to visit or just how good home cooking can be," affirms Harris-Uyidi.
Sandy Wolner, a registered dietician nutritionist who serves as The Pampered Chef's food and trend innovator, says spices and spice inspire creativity as you may be grappling with making the most of what you have at home between occasional supermarket visits and shortages of certain foods. Of course, they also provide an extra assist for those new to cooking or who want to upgrade existing recipes while adding an extra punch of health benefits.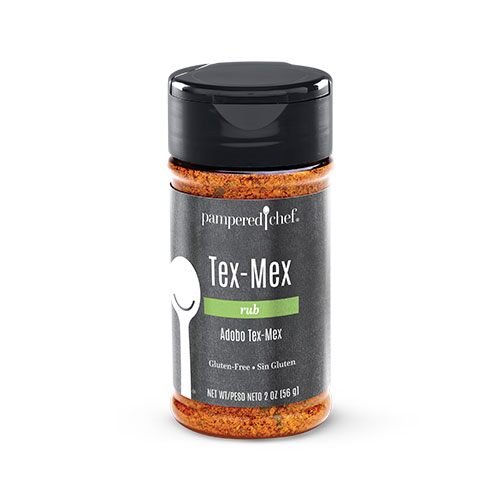 The line's Garlic & Herb Rub, Tex-Mex Rub and Three Onion Rub are among Wolner's must-haves in her personal kitchen.
"The 'Garlic & Herb Rub,' a fragrant blend of garlic, basil and rosemary, is flavorful without being overwhelming and perfect if you don't have fresh garlic on hand," she says. "It is great for seasoning proteins, but also delicious on vegetables, popcorn, garlic bread, eggs, pasta, potatoes and in salad dressings. The Tex-Mex, which is not typical taco seasoning, blends cumin, cinnamon and chili pepper, with the cinnamon adding extra depth and spice to the blend. While it is the perfect shortcut to making flavor-packed tacos, burrito bowls and fajitas, it's great for soups, rice, veggies and dips with Mediterranean influences. For example, you can spice up sour cream or Greek yogurt to create a dip or sauce with little effort and lots of flair."
With yellow, green and red onions, the Three Onion Rub is a good go-to when you don't have fresh onions on hand, according to Wolner. She reasons more layers of flavor come through because of the various types of onions, adding zest to dips, chicken, steaks, hamburgers and even potatoes and vegetable.
Herbs and spices are regarded as "pantry staples," but our experts caution that like most other plant-based products, you need to pay close attention to their shelf life and require proper storage.
"One of the secrets to keeping spices fresh is to buy them from markets that have a high spice turn-over, which means that they are most likely carrying fresh stock," says Harris-Uyidi. "(I also suggest buying) whole spices in small quantities, as this allows you to keep spices for three to six months with success."
To purchase Harris-Uyidi's recommended blends and check out other Spice House products, visit thespicehouse.com/products, and to get inspiration, visit poshpescatarian.com.
To purchase Pampered Chef spice blends and see more recipes, visit pamperedchef.com.
Another spice blend company worth checking out is Kitchen Crafted kitchencrafted.com, offering non-gmo, gluten-free, kosher-certified food flavors powered by eight signature herbs and spices. Its BLND adds a tasty touch to meals, dips, sauces, and marinades.
Turkish Baharat Spice Blend
Stephanie Harris-Uyidi, a.k.a "The Posh Pescatarian"
1 tbsp dried oregano
1 tbsp pickling spice
1 tsp freshly ground black pepper
½ tsp cinnamon
½ tsp cumin
½ tsp dried mint
¼ tsp freshly grated nutmeg
½ tsp dried ground rosebuds
½ tsp ground cloves
In a small bowl, blend together all ingredients until combined well. 
Store mixture in an airtight container at a cool room temperature. It will keep for up to two months.
Chef's Note:
This savory Turkish spice mix includes all natural ingredients and can be used to season fish, vegetables or rice.
Wild Salmon Meatloaf featuring Canned Salmon
Stephanie Harris-Uyidi, a.k.a "The Posh Pescatarian"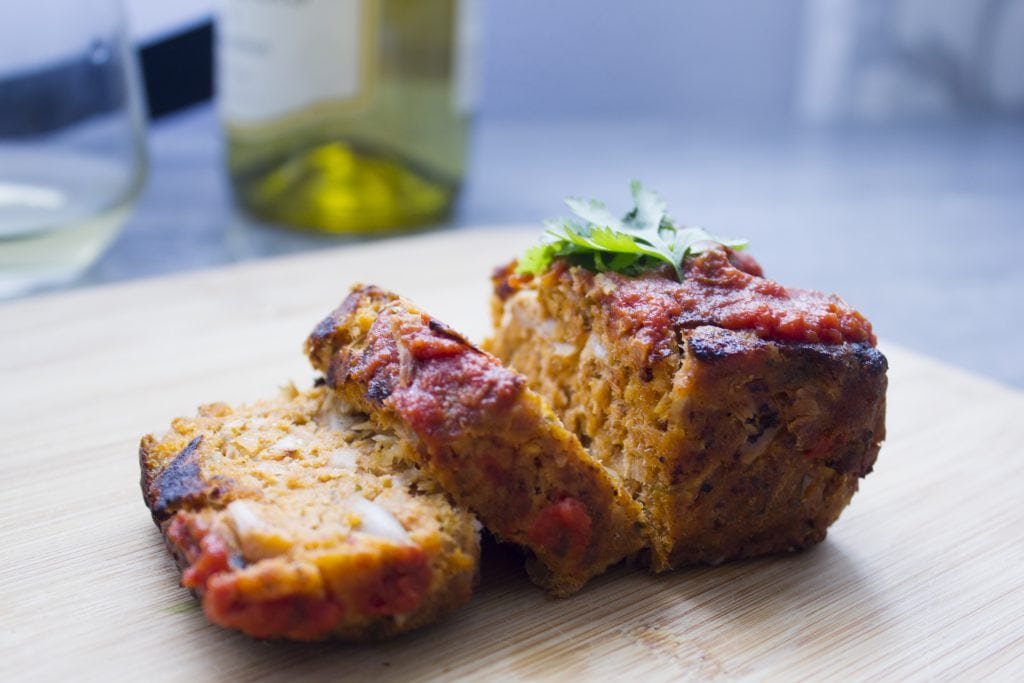 4 cans of wild boneless, skinless salmon, drained
2 eggs
3 tbsp ghee
½ cup each: carrot – celery – onion (to make mirepoix, which also can be purchased in stores like Trader Joe's)
1 cup canned crushed tomatoes
¼ cup water
1 garlic clove, crushed
1 tsp each white pepper, cumin, garlic, paprika
1 tbsp dried thyme
½ cup panko bread crumbs
½ cup day old white bread crumbs (hot dog buns count!)
¼ cup favorite tomato sauce for garnish (Have fun with this and add siracha, teriyaki sauce, etc.)
Sea salt
Red pepper flake
Cooking spray
Special equipment needed: mini loaf pans and a food processor.
Sauté mirepoix mix in ghee over low heat until softened. Add in crushed garlic and cook until fragrant. 
Allow the mix to cool then add it, the crushed tomatoes and water to a food process and blend until smooth. (We will be adding this to the salmon to keep it moist, so a few chunks are okay). Set aside.
In a large mixing bowl add the salmon, spices, panko and breadcrumbs and pureed vegetable mix and stir. Add one egg and incorporate.
Taste test: In a small skillet add a little oil and heat until medium. Take a tablespoon of the salmon mixture and add it to the pan. Cook on both sides until done and taste it. Do you like the flavor? Does it need more salt? 
Make the necessary adjustments. Once you have the flavor where you want to spray your mini loaf pans and evenly divide the salmon mixture between the two. 
 Bake for 35 minutes or until the salmon loaf is set then add the tomato sauce topping and cook for another 5 minutes. Be careful not to overcook.
Cool slightly before serving with mashed potatoes, broccolini, garlicky spinach or your favorite veggie mix. 
Mexican Quinoa Bowl
From The Pampered Chef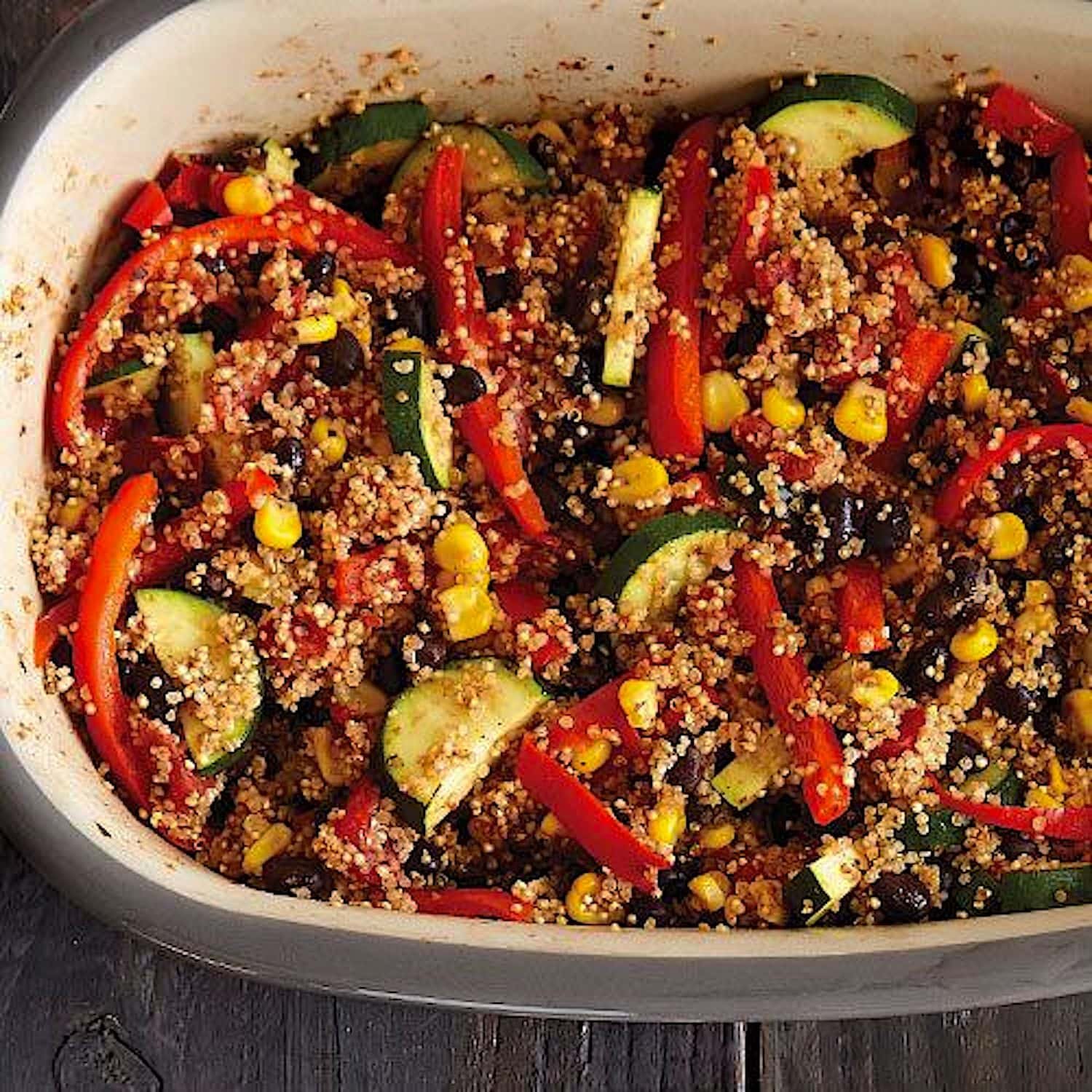 1 cup uncooked quinoa
1 cup vegetable broth
1 orange or red bell pepper, stem removed, seeded
1 medium zucchini, ends trimmed and cut into 3" (7.5-cm) pieces
1 cup fresh corn kernels (about 2 ears)
2 garlic cloves
1 can (15 oz) low-sodium black beans, drained and rinsed
1 can (14.5 oz) fire-roasted diced tomatoes, undrained
1-2 tbsp Tex-Mex Rub
¼ cup fresh cilantro leaves
Diced avocado, sour cream and lime wedges (optional)
Combine the quinoa and broth in a microwave-safe bowl. Cover and microwave on HIGH for 10 minutes. 
Cut the bell pepper into quarters and the zucchini in half lengthwise. Cut the bell pepper (skin-side up) into strips. Slice the zucchini halves crosswise. 
Remove the baker from the microwave. Stir in the vegetables, garlic pressed with a garlic press, beans, tomatoes with juice, and rub.
Microwave, covered, for 8–10 minutes, or until the quinoa has absorbed the liquid. 
Remove the baker from the microwave and let it stand, covered, for 5 minutes.
 Snip cilantro in a small bowl with cooking shears.
To serve, sprinkle the quinoa with cilantro and top each serving with avocado and sour cream, if desired.