These Remarkable Funerary Urns are Riffs on Egyptian Pyramid Burial Chambers
Funerary objects have long held humanity's fascination dating right back to Egyptian and Etruscan tombs. Death in these cultures was in fact alluring, often celebrated in a triumphal manner replete with death and magic rituals.
Robert Kibler brings much of that beauty and mystery back full circle via his stunning burial urns. In fact, the master potter was influenced by a 1978 "Treasures of Tutankhamen" exhibit at the Los Angeles County Museum of art.
Back in the late 1970s, King Tut fever raged –– a bilateral agreement with Egypt's then President Anwar Sadat included the granting of an American tour of the pharaoh's tomb artifacts unearthed by British archaeologist Howard Carter in 1922.
Secret compartments harbor treasured items
Using the form of a flattened pyramid, Kibler stages his larger urns much like a scaled down burial chamber. Working from his Echo Park, Los Angeles studio –– Urbanware Ceramics –– the artist first constructs urns from earthenware clay, usually fashioning four compartments. The secret compartments (unnoticed on first glance) are analogous to the hidden passageways and chambers in Egyptian pyramids.
The pyramid's base level, "symbolizes the physical world," he says; it has enough space for two ash remains. The images on the pyramid's face are chosen in consultation with clients to reflect their world and life's journey. These two lower chambers are separated by a perforated screen. The porous divider enables the dual set of ashes to mix throughout eternity (If they so wish). Yes, couples often buy his work.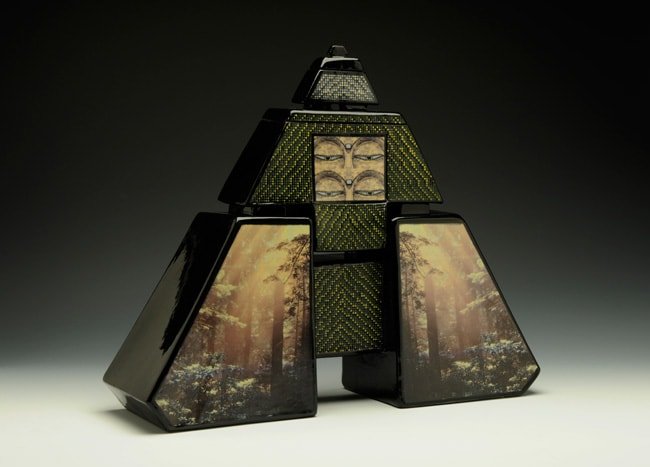 Letters in a bottle
Traveling up from the base of the pyramid-shaped urn, the middle and top sections denote the realm of spirit. Fired, full-color ceramic "Polaroids" of images and photographs important to the deceased can be placed in these sections. About 20 photos can be slotted in to this middle tier.
Smaller mementos –– rings and locks of hair and other treasured items –– are placed in the top section, the lid.
"These are essentially letters in a bottle, thrown in the sea of time," says Kibler, an Emeritus Professor of Art at Glendale Community College.
His work is found in the esteemed permanent collection of American Ceramics at the Everson Museum of Art, based in Syracuse, New York –– as well as the Los Angeles County Museum of Art and the Long Beach Museum of Art. Private collections internationally also hold his work.
The potter's Digital Man series
Kibler's work is a deft dance that explores the mystery of life and death –– furthered by his more recent use of technological images in his creations. His "Digital Man" series incorporates glazed and then fired photographs of microcircuitry, medical scans and infrared thermography as a "new way to 'see' the human body through a kind of video pointillism," he explains.
"The series explores the interface of machine and human intelligence."
The works are also a commentary on humanity's seductive dance with technology –– which is thought to lead to "singularity," a phrase popularized by the English scientist and cryptanalyst Alan Turing.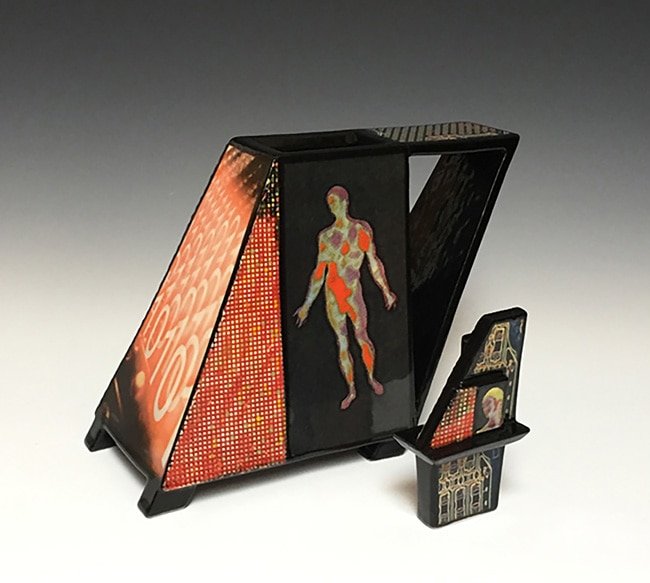 Singularity refers to the point at which artificial intelligence becomes indistinguishable from, and indeed exceeds, human intelligence. Think of HBO's smash series "Westworld" and you'll easily grasp the concept.
Singularity is a hypothesis, of course, but many feel humanity is speeding to that nexus point. Kibler's work is a deft commentary on that intriguing journey.
Indeed, like King Tut's ornate burial objects, Kibler's urns, cups and assorted objects could one day be unearthed –– a distant generation fascinated by a potter's deep dive into the mystery of life, death and the human condition.