Slice of Life: A Refresher Course on Cucumbers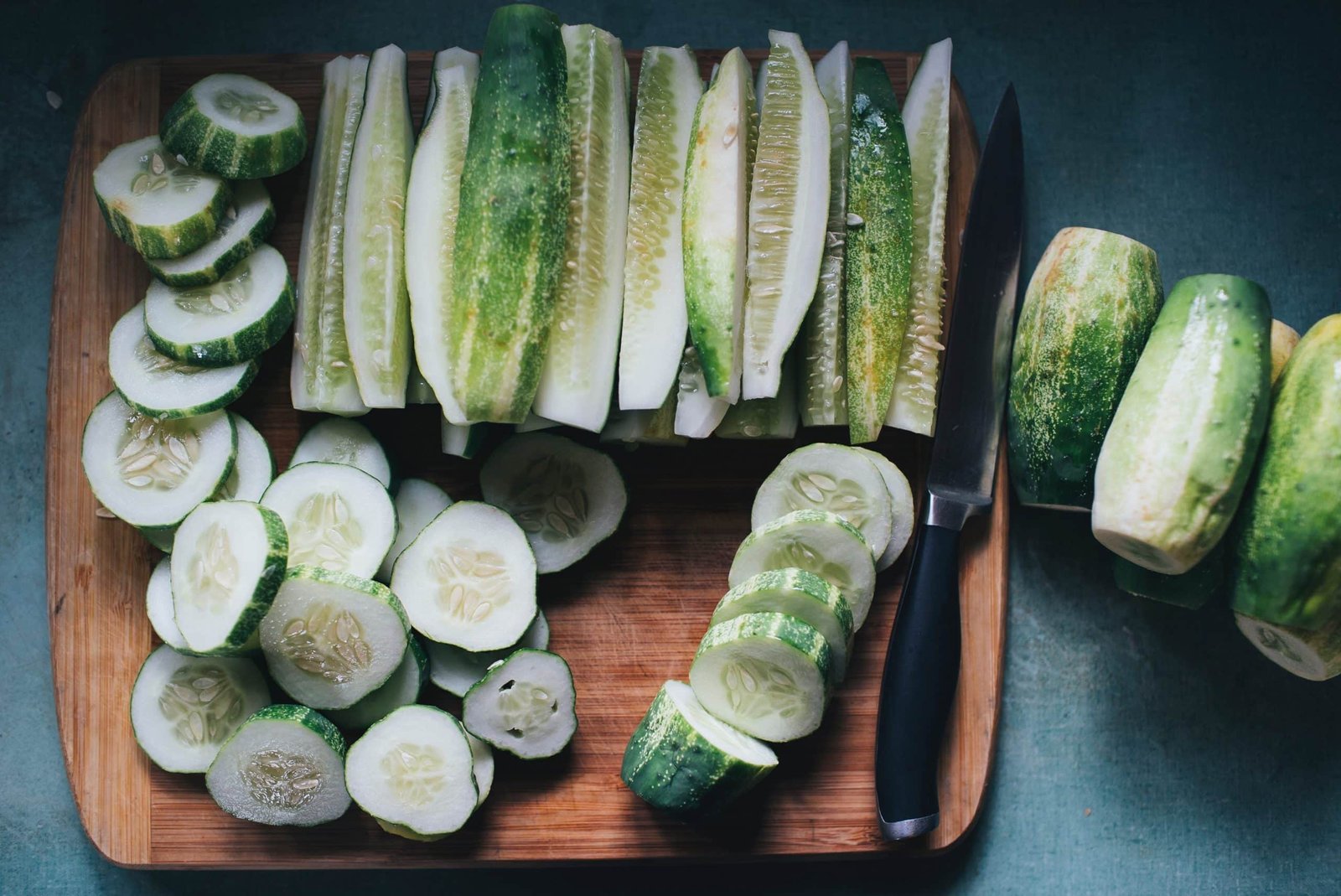 The humble cucumber is not only one of the world's most international fruits, but also one of the oldest to be domesticated. In the beginning, this branch of the gourd family tree (Cucurbitaceae) grew wild on the Indian subcontinent. The University of Missouri, vegetablenet.com and other sources note it was first domesticated and cultivated about 4,000 years ago. The subcontinent's early civilizations integrated cucumbers into their rich cuisine, and over the centuries, traders from the region introduced them to early Middle Eastern civilizations. The emergence of cucumbers appear within the legends of the ancient Ur and the sagas of Gilgamesh, providing further evidence of their versatility and cultural significance.
As time progressed, cucumbers found their way into Turkey, Bulgaria, Africa, Ancient Greece, the Roman Empire (modern-day Serbia and Italy), and from there, the rest of Europe, China and the Americas. They eventually proliferated into the hundreds of different varieties that can be pickled, sliced, chopped, grilled or transformed into cold or hot soups. The common "burpless" cucumber variety (i.e. the large one found in countless Western supermarkets) is everywhere, from ice water dispensers at spas and upscale hotels, to our favorite Middle Eastern salads, dips (e.g. tzaziki) and side dishes to a plethora of beauty products. Persian varieties, thanks to the growing popularity of Middle Eastern food worldwide, are growing in popularity.
While fresh cucumbers impart texture and crunch to many familiar and timeless summertime dishes (Israeli salad, with cucumbers, onions and tomatoes, and creamy Turkish cucumber salad with yogurt, dill and mint), they also add a bounty of extra nutritional benefits. According to the website Healthline.com, an 11-oz unpeeled cucumber is light on calories (45), but packs in two grams each of protein and fiber as well as 14% of the recommended daily intake of vitamin C, 13% potassium, 10% magnesium and 12% manganese. Although a serving within a recipe is estimated to be about one-third of this standard-sized cucumber, it certainly provides plenty of incentive to incorporate it into a variety of dishes.
Many people are aware of cucumbers' rich (96%) water content and hydrating properties, which supporteverything from physical performance to metabolism and body temperature regulation. However, it may surprise some that this delicate fruit also contains antioxidants, including flavonoids, that help eliminate free radicals associated with cancer and cardiovascular, lung and autoimmune disease. There are also studies in the works to verify if it can lower blood sugar and potentially diabetes-related complications.
In another article on Healthnet, registered dietician Cynthia Sass shined a light on other surprising benefits, especially for women. Cucumbers can enhance bone health through its abundance of vitamin K, is required for bone formation and, in turn, can stave off osteoporosis and increased fracture risk. They contain lignans, which bacteria in the digestive tract convert into compounds that bind onto estrogen receptors. Results from preliminary studies with the National Center for Biotechnology suggest they may protect against estrogen-related cancers. A 2017 NCBI study, meanwhile, revealed that increasing cucumber intake could boost cardiovascular health by decreasing triglycerides, total cholesterol and "bad" LDL cholesterol while increasing "good" HDL.
As wearing face masks has made some people aware that they have bad breath, caused by mouth bacteria attacking trapped food particles, cucumbers can be a remedy for that, too. The saliva production, triggered by chewing cucumber, helps cleanse the mouth and wash away the offending particles.
While there are numerous recipes, and within those, many variations on the Middle Eastern and Mediterranean summer salad, cucumbers in fresh out of the fridge and sliced can perk up everyday staples. The flavor they add to ice water encourages one to drink more, providing even more needed hydration during the summer. If you're enjoying hummus or babaganoush, swapping out ten pita chips with a sliced medium cucumber shaves off 100 calories and 15 grams of carbohydrates while adding more fiber that will make you feel less hungry.
If you're in the mood to get really creative, on the other hand, check out these recipes from Wall Street Journal-best selling cookbook author, FoodNetwork.com personality and nutrition expert Toby Amidor, Virginia-based chef Michelle Bui and Lisa Richards, noted nutritionist and author of "The Candida Diet."
"My Spanish-inspired cucumber rolls are like a little taste of spring," says Richards. "They make for a great afternoon snack, or you can use them as a healthy appetizer to impress your dinner guests. Best of all, they are full of natural ingredients and flavors that are great for your health."
Whole Wheat Couscous with Cucumbers, grapes, olives and Feta
Toby Amador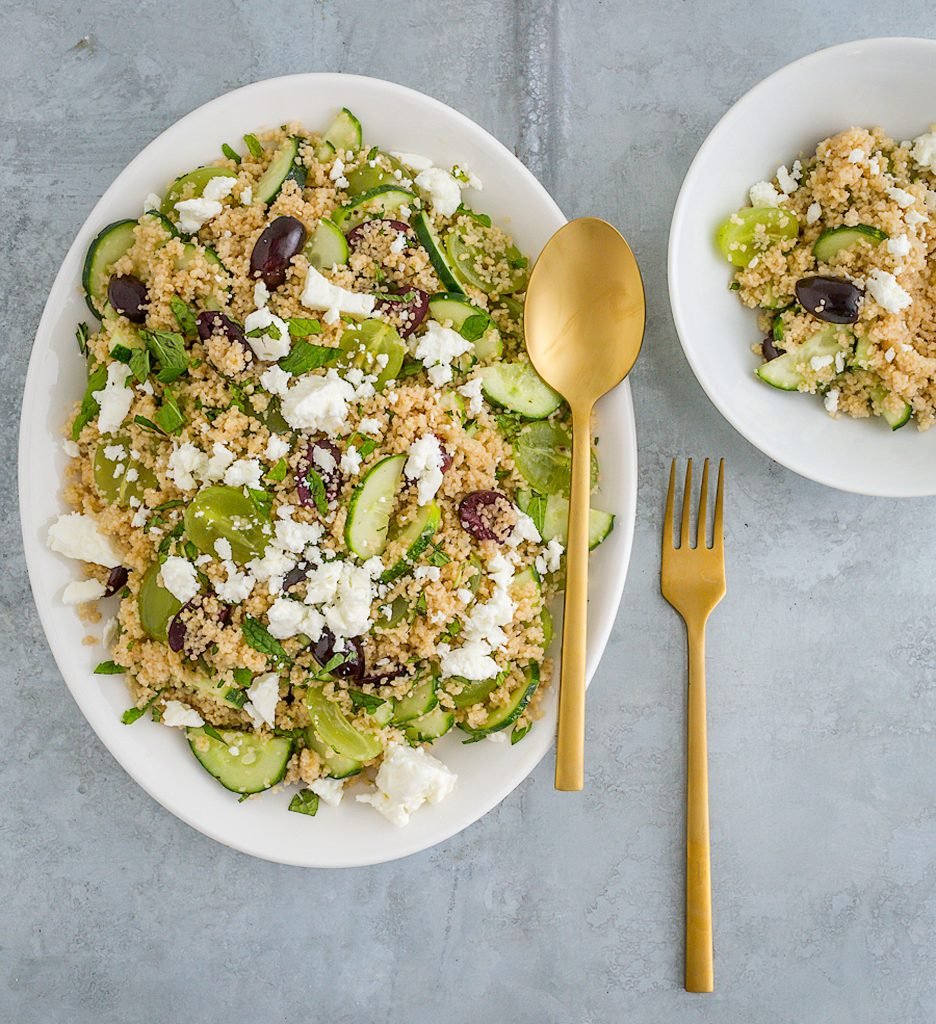 Photo courtesy of Gail Watson Photography
1 cup water

2 tbs + ¼ cup olive oil, divided

1 head of garlic, chopped (10-12 cloves)

¼ tsp + ⅛ tsp salt, divided

¼ tsp ground black pepper, divided

1 cup whole wheat couscous

Juice of 1 lemon (about 2 tablespoons)

1 cup green seedless grapes, sliced lengthwise

⅓ cup Kalamata olives, sliced lengthwise

2 Persian or Kirby cucumbers, chopped

½ cup crumbled feta cheese (2.5 ounces)

2 tbsp chopped fresh mint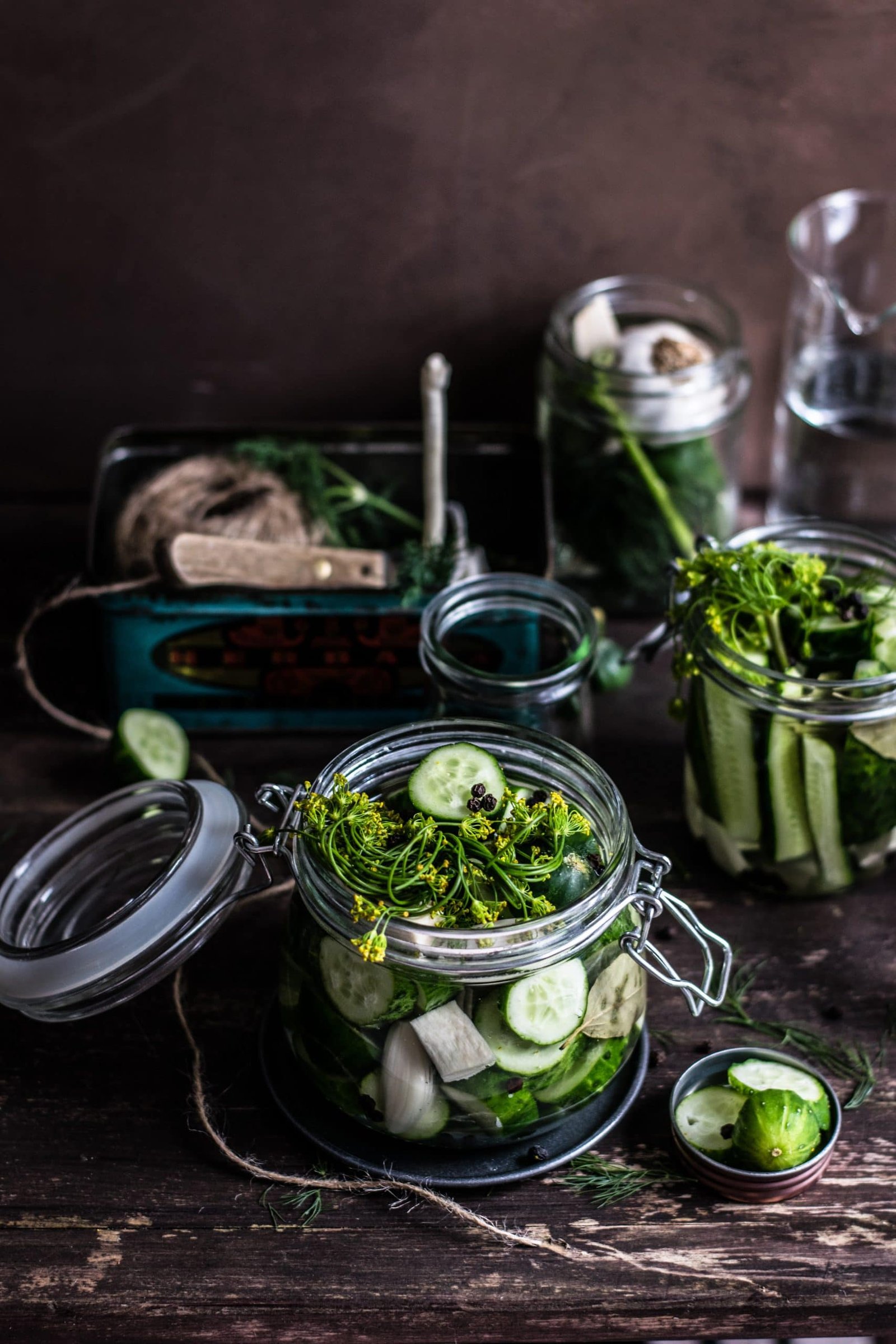 In a medium saucepan, bring the water, 2 tablespoons olive oil, ¼ tsp salt and ⅛ tsp of pepper to a boil over high heat.
Add the couscous and turn off the heat. Cover the saucepan with a lid for 10 minutes. Fluff with a fork and allow 10 minutes to slightly cool.
While the couscous is cooking, make the vinaigrette.
In a small bowl whisk the lemon juice, the remaining ¼ cup of olive oil, and the remaining ⅛ tsp each of salt and pepper.
In a large bowl, toss together the grapes, olives, and cucumbers.
Add the couscous and toss to combine. Pour the vinaigrette over the couscous and gently toss to combine.
Sprinkle with the feta cheese and mint.
Serve at room temperature or cover and refrigerate for up to 3 days.
Salad Parfait
From "The Greek Yogurt Kitchen" by Toby Amidor
1 medium cucumber

¼ cup Greek-style probiotic yogurt

1 clove roasted garlic, mashed

2 tbsp roasted red pepper, finely diced

2 tbsp black olives (packed in water), finely diced

2 tbsp sliced almonds, toasted

1 tbsp parsley, finely minced

¼ tsp salt

A tiny pinch of saffron

Pepper to taste

Fresh chive stems for tying roll
Put the yogurt in a medium bowl, add the basil and parsley, and stir to combine. Set aside.
Transfer the tangzhong to a small mixing bowl.
In a medium bowl, whisk together the garlic, vinegar, mustard powder, salt, and black pepper.
While whisking, slowly drizzle in the olive oil until emulsified.
Cut the tomatoes and cucumbers into ¼-inch dice; you should have about 1 cup of each.
Prep the vegetables: Shred the romaine. Cut the yellow bell pepper in half, discard the seeds, and cut into ¼-inch dice. Peel and grate the carrots.
To assemble the parfaits, layer the bottom of each of four parfait glasses with ¼ cup diced tomatoes, followed by ¼ cup diced cucumbers and ½ cup shredded lettuce. Gently press down with the back of a spoon to pack the ingredients.
To finish, top each parfait with 2 tbsp of the yogurt mixture, ¼ cup of the diced yellow pepper, and then ¼ cup of the shredded carrots.
Spanish Cucumber Rolls
Lisa Richards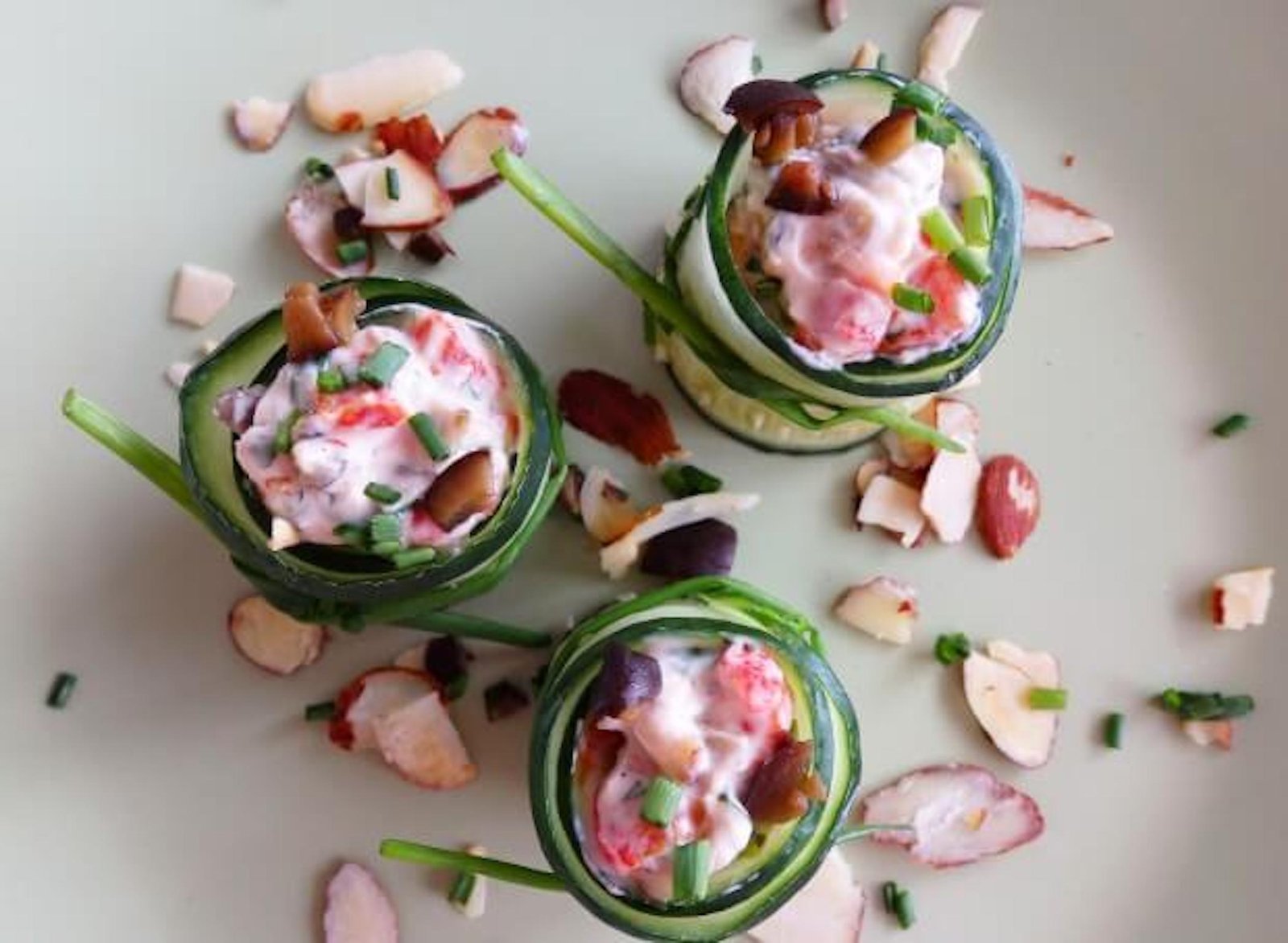 2 tbsp coconut oil (or any oil you have on hand)
1 tbsp each: cumin seeds and coriander seeds (if using ground, use 1½ tsp of each)
1 head of garlic, chopped (10-12 cloves)
28-ounce can of crushed tomatoes
2 tbsp fresh ginger, chopped (if using ground, use ½ tsp)
1 tbsp turmeric
2 tsp sea salt (or table salt)
1-2 tbsp Spiceology Tandoori Glory
1-2 tbsp Spiceology Thai Peanut
1 cup dried brown lentils
Optional: 1-2 teaspoons cayenne powder
15-ounce can coconut milk (Don't worry! Amazon or your grocery store will deliver this)
Optional: A few handfuls of cherry tomatoes
Optional: 1 cup chopped cilantro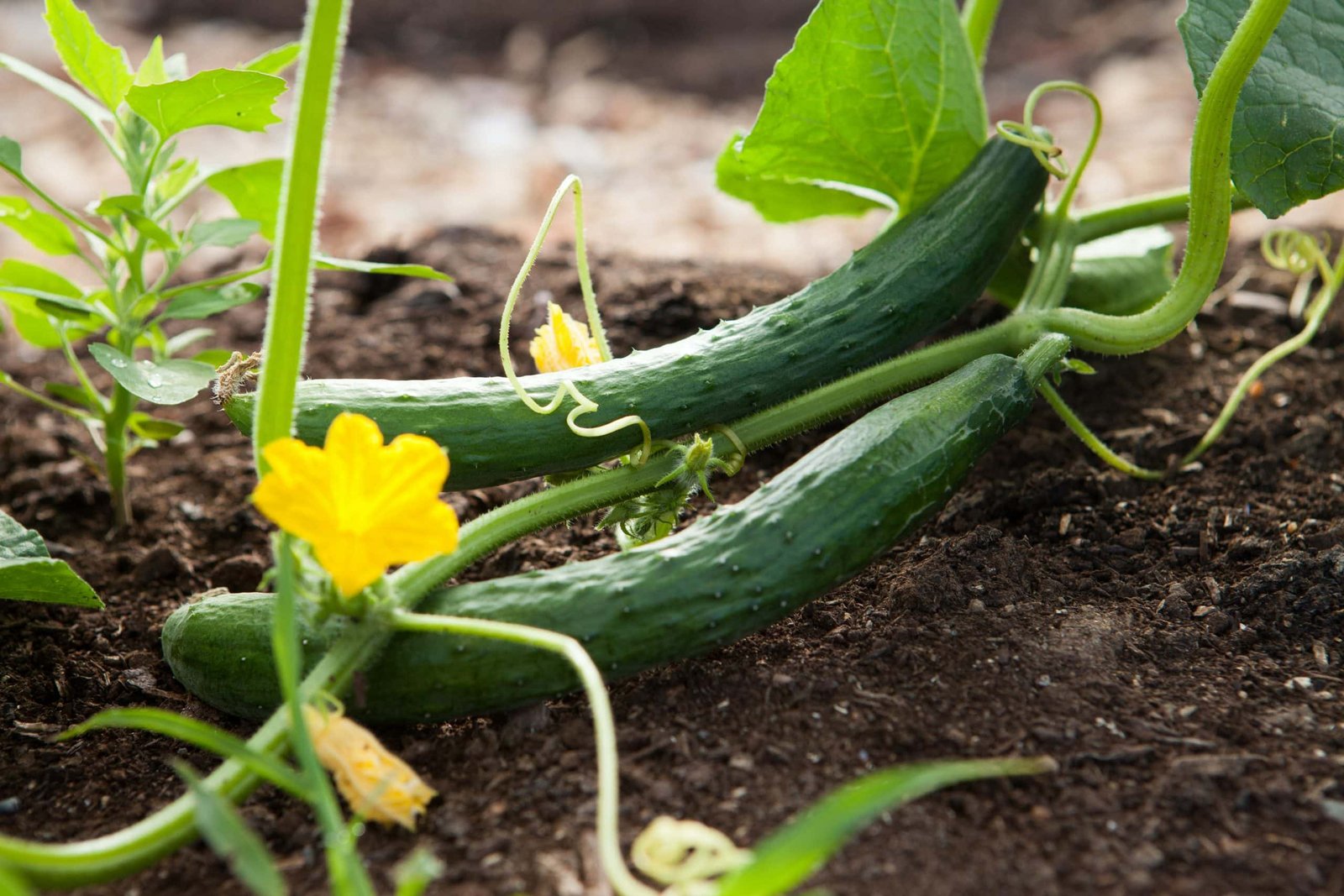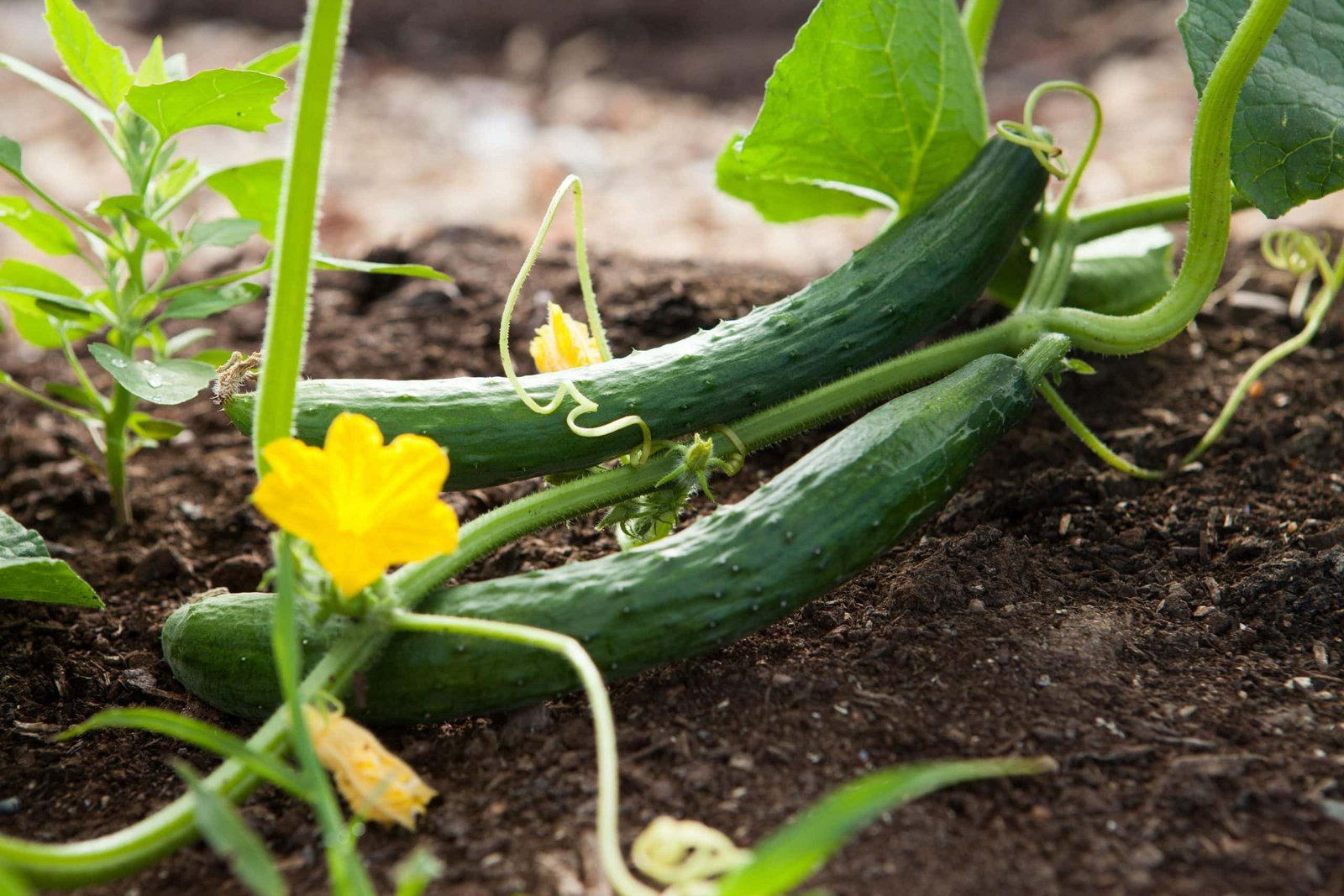 Using a mandoline, slice the cucumber lengthwise into long, thin strips. Lay the strips on paper toweling to absorb excess moisture, set aside.
In a medium bowl, add yogurt, garlic, red pepper, black olives, almonds, parsley, salt, and saffron, then stir to combine. Season with pepper to taste.
To make rolls, place a rounded tspful of the filling on one end of each cucumber strip, then gently roll and tie in place with fresh chive stems.
Zucchini Noodle Greek Salad
Michelle Bui, Stockpot Restaurant, Norfolk, VA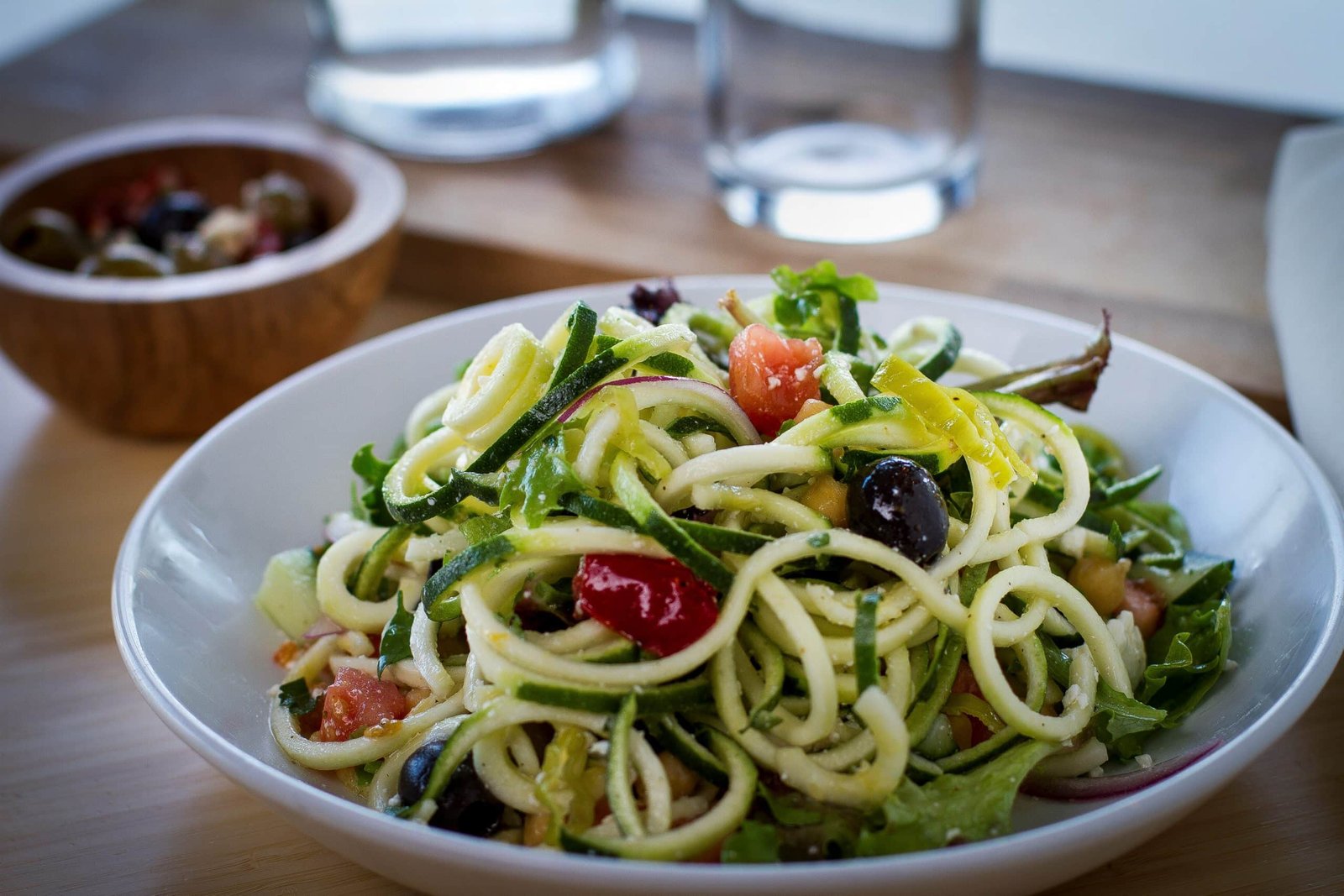 1-2 medium sized zucchinis

2 cups mixed greens

¼ cup diced cucumbers

1 tbsp of thinly sliced red onion

1/8 cup diced tomatoes

3 tbsp crumbled feta cheese

2 tbsp garbanzo beans

4-6 olives

1 tsp thinly sliced pepperoncini

2 tbsp vinaigrette or olive oil with juice of ½ lemon

pinch salt and pepper  
Use a sprializer to make your zucchini noodles with zucchinis, or enough to produce 3 cups.
Place zucchini noodles in a mixing bowl with your choice of mixed greens.
Mix in the red onion, diced tomatoes, diced cucumbers, feta cheese, garbanzo beans, olives and pepperoncini.
Toss with your favorite vinaigrette dressing or a high quality olive oil with the juice of half a lemon as well as a pinch of salt and pepper.
Serve salad on its own, or for a full meal, add seared salmon or grilled chicken.