The Ultimate in Social Distancing: Sleeping Underwater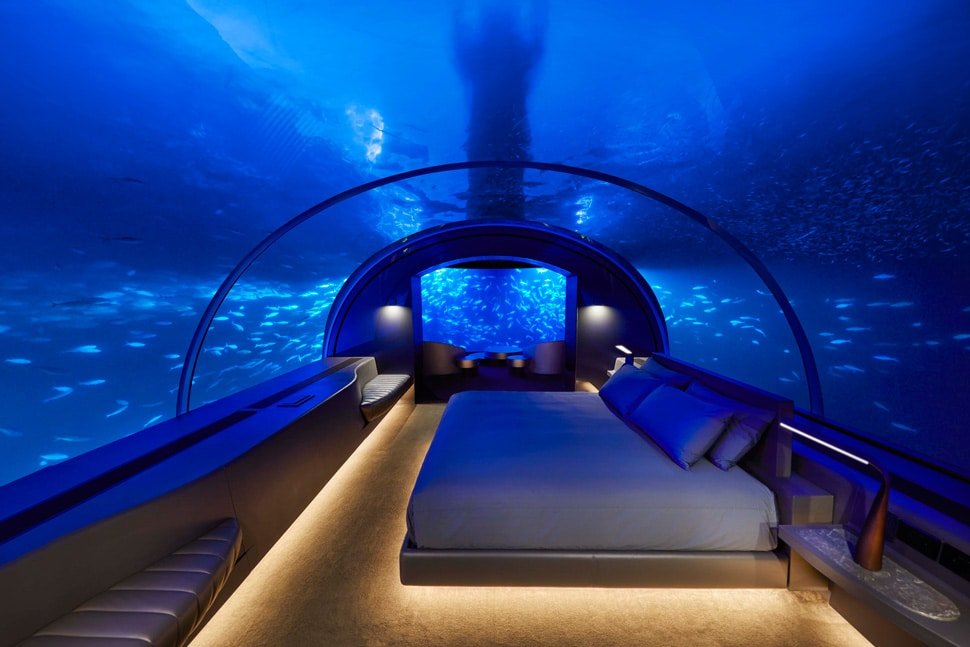 Photo credits: Justin Nicholas 
When you're ready to travel again, where will you go? A luxurious mountain hideaway? A beachfront resort? City-center boutique hotel? What about sleeping with the fish in the utmost of luxury beneath the lapping waves of the Indian Ocean?
That's just what visitors to the Maldives can do at THE MURAKA at Conrad Maldives at Rangali Island. The Maldives are already an island paradise destination that is a favorite of honeymooners and bucket list travelers around the world. With so many resorts offering overwater bungalows with direct access to the sea and spectacular dining options, THE MURAKA is certainly something different.
This three-bedroom, 6,000 square foot villa features an expansive overwater space with enormous living areas that have a sliding glass door separating the air-conditioned indoors with furnished patio. A private plunge pool awaits as well as a ladder that leads guests down to the crystal-clear sea.
Photo credits: Justin Nicholas 
Sleeping underwater
Two enormous bedrooms have floor-to-ceiling windows overlooking the water, but it is the third, below-water bedroom that is reached via elevator or spiral staircase that steals the show. Here, you'll find the world's first underwater residence of its type, which sits 16 feet below the ocean's surface.
It is not as deep as it may seem as guests can easily see the sunlight and clouds through lapping waves through the curvaceous and thick acrylic ceiling (don't worry, it is as thick as 18 centimeters in some places). Most people, even those that may have some claustrophobia, will find the experience to be airy and bright.
The sound of the overhead waves is another reminder that guests are not as deep underwater as it may seem. There are automatic shades across the ceiling that slide closed for those that want complete darkness although it would be a shame to miss out on the incredible views at all hours of the day and night.
Photo credits: Justin Nicholas 
The surrounding coral (muraka means coral in the local Dhihevi language) attracts a wide range of marine life to them giving guests of THE MURAKA ample variety to keep them entertained. There is a lot to see both day and night, and the illumination surrounding the underwater bedroom assures that there is a lot to see. The lights automatically switch off at a set time both so guests can sleep with the curtains open and so that the marine life is not disturbed overnight.
The scientific and logistical process of anchoring this pre-fabricated unit to the ocean floor while respecting the environment was a lengthy one, and staff at the resort is happy to talk guests through the process they went through with a team of marine biologists. It's fascinating, and the focus on eco-friendly operations here is impressive.
Back inside the underwater bedroom, an enormous king bed has power outlets on either side as well as a mobile phone that guests can use to order refreshments from their butler. A large walk-in closet (butlers can help to unpack and pack, too) has windows so you can watch the fish, sharks, manta rays, and other sea life while you're getting dressed. In the hallway, there's a glass ceiling that lures you back into the bedroom and separate living area, which has a minibar as well as a ceiling hatch that has a ladder taking you to the water's surface in the event of an emergency.
A dual-sink vanity is stocked with Aesop toiletries and sits between the rainfall shower and toilet area, both of which have more windows as voyeuristic fish swim by all day long.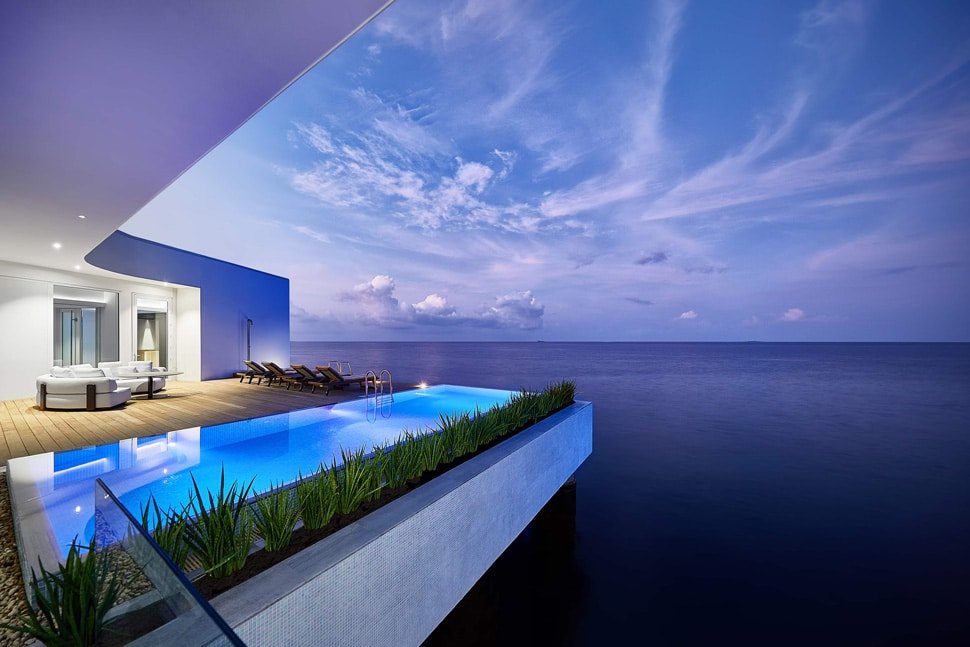 Photo credits: Justin Nicholas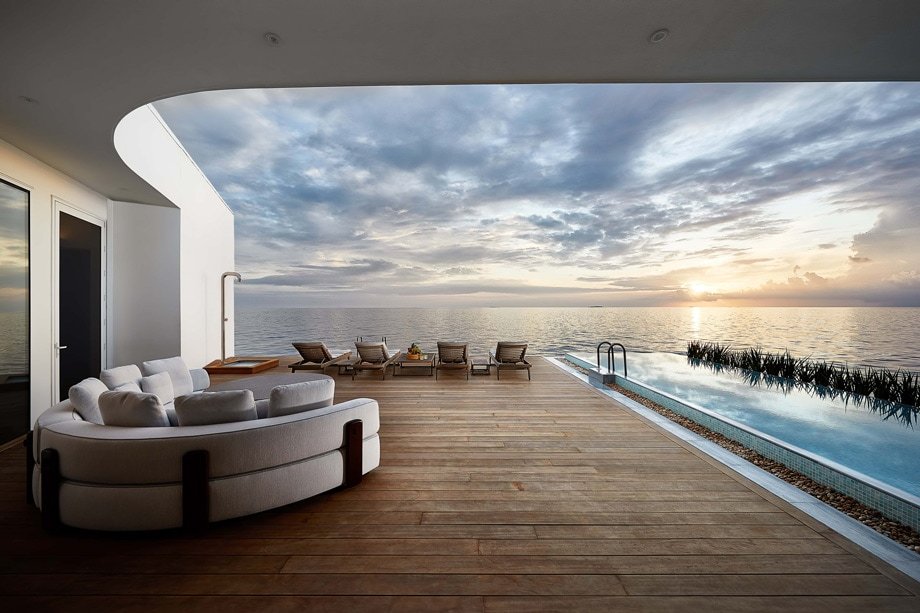 Photo credits: Justin Nicholas 
Enjoying the over water experience
When you want to resurface above the water, a chef and butler team are part of the villa staff that handle all meals and service a la carte. They are available 24 hours per day, and there is no request too small or significant. It's part of the luxurious experience here. A private fitness center means that guests need not interact with others should they wish to stay isolated.
For those that want to venture out, a quick phone call summons a golf cart to drive around the resort's numerous restaurants, spa, and recreational facilities. Even better, there's also the option for a boat transfer to reach the far corners of the private, multi-island resort.
Photo credits: Justin Nicholas 
Typically, guests arrive by sea plane from Male's international airport, but for guests of this exclusive experience, there is a private sea plane dock for those that book a chartered plane for maximum privacy.
When staying at THE MURAKA, everything is included. Daily spa services, food and beverage, activities, and even Hilton Honors Diamond status are packaged into the rate. In case you're wondering, the rate varies per night based upon the length of stay and the type of experience guests want to have. A typical starting price is $50,000 per night, which puts it more in the price range of celebrities and titans of business. But, if you start saving judiciously, it could all be yours sometime in the future!