The Hills are Alive at Stanglwirt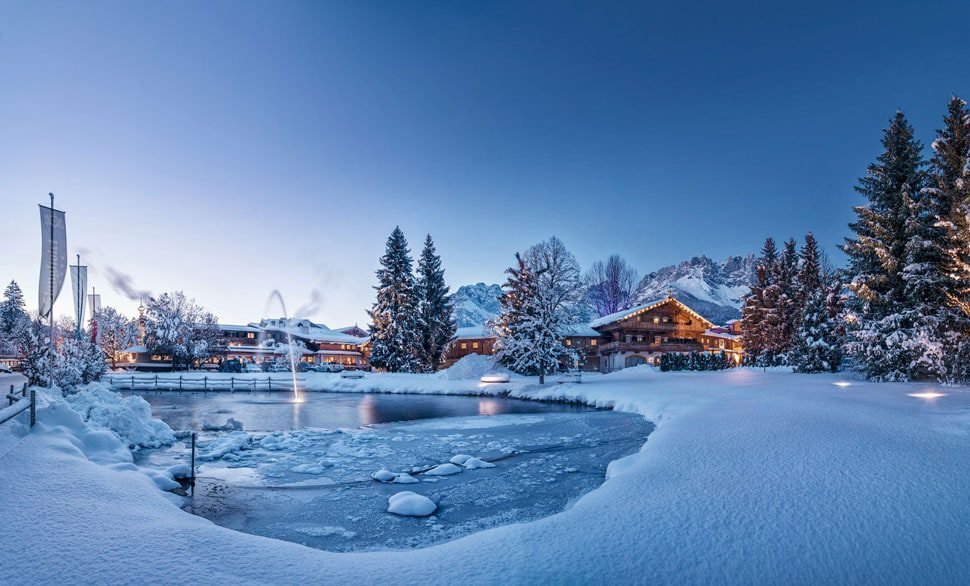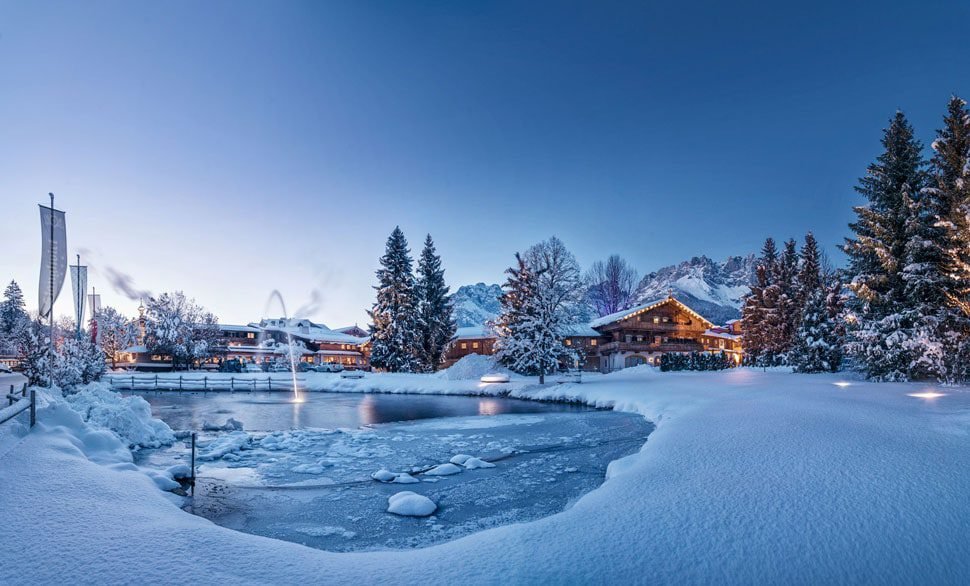 Something Old, Something New
H
ow do you balance a state-of-the-art wellness vacation with the authentic alpine charm and history of Austria? The five-star Green Spa Resort Stanglwirt shows you how it's done. They've been doing it for centuries.
Green Spa Resort Stanglwirt, perched in the Kaiser Mountain range between Innsbruck, Austria and Munich, Germany, is the real deal when it comes to fusing new ideas and timeless adventure seamlessly. Although it's been in business for 400 years, it is pushing boundaries of luxury wellness travel with an extensive multi-million-euro renovation, including a new 12,000 square meters spa and wellness complex, and defining itself as a "Bio-Resort."
Stanglwirt powers itself with solar water heating and the mountain water of the Wilden Kaiser through an innovative heat pump system. The newly minted Green Spa Resort, located nearby, also benefits from this eco-friendly operation. The massive space making up the sauna complex is broken down into smaller saunas and baths with distinctive environments. They run the gamut from an Arolla pine eco-sauna to Kaiser saunas with mountain views, salt steam grotto, rock crystal steam bath, marble steam bath and stone sauna. The "Water Worlds" pool areas extend these unique environments up to the whole family beyond the spa. There is also an area for children's movie viewing as well as two waterslides for younger kids (2.5 meters) and everybody else (120-meters), and an infant splash pool with all kinds of bells and whistles.

The spa's team of practitioners and management take a modern approach to providing guests with a guide map to long-lasting well-being and complete relaxation through its menu of treatments. The top tier of services are designed and offered by Dr. Barbara Sturm, known for her famous molecular treatments and Hollywood clientele. The range of bespoke massages, facials and skincare incorporate top brands Ligne St. Barth, Erich Schulte, Maria Galland Paris, Dr. Spiller and the molecular cosmetics anti-aging skincare range from the renowned beauty expert Dr. Sturm. Adding a bit of fun to the mix of serious wellness, the resort also has weekly hikes with psychotherapist "witch" Ave Annama who helps guests select their own herbs for an herbal bath and learn more about the meaning and practices of herbal treatments.
During the summer, golf enthusiasts have access to the Stanglwirt driving range and Golf Sport Academy, while horse aficionados can saddle up on one of 24 lipizzaner horses at its equestrian school. Tennis fans can sharpen their backhand at the PBI/Peter Burwash International Tennis School. Beyond the resort, local landmark Lake Going is also readily accessible for outdoor swimming. In winter, as one would expect, fun awaits on the nearby slopes of the Wilder Kaiser-Brixental and Kitzbühel skiing regions, and along the trails of the cross-country ski area Aschauerloipe.
Even with a touch of minimalist chic in its decor, up-to-the-moment spa treatment modalities and fitness programs, the resort places guests back into nature in an Old World European way. Many of the raw ingredients used in the resort's kitchens are sourced from the resort's working farm, extending over 160 acres of arable land and 128 acres of pasture spread over four municipal districts. The regular bounty includes milk, curd cheese, butter, yoghurt, cheese and bread used at the restaurants.
Guests will see how those ingredients come together at marquee restaurant Gasthof Stanglwirt, specializing in traditional Tyrolean cuisine. The Stanglwirt breakfast is in line with Tyrolean traditions, offering guests a tempting selection of house made delicacies from local farmers to fuel up for an active day. Daily changing, multi-course menus and the themed buffet evenings keep the culinary experience interesting. In ski season, the Stangl Alm dining room offers modern takes on regional fare, while Kamin Bistro serves up hearty snacks by an open fire. There's even a bit of urbane sophistication to be found at the resort's "Auf der Tenne" hotel bar, which features a panoramic view of the indoor Lipizzaner riding arena.
Rooms, suites and stand-alone lodging combine contemporary and traditional elements with their furnishings and accessories, crafted with traditional building methods and only in the highest quality natural materials. There is an abundant use of solid wood, including locally sourced Arolla pine, while carpets are made of top-quality sheep's wool. Textiles used for bathrobes and towels are fashioned pure cotton, and the quilt covers, and sheets are in the finest linen. Top-quality Arolla pine grown in the area adorns the living spaces, while windows take full advantage of the mountains, lakes and valleys.
Beyond the main resort, there are several luxurious private residential rental accommodations for those seeking the ultimate in exclusivity and privacy while still having access to the resort's venues, amenities and fitness packages. Most prominently feature local Arolla pine, which make the surroundings even more comforting and aromatic. Some, such as the Steinerhaus garden apartment are tailor made for family groups, with bright, open spaces and lots of storage areas The Geigerhäusl, opposite the Stanglwirt children's farm, is the height of low-key home-style luxury. At its heart is a superbly appointed kitchen/living room hybrid, the ideal place for social gatherings and family dinners.
The Lake Villa, meanwhile, is a cheerful lodging suffused with light, plenty of tranquility and a breathtaking view of the Wilder Kaiser. The interiors include three spacious double rooms with adjoining bathrooms with showers, a beautiful single room and a large living-dining area with an open fireplace, from which you can go directly to the garden and sun terrace. The kitchen-dining room is equipped with tableware, cookware and cutlery for dinners "at home" only as they could be experienced in the heart of the Tyrol.
The Hüttlingmoos mountain chalet is tailor-made for romantics. Located at the foot of Wilder Kaiser and surrounded by wonderful countryside, the five-star lodging offers both complete isolation and exceptional luxury. It also has a great back story, as it was saved from certain collapse and converted into a wonderful luxury residence in 2005. There is also an option where guests can have access to a personal chef and butler.
Busy parents who've earned their vacation will be pleased to know that the resort has much to offer infants, children and teens that will enable them to enjoy this corner of Europe in ways that blend modern adventure with an old-fashioned sensibility.
For children aged 3 and older, the Stanglwirt experience is rooted in its fully supervised kids-only farm. The 200 year-old farm complex within the resort is a year-round Alpine wonderland with a daily schedule of activities including various games, cooking classes, craft projects in the "joiner's workshop," petting zoo chores, "Cowshed Cinema" movies for nights and rainy days, family lunches on the farm, and even opportunities to experience a tree house and hay barn as kids may have had a half-century or century ago. Those not yet old enough to hit the farm have their own daily afternoon toddlers' group.
Teens have the option of hitting the well-stocked teen club or immersing themselves in the mountains with programs that may include football tournaments, boxing, make-up and styling courses, outdoor adventure tours, and more depending on the season. There are also sports and fitness tracks at the resort that allow kids and teens to participate, from courses at the Ski School, Golf Sport Academy, PBI/Peter Burwash International Tennis School and Stanglwirt Riding School (for guests aged 8 and older).