Questions With Laurent Denimal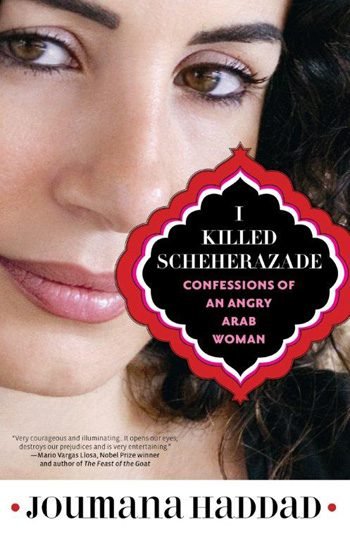 I hope you've had a chance to page a copy of "I Killed Scheherazade: Confessions of an Angry Arab Woman" (from Lawrence Hill Books available at amazon.com) by award-winning Lebanese journalist Joumana Haddad. Dubbed "the Carrie Bradshaw of Beirut" by the Sunday Telegraph, she's leading the charge with a spirited call to Arab women to stand up for themselves.
From the upheaval in Tunisia to the rebellions unfolding across Syria, Lebanon and beyond, 2011 has brought a wave of change to the Middle East, transporting Arab voices and stories across Europe and North America at an unprecedented volume. *I Killed Scheherazade* establishes Haddad as one of the most powerful female voices emerging from the region. Lifting the veil on the politics of love and sex in the Middle East, asserting that she, and many others like her, are liberated, Haddad is the first to admit the stories are true—that the region is home to 50 million child brides and that women are punished for being victims of rape. She candidly recalls her own experiences growing up in a Christian household in Beruit, discovering social and sexual freedom in a country where it's forbidden, founding Jasad, the first Arabic, erotic magazine and finding success as a outspoken journalist—a feat that has earned her much acclaim and also death threats. A fascinating and rare insider's glimpse at what it's really like to be a modern Arab woman, "I Killed Scheherazade" questions the West's oft-shocking representation of Arab women as silent, submissive and hopelessly oppressed—a stereotype she notes is often projected by many Arab nations, too.
As the international eye remains transfixed on the region, we asked Haddad three vital questions.
Q1: One of the things that stuck me was the line, "Lifting the veil on the politics of love and sex in the Middle East, asserting that she, and many others like her, are liberated." Tell us a bit about the true differences between "oppressed" and "liberated."
Haddad: As far as I am concerned, the main difference is the 'choice'. The ability to choose for yourself what you want to do with your life, what you would like to say and think, and how you wish to act, beyond brainwashing, fear, and futile traditions and chains. That is what makes a person free. This capacity of running your own destiny, being responsible for it, and bearing the consequences of your choices.
Q2: Why do you think the West has such a skewed opinion of Middle Eastern Women?
Haddad: One of the main reasons is of course the distorted version that the media carries and promotes. We all know that the press is inclined towards sensationalism and clichés, and bad news are far more 'selling' than good news, unfortunately. These stories reinforce the stereotyped image of the Arab woman as a poor victim who has no control over her destiny and needs to be saved. I am not saying that this oppressed Arab woman does not exist. I am merely defending the right of the 'other' woman to be seen and heard: the emancipated, strong and educated woman who, even though is a minority, deserves to be visible, because she represents hope for the other one. I believe we should look at each other as individuals instead of groups. This might help. We also need to go beyond the obvious and look for the exception.
Q3: You founded "Jasad" the first Arabic erotic magazine. Can you recall the highest of highs there? What about the lowest of lows? Explain these two stories.
Haddad: The lowest of lows is when I started publishing the magazine, and insults and threats started pouring into my inbox on a daily basis. But I decided that I won't be intimidated, and I was expecting resistance anyway. It is not that I am particularly courageous: I am simply a passionate and stubborn human being, who believes in her right to express. As for the highest of highs is a miracle that keeps on happening everyday, with readers from all over the world telling me how much they appreciate this project and how necessary they felt it was. Also, a new high comes up every time I manage to convince a new Arab writer or artist to contribute; especially when these are women. I do not accept pseudonyms or anonymous texts in the magazine, and it is not easy to win new female writers over, because they dread the consequences and the social and religious prejudices.