Old Hollywood Glamour
INSPIRED BY THE SCREEN SIRENS OF YESTERDAY, THIS SEASON'S HOTTEST MAKEUP TREND IS ALL ABOUT RETRO DRAMA.
There's a reason that women like Marilyn Monroe, Sophia Loren and Veronica Lake are considered some of the most beautiful women in the world—they mastered the art of timelessness—exuding glamour and sex appeal, with no apologies. Today's young stars like Kim Kardashian, Megan Fox, Eva Longoria and Scarlett Johansson are recreating the classic look that their predecessors perfected. Unleash your inner femme fatale with help from celebrity makeup artist and native of Afghanistan, Matin, of the international firm of Artists by Timothy Priano.
The Cat Eye
The focal point of this masterpiece, a carefully drawn cat eye, has an instantly uplifting effect. For a flawless result, Matin suggests using a black cream eyeliner and a firm, pointy brush like a lip brush. "I prefer to do the wing on the outer eye first, get the angle and the extension right and then bring it in thinner and thinner until it disappears into the inner corner of the lash line,"Matin instructs. Keep it simple for maximum impact. "I see a lot of texture and shimmer piled onto the eyelids of many women when they want drama, but the drama comes from the liner and the lashes, not the amount of eye shadow." For full fabulous lashes, wiggle the brush at the root and quickly comb through to the tips.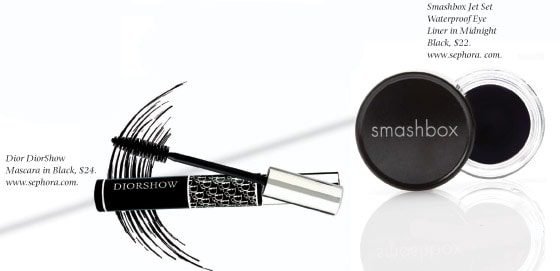 The Crimson Lip
Instantly dress up any look by sweeping on some red lipstick. For a luscious pout, wear this hue only over well hydrated lips."To keep it modern, don't overdo it with lip liner," Matin advises. To keep your scarlet kiss in place all night long, Matin suggests blotting with a tissue, and while the tissue is still pressed on the lips, dust translucent loose powder over them through the veil of the tissue. Then apply a second coat. The finishing touch to your look? A touch of bronzer to warm the complexion and a bit of highlighter to look lit from within. "Dust shimmer along the cheekbone for evening flair," Matin says.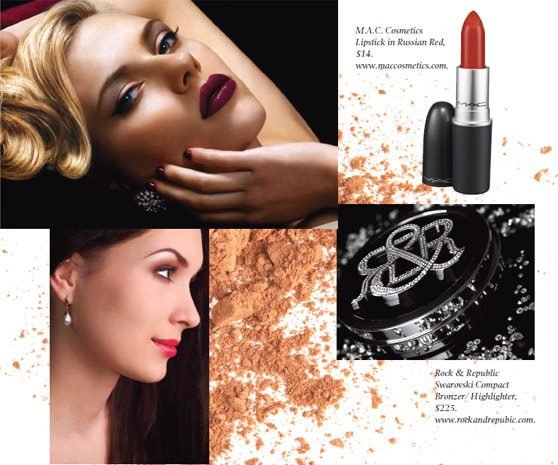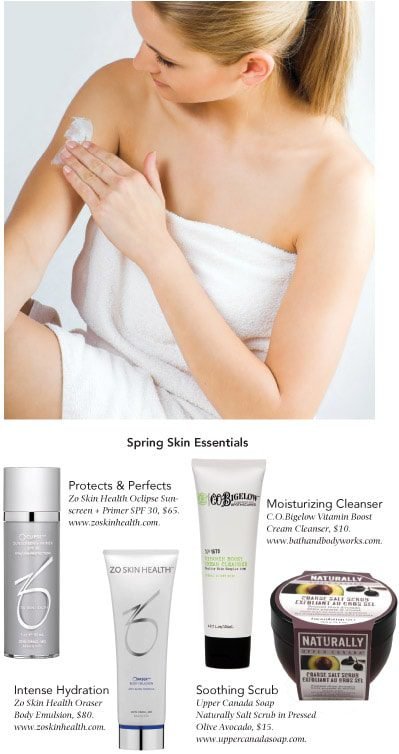 Spring Skincare 101
Layers of clothing, chilly temperatures and indoor heating systems wreak havoc on your complexion. Luckily, Dr. Zein Obagi of Zo Skin Health has the answer to maintaining radiant, touchable skin all season long.
Don't Overcompensate.
Don't turn the electric blanket up too high, and avoid using space heaters, which are very dehydrating. If you live in a cold climate, make sure that the air at home has sufficient humidity. If necessary, buy a small humidifier for your living areas and bedroom.
Skip the Hot Shower.
Even though a long hot shower may feel good, it dries out your skin. A short lukewarm shower, 5 minutes or less, is preferred. Twice a week, use a scrub to slough off dead skin cells. This will also help moisturizers penetrate and work more efficiently. Always look for gentle cleansers that are free of harsh detergents.
Hydrate from the Inside Out.
Sip on at least eight glasses of water throughout the day. Avoid beverages that dehydrate your skin like energy drinks, caffeinated beverages, soda and wine.
Load Up on Sunscreen.
It's tempting to overdose on creams and lotions when your skin feels dry, but it actually disrupts the natural moisturizing process. It's much better to apply a hydrating sunscreen with antioxidants and melanin. Not only are you protecting your skin, you're also preventing future damage.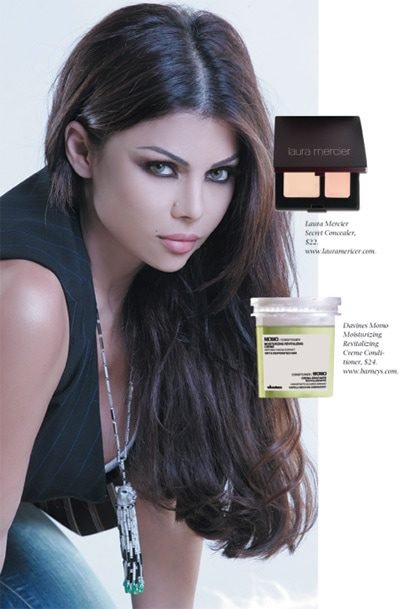 Secrets of a
Complexion Perfection
"This concealer is my go-to solution to fake a full night's sleep. It covers everything and doesn't dry out my skin. I also never go to bed without washing off my makeup and applying a light moisturizer. Skin should be sensual, smooth and touchable."
Luscious Locks
"I've learned that my hair has a major impact on my overall appearance, so I treat it well. I love Davines Momo conditioner for its thick creamy texture and any hair products that contain avocado—which is rich in vitamins.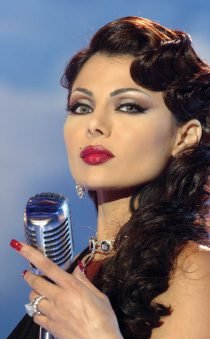 AS A SINGER, MODEL, ACTRESS AND FORMER BEAUTY QUEEN, HAIFA WEHBE KNOWS MORE THAN A THING OR TWO ABOUT LOOKING GOOD. HERE, THE LEBANESE BOMBSHELL REVEALS HER ULTIMATE TIPS AND PRODUCT PICKS.
"Every woman wants to know what's going on in the world of beauty trends, but I believe you must stay true to yourself and create your own style."
Nailing It
"I have over 100 nail polishes—but I am really loving burgundy polish right now. I'm also really into Dior's Creme Abricot—a nourishing nail product. I rub it into my cuticles before going to bed. Sometimes I even rub a dab into my lips to soften them too."
Evening Essentials
"The greatest way to go from day to night in seconds? Slip on a pair of sexy high heels, smooth on some sensual body cream and finish with a burgundy lipstick. Then I'm ready to party!"