How One Airline is Managing the Pandemic and Giving Back at the Same Time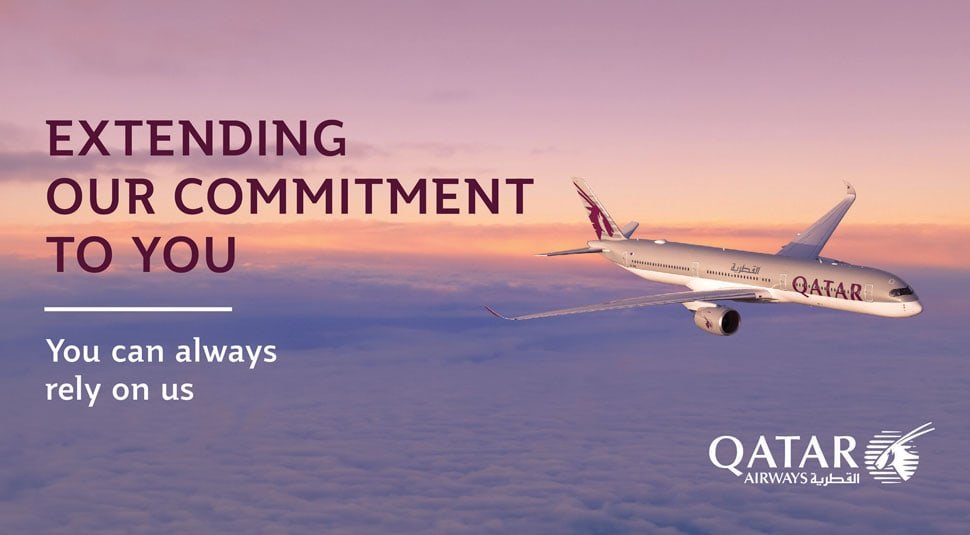 Covid-19 has been devastating for many travel businesses, but airline response to the pandemic has varied across the board. Some airlines completely shut down for long periods of time due to lack of demand and to preserve cash. Others, like Qatar Airways, took a more bullish approach to get people where they need to go. For a hub-and-spoke carrier like Qatar that is especially important as many people want to repatriate back to their countries while jobs are on hold.
Through a phased rebuilding of its network, Qatar Airways is currently serving more than 700 weekly flights to 100 destinations. By the end of the year, the route map will reach 125 destinations including 11 cities in the Americas and a new one for U.S. travelers, San Francisco, in December. The airline never stopped operating.
Flying during a global pandemic requires strict protocols for onboard safety, and the airline requires passengers to wear masks and airline-provided face shields. The face shield requirement is one step higher than what most other airlines are asking of passengers, which adds a secondary layer of protection.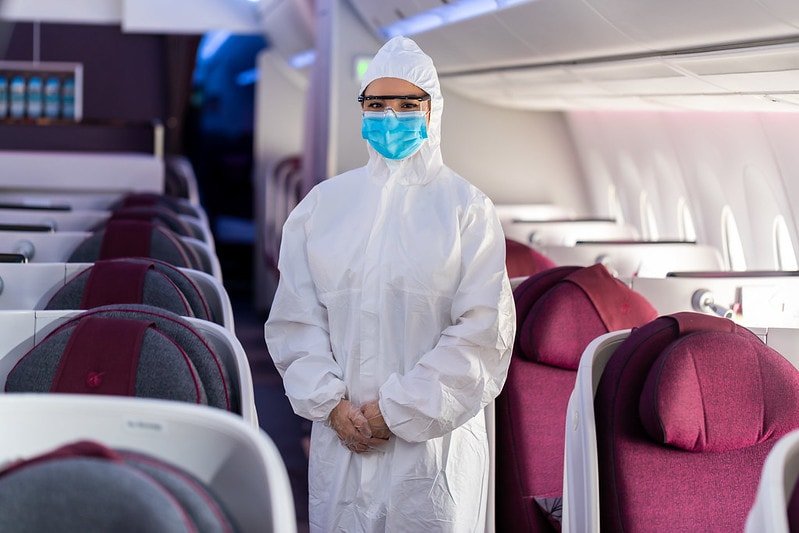 The airline has invested significant resources in aircraft cleanliness and onboard safety in regards to Coronavirus and provides complimentary protective equipment to all passengers including masks and hand sanitizer. Planes are disinfected between flights including through the use of ultraviolet technology.
Onboard service, unlike other airlines, has not been drawn back either. Cabin crew don white protective coverings over their uniforms and serve the same quality of meals and beverages in all cabins. The only differences are that food arrives with protective covers and silverware remains wrapped with napkins. In an era of inflight service cutbacks, Qatar Airways is an outlier in this high level of service.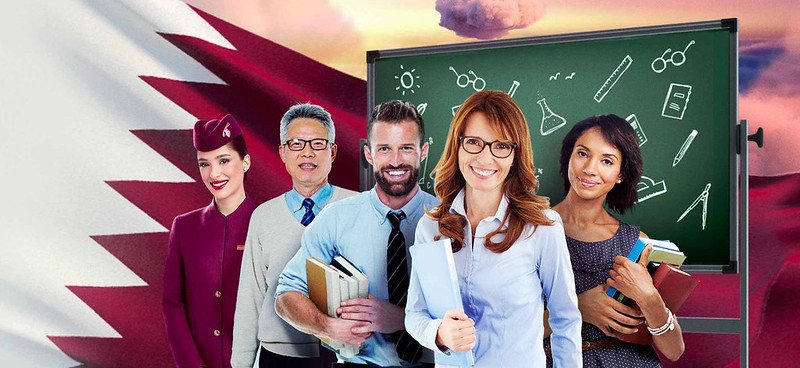 Honoring essential workers and teachers
Early on in the pandemic, the airline gave away 100,000 free tickets to frontline healthcare workers around the world to help get them where they needed to go. The offer was open to every country in the world with a daily allocation of free tickets assigned based on population size. Tickets were good for the healthcare worker and a companion anywhere the airline flies.
Not only does the offer help support pandemic heroes, it also makes use of empty seats on its flights as the airline gradually regrew its network. The tickets helped repatriate many essential workers as well as offer the chance for others to affordably help combat the pandemic in cities where their expertise was most needed.
This fall, a similar promotion supported teachers around the world on the front lines educating children who need to continue their education in challenging circumstances. Similar to its earlier giveaway, different countries were allocated an amount of tickets based on population, and teachers could apply for one of 21,000 free tickets via the Qatar Airways portal.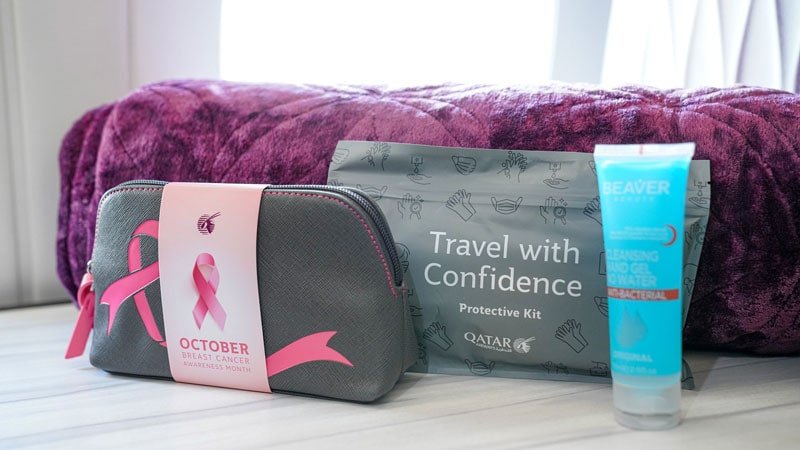 Encouraging breast cancer awareness
Like many airlines, Qatar Airways observed breast cancer awareness month in October, but took things a step further. Not only did the airline use the color pink in its advertising and onboard services, but it wove the theme into amenity kits, inflight meals, and even lounge amenities. The airline worked together with the Qatar Cancer Society, Hamad International Airport, Qatar Aviation Services, and Qatar Duty Free to raise awareness of breast cancer prevention.
These types of initiatives are help diffuse awareness and knowledge around the globe and can help catch the disease early. The more people perform self-checks or encourage loved ones to do so, the more lives that can be saved. When a global airline promotes such messaging, it can affect lives on tremendous geographic scale from Asia to Africa and the Americas.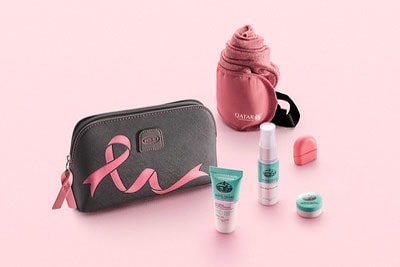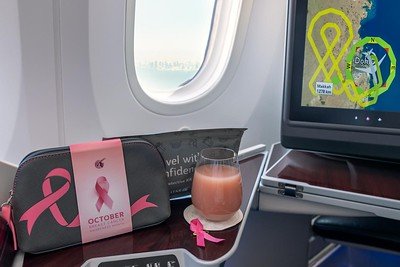 The airline created limited edition amenity kits as well as an updated onboard and lounge menu. In business class, the collectible, Italian-designer Bric's amenity kits featured pink-themed cases and amenities like socks and eye shades. Economy class passengers, too, received pink-themed amenity kits on ultra-long-haul flights during the month of October.
Flights departing Doha featured menu items like pink guava and grape lemonade and various desserts showing the iconic breast cancer pink ribbon. On longer flights, business class passengers could enjoy a pink-themed afternoon tea with raspberry macaroons and opera cake. In economy class, passengers were treated to raspberry or strawberry mousse desserts departing Doha.
In Doha's Al Mourjan business class lounge pink flowers, pink "mocktails," and an afternoon tea with pink-themed finger sandwiches, scones, and pastries continued the awareness effort.
The airline's employees around the world could take part in webinars and free mammogram screenings at qualified medical clinics. The Qatar Airways' annual charity bazaar was held digitally with proceeds donated to the Qatar Cancer Society.
To cap off the campaign, the airline operated an all-female-crew flight on a special routing that "drew a ribbon in the sky" over Qatar via its flight path in honor of breast cancer awareness. The crew included all-female technical, dispatch, and ground operation teams in addition to the pilot and flight attendant teams. The flight drew ample attention from locals and the media creating further awareness toward breast cancer prevention.
Supporting the environment
The airline is the latest around the world to launch a carbon offset program that allows passengers to pay a small percentage of their ticket to go toward chartable causes. All of the carbon offset donations will go to support the Fatanpur Wind Farm project in India. The project installed wind turbine generators that create and supply clean electricity to the Indian National Grid and displace electricity generated from fossil fuel sources. Overall, it can help remove 210,000 tons of generated greenhouse gas emissions per year.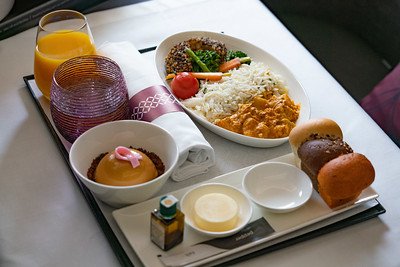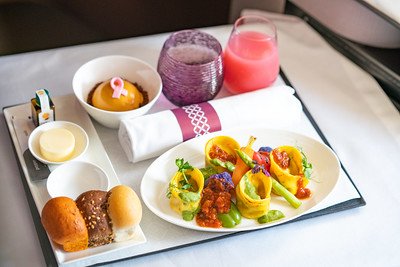 An all-new vegan menu is now available aboard Qatar Airways flights in business class for those that want plant-based cuisine. The meals source as many ingredients as possible from local purveyors around its flight kitchens.
In times of uncertainty, it is reassuring to see companies get creative in how they operate and use their resources for greater good.