Finding the Perfect (Funky) House
LA is a gentle line of homes without a city.
You see some summers when a row of properties burn like a sacrifice above the desert.
Moreover it's more really the slow sleepy whip of driven-by Starbucks in strip malls It's a petro haze.
A low-rise watercolor forever outshone by its projections.
Various ghost cinema selves destined to be always banished by the sunshine.
And you can shoot great in this light but you can never watch it back here.
But I don't want the meaning exaggerated like that.
Just my memories of once longer mornings, garden decades, clubhouses and garages.
Forever permanent childhood Saturdays.
One day soon—we hope at least—we will be back to normal. During lockdown many of us had to find a way to keep busy, especially in the evenings. I mean you can only watch so much Netflix or Coronavirus coverage, right?
My Internet hobby was searching for the perfect home. I need something eclectic, yet futuristic. Something that can host some killer parties where return visits are sought. I was looking at something ultramodern, yet not ridiculous. I discovered some excellent
There's a ton of wildly fun homes in the Greater Los Angeles area. If you're waiting for the future, no need. Thus kind of architecture was already dreamed up in the in middle of the twentieth century. As a mater of fact, space age architectural design was essentially invented in L.A. We were given the Theme Building at LAX, Johnie's Coffee Shop, and whimsical homes that would make the Jetsons proud. Join me on my tour around SoCal and the genius of the land…all I need now is a good realtor. I hear they are somewhat easy to find around here.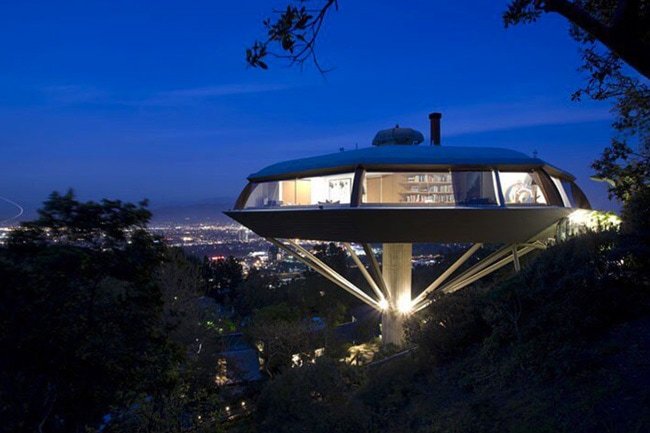 Chemosphere
Architect: John Lautner
When the 45-degree slope in the Hollywood Hills proved to be too challenging, a new concept was born. Rest an octagonal-shaped wonder on a 30-foot-tall pole. Getting to the front door is not problem. Simply take the funicular to ring the bell. You would think that this would be the safest home around until you discover that the home's second owner was stabbed to death during a robbery attempt.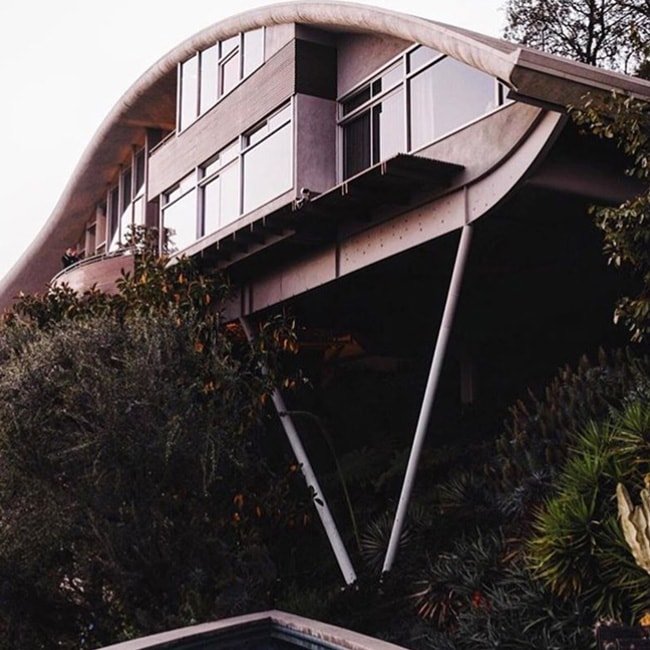 Garcia House
Architect: John Lautner
Another Lautner Hollywood Hills creation rests on what looks to be thin legs. The ceiling-to-floor walls makes the views of the city nothing short of spectacular. Movie buffs like me will remind you that Mel Gibson destroys this house in Lethal Weapon 2 after a bunch of South African diplomats kill his new girlfriend.
Futuro House
Architect: Matti Suurone
This masterpiece was conceived as a pre-fabricated portable ski chalet. The house is mostly made of plastic with stairs that fold out from the entry hatch. You know, like the Millennium Falcon. Less than 100 were made in the late 1960s and early 1970s with only 50-60 still remaining. This one sits literally next door to the Chemosphere. Han Solo would be proud to retire here.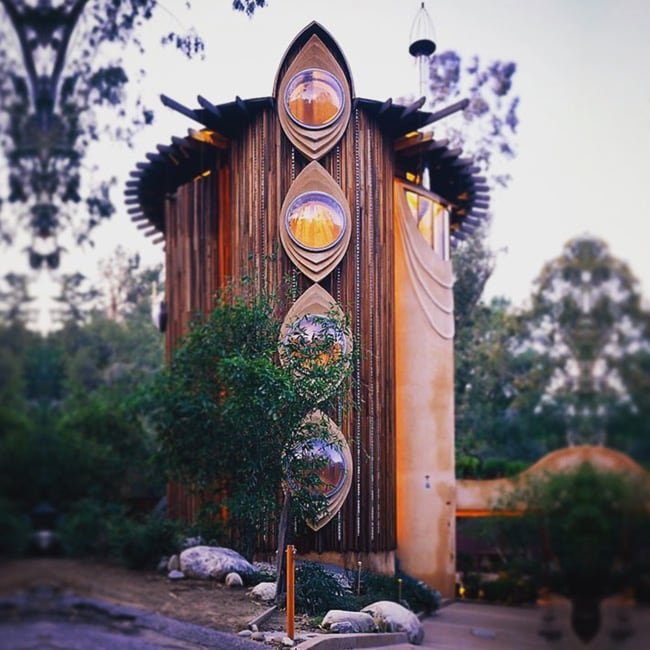 Al Struckus House
Architect: Bruce Goff
Situated in the San Fernando Valley's bedroom community of Woodland Hills, this hippie New Age home is built out of repurposed wood. The house is said to have an energy that gives an aura off that makes you feel like you are in a world without atmospheric friction.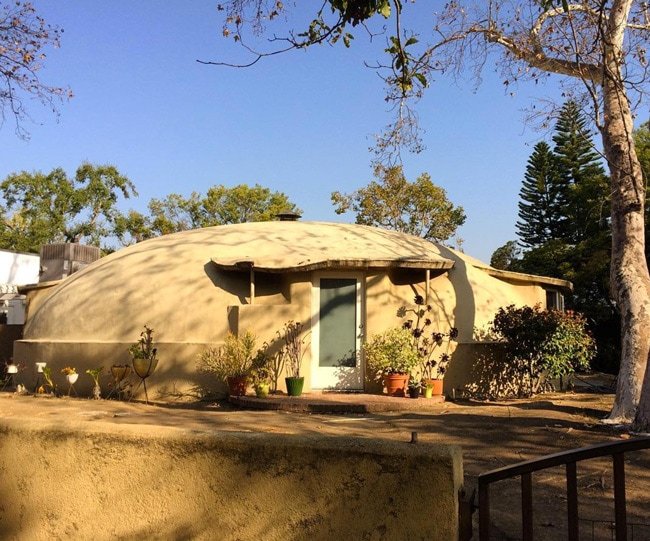 Bubble House
Architect: Wallace Nef
Some of the original inexpensive housing were the bubble houses, circa 1940s. They were by inflating a giant balloon and then covering it with spray-on concrete. I'm not kidding here. Overseas, they were grouped together in a cluster as you would imagine a Martian colony would look like. This one resides in Pasadena, California, home to the Rose Bowl.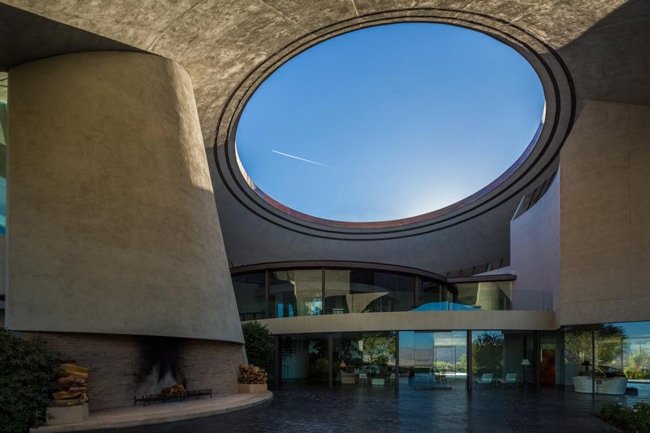 Bob Hope House
Architect: John Lauter
Bob Hope's Palm Springs home, aka the "UFO House", was created in 1973 to be reminiscent of volcano with a circular opening in the courtyard roof. If anything, it looks like something out of Close Encounters of the Third Kind with the mothership touching down on Planet Earth.
The only truly acceptable place for a UFO house is on top of the cinder core of a dead volcano in the middle of the Mojave Desert. Designed by Harold Bissner Jr. for the guy who patented the original skateboard, the 1968 home (near Barstow) is tricked out with a moat and rooftop observation deck. Oh, yeah, and for a number of years, it was owned by Huell Howser—precious Huell Howser—who eventually donated it to Chapman University.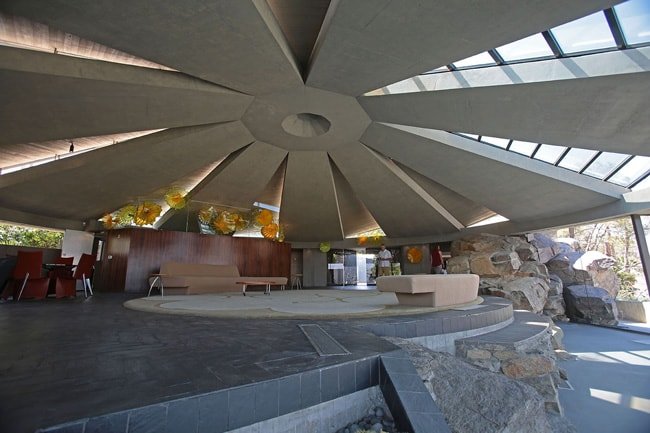 Volcano House
Architect: Harold Bissner Jr.
In 1968, the guy who patented the skateboard decided to built a UFO house on the top of dead volcano in the heart of the Mojave Desert. It even has a moat and rooftop observation deck.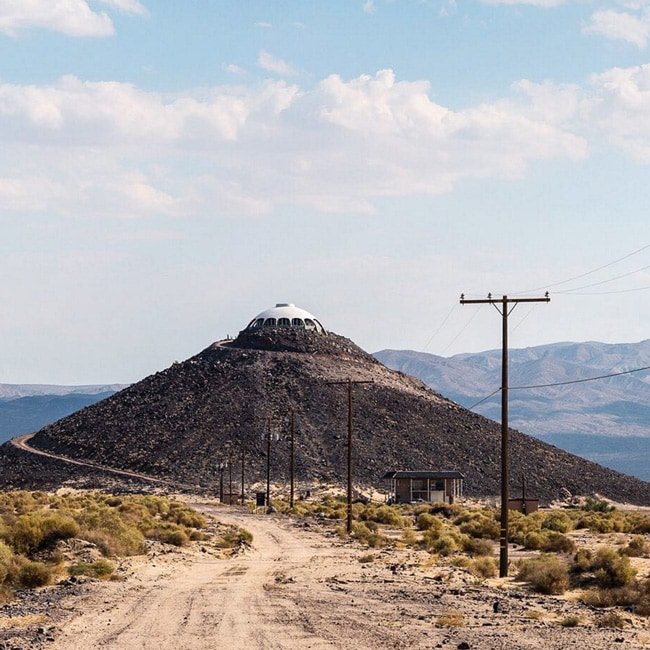 Elrod House
Architect: John Lautner
Designed by John Lautner, the official king of spaceship homes, this Palm Springs treasure was featured in the James Bond classic Diamonds Are Forever.