Hydration Elevation: How to Make Water More Crave-Able
Don't just cool off and rehydrate…do it yourself and do it in style. The "Flat Belly Tonic" by Erin Clifford | Photos by Jeffrey Sudmeier, Web Marketing Therapy. 
Many cold-pressed juices and teas—especially those you make yourself—boast numerous nutritional benefits that become all the more vital during the hot summer months as well as our year-round efforts to fortify our anti-aging, wellness and fitness routines. However, without water, none of those drinks would exist…and, of course, neither would we or any other life form on Earth.
Although our bodies in their entirety can contain up to 60% water, some of our most essential bodily functions, and the organs that perform them, require water. The brain and heart are composed of 73% water, while our lungs are 83% water, the skin contains 64% water and our muscles and kidneys have a 79% water content. We're also familiar with the common sense medical advice to drink around eight glasses a day, plus extra whenever we're working out or when temperatures rise outdoors.
While water is something everybody needs to consume to survive and thrive everyday, not everybody is naturally drawn to it, and consequently may even reach for less healthy drinks (i.e. sodas and so-called sports drinks) to quench a thirst. "It's important to try to avoid sugary or processed beverages such as soda, 'vitamin' water, artificially-flavored sparkling water and sports drinks," cautions Chicago-based wellness coach Erin Clifford, who provides several naturally-flavored water recipes below. "Not only is sugar the primary of obesity, but high-sugar drinks can increase water loss in your body, which dehydrates you further.
Thankfully, spas, chefs, fitness centers and wellness professionals like Clifford recommend making water more appealing by adding fresh fruits, herbs and vegetables. These natural additions not only infuse water with flavor, but also provide other benefits but not additives like sugar or caffein which may diminish water's attributes. Watermelon water contains potassium as well as beta-carotene and citrulline needed to make arginine, an amino acid good for blood vessel health while citrus fruits add vitamin C. Beyond those familiar refrigerator items, there are some surprising liquid and oil supplements that can boost the positive effects of water, such as chlorophyll, which can be purchased in different formats from your neighborhood health food store or supermarket.
According to nutritionist Lisa Richards ("The Candida Diet"), chlorophyll water is touted as a powerful antioxidant able to improve immune health, significantly reduce risk of chronic disease, and enhance skin health. Adding chlorophyll also boosts electrolytes and other beneficial plant compounds that aid proper hydration during physically demanding jobs, high intensity work-outs or a long day outdoors.
Drinking chlorophyll water is beneficial for two reasons," says Richards. "You are adding an extra source of antioxidants and plant compounds to your diet, and you are likely replacing other drinks that may be full of sugar, artificial sweeteners, caffeine and calories. By replacing these unhealthy drinks with chlorophyll-infused water, rather than plain water, you're eliminating something unhealthy and adding a health enhancer. Chlorophyll water can increase energy by boosting the body's red blood cells and oxygen, just as it works in plants to utilize the sun's energy to split water into hydrogen and oxygen."
Professional chef and former model Maria Liberati, regarded as one of America's leading experts on Mediterranean/Italian cuisine, is particularly passionate about rethinking recipes so augmented water retains a sense of purity and yet greater than the sum of its parts.
Water is an important ingredient in the mix to keep hydrated both skin and body," says Liberati. "Scented and naturally flavored waters can keep you fresh, hydrated and (act as a) natural diuretic for any bloat. Flavoring your water with healthy, natural things like fresh fruit makes a more interesting beverage than plain old water..and anything that gets you to drink more water is worth a try. It's amazing how fruits, vegetables and herbs, when added to plain water in their natural state, can transport you into a spa/staycation feeling….especially when our bodies and minds need a retreat more than ever."
Spas, particularly boutique dayspas and luxury resort locations, provide additional incentive and inspiration to take the effort to not only drink more water but make water more enjoyable. The Springs Resort & Spa in Pagosa Springs, CO, figuratively and literally taps into its adjoining "Mother Spring," which at 1,002 feet deep, could hold the Eiffel Tower. It also takes its drinkable water offering seriously, tapping into many herbs native to Colorado to add flavor and benefits:
Thyme – good for digestion, immune support, pain relief
Oregano – antioxidant, antibacterial, anti-inflammatory, excellent source of fiber
Basil – good for digestion, anti-inflammatory, good for the skin, fights depression, helps manage diabetes, supports liver function and helps detoxify, promotes healthy gut
Rosemary – boost memory, anti-inflammatory, vitamins A & C, renowned for fighting infection, antibacterial
Lavender – helps improve sleep, reduces blood pressure and heart rate, promotes hair growth
As you would with a good food recipe, following "pro tips" from a reputable chef is always a wise idea. Liberati recommends choose spring or purified water or plain sparkling water-sodium free as a base and using—and thoroughly washing—organic fruits, herbs and vegetables. While it is best to slice fruits and veggies into thin slices, herbs are best left whole. Once you place your selected mix of natural elements into water, let it chill in your fridge for at least 12 hours to ensure flavors are absorbed and present when partaking in your spa beverage.
While any pitcher will work, to get the best results, choose a water pitcher with an infuser to put all your ingredients in. If you plan to source your own filtered water at home, there are several new filtering innovations coming into the market. The recently-launched Hydros' Aqua Infuser ($6 ), appears custom made for the purpose, with ample space for fruits, spices, herbs and veggies which snaps into any of Hydros' home and portable vessels (water bottles, pitchers, carafes) allowing you to enjoy flavored water at home or on-the-go.
The Hydros containers, which filter water five times faster than competing products and mitigate use of plastic bottles, feature water filters made from 100% Coconut Shell Carbon. Better still, in the wake of the COVID-19, Hydros has partnered with First Responders, a 'Thrive Global' nonprofit) to donate upwards of $15K to help provide essential protective equipment, accommodations, child care, food, mental health support, and other resources to this demographically and socially diverse workforce, ranging from minimum-wage hourly workers in home-care settings to social workers, nurses, physicians, and beyond.
Drops of Wisdom
Nutrition influencer and dietitian Melissa Rifkin offers a couple of suggestions on how everybody can get their daily dose of water.
Use filtered water. PUR's water filtration systems help to reduce contaminants from your water, ensuring that your water is safe, and also tastes crisp.
Carry an insulated water bottle. With a wide variety of options to choose from, having a water bottle on hand is a reliable and eco-friendly way to stay hydrated (and keep your water cold) throughout your day. It also cuts down on the use of plastic by no longer using disposable bottles.
Use a straw. This is an easy way to trick your body into drinking more. It's common for people to forget to drink water when their schedule is packed to the brim each day, so using a straw is a helpful way to drink more in fewer sips.
Add watermelon and mint: Not only is watermelon a good food to increase hydration, but it's also a delicious twist to fancy up your water. Add ice and mint for a refreshing way to make your afternoon a bit more special (and boost your water intake).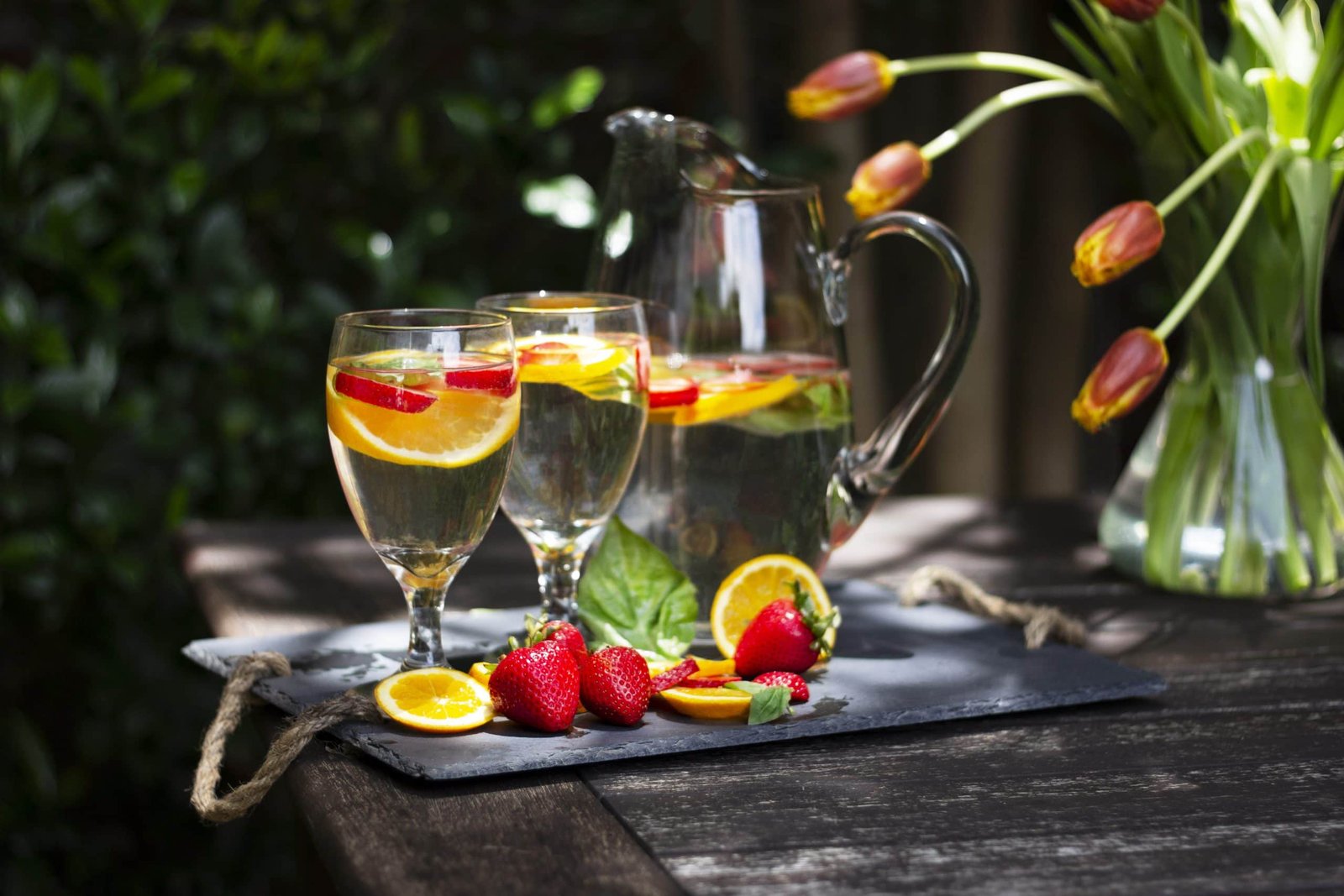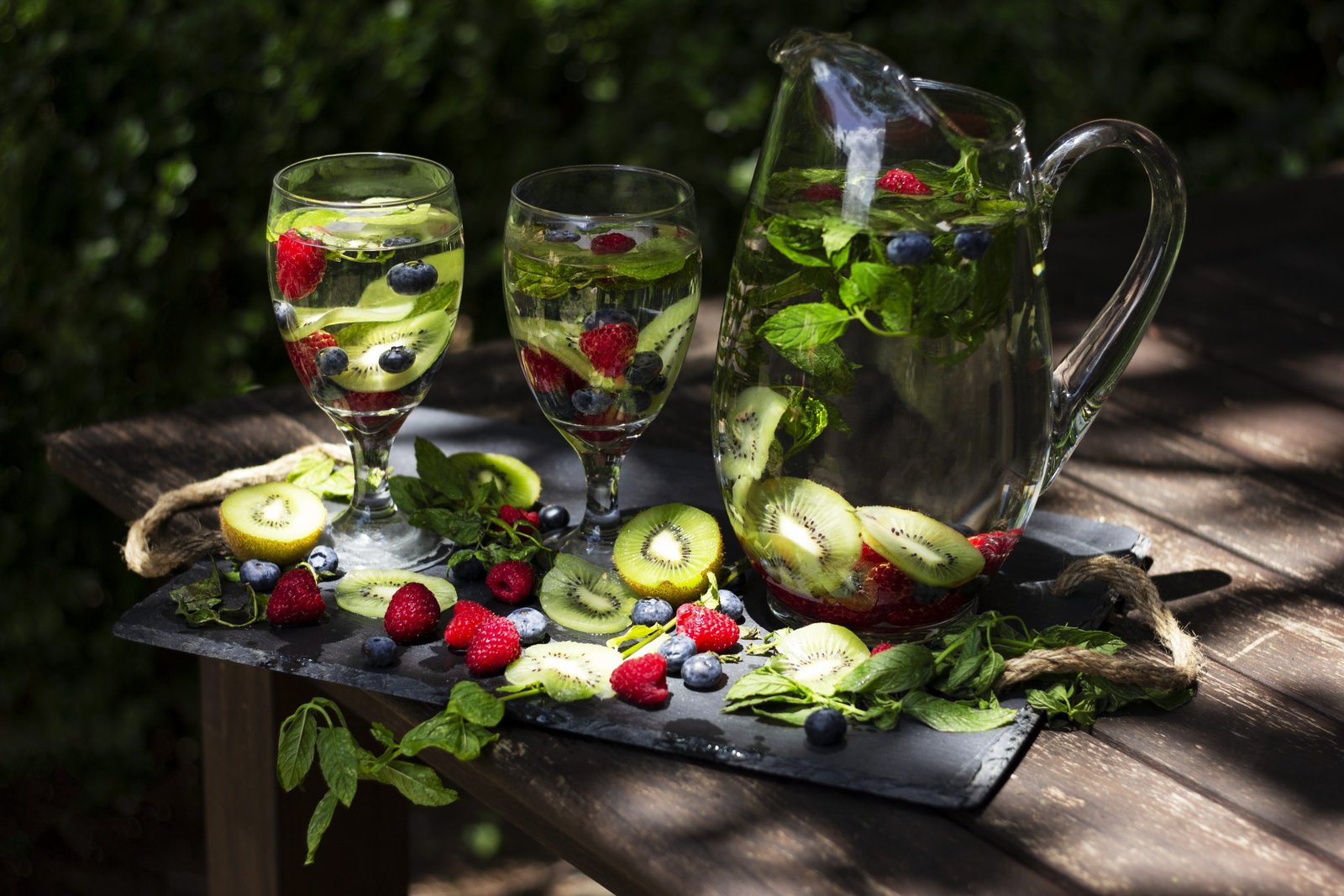 The following recipes and corresponding photos were provided by Holistic Wellness Coach Erin Clifford Chicago, IL
Flat Belly Tonic
1 tsp ginger root, grated
1 medium cucumber, peeled and thinly sliced
1 medium lemon, thinly sliced
12 mint leaves
Strawberry, Basil and Orange
½ cup strawberries, stemmed and sliced
5 large basil leaves torn
1 orange, thinly sliced
Berry, Kiwi and Mint
1 cup raspberries
1 cup blueberries
2 kiwis, peeled and thinly sliced
8 mint sprigs
Citrus Peppermint
1 tangerine, sectioned
½ grapefruit, sliced
1 cucumber, sliced
4 peppermint or spearmint leaves
Pineapple, Coconut and Lime
1 cup pineapple chunks
1 cup coconut chunks
1 lime, thinly sliced
General instructions:
Combine all ingredients in a pitcher with two liters of water

Refrigerate at least two hours or overnight. It will keep in the refrigerator for up to two days.

Note that you may use plain sparkling water for a fizzy pick me up in place of soda or a cocktail.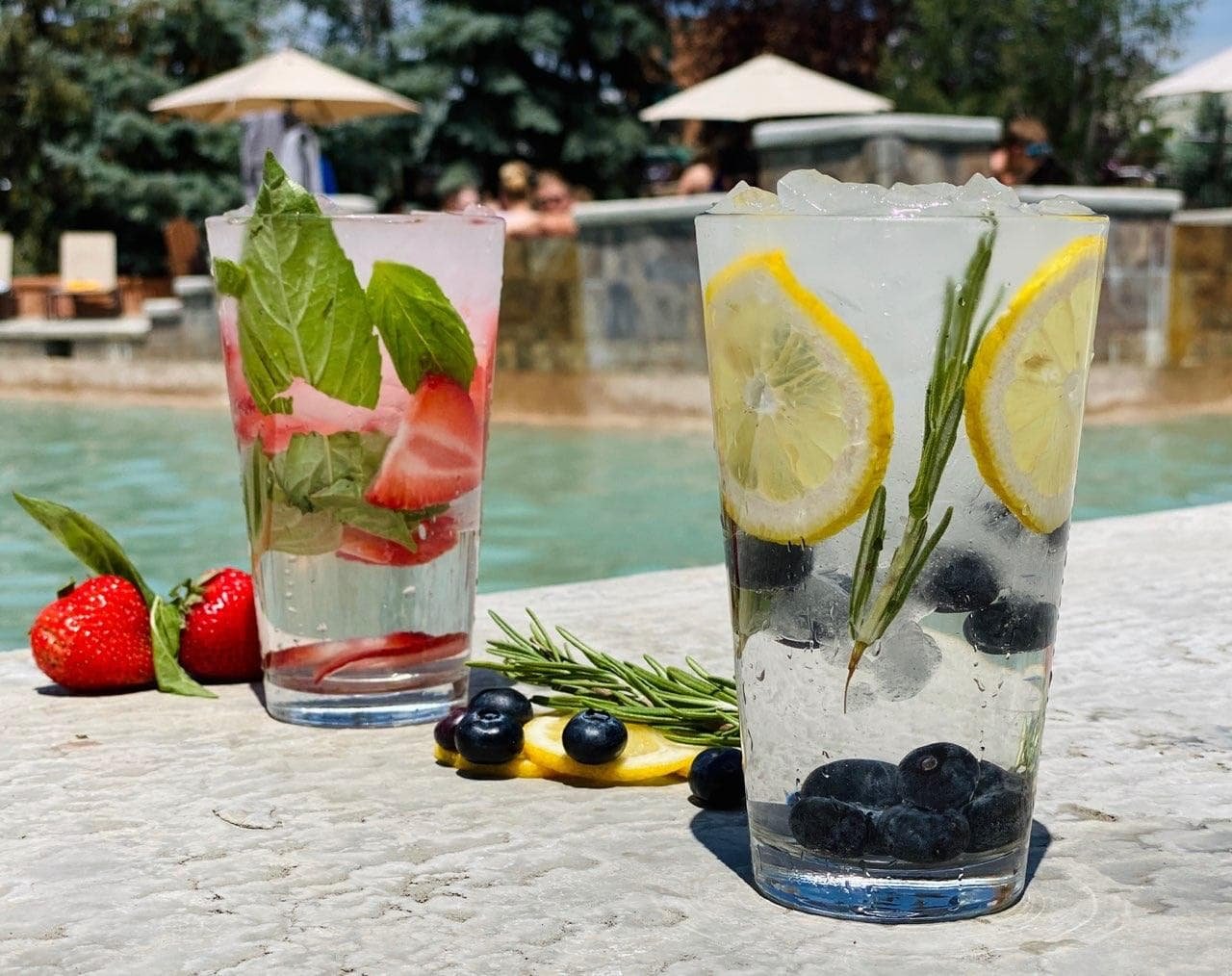 The following recipes and corresponding photos are from The Springs Resort & Spa in Pagosa Springs, CO.
Blueberry, Lemon, Rosemary
½ pint blueberries
1 lemon thinly sliced
4 springs fresh rosemary
Strawberry Basil
½ cup strawberries stemmed and sliced
5 large basil leaves torn
1 lemon thinly sliced
Directions for both variations:
Fill pitcher with ice cold water.
Add fresh fruits and herbs. Note: Herbs have a very strong flavor, so a little goes a long way. Use sparingly.
Let chill and infuse for at least 30 minutes in refrigerator.
Lasts for up to 2-3 days.
Enjoy ice cold
The following recipes were created by Maria Liberati
Beat the Heat
½ gallon of water
1 fresh cucumber
1 fresh lime
2 leaves of fresh mintary
Wash all ingredients.
Slice cucumbers and limes thinly.
Place fruits and mint in an infuser and submerse into water.
If you want this to also help with digestion, add in some grated fresh ginger.
Leave in fridge for 12 hours.
This drink is naturally diuretic
Beat the Bloat
½ gallon water
1 red grapefruit
1 kiwi
½ lemon
Wash all fruit, slice thinly, place fruit in infuser.
Place infuser in water.
Leave in fridge for 12 hours.
This is a refreshing detox water and also great first thing in the morning or anytime
Blueberry, Lemon, Rosemary
½ pint blueberries
1 lemon thinly sliced
4 springs fresh rosemary
Wash fruit, clean strawberries, take top leaves off.
Cut each strawberry into 4 pieces.
Peel each kiwi, and cut into 4 pieces.
Place in infuser, place in water.
Leave in fridge for 8 hours.
Remove infuser and enjoy