Café Society: Essential Yet Upgraded Middle Eastern Coffee Serving Pieces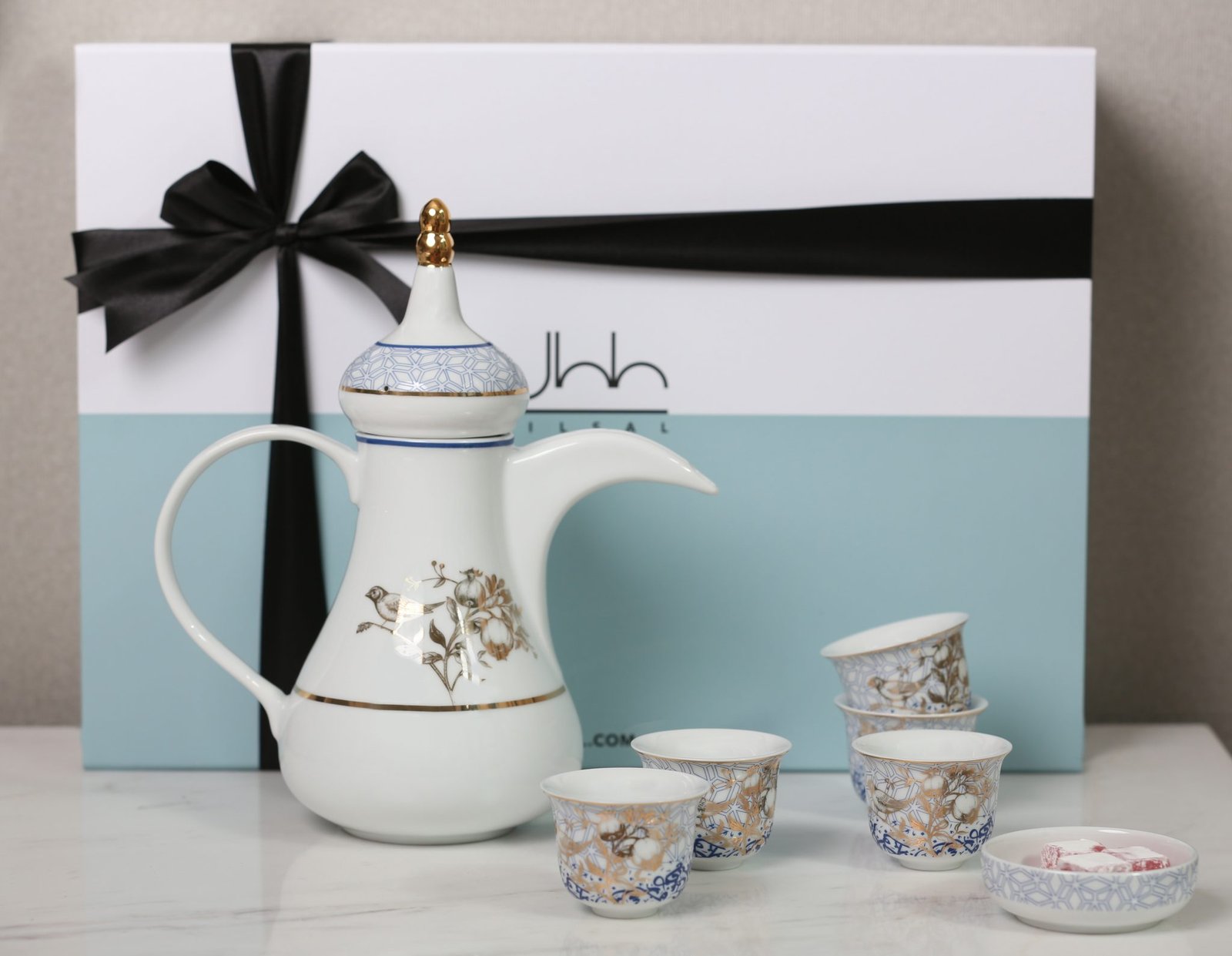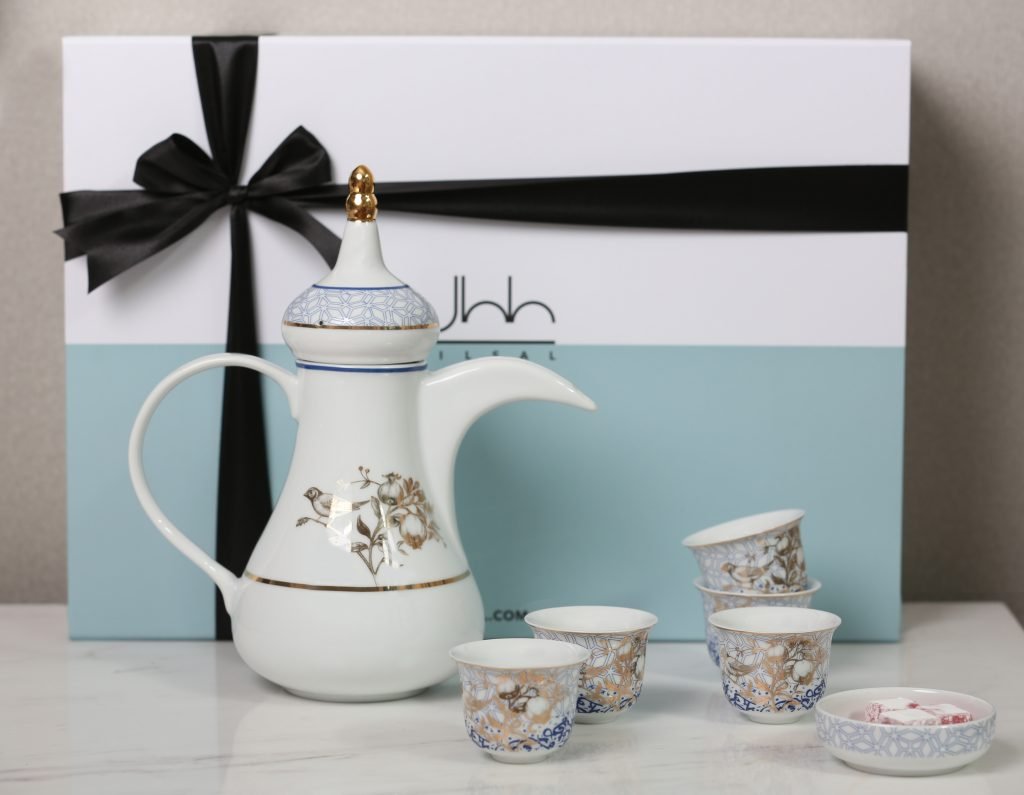 Tradition meets luxury with a coffee service set by Silsal, one of the Middle East's most prestigious homeward brands. In addition to its website, cups and sets are available at the British Museum in London and the Louvre's retail boutique in Paris.
Isn't it amazing how the right serving, and décor pieces can transport you to exciting new places…or bring everything you loved about home to your living room, kitchen or patio? Morning coffee for most born and raised in a Middle Eastern culture is an essential daily ritual, as well as a customary courtesy when entertaining friends and family at your home any time of day.
As you would expect, every Middle Eastern country observes its coffee or tea rituals in ways that tie in to its aesthetic sensibilities, food traditions and cultural celebrations, no matter how causal or formal the occasion. Naturally, we've opened our minds and hearts to learning traditional and modern ways to prepare coffee and tea as one would in Turkey, Greece, Syria, Lebanon, Morocco, the U.A.E. or anywhere else in the Middle east. Better still, we've got relatively easy access to many specialty coffees and ingredients unique to those countries through specialty boutiques, online retailers and traveling journeys. However, this time-honored custom of Middle Eastern hospitality is not complete if it's not being presented in a lovingly crafted full-service coffee set, roasting pot, tureen or even a set of six cups.
According to Portland, Oregon-based Kopiluwak Direct, the right set of coffee cups and accessories is essential if you're looking reproduce an authentic coffee drinking ritual at home. Because preparing and serving coffee symbolizes hospitality, sophistication, and generosity. Contracts, marriages, and feuds are settled over a cup of coffee, and in some countries, inviting someone over for a cup of coffee is code for discussing mutual interests, a business agreement, or news together. More traditional homes serve coffee to the head of household first. This way, the head of the household can make sure that only the best coffee is served to his guests.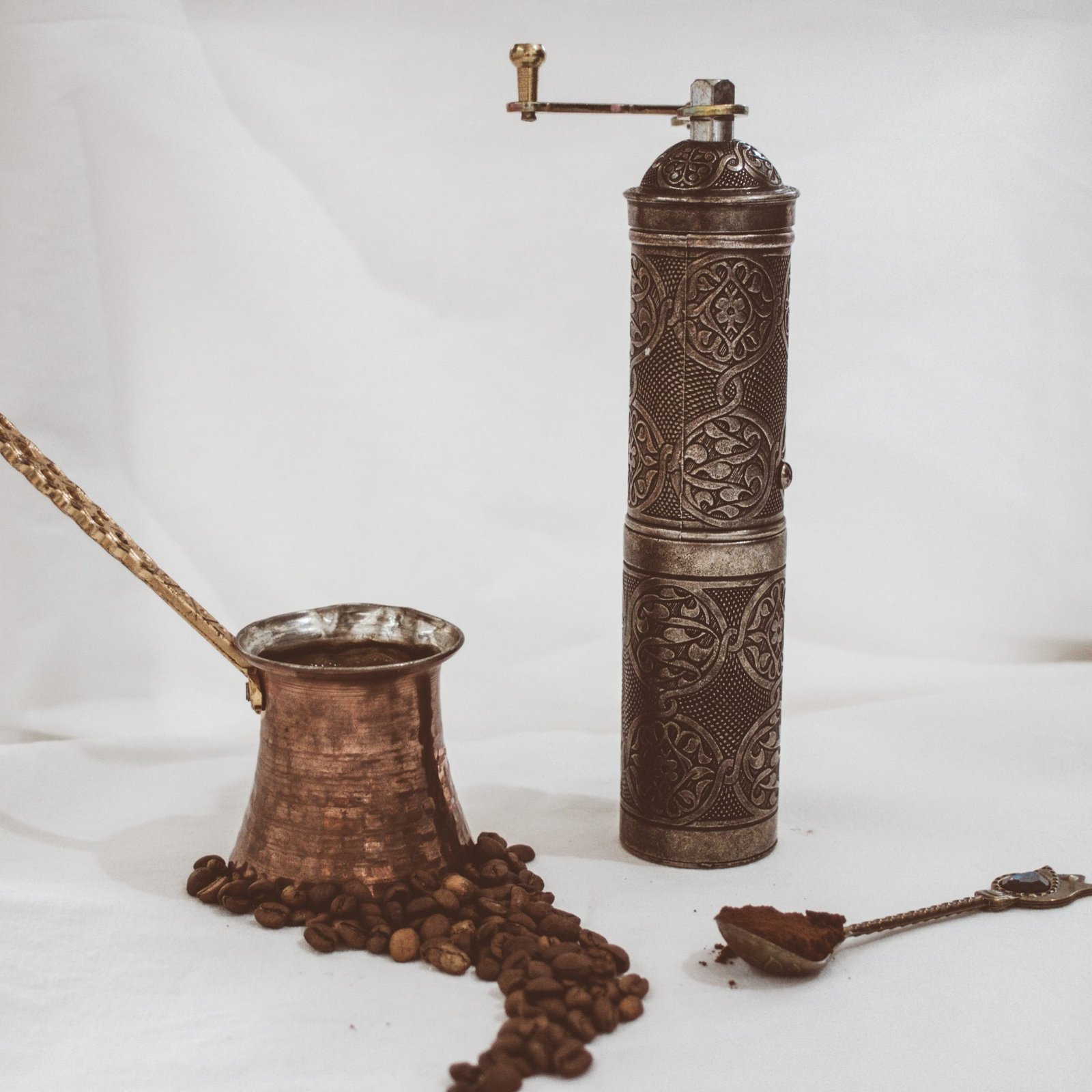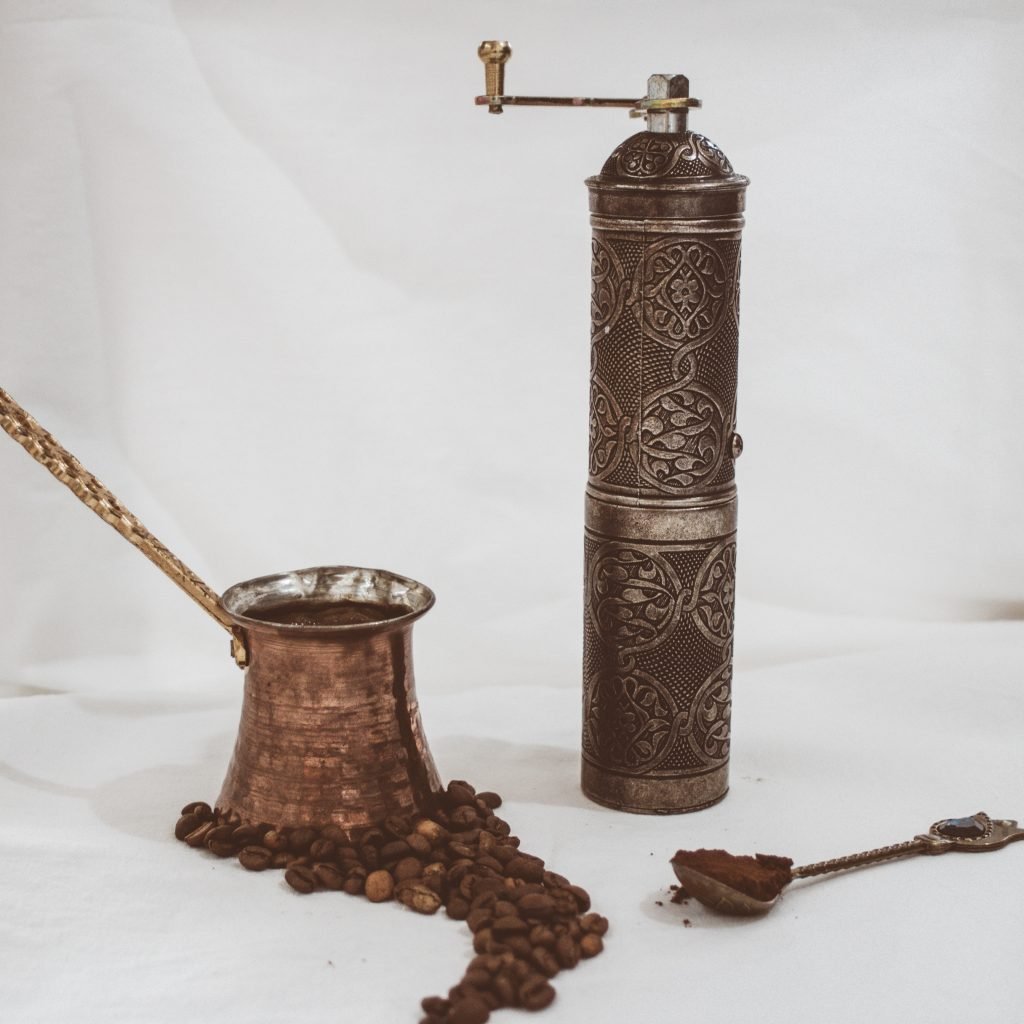 Coffee traditionalists can turn to sites like Turkishbox.com, FairTurk.com and Sharqi.Shop to find antique coffee serving pieces or modern handcrafted items that are antique-inspired. Photo by Anita Jankovic.
Top European designers (including Rosenthal, Versace and Roberto Cavalli) who count affluent Middle Easterners among their clientele are rendering their versions of traditional coffee serving pieces and fusing design sensibilities from East and West in the process. Of course, you can expect airports and souvenir shops in busy tourist areas in all of these countries to sell cups, sets and various accessories. However, if it's authenticity you want, buyer beware. What you are buying may not even be hand-crafted in the appropriate traditional manner, made in the country of its origin, say the name of the country in its artwork or be high-quality enough to withstand multiple uses. Certainly, you would never give obvious souvenirs to others who grew up with coffee and tea service traditions in their respective families.
If you do travel abroad, be sure to do your homework to scout out respected home goods retailers where the locals shop. In the U.S., meanwhile, you'll find major cities with large Middle Eastern populations will have specialty retailers that carry sets in basic, classic styles. You may also happen to stumble into an antique store, estate sale or specialty online retailer such as Turkishbox.com where you can score an exquisite find that will end up becoming an heirloom for your own family. A cursory search on the web will yield U.S. online retailers (such as Pharpar.com and Michael Aram) with a nice selection of modern and traditional sets that are compatible with a variety of basic coffee and tea recipes originating from across the Middle East. Dig a little deeper, and you will find online retailers that ship to the United States. Examples include FairTurk.com and Sharqi.Shop, specialized in handcrafted housewares from Syria and Jordan).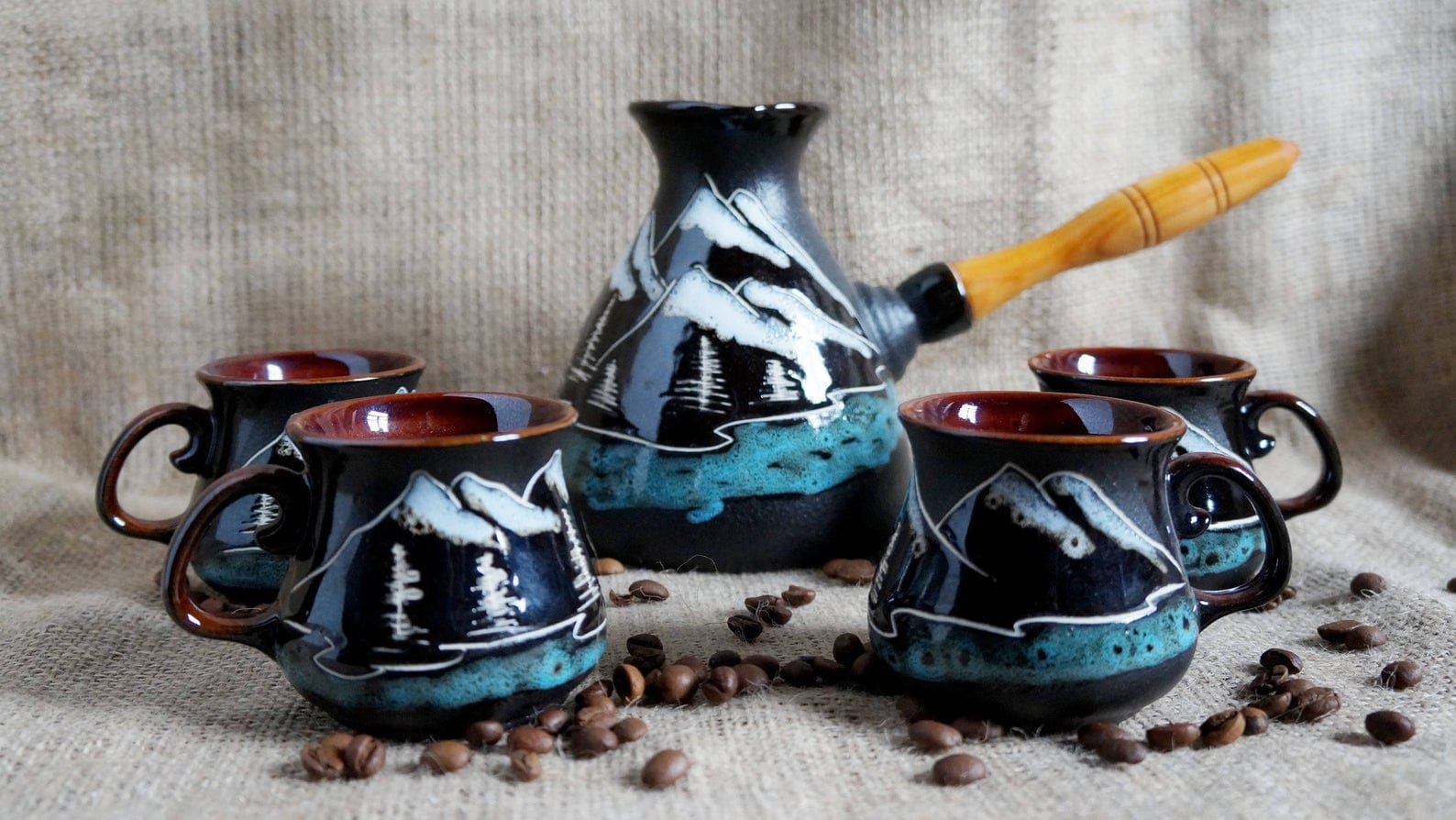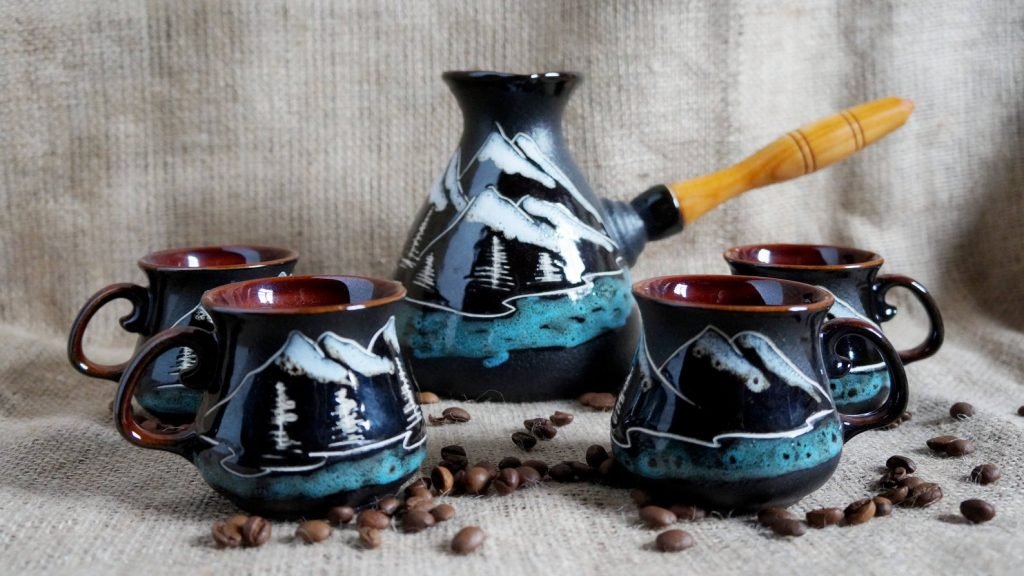 Ukrane-based CeramaStudio offers contemporary Middle Eastern and Turkish coffee and tea sets and cups incorporating bold colors, regional folk art (above) and 60s pop art influences (below).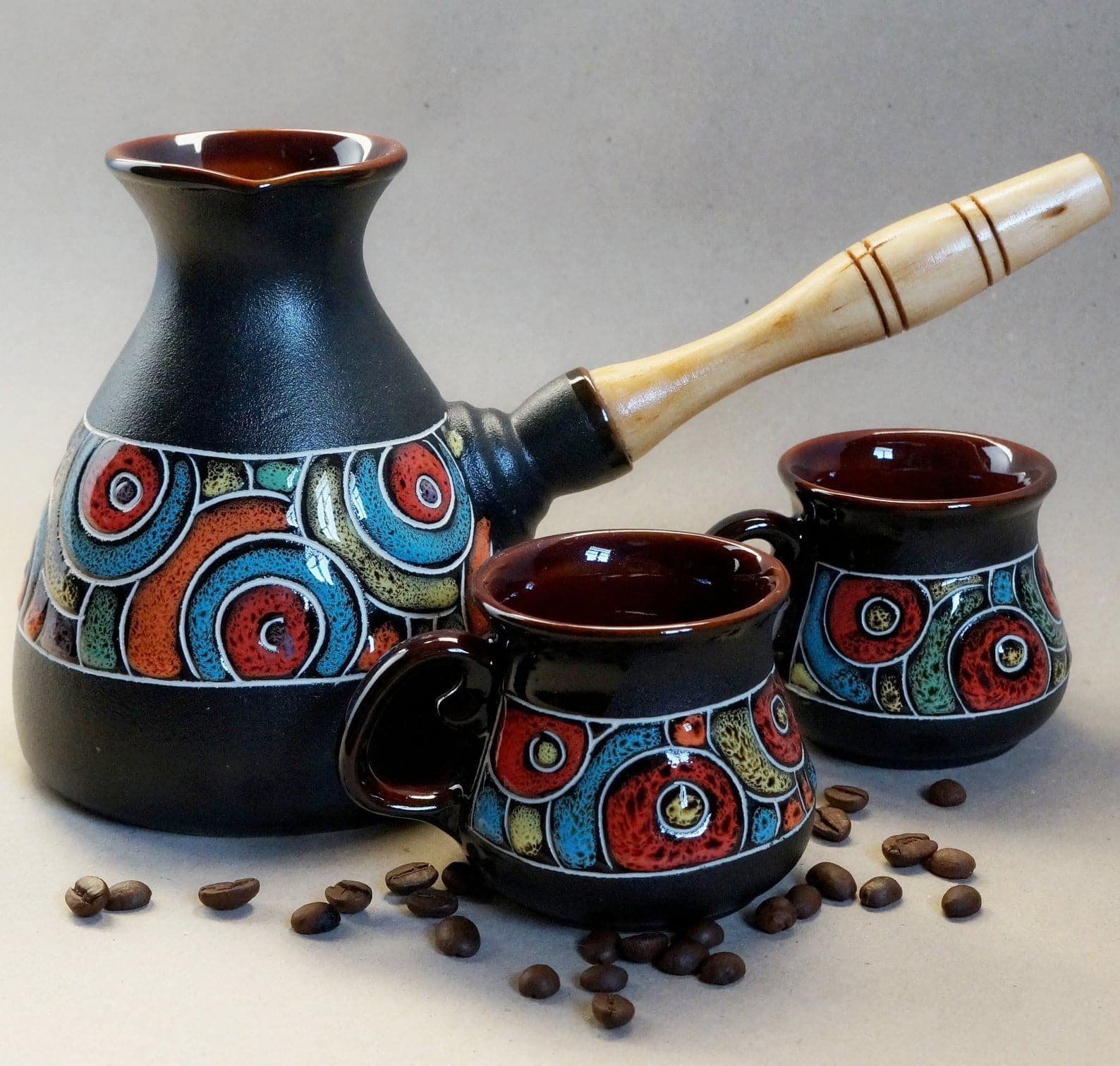 For those searing for an eye-catching set that doubles as a conversation piece or harmonizes with modern or eclectic home décor, Etsy.com is a fantastic place to peek around. It's mission is to connect choosy shoppers to small artisanal producers like Finland brand Arabia and Ukrane-based CeramaStudio (etsy.com/shop/CeramaStudio), noted for coffee and tea sets and cups that stylistically run the gamut from Ukrane folk art to 60s boho-chic, Asian minimalist and masculine styles with a chivalrous Middle Ages vibe.
If your searching for the height of fashion in terms of what some of the most selective Middle Eastern households are buying for their entertaining needs, you're in luck with Silsal Design House (located in the heart of the Dubai Arts District, silsal.com), which supplies top tier boutique houseware retailers in six countries and ships to the U.S. Even with some selections that have some Asian or European influences, the heart and soul of its aethetic under the direction of Samar Habayeb is rooted in Middle Eastern history and tradition.
This Chief Executive Officer/Creative Director has a global education that informs her collections. She received a BA in Architectural Design & Economics from Tufts University in the U.S., and an MA in Ceramic Design from the University of Wales Institute, Cardiff in the UK. Silsal, which launched in 2013, has evolved into the Middle East's most prestigious and creative homeware brand, with Habayeb's designs and collections finding their way into the British Museum in London, the Louvre in Paris' retail boutique and international partner organizations such as Emirates Airlines.
As an arbiter of good taste as well as a creator of Middle Eastern coffee and tea serving pieces, Habayeb offers insight on finding the perfect piece, pieces or set that speaks to your style and heritage…or a wedding or housewarming gift that will be cherished for years to come.
There are myriad things you want to consider when shopping for a tea or coffee set to use at home," she says. "However, even before design or color, durability, easy care and the quality of materials are most important. When designing (our cups, tureens and sets), we think about the design and function, and how those two things marry. We use high-quality porcelain and hand-blown glass for our istikanah. Both are incredibly durable and hard-wearing so the sets are destined for a long life."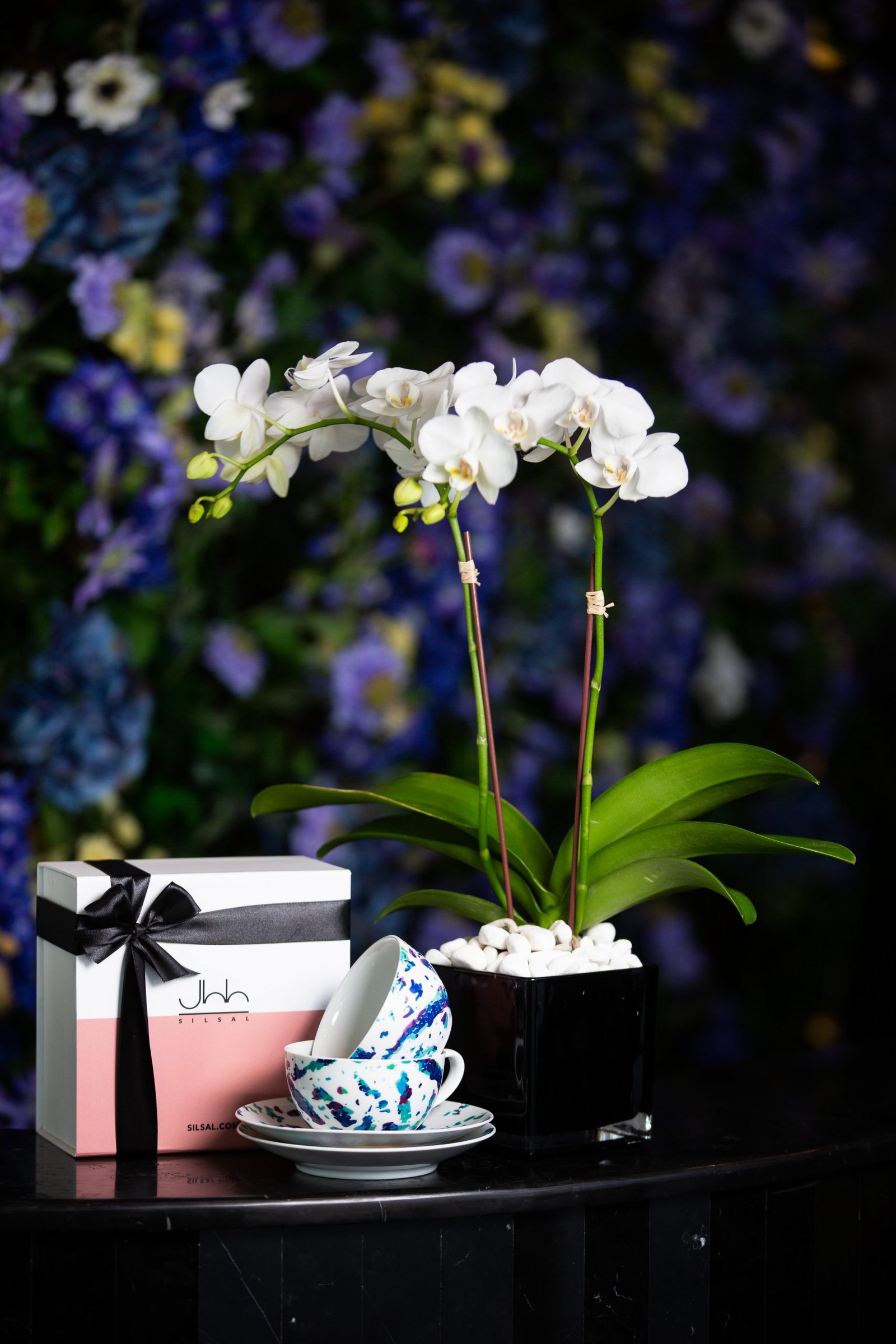 Habayeb recognizes that as styles of coffee are as varied as the flavors and cultures of Middle Eastern countries, her company offers a varied collection of coffee cups for any type of brew. While porcelain mugs are a solid choice for those preferring to serve milky coffees, sleek, handle-less cups are nicely suited for Arabic coffee. She adds that espresso cups also work well for Turkish coffee, while double-walled coffee cups hold up well with potent artisanal coffee brews. Even with some basic rules for what cups go with what coffees or teas, she points out that she caters to households and individuals who like to blend tradition and modernism.
"Our gift box of six Hubb Espresso Cups combine modern 'Pop Art Movement'-inspired design with a traditional shape and function," she details. "We also have mix-and-match sets for those who are looking for a more eclectic look and feel as well as two-, six- and twelve- (cup sets) to give people real flexibility. If you entertain a lot, you may want to consider different sets for different occasions. Our 'Kunooz' and 'Majestic' sets, for example, are very elegant and work well for dinner parties and more formal occasions, while our 'Mulooki' and 'Hubb' collections are more fun and trendier."
Whether your entertaining style is traditional, trendy or somewhere in between, Habayeb stresses that if you are going to make any traditional form of Arabic coffee, having a specially designed coffee pot is essential. "In terms of shape, we always steer quite traditional, with an hourglass shape and crescent-shaped spout, which results in a fragrant and delicate brew."
When selecting a coffee set for a wedding, engagement or housewarming, Habayeb recommends looking for quality materials and durability first, and then personalizing the choice based on what you know about the recipients. If you don't know the recipient well, it's always good to err on the side of simplicity that has some sort of nod to tradition.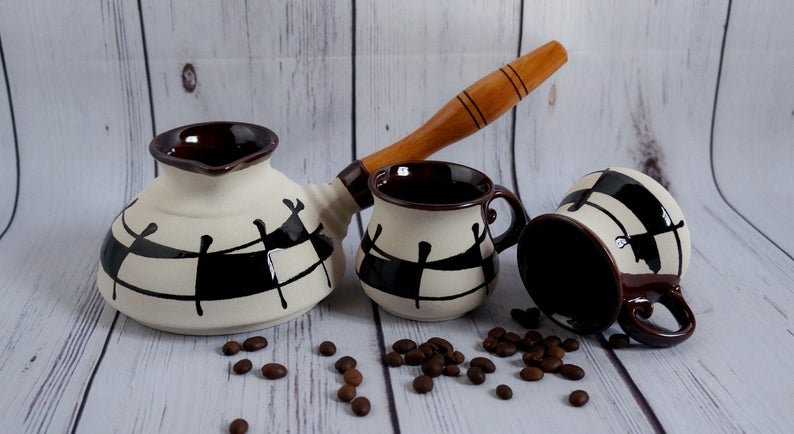 Her Cups Runneth Over
In keeping with the Samar Habayeb's commitment to philanthropic causes in the Middle East, Silsal works with non-profit organization, Dubai Institute of Design and Innovation (DIDI), to inspire and ignite the next generation of design and retail entrepreneurs. She serves as a mentor for INJAZ UAE, part of the Junior Achievement Worldwide (JAW), and delivers experiential entrepreneurship courses at public schools, empowering young women with the knowledge and skills they need to plan their professional futures.