Tunisian Filmmaker Gets Oscar Nomination For 'Brotherhood'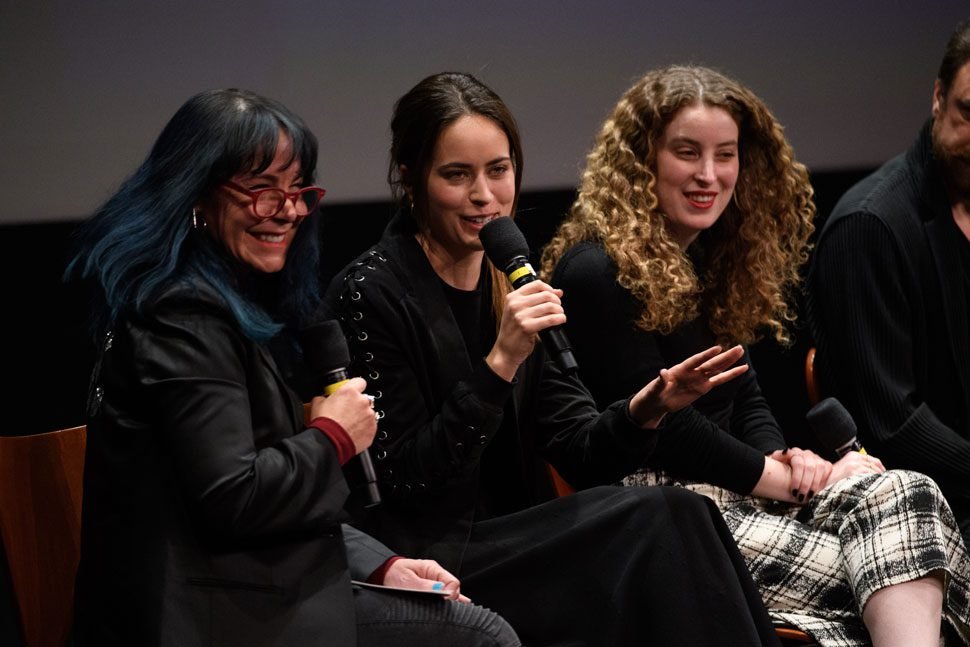 Photo Credit: Phil McCarten / ©A.M.P.A.S.
Moderator Vicky Jensen with Oscar nominees for Short Film (Live Action), Meryam Joobeur and Maria Gracia Turgeon, Brotherhood, during the Oscar Week: Shorts event
The Arabic-language
Brotherhood
is a portrait a Tunisian family as the simultaneous welcome and shun eldest son (Malek Mechergui) from Syria, where we are led to assume he joined ISIS or participated in some similar radical Muslim activities. This is the trick that Tunisian filmmaker Meryam Joobeur plays on the viewer. She forces us to jump to stereotype-based conclusions with the purpose of proving our assumptions incorrect. Set on a rural Tunisian farm, the story opens with the family's father, Mohamed (Mohamed Grayaâ), teaching his son how the slaughter a wounded sheep mercifully while praying to God. Soon, Mohamed will make a chain of irrevocable choices that he will soon come to regret upon learning the truth about his son and his new wife.
Casting is key in this collection of brilliant, restrained performances, centering on the family's three redheaded freckled sons, whose faces convey a story even better than the film does. At the Oscar Week: Shorts event, Joobeur expanded on the family and casting.
"It would have been tough to find three freckled, redheads in Tunisia who aren't related," says Joobeur. "Very, very hard. The casting process was the flip-side. Usually you start with a script and then you cast. What happened in Brotherhood is in 2016 I was doing a road trip in Tunisia and I was wanting to connect with my roots more and on the side of the road I found the two older brothers with their sheep just walking. I was immediately captivated with their faces and I wanted their photo. I just wanted their photo and they said no. So I drove away, but it is pretty surreal to think that I went on this mission.
"I wrote the script, inspired by the reality of Tunisia right now and a year-and-a-half later I went looking for them. I didn't know their names and I forgot where I found them. So I just started driving, going from village to village asking if anyone knew redheads with sheep. It led to a lot of strange encounters and people just either laughed at us or thought we were crazy and were concerned. But luckily, we recognized a pile of rocks where we found them and we were led to their house. What was crazy is in the script I had written a role for a much younger brother—and eight-year-old brother. When we arrived at the house, the first person who came out was Reyene, the little brother. It was a crazy moment and I said, "I don't need to find you, you're here." So I convinced the brother to act in the film and six months later we came back and put together a little budget and we went back and shot the film."