The Golden Triangle of Andalucia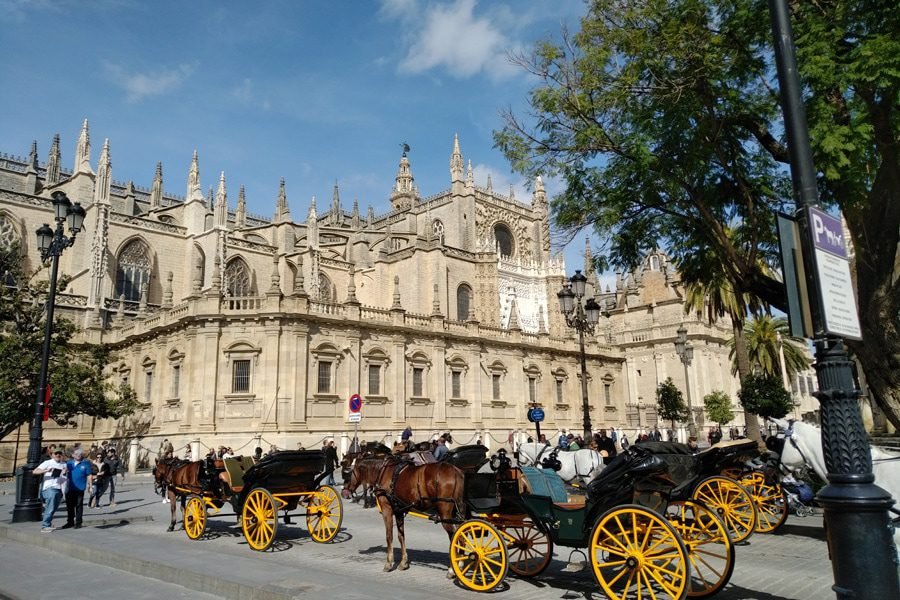 Where Wonders Never Cease
The Golden Triangle of Andalucia: The rattle of castanets and the sob of guitars drift into the narrow streets from hole-in-the-wall flamenco night spots.
Not since tears would come to my eyes when Hansel and Gretel got lost in the woods, had I ever imagined that I could be lost in a forest. But here I was, fully-grown and wandering in the late afternoon gloom, softly calling for my husband. Softly because this was no ordinary woods but a hallowed forest with 850 towering trees of jasper, onyx, marble and granite marching off in all directions in the cavernous Great Mosque of Cordoba.
Here on the sun swept plains of the south of Spain's Andalucia, which the Arabs called Al-Andalus, powerful caliphs who ruled the Iberian Peninsula in the Middle Ages, built their fairytale palaces and mosques in a Golden Triangle of Muslim cities—Cordoba, Granada and Seville. Their Cordoba masterpiece, known as La Mezquita, is one of the best-preserved wonders of Islamic architecture in all of Europe. For more than five hundred years, Muslim worshippers came from near and far to drink in the wisdom of its imams and prostrate themselves before its glittering gold-tiled mihrab (prayer niche). At one time a pilgrimage to La Mezquita was considered a worthy substitute for a trip to Mecca.
It Came as a Surprise.
Today, the great stone forest of leafy Corinthian columns and distinctive brick-red and white horseshoe arches is a Mecca of a different sort. Visitors of all faiths revel in this ancient beauty.
When I finally did catch up with my errant spouse, I found him still as a statue, arms akimbo in front of an astounding twist of history—a magnificent baroque cathedral standing right in the center of the forest, its gigantic arches reaching straight up through the roof of the sheltering mosque.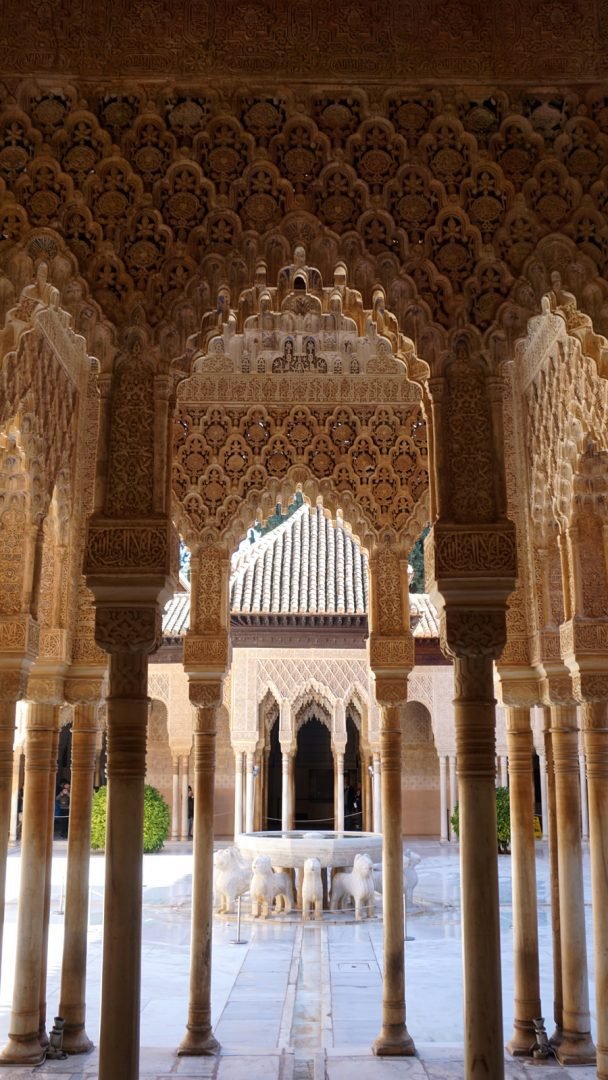 History is full of examples of new societies imposing their own icons on the old. The earlier Visigoths used marbles from Roman temples for their Christian churches. In turn, the conquering Moors built their mosques on Visigoth foundations. And when the Moors, themselves, were driven out of Andalucia in 1492, the new Catholic rulers decided to tear down the Mezquita and replace it with a cathedral as a symbol of the new order. More than 100 precious pillars had been destroyed while the church was going up, before King Philip V, who had actually sanctioned the destruction, had a change of heart and saved this irreplaceable treasure.
The now mid-size city of Cordoba was once the capital of Al-Andalus and the most important city in Europe, its splendors second only to Baghdad and Damascus. We are told it had a million people, 200,000 houses and 600 mosques, plus public baths and libraries. The streets were lighted at night, the fields and gardens watered by a network of canals, and air conditioning was provided by a misting system.
Take a walk through the well preserved old Jewish quarter of narrow winding streets lined with whitewashed houses and flower-decked patios (feel free to peek through the gates), and you'll witness a remarkable slice of history that is hard to imagine especially these days. Up against the wall of the old town is the statue of the great Arab philosopher Ibn Rushd, also known as Averroes. In a nearby plaza is his Jewish contemporary Maimonides, the great physician, philosopher, scientist. Under Arab rule, Muslims, Jews and even the Visigoth Christians whom the Arabs had conquered, lived side by side in harmony and produced some of the history's most profound thinking.
But even Cordoba in its heyday did not satisfy the wealthy 10th century Caliph Abd al Rahman 111. As a gift for his favorite wife Azahara, he staked out a vast hillside three miles from town and spent 25 years constructing an imperial city. As if a glorious mosque, lavish palaces and 400 houses for his soldiers and retainers were not tribute enough, he ordered his gardeners to cover the hillside with white-blossoming almond trees to please Azahara, who longed for the snows of the Sierra Nevada.
After centuries of neglect, archeologists have pieced together some of the stones from the old Medina and the city is gradually rising again.
After the more leisurely pace of old town Cordoba, we were plunged into an impatient lineup of pre-ticketed tourists at our next stop, Granada. They were eagerly waiting for their designated times to enter the dazzling chambers of the world famous Alhambra, Al Qal'a al-Hamrá (the Red Castle). In summer, 8,000 visitors a day walk through its dreamlike palaces and gardens.
Take a few minutes to stand on the ramparts (the Alhambra began as a fort), and enjoy Azahara's snow capped Sierra Nevadas against the sky. In front of you is the Sacromonte Hill, pockmarked by old caves which were once a community of gypsies. Today's gypsies have furnished these caves to show what they used to be, and for a small price, if you drop by, they will dance a mean Sevilliana.
In a square on the neighboring Albaicin Hill, Granada's old town, with Arab tearooms, hookah lounges and bazaars, a gaggle of gypsy urchins surrounded us with hands outstretched for coins. But we'd been warned that this was not about small change. I felt a tug on my camera strap, but I held on. (Be warned.)
When it was our time for the Alhambra, my husband pulled out his guidebook, but shoved it right back in his pocket as we passed, mesmerized, through a succession of gilded halls, shuttered seraglios, opulent baths, flower filled courtyards with gurgling fountains, and dream gardens.
Though the sultan's throne, the Persian carpets, silken pillows and gossamer veils are long gone, the lovely hand-painted tiles and dizzying mosaics, the lacy plasterwork and filigreed panels still cover every inch of the palace rooms and ceilings. Arab artists left no space untouched by endlessly repeated arabesques and curlicues based on the plant forms of nature (depictions of humans and animals being taboo in Arab art). One phrase from the Koran, "Only Allah is victor," is repeated some 9000 times from room to room in the same bold but elegant calligraphy.
In the Patio of the Lions stands the famous fountain ringed by 12 stone lions representing the 12 tribes of Israel and the hours of the day. When they were first placed there, water spouted from the mouth of a different lion at his appointed hour.
In the Hall of the Ambassadors, where sultans and later the Spanish kings held court, we stood under an inlaid ceiling made from 8,000 pieces of wood from the Cedars of Lebanon. It is in this spectacular setting that the Arab rule of Spain formally ended, when the last Moorish King Boabdil surrendered to the Catholic conquerors Ferdinand and Isabella. And Christopher Columbus stood in this same hall when he convinced the royal couple to finance his Voyage of Discovery.
We might have begun our tour in Seville, but we wanted to save the glamorous capital of tapas and flamenco for dessert. Hiding its computers and plasma TVs behind blind-whitewashed walls and iron-barred windows, Seville still manages to look like the set for "Carmen." The cigarette factory where the gypsy temptress toiled is now occupied by the University of Seville, her beloved Escamillo's bull ring still resounds with cries of olé, and the rattle of castanets and the sob of guitars drift into the narrow streets from hole-in-the-wall flamenco night spots.
Spain's fourth largest city wisely relegates its modern downtown to one side of its broad Guadalquivir river. Al wãd al-kabir (the Great River) has earned its name. A triumphant Columbus sailed into Seville on the Guadalquivir on his way back from discovering the New World; Magellan sailed it into the Atlantic to prove that the world was round.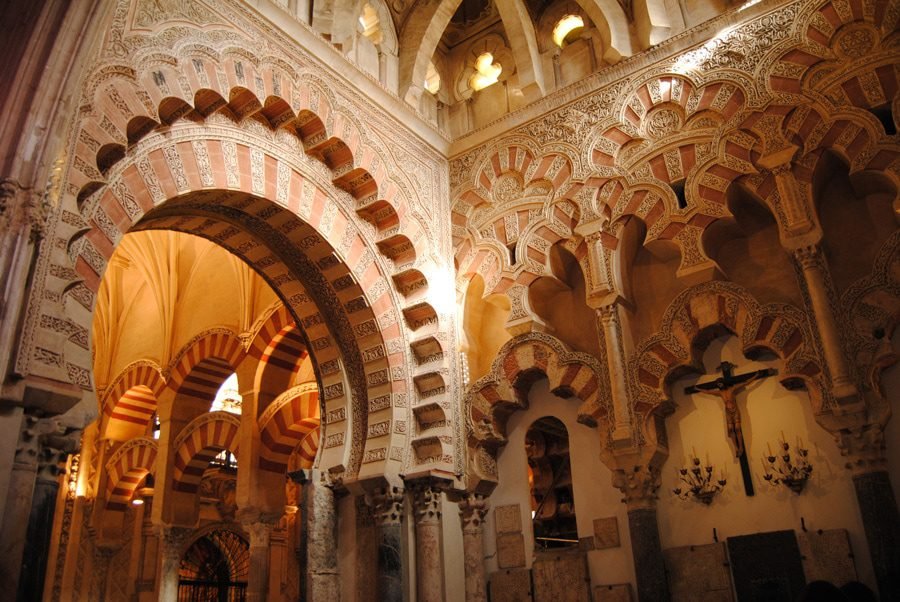 Cordoba Mezquita Interior.
Don't miss the stunning tomb of Columbus in the Cathedral of Seville, where four larger than life statues of Spanish kings carry his casket on their shoulders. (Never mind the spoilsport historians who claim that his remains were moved to the Dominican Republic.) The imposing Gothic cathedral, third largest after St. Peter's in Rome and St. Paul's in London, was built on the ruins of a mosque of which only the court of ablutions and the minaret are left. Where once the muezzin called the faithful to prayer, chimes now ring out from a fanciful belfry, but the walls of this 25-story tower, which you can climb for a great view of the city, still reveal the exquisite geometric designs of its Arab builders.
Nearby is Seville's own Alhambra, the fantastic rambling Alcazar palace, which was not built by Arabs but by Mudejar craftsmen, Christians trained in the Moorish style, which lasted for generations after the Moors had left. In its glittering Ambassadors Hall, where the story actually took place, we were treated to a tale that unites the tenuous strands of history and myth in an indestructible weave of reality.
A 14th century occupant of the Alcazar, the Spanish King Pedro the Cruel, invited his friend, a caliph of Granada, to dinner. The caliph arrived suitably bejeweled with a magnificent two-inch wide ruby, which Pedro quickly appropriated, after running his guest through with his sword. Later, a bad turn of fortune forced Pedro to hand his ill-gotten gain to the Black Prince of England. When you visit the British crown jewels on display in the Tower of London, look for a 170-carat ruby, surrounded by diamonds, in the centerpiece of the Crown of England.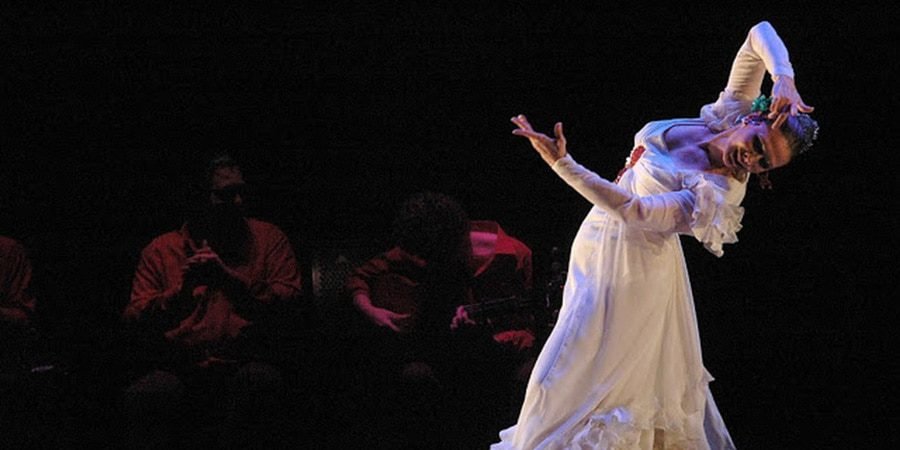 What You Should Know
Seville, the capital of Andalucia, is about two and one-half hours by high-speed train from Madrid and less than a one-hour flight. The gateway to Granada is Malaga's international airport. Trips between Seville, Granada and Cordoba take from about one to three hours by train, bus or car, depending on your route.
Plan on two days in each city, more in cosmopolitan Seville if possible. All three have hotel choices from hostel to luxury and eateries from fast food to haute cuisine. If you come in spring festival season, reserve your hotel well ahead. To visit the popular Alhambra Palace in Granada, reserve from home over the Internet: Visit Website.
Andalucia dines later than elsewhere in Spain; restaurants open for dinner around 10 p.m. and close in the wee hours. They feature spectacular fish and seafood dishes including delicacies like octopus and fried white bait. Also paellas, grilled meats, gazpachos and white garlic soup with sweet green grapes, hinting of Arab ancestry.
Stave off late afternoon hunger at a taverna (pub) serving tapas—dozens of small plates of appetizers, including paper thin slices of serrano ham, nutty manchego cheese and Andalucia's green olive. Try the local beers and the wines from the Rioja and Jerez regions and local beers. For nightlife, nothing beats a fiery performance at an intimate flamenco theater. Later, at a lively club, try out your own flamenco.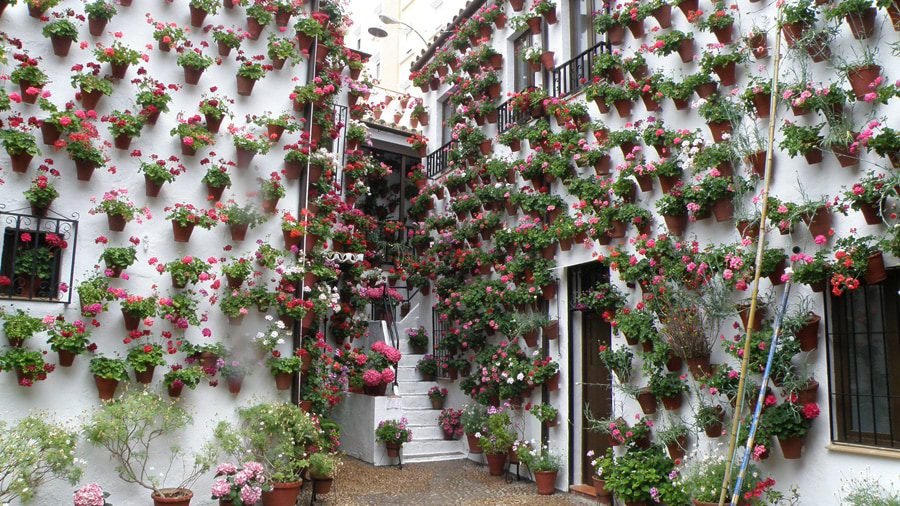 Cordoba
What Else to See
Hamman Banos Arabes traditional baths, with spa services and Arabic music.
Corregidor Luis de la Cerda 51.
Puente Romana and Torre de la Calahorra.
The bridge from Roman times still carries traffic over Cordoba's Guadalquivir River.
The 14th century Calahorra Tower at one end is now a history museum.
The Zoco (Arab souk) in the old Jewish Quarter.
Palacio de Viana, a 14th century palace with 12 flower-filled patios.
Plaza Don Gome.
Top Hotels
Hospes Palacio de Bailio, in a renovated 18th century mansion built on Roman ruins, opened last year as Cordoba's most upscale hotel. Ramirez de las Casas Deza, 10-12; 957-498993.
Amistad Cordoba Hotel offers a breath-taking Moorish setting. In the old Jewish quarter. Plaza de Maimonides 3; 957-420335.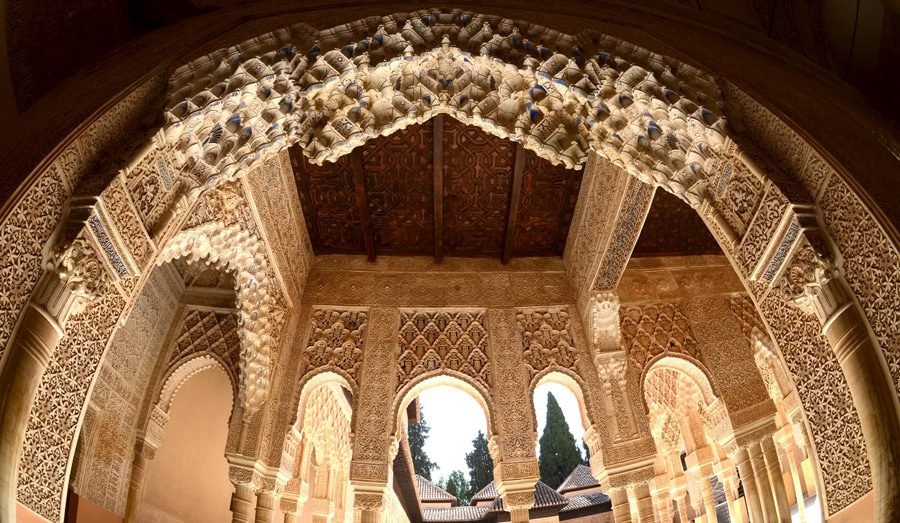 Granada
What Else to See
The Palace of Charles V, at the Alhambra houses the Alhambra Museum and the Museum of Fine Arts.
The Capilla Real, Royal Chapel, downtown, has the marble sarcophaguses of King Ferdinand and Queen Isabella and Isabella's crown and scepter.
Next door is the Cathedral of Granada.
Gardens. Two exquisite gardens with water features: The Generalife, gardens of the Sultan's summer palace, adjoins the Alhambra Palace; the nearby Carmen de los Martires gardens belong to a private villa but are open to visitors.
Top Hotels
Alhambra Palace Hotel. Arab style décor and luxury await near the real palace. Pena Partida 2, Alhambra; 958-221468.
Palacio de los Patos. Lots of atmosphere along with luxury. Well-heeled locals meet in its gourmet restaurant. Solarillo de Gracia 1; 958-535790.
SEVILLE
What Else to See
Casa de Pilates. This 16th century mansion, modeled after the house of Pontius Pilate in Jerusalem, has fabulous Renaissance and Mudejar mosaic walls.
Plaza Pilatos 2.
Calle Sierpes. The city's main shopping street is a taste of modern Seville.
Maria Louisa Park, Plaza de America, Plaza de Espana. Left over from the Ibero-American Exposition of 1929, these three neighboring parks house major museums in old Expo buildings. Don't miss Plaza de Espana.
Torre de Oro. This ancient tower along the Guadalquivir once stored gold from the New World.
La Cartuja Monastery from the l6th century is worth a visit if only for its over-the-top decoration. Camino de Alfaca, Cartuja.
Barrio de Santa Cruz. Stroll this beautifully kept medieval neighborhood, beloved of all tourists. Narrow streets lined with orange trees, cafes, whitewashed houses and patios filled with flowers.
Top Hotels
Alfonso X111. One of the finest hotels in Spain. Old-time elegance in the center of the historic district. San Fernando 2; 95-4917000.
Melia Colon. An elegant rival to the Alfonso X111. Canalejas 1, San Vicente; 95-4505599.
For more information: Tourist Office of Spain.
Ph: 323-658-7188
Email:  losangeles@tourspain.es