Floor Show: The Renaissance of Investment Rugs
A traditional dining room set-up gets a modern update through a bright pattern with fresh colors, and seating that picks up hues from the rug. Photo from Behnam Rugs.
As in fashion, there are home décor essentials that never go out of style. While at least one variation of the "little black dress" sits in every woman's closet, most homes have at least one expression of the timeless "Oriental" or "Persian" rug. However, take that essential for granted or not properly care for it, and it may end up making everything else around it look old. As with the little black dress, there are right and wrong ways to use quality rugs to decorate your space.
As we are living in times where we need cheerful surroundings, consider how a well-chosen dress can lift the mood of the wearer and those around her. That applies to rugs. While certain rugs looked rich and regal in its heyday, they can now make a room look darker and smaller. A carefully chosen new rug, in contrast, can instantly brighten up a room and create the illusion of size. A bespoke rug, like a couture gown, can make a statement about its owner that transcends time and trends.
With rugs being an essential home investment piece, rug designers and luxury rug purveyors are reinventing the rug in terms of color and texture, pushing rug buyers outside of their comfort zone when selecting the perfect piece. Behnam Rugs, a leading importer of Persian and Oriental rugs (benhamrugs.com) has conceptualized its gallery as a design source for decorators and rug lovers alike.
According to Behman spokesperson Sheri Holshouser, it has never been easier to find Persian and Oriental with traditional patterns reinvented in a surprising spectrum of decidedly non-traditional colors such as bright pinks, turquoise and seafoam greens. Even with so many lavish options, however, she suggests doing research beforehand so you can learn about a rug's weaving process, materials and the average cost of the prospective investment before you purchase it. Although the Behnam website makes the process easier, with several information-filled blogs covering what to look out for during the purchase process, there are a few rules-of-thumb to always have in the back of your mind.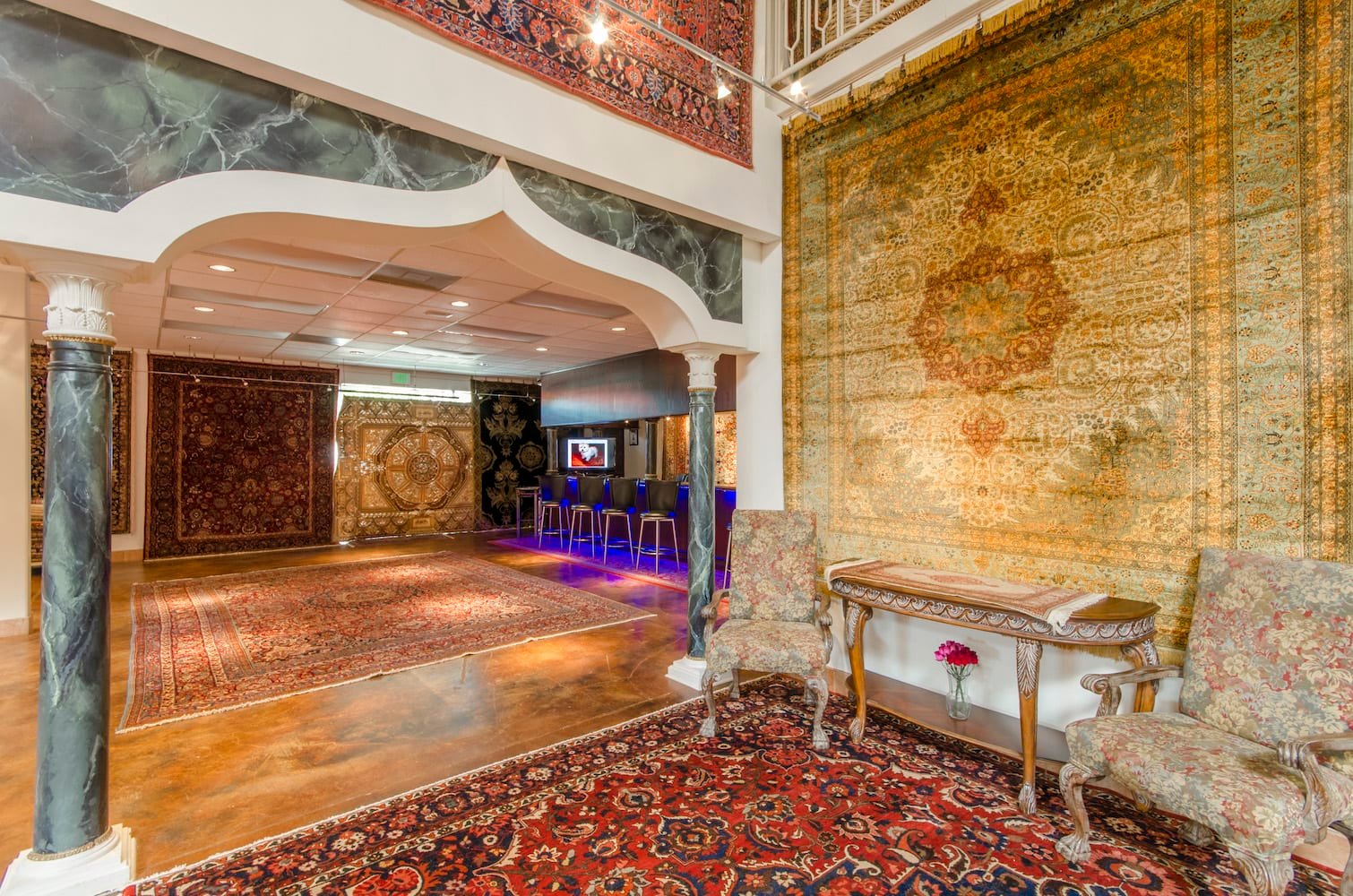 Behnam Rugs' opulent Dallas, TX showroom.
"A rug is a classic and timeless decorating piece that can easily appreciate in value over time with proper care and maintenance," Holshouser says. "We recommend creating a portfolio—a visual inventory–of your investment rugs around your home and having them appraised every few years for insurance purposes. We say every few years, because after three to five years, insurance may decide your appraisal is no longer current and thus will reject it. We offer verbal and written appraisals at our showroom. Depending on the rug, you can expect to pay $100 to $150 for a written appraisal that insurance companies will honor."
*Some serious collectors and professionals in the investment rug market observe that the current economic climate presents serious younger collectors in their 30s or 40s an opportunity to invest in high-end Persian collectors' pieces. However, there is the caveat that the collector will have to wait twenty or more years to see any increase in value. Holshouser counters that there are great deals out there on rugs at all price points, but to get the best value, one should invest time learning about geographic origin and rug crafting techniques to make an informed decision. As some well-crafted medium quality rugs can be harder to spot when showed alongside top tier rugs, vendors specializing in higher-end rugs may have some surprising deals on some of those better medium-quality rugs for high traffic rooms.
Two examples offered by Behman include the 'Andrea Modern Abstract' or 'Provence" rug (pictured, both $550 for an 8' x 10', machine-made in Turkey with a resilient polypropylene and chenille pile), bringing elegance to an informal room inside a home. For a more formal but much-used room, the next step up is Isfahan, Behnam's line of machine-made Persian rugs which include the "Ava" ($1750 for a 9' x 12') or the "Anarestan" (a 10' x 15' rug retails for $2750).
A few show-stopper investment pieces at the Behman showroom include the "Vivid Pink Persian" ($14,000, 9' x 14'), the "Antique Mahal" ($24,500, 9' x 14') or the "Fish Design" wool and silk rug from rug purveyor Feizy ($14,000).
If you're set on one-of-a-kind or statement-making investment rugs, Soho Design House , is definitely worth a look. Since its founding by visionary Jacob Rahman in 2014, the company has provided custom rugs for several Four Seasons and W Hotels properties as well as Valentino and Hermes retail spaces, offers discerning homeowners limited edition designs by top contemporary artists that are hand-knotted by traditional Nepalese artisans using lanolin rich wools and vivid bleed resistant dyes.
"We attract a very particular type of high net-worth client such as music industry people, sports figures and high-end executives," says the San Diego-bred Rahman, who built a portfolio in interior design before focusing on oriental rugs. "Depending on the artist, there will be a limit of each edition produced, from three pieces up to ten worldwide, as we are treating each individual rug as an art piece. The artist and I will sit down and pick a design to interpret as a rug, and then once it's produced then we showcase it at international art shows such as Art Basel Miami. If show attendees express an interest in what we've created, it's offered for sale. It's unique in that each rug is recognized as a piece of fine work by the international art world, but it's very much an interior design element."
While Soho Design rugs can also be displayed on a wall (which provides added insulation and warmth to homes in colder climates like Russia's), Rahman found himself inspired by the idea of reinterpret a rug by taking it beyond something functional and giving it a new modern twist…starting with seeing the floor as a canvas of sorts. For his most exclusive limited editions, he contacts artists from around the world with a proposal of creating a very limited edition collaboration of 3-10 pieces. From there, he has the rugs hand-knotted in Nepal a very traditional, artisanal method which originated in Turkey, Arabia and the Middle East and goes back generations.
"As these are made with the same weaving and hand-knotting techniques and traditions as Persian rugs, they will absolutely last at least through the buyer's lifetime of normal wear and tear," Rahman details. "We use a Swiss lanolin dye, which gives us a wider range of color tones. Additionally, there's less fading and no harsh chemicals being used that break down the fibers. Everything is done by hand, from washing the wool in nearby rivers, dried in the sun, stretched and hand-crafted right up to clipping for even pile height and finishing."
Magic carpets: Soho Design House rethinks rugs as fine art with bespoke pieces like the ones above.
Even with Rahman's collaborations with world-renowned artists, he enjoys creating bespoke pieces for buyers who are parents of up-and-coming art superstars.
"I have received requests to create rugs with family crests or emblems that will be translated into an heirloom piece, such as a child's first drawing or painting," he says. "Rather than have that drawing live its whole life on a refrigerator and held up with a magnet, a parent can bring the child's creation to us and have us translate it into a rug that will go into the child's bedroom. When the child is grown, she can use it in her child's bedroom as a part of family history."
Regardless of your personal taste, it's refreshing to observe that something so woven into tradition and history can make your home look timelessly well-dressed and ready for any occasion.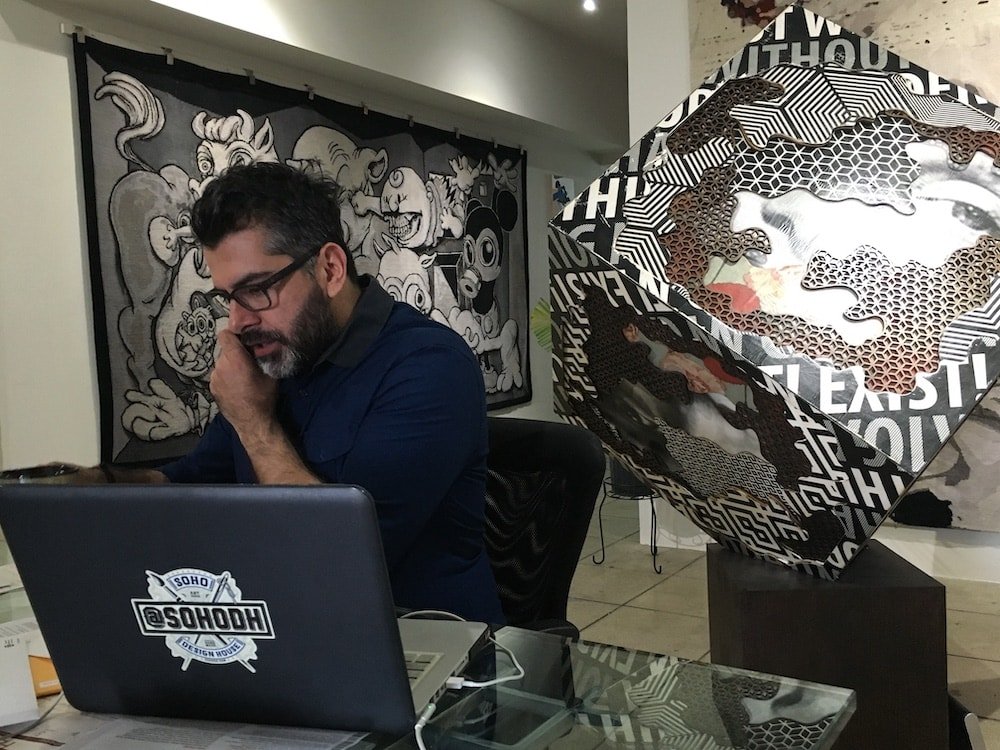 Genius at Work: Soho Design House founder Jason Rahman in the the midst of a creative session.
*When it comes to investment rugs, Rahman offers these common sense tips:
Do not place the rugs in high traffic areas or in direct sunlight. If a room where it is placed gets some sunlight, rotate the rug every three to six months so that the sun distribution is fairly equal.
*There's a consensus among experienced rug collectors that a professional rug specialist is the best place to go when a rug needs a major cleaning, but only every 10-20 years. Therefore, should the rug be stained by accident, use something light like Woolite or baby shampoo for small stains.
To get the most out of your rug visually, opt for glass or lucite tables that will allow the viewer to see the entire design.
When outfitting a room with the rug as the focal point, opt for monochromatic pieces in colors woven into the rug.