Cyprus: The Bridge to the Middle East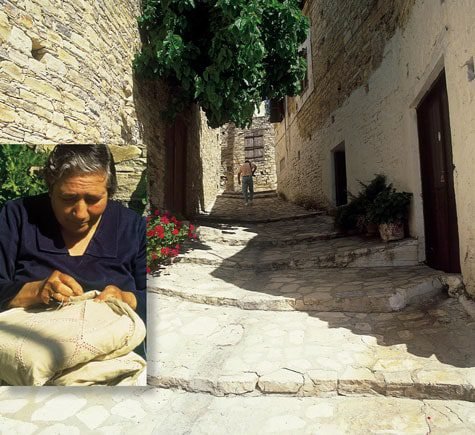 One glance at the map will tell you why this tiny Mediterranean country, handy to three continents, Asia, Europe and Africa, has become the playground of the international set. And it's easy to see why for long distance travelers from the U.S., for instance, it's the ultimate vacation add-on to a trip to the Middle East.
Prepare yourself for a balancing act when you come to the Republic of Cyprus. This sunny island is so blessed with dazzling beaches, emerald waters and palatial 5-star hotels that the thought of lounging, Brandy Sour in hand, under a blue resort umbrella, can tip the scale in favor of utter indulgence. But I'm proud to report that this inveterate traveler fought back and resisted temptation. All the pampering in the world could not keep me away from the storybook villages, farms and vineyards, international shopping, café life and clubs that sizzle till dawn. Not to mention the mind-boggling archeological sites that rival all others.
On Day Two of my trip, with hair still damp from a morning swim, I took myself to the hotel's concierge, canceled my afternoon at the spa, fished out my guidebook and signed up for a rental car. In my taxi from the airport at Larnaka, I had noticed that the road signs were clearly marked in English as well as the native Greek, a legacy from the country's years as a British colony.
An iffier gift from the Brits is their custom of driving on the left. As for why the language of this island a whole hour's flight from Athens, came to be Greek, my patient concierge filled me in. Greek adventurers sailed here around 1400 B.C. to work in the mines after news of Cyprus's fabulous copper deposits spread through the ancient world, and the Greeks just didn't go home. Copper was so closely associated with the island that it was named kypros after the country of Cyprus—Cyprus is Kypros in Greek.
Size does matter, as I realized when I took to the highway. One gift to visitors in this country, smaller than Connecticut, is the short travel times between cities. A major highway speeds you across the entire country from the beaches of Paphos on the west, past the city of Limassol, with its hotel-studded beachfront, to the sands of Larnaka and the latest tourist hotspot Ayia Napa. And that takes less than a couple of hours. Should you decide to visit the inland big city capital of Nicosia, you'll be there in less than an hour from wherever your started.
But whoa up. Slow down. Along the road lies a rural charm that threatens to disappear all too soon, and you don't want to miss it.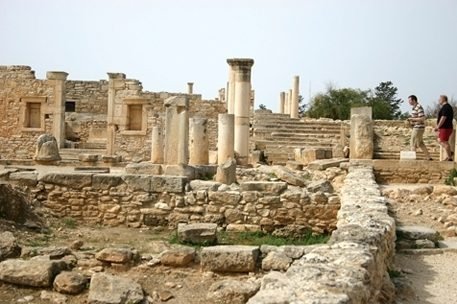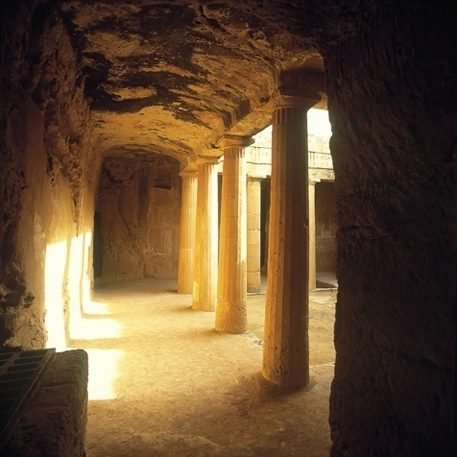 A leisurely pace and some spur of the moment detours paid off handsomely for me. Village squares like Hollywood movie sets, with elderly farmers bent over backgammon boards at wooden tables (one of them waved his cap). Bleating sheep asserting their right of way along the narrow road (photo op while I waited). Families out with buckets after a rain, looking for fresh snails for dinner (no, thank you). And by the side of the road, heart wrenching homemade memorials to accident victims decorated with bright red roses (I slowed to a crawl).
The whole world loves a lover. At a rocky cove below the coast road outside Paphos, I pulled up behind a bus parked above what might just be the number one favorite tourist stop in the entire country—the legendary birthplace of Aphrodite, Greek Goddess of Love. As the passengers gathered to peer down at the water, I sidled up to watch the guide point out the very place where the goddess was born full-grown from the sea. Not as the famous Botticelli painting depicts her as the Roman Venus poised on a seashell, but out of ocean foam roiling around those rocks. Later when I caught up with the group again, they were kicking off their sandals to cool their toes in Aphrodite's Grotto, the very spring where the goddess came to bathe.
Mythology is permanently entwined in Cyprus history, but genuine historical figures have left their stamp as well. Not the least of these was the Macedonian warrior Alexander the Great, who ruled Cyprus in the fourth century B.C. and then conquered the rest of the world. Later the 12th century English King Richard the Lion-Hearted actually held his wedding to his future queen of England in Limassol Castle, which is now the Medieval Museum. And Julius Caesar's cousin, the Roman general Mark Antony, was so bemused by Cleopatra that he showered her with gifts of jewels and baubles, including the whole island of Cyprus.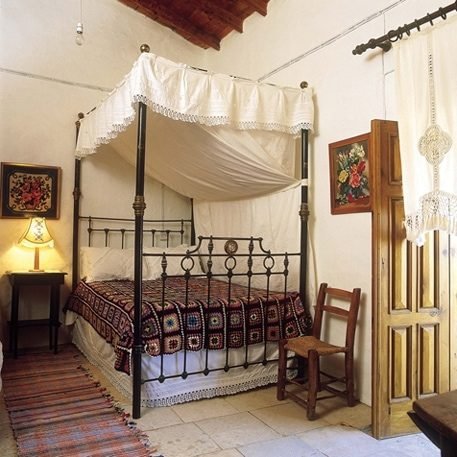 Just about everyplace in the country has its share of crumbling castles and forts, ruined walls and remnants of temples, palaces and villas, even the remains of a whole city. You could spend a lifetime in museums of antiquity here, but my favorite is the Cyprus Museum in Nicosia. Its beautiful old statuary, pottery and jewelry by ancient artists, are so pleasing to the modern eye that after all those centuries, these objects are still inspiring the designs of craftsmen and jewelers. Even so, to me, the greatest treasures within four walls can never compare with the imposing relics of past civilizations in the great outdoor museum that Cyprus, itself, truly is.
Among the vast excavations of the great Roman city of Kourion, west of Limassol, I wandered awestruck past majestic columns of the long-gone Temple of Apollo. Later from my stone seat in the Greco-Roman amphitheater of Paphos, I just sat gazing out to sea. Later still in Paphos (where the whole town is a UNESCO World Heritage Site), I forced myself into the eerie underground Tombs of the Kings. And for a special treat, I walked through one of the most beautiful relics of all—a series of Roman villas adorned with exquisite mosaics—the House of Dionysos, the House of Aion and the House of Theseus.
One of my last archeological stops went straight to my woman's heart. When I first saw the five round stone buildings of Choirokitia, near Larnaka, I assumed they were ancient, but no, they are reproductions of structures from a village dating back to 7,000 B.C. Stone Age men had built houses like this without metal tools, just their own might and stone against stone. Archeologists have gone to the trouble to surround these houses with plants that might have grown in their time, and they've reproduced crude objects that they think were Stone Age furniture. Standing on the same spot where a Stone Age mother might have held and fed her child brought tears to my eyes. When I think back, it still does.
The cosmopolitan cities of Cyprus, with their rich cultural, historical and natural attractions, are often compared to the best of the French Riviera. And an increasing number of young villagers in search of careers and city life, are moving to town, thereby speeding the decline of the village. Cyprus has been looking for ways to save the villages, and that's good news for tourists.
I stopped for dinner at a tastefully updated old house that is now a country inn and part of the plan for the rebirth of its village. In the courtyard, the lady of the house was checking the crusts of big round loaves in an outdoor brick oven, while lamb for souvlaki turned on a spit over a charcoal fire. Her two daughters were laying the long wooden table with crisp Cyprus wines, and down the middle, a lavish lineup of at least two dozen small dishes with all the familiar hot and cold savories of the traditional meze, which looked much like the Middle Eastern version. They had added a beloved Cypriot specialty, slabs of the local halloumi cheese, grilled and then spritzed with juice from their own lemons and topped with a sprig of mint.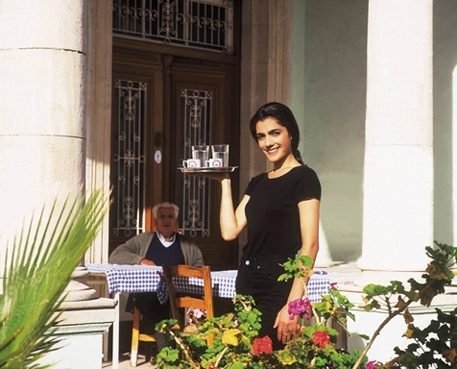 While other villages fight to survive, the famous lace and embroidery village of Lefkara seems to endure forever. You can't be there for five minutes without hearing that the great Leonardo da Vinci had bought an altar cloth in Lefkara as a gift for the Milan Cathedral back in the 15th century.
In fair weather, the women sit outside their shops showing off their needle skills to admiring tourists. A chic Italian bystander in a wide-brimmed sun hat and oversized sunglasses was loudly complaining that she forgot to bring the measurements of her mother's dining room table and her sister's windows. Her long-suffering husband shrugged and handed her his cell phone. Later I saw him pacing outside the shop where his wife was blithely unfolding one lavishly embroidered pale linen cloth after another from tables stacked with lace-trimmed sheets, linens, collars, napkins, curtains, antimacassars and doilies. Even Da Vinci couldn't have taken that long to make his selection.
A young attorney I met over a small cup of dark Greek coffee at the local café, offered to show me the ancestral farmhouse where he grew up. Like so many of today's professionals, Constantinos had gone to school in Britain and spoke fluent English. As he turned the key in the cantankerous lock of an old wooden door, a smile flickered across his face. I should have known! The living room was a page out of "House & Garden." The kitchen was fit for a "Food Network" diva. He and his wife Eleni both worked in the city and their commute, in the yellow convertible parked outside, took less than half an hour. "It's sure not like my grandfather's endless stories about the good old days," he said, "when all the kids worked in the fields, the goats and cows slept right in the house and a trip to town by donkey took a good part of the day."
"The latest thing in real estate," Constantinos informed me, is the faux village." (I had noticed new houses clustered on hilltops along my way.) "Those handsome new 'villages,' he said, "Sell out as fast as they can build them."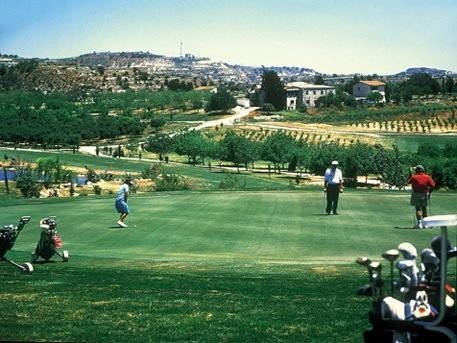 My village inn meze had been my first experience with this Cypriot feast, but it was not my last. City streets and waterfront promenades are chockablock with restaurants from haute cuisine temples to fish restaurants to pubs and dance-on-the-table tavernas. (Did I forget McDonalds?) The meze comes in all flavors and sizes, to be washed down with local wine, the favorite Keo Lager, the local grappa-like zivania or anything from the fully stocked restaurant bar. There's fish meze, meat meze, vegetable meze, and if you're with friends, you can order a dinner that begins with meze and ends with a succulent charcoal-grilled fish for sharing, or in the case of meat meze, a platter of grilled meats. Cypriots love to astonish their visiting friends and relatives with a meal at a well-known restaurant in Paphos. It boasts the world's biggest meze, 24 courses.
From around 10 to midnight the clubs start heating up, with flashing lights, laser shows and bouzouki, R&B, Hip-Hop, Techno, you name it. One disco in the nightlife capital of Ayia Napa has been known for its clouds of pink bubbles cascading down onto the gyrating bodies. The beat goes on until the clubs stop serving—at 5 a.m.
These days, back home in L.A., whenever I can commandeer an audience for my travel pictures, I reward my friends with a taste of Cyprus—a slice of tangy grilled halloumi cheese from my neighborhood specialty grocer. And I pour them a taste of history—the sweet, heady Commandaria wine that was first produced in Limassol's Kolossi Castle by knights in the Middle Ages. They say that Richard the Lion-Hearted toasted his bride at their wedding banquet with a goblet of this very wine.