Six Bubble Hotels for Middle East Stargazing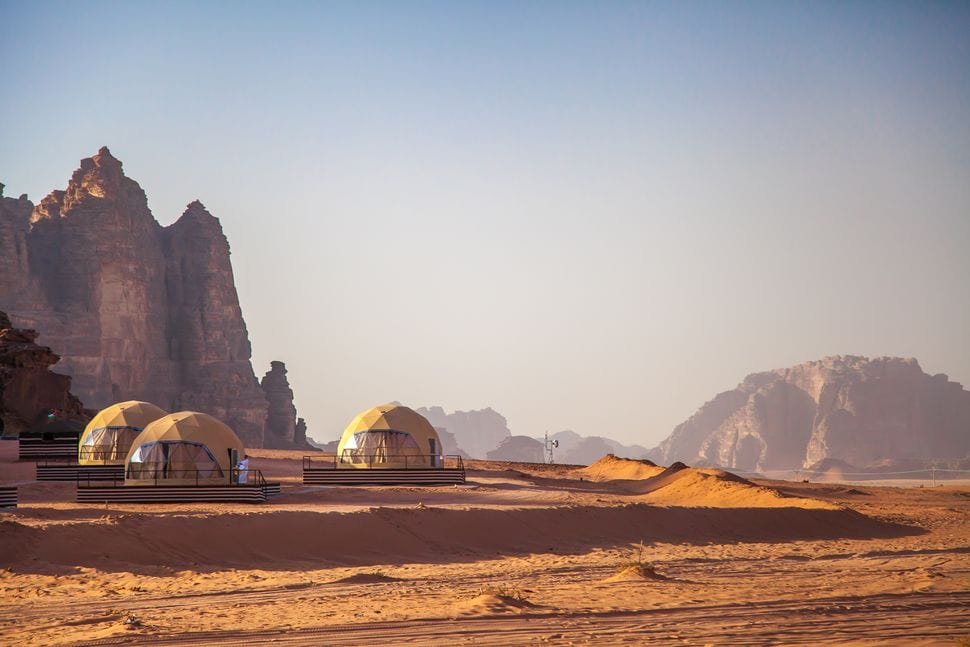 Tired of traditional hotel rooms or having to pay extra for a room with a view?
The growing trend of bubble hotels where guests sleep in circular tents that provide unimpeded views of the sky and surrounding area has made it to the Middle East. The concept is enjoying great success especially in places where surrounding nature is the main attraction. In a region known for stunning mountains and beautiful desert scenery, bubble hotels make an ideal alternative to traditional tents or a standard hotel room.
From Jordan to the UAE, the region seems to have truly embraced the transparent vacation lifestyle, at least for those that want to experience it for just one night. It is certainly a unique way to spend the night and is worth trying whether you are a budding astronomer or just plain curious. Here's where to sleep amid the stars and wake up to a dreamy landscape all around you.
Jordan
Petra Bubble Luxury Hotel
Just a short drive from the entrance to the world-famous UNESCO Heritage Site of Petra, these inflatable bubble tents offer an otherworldly sleeping experience. You won't be faulted for having fantasy-laden dreams of Indiana Jones or extraterrestrial interactions. The Petra Bubble Luxury Hotel features 20 bubble tents, each of which has its own private whirlpool. Situated on the mountainside, the outdoor patios of each tent provide scenic panoramas of nature all around you. The tents come in three sizes making them great for solo travelers, couples, and even families, and kids are welcomed with special activities to keep them entertained.
Wadi Rum Night Luxury Camp
Given the popularity of Wadi Rum for visitors to Jordan and its incredible landscape, bubble hotel success in the region should come as no surprise. Wadi Rum Night Luxury Camp offers a series of lined-up bubble tents that don't skimp on the extras like air conditioning or comfortable bedding. Many come here for the added educational insight into Bedouin culture as guests learn about their cuisine, lifestyle, and culture in addition to Instagram-worthy accommodations.
Bubble Luxotel Wadi Rum
This unique bubble hotel in the Wadi Rum Desert welcomes travelers to its rather unique accommodations with incredible views everywhere they look. Transparent from top to bottom in the living area, the Bubble Luxotel Wadi Rum rooms offer unimpeded views of the surrounding landscape. All have coverings on the bedroom portion of the tent so guests can enjoy the sky as they slumber without having passersby see them while they sleep. Indoor bathrooms and excellent cuisine make guests feel as if they are staying in a traditional hotel, that is until they look out the window.
Sun City Camp
Also in the desert of Wadi Rum, this camp of fancy bubble hotels invites guests to live the "martian experience," a reference to the red rock and sand that surrounds visitors in this famous Jordanian desert that is similar to the rocky surface of the planet of Mars. Not only do guests of Sun City Camp have a unique accommodation that will impress their friends back home, but they can also learn a lot about the Bedouin culture and taste some of their traditional cuisine. If the setting looks familiar to you, it's because the area has been used in numerous Hollywood films, often depicting what life is like on Mars.
UAE
Jebel Hafit Desert Park
With outdoor firepits and indoor luxuries, the bubble tents at Jebel Hafit Desert Park have clear ceilings to allow guests to take in the night scenery (as well as an early-morning wakeup call). You can stargaze until your jet-lagged mind wanders off to slepe. Air conditioning, luxe bedding, and free wireless Internet bring the conveniences of a more traditional hotel room to the desert. Close to Al Ain, the tents are situated at the base of Abu Dhabi's tallest mountain, Jebel Hafit making this a great destination for those interested in hiking or climbing.
The Starlight Camp
Near Dubai, The Starlight Camp glamping experience offers clear views of everything around them in the desert. It features all the niceties you'd expect just 45 minutes away from Dubai airport. What makes it particularly unique is that it is a temporary camp, which can change locations and setups as needed. It is a private experience, which means it can be designed for families or romance-seeking couples with outdoor dining areas and the option for an adjoining tent.