Art You Can Walk On
So You Want to Buy an Oriental Rug
My first experience with the beauty and comfort of Oriental rugs was lying face down in my grandmother's ruby red and royal blue Persian Sarouk, during the obligatory Sunday afternoon family visit. I was six years old and bored. So while the grownups chattered above my head, I would wander through this velvety Garden of Eden, tracing the endless repetition of floral loops and curlicues as I stroked the thick, lustrous pile back and forth. The red is for beauty, the blue is for wealth, and the gold is for power, Grandma told me, and I repeated this mantra as I watched the silvery sheen of the rug appear and disappear under my thumb.
My next encounter with an Oriental rug came years later from an invitation to rest my aching arches over a cup of tea. This from a seemingly kindly merchant who waylaid me outside his carpet store in the labyrinthine medina at Marrakech. What innocent thirsty and bedraggled first-time tourist has not fallen for such a welcome offer after a day of tramping through the Grand Bazaar in Istanbul or fending off hawkers in the winding alleys of Cairo's Khan Al-Khalili. Or even after a long day tour in any Middle Eastern tourist town, when the driver makes that obligatory stop at a carpet making school, "just to see how Oriental rugs are made."
So there I sat an unwitting captive, porcelain demitasse in hand, among a circle of fellow tourists, on an inviting leather hassock facing an open expanse of hardwood floor in the middle of a room lined with stacks of rolled carpets.
A few of my fellow tourists had done their homework and had come with measurements, color swatches, credit cards and shipping instructions in hand. The rest of us, the unprepared, kept trying to think "What size, what color, where could I use it" as we were swept up in a fascinating introduction to one of the world's oldest arts.
At a signal from the proprietor, two burly assistants went to work unfurling eye- catching room size rugs in glorious colors. As each gleaming beauty was laid before us, the owner extolled its quality and intricacy, pointing to the large center medallion and the garden of leaf and flower forms radiating out to the borders, a common pattern in Oriental rug design. (Human and animal forms are rare in Moslem art.) And he explained the tricky art of hand knotting that creates the velvety pile which distinguishes these rugs from the other major type, the flat-weave Oriental Kilims.
Archeologists have traced the rug maker's art back to several centuries BC, to the tribes of nomadic sheepherders in the plains and mountains of Asia. Handmade rugs (often named for their village of origin) were used not only for warmth and decoration in their tents, but as the centuries rolled on, as prayer rugs and floor coverings for mosques and palaces. Their beauty and quality came to the attention of European nobility during the Renaissance, when no royal palace or aristocrat's mansion could be without one. But it was not until the l890s that the Oriental rug became a symbol of taste and sophistication for the affluent in the United Stat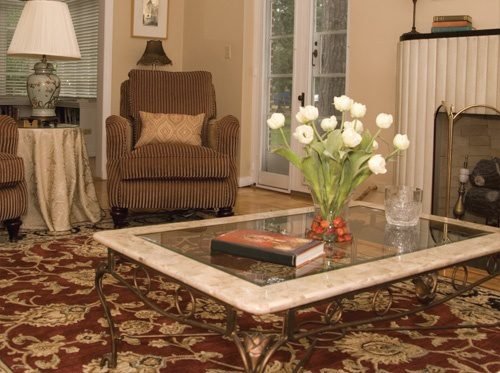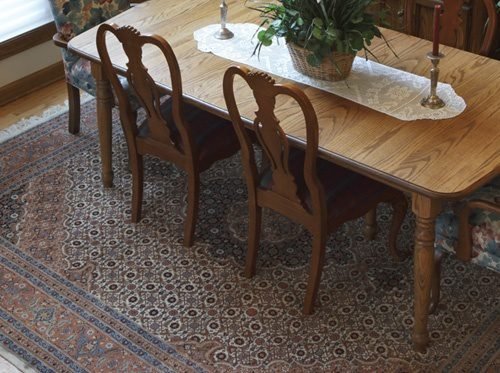 Though commonly considered a luxury purchase, a fine hand-knotted Oriental can actually be the cheapest form of fine art you can buy. An experienced weaver, for instance, can make about 6,000 knots a day, which works out to 648 workdays for a quality 9′ x 12′ carpet. And the price can range from a few to many thousands of dollars for a masterpiece that took almost two years to produce and with care can look as good as new even 75 years later. The fine Oriental rug has long been recognized as art by the world's most prestigious museums. A leading example is the Ardabil rug (one of the oldest in existence), 34.6′ x 17.6′ and made from 33 million hand-tied knots. Don't miss it in your travels to London, where it is the centerpiece of the renowned Jameel Gallery of Islamic Art in the Victoria and Albert Museum. The Ardabil covered the floor of a mosque in a Persian village for some three hundred years and is one of the few such treasures to survive (with restoration) since the sixteenth century.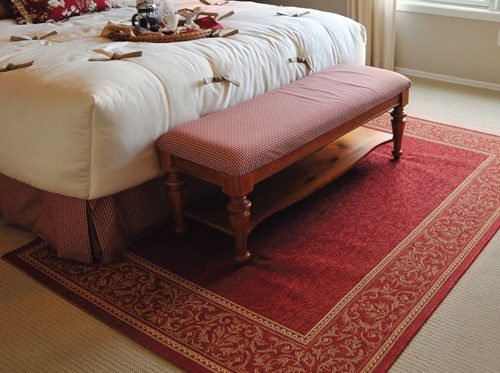 The finest rugs have historically come from Iran (hence the name Persian rug) and still do. But also cadres of craftsmen in other countries spend their lives at the looms tying the delicate knots that grow these carpets row by row. Besides Iran, which exports few these days, fine Orientals currently come from Egypt, Morocco, Turkey, Afghanistan, Pakistan, India and China. Most of the carpets shipped to the U.S. are from the last three countries.
It's no surprise to find these exotic weavings in the homes of Middle Eastern American who cherish a touch of the old country. These artful amalgams of art and utility are also the "it" thing with today's interior designers, who use them to complement period furniture and as a warming note for hard-edged contemporary decors–even the starkest. Keeping up with the times, carpet makers, at the request of Western interior designers, are now producing rugs with the traditional bold reds, blues, black and gold replaced by muted shades like beiges, rose and pale blues and greens to harmonize with today's milder palettes.