Waves of Cultural Glamour by Top Middle Eastern Designers
After the many trials and tribulations, we've been facing since the pandemic, fashion continues to prove itself as a breath of fresh air within the scene. Middle Eastern culture has always been a source of inspiration in the global industry of fashion, and this year is no exception. From intricate runway looks and designs to more relaxed Instagram OOTDs, the fashion diaspora of 2022 is filled with bold colors, unique patterns, funky textures, and creative statement pieces.
Middle Eastern representation is more present than ever with several outstanding designers pushing boundaries and redefining modern fashion with distinguished innovation and skillfulness. From up-and-coming designers and social media favorites to legendary icons, if there's one thing to take away from 2022 Middle Eastern fashion, it's the amazing artistry, talent, and state-of-the-art craftsmanship.
Highlights From 2022 Middle Eastern Haute Couture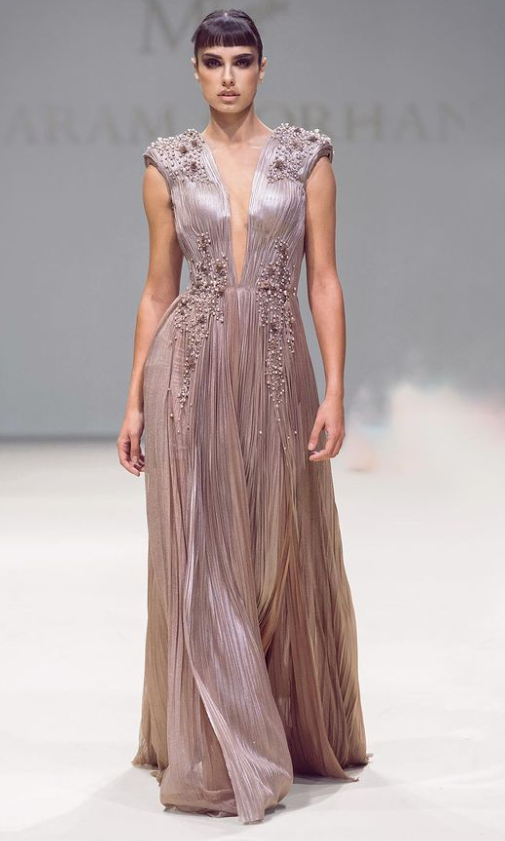 Maram Borhan's Bridal Fashion & Evening Wear
We're off to a great start with Egyptian designer Maram Borhan's 2022 bridal collection and evening gowns. Her magnificent designs exude a flair of elegance and opulence perfectly encapsulated in an ethereal palette of soft blues, pinks, and lilacs.
Each gown oozes a rare je-ne-sais-quoi that only Maram Borhan is able to capture in her creations. Not only that but the occasional splash of vibrant reds and fuschias feels like a genius twist on the otherwise classic bridal/evening wear.
Inspiration: In a recent interview with Daily News Egypt, Maram Borhan talks about the inspiration behind her collections. Borhan says, "From splendid embroideries to signature structural flounces, my aesthetic is all about luxury and elegance," her passion for fashion sprouted from her love for art. She adds, "When I was young, I was in love, not with fashion, but with art. At some point, it transformed into a love for fashion. I was drawn to fashion – I watched a lot of shows and editorials; that is how it all started."
Shop the look: Check out Maram Borhan's bridal collection for an absolutely dreamy take on bridal fashion or browse her luxurious eveningwear options to find the perfect dress for that extra special occasion.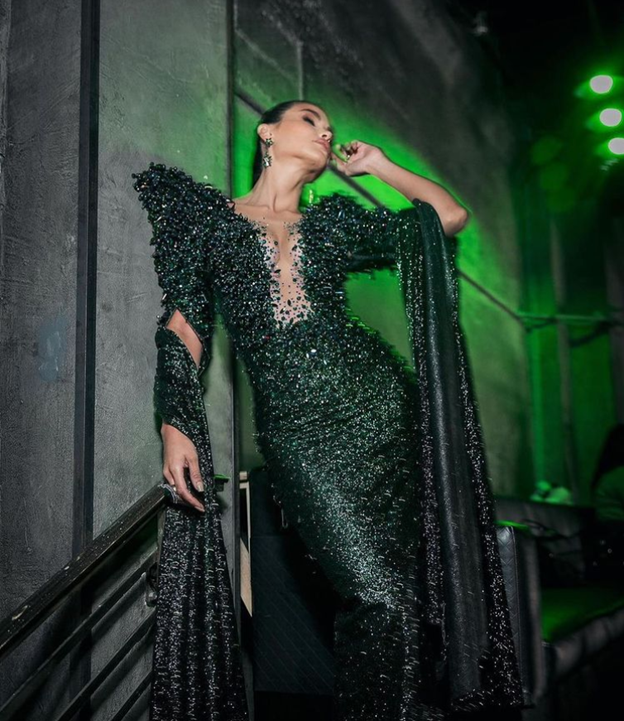 Giannina Azar's Structured Silhouettes
Dominican designer Giannina Azar who has Lebanese origins made headlines this year with her mesmerizing SS2022 looks. Beguiling, magnetic, and utterly riveting, Giannina Azar's innovative creations are nothing short of royalty. The iconic structured gowns give prominence to strong lines and clean architectural silhouettes intricately embellished with dazzling crystals.
Her Middle Eastern heritage shines strongly through some of her more recent creations. Azar's creations make a refined display of elegance and extravaganza. With an emphasis on lavish fabrics and rich details, the daring and affluent gowns are definitely red-carpet-worthy!
Inspiration: In an interview with Fashion Vitrine, Azar explains "My style is avant-garde for a woman who wants to be the center of attention". She credits her success to both her Dominican and Lebanese roots saying "My dad was Lebanese. There is the exotic of Lebanon and the color of my country, which is where my mother is from. I think that the success of my career has been rooted in that, in the colorful and tropical that gives it that happy touch, and on the Arab side, all that exotic side of stones and embroidery."
Shop the look: Azar's sophisticated gowns are the perfect addition to your after-dark wardrobe. From striking gowns to electrifying short dresses, check out Azar's store and channel your inner royal.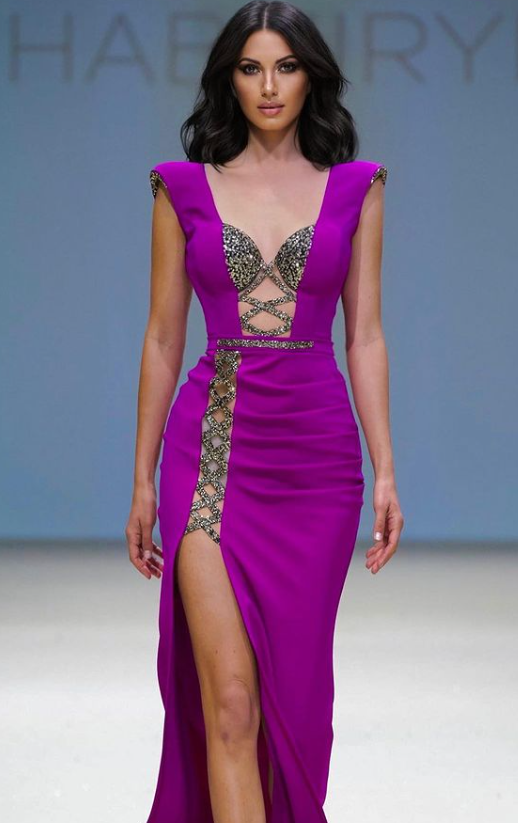 Ihab Jiryis' Contemporary 80s Aesthetic
Palestinian avant-garde designer and couturier Ihab Jiryis kicked off SS2022 with a bang. His Royal Collection features long-sleeved gowns with bold side splits (following on the leg-revealing fashion trend of side, front, and back slits).
The soft yet structured long-sleeved gowns with sparkling sheer panels, deep V-necks, and ruffled details are all the rage right now. Ihab also pays homage to numerous cyclical trends including asymmetrical figures, power shoulders, and retro-inspired flares, all reminiscent of the vibrant 80s.
Inspiration: "Ever since I was a child, I remember dreaming about being a fashion designer. To me the colors, the fabrics, the cuts, the shapes … this is my game in life, this is what attracts me. This is how I can express everything I am feeling or thinking, with visual concepts through what I design," explained Ihab in an interview with Arab News. His determination and inspiration are rooted in the difficult nature of life in Palestine, Ihab elaborates "The tough times or the scarcity that we live in creates bigger challenges for us and makes us, as designers, create more and express ourselves in artistic ways through which we can communicate with the world."
Shop the look: you can find Ihab Jiryis' bold collections here.
Top 2022 Middle Eastern Ready-to-Wear Brands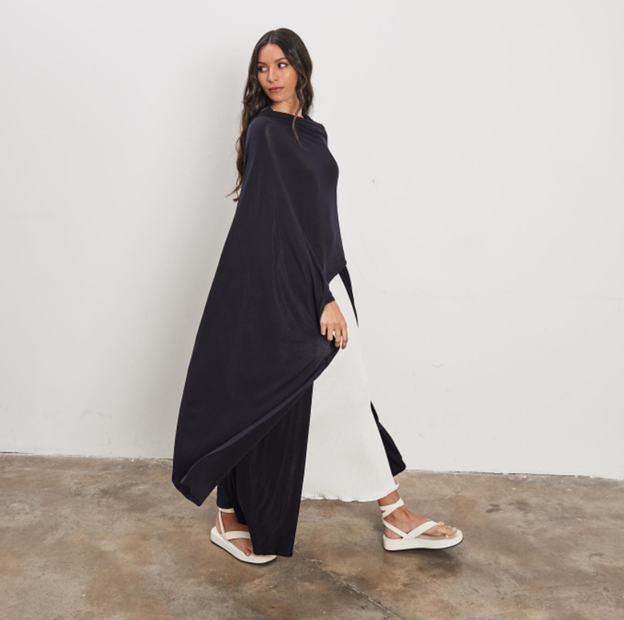 French Algerian Faiza Bouguessa's SS2022 collection remains true to her clean, polished, and sophisticated aesthetic. Her clever layering of garments instantly elevates the contemporary feel of her looks. Faiza relies on classic materials, minimalistic textures, and muted tones to convey simplicity all while offering maximum comfort and functionality.
The appeal of her designs has definitely proved to be transatlantic with many celebrities sporting some of her creations -Beyonce, Melissa McCarthey, Farida Khelfa, and Priyanka Chopra to name a few. A success that is deeply rooted in her desire to design versatile garments that create a bridge between cultures.
Inspiration: In a Forbes article written by Sabah Kaddouri, when asked about her sources of inspiration, Bouguessa said "My ambition has always been to offer timeless models that still look trendy even after being worn for years. I had this clear vision from the beginning. My signature 'effortless' chic is what characterizes me ".
Shop the look: Check out Faiza's label and get your hands on her elegant creations, from trench coats and blazers to immaculate knit dresses and classic pants, there is something to tickle everyone's fancy!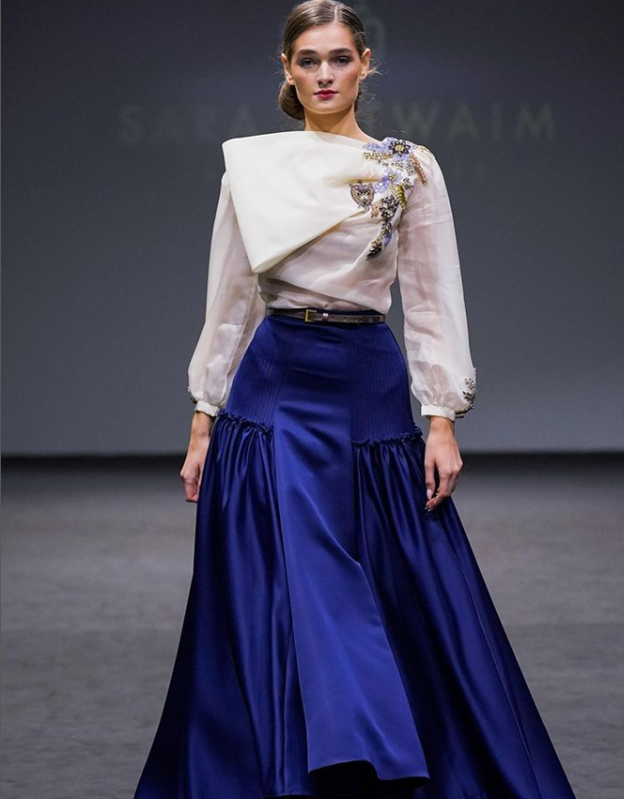 Saudi Arabian fashion designer Sara Altwaim's trademark for this SS2022 season is distinguished by a unique vintage flair and an undeniable charm. Her newest collection is deeply rooted in whimsical, romantic, and slightly dramatic themes. As one of the most promising Saudi designers, Sara's ready-to-wear brand takes inspiration from many cultural environments and ethnic motifs across the Middle East.
Her ability to effortlessly play with silhouettes and fuse sleek contemporary details with timeless designs to create uniquely tailored garments fit for all occasions, from destination wear to evening glamour to casual attire. Sara beautifully and skillfully incorporates embroidery and delicate fabrics with modern cuts and trendy elements.
Inspiration: In an interview with Arabisk London, Altwaim discusses the inspiration behind her most recent collections. She explains "I think art in its core carries a message of purpose to people. My own visions and ideas are inspired from reading different topics and from my education. I always ensure to link the names of my collections with meaningful values. This helps my designs become prominent in the minds and hearts of people."
Shop the look: shop Sara's 2022 Bloom Collection on her brand's website.
Libyan designer Ibrahim Shebani, while relatively new to the industry, has managed to make a name for himself in the ruthless world of fashion. His latest collection takes inspiration from his Libyan heritage with certain pieces featuring complex embroidery detailing and bold cultural imagery.
The self-referential nods to his background imbue every single piece in his "BORN IN EXILE" collection. His modern take on Libyan streetwear combined with bold prints and clever graphics brings a one-of-a-kind touch of nostalgia to this season's fashion trends. The intricacy of each design and the edgy but fun color palette definitely make you want to see more of his work.
Inspiration: In an interview with Maft Mag, Ibrahim Shebani elaborates on the impact his cultural heritage has on his creations, saying "The idea came from my culture and most specifically, Libya's culture, and it is by far one of the most underrated cultures that only locals know about it well enough despite the fact that it's a very rich culture, full of details and full of art. That's what I wanted to showcase through my brand. You probably noticed that I use a lot of traditional embroidery that is ancient and put on modern garments. The idea came from me noticing a certain gap and lack of Libya's cultural presence in the market. There were no brands from Libya and representation of Libya's art and culture. I wanted to always work in fashion and finally managed to while representing Libya's art."
Shop the look: While Ibrahim Shebani does not have a website for his brand, you can shop some of his creations at Lemonade Fashion and Homegrown Market.
Middle Eastern Designers to Look Out for in 2022
Emirati designer Yara Bin Shakar's primary goal has always been providing the modern woman with fashionable yet practical and on-trend pieces. Her brand is aimed at students and working women who don't want to sacrifice style and elegance for comfort. The pieces in her latest collection all exude a timeless quality that is impossible to upstage.
Yara's creations feature effortless ensembles that can easily transition from day to night with minimal accessorizing. Each garment is immersed in that graceful feminine touch we've come to know Yara Bin Shakar by. While her SS2022 collection has made the shift from her usual modest aesthetic to more revealing pieces, Yara still managed to stay true to her number one mission -empowering women.
Inspiration: "My aim with this collection is to dress young working women or students who want to look stylish [and] at the same time have pieces in their wardrobe that are timeless," says Yara Bin Shakar in an Arab Fashion Week article.
Shop the look: look comfortable and on-trend with Yara Bin Shakar's timeless creations. Get the full look here.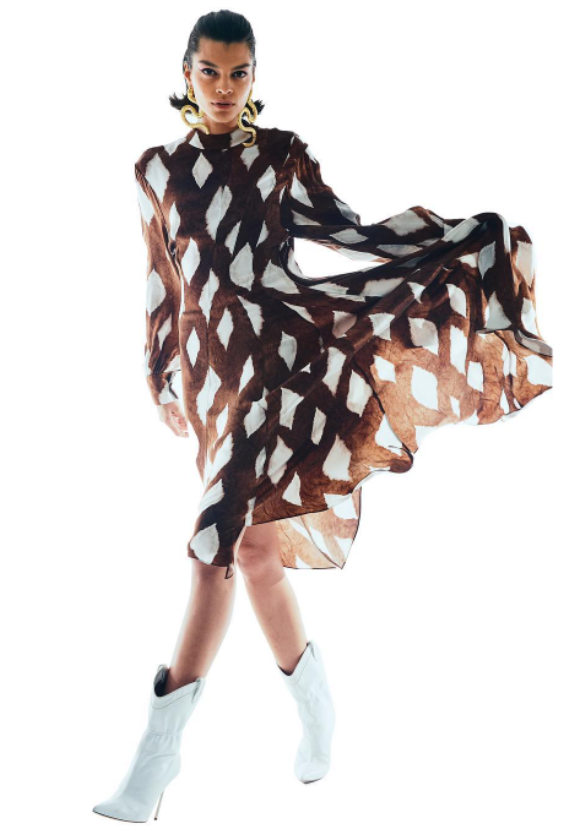 Madiyah Al Sharqi is one of the biggest Middle Eastern designers. She established her brand in 2012 and has since become a fixture in the Middle East. Her latest collection features structured shirts, flared bottoms, tie-dye elements, layered dresses, ruffled pieces, and matching headwear. The color palette is true to Madiyah's love for elegant muted tones and modern yet feminine designs. Her brand encapsulates the modern woman's need for practicality and stylish sophistication.
Inspiration: Madiyah grew up surrounded by high fashion, in her interview with Azyaa Mode, she explains "I grew up exposed to fashion and design thanks to my very stylish mother. I wanted to follow [in] her footsteps which I did and this really affected my style and triggered my passion for fashion." Her collections are rooted in practicality and elegance, Madiyah elaborates "All of my collections have always been a mixture of contemporary wear and eveningwear. I like to provide my clientele with a range of options so I'm not restricted as a designer. At the same time, there are many pieces in the collection that can actually be transformed from daywear to eveningwear depending on how you style it."
Shop the look: Get the signature soft Madiyah look here and elevate your wardrobe with her charming creations.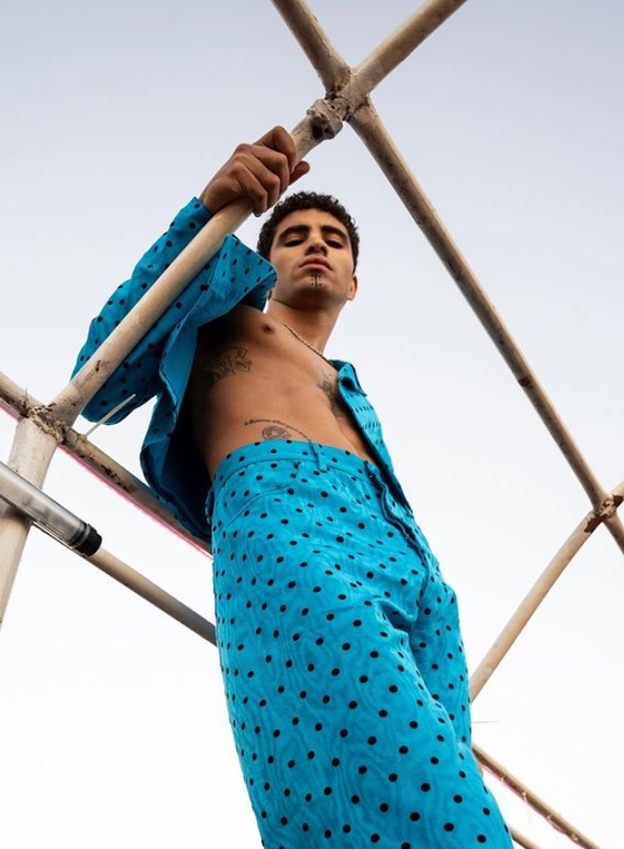 Founder of the independent label "Jeux de Mains", Salim Cherfane is a brilliant up-and-coming Middle Eastern fashion designer. His latest collection embodies playful patterns and vibrant colors that have come to be known as his signature look. Cherfane does not shy away from mixing different motifs and color-blocking to highlight specific aspects of his designs. His pieces have been worn by worldwide celebrities and his brand has transcended its Egyptian roots to gain international acclaim.
Inspiration: In an interview with Jdeed Magazine, Salim explains the inspiration behind his Jeux de Mains brand, "All I wanna do is play. That's my catch phrase. I didn't study fashion design originally, I'm a Graphic Designer who wants to experiment with textile design and patterns. When I applied to STARCH I wanted to create something that had to do with fashion but didn't know what. They helped me direct my thoughts into a brand. That's how Jeux De Mains came to life. The brand is versatile, this way each year I can play with the themes. This year it is fashion, next year who knows… The initial collection is called "Jeux De Gamins" because I felt like representing child games and hand games, experimenting with fabrics, cuts, and colors. Mostly creating something that looks like me: colorful and happy! The whole concept around the collection is centered about being yourself, being comfortable."
Shop the look: Tap into your inner child and unleash your playful side with Salime Cherfane's fun collection. Get the look here.