Three Super Safaris
Dubai
Dubai is more than just futuristic skyscrapers and high-end boutiques. Just miles from the commercial center sits a desert playground of towering sand dunes. A forbidding wilderness waiting to be conquered. Choose your 4×4 Jeep or your 4-wheel ATV (pictured below right), and hair raising thrill
rides over swollen sands are just
minutes away.
Desert Safari Dubai offers several tours including a half day safari, an overnight tour and a camel trek. The most popular is the afternooner with the aforementioned dune bashing, a camel farm visit, sand boarding, camel rides and even henna designing for the ladies.
The tour stops to watch the Arabian Gulf sunset before being treated to a barbecue dinner capped by a shisha (flavored tobacco waterpipe) nightcap and a belly dance show. (Some might consider the belly dance show to be the highlight of the whole experience.)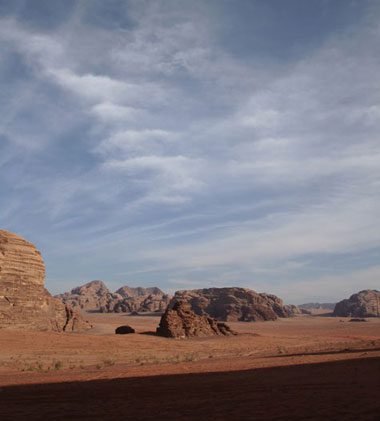 Wadi Rum, Jordan
The stunning desertscapes of Wadi Rum (pictured, above right), 200 miles southwest of Amman, Jordan, rank among the greatest on Earth. The place where Lawrence of Arabia led the Arab Revolt in the early 1900's remains an untouched land ready to be discovered anew. The sandy desert, swept with majestic sandstone formations invites the eyes and soothes the soul. Faces of most mountain facades can be climbed by the amateur and out-of-shape as well as the adventure traveler.
On your two-hour drive to the Captain's Desert Camp experience, each twist and turn reveals a new sight rearing up endlessly into the sky. Bedouins live there as they have for centuries, herding their sheep, using only the sun as their clock and remaining the soul of Jordan's heritage.
Once at the camp, you feel what it might have been like as a Bedouin living with nature. Authentic food cooked in the ground for hours awaits your taste buds, and sleeping in the great goat's hair tents provides a wonderfully restful night's sleep under the crisp desert moon.
The greatest pleasure, however, is rising in the darkness of the morning, surrounded by silence. All of the city noise that washes away peace is gone. There you are allowed to discover yourself with your thoughts taking center stage.
Sultanate of Oman
For approximately $500 US, Nomadic Adventures & Tours takes you and a companion on a 4 day-3 night nomadic tour (pictured above) around the capital of Muscat, Al Mudayrib and Wahiba Sands, offering unreal scenery guarded by ancient watchtowers.
Phone: +968-99336273
Email: nomadiccamp@gmx.net