Scaling The Heights of Luxury Rail Travel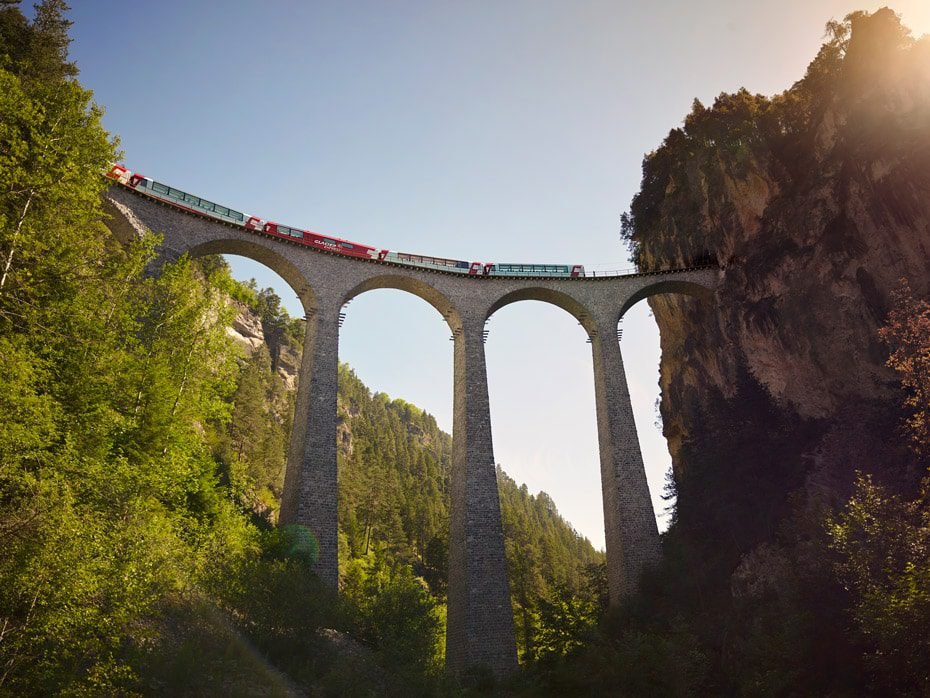 Glacier Express' recently launched "Excellence Class" recalls old school luxury rail travel while adding in current design and high-tech features to better appreciate Switzerland's timeless way of life.
Since 1930, Swiss Rail has brought the lyrical beauty of Switzerland's countryside through the "Glacier Express." Over the course of seven hours "the world's slowest high-speed train" ambles leisurely between winter sports paradise Zermatt and the posh mountain playground of St. Moritz presenting travelers a physical and sensory immersion into the natural, historic, and UNESCO-designated wonders of the Alps.
However, the top brass of Swiss Rail raised the stakes by launching "Excellence Class" service. This luxury package, running around $700 U.S. per person, transforms an already unforgettable "bucket list" train ride to an epicurean experience accompanied with an iPad loaded with mix-and-match guided tour options to add depth and context to the views outside. The interior design is a 21st century version of "Oriental Express" Art Deco glamour, down to a sparkling bar serving top shelf liquors, classic cocktails, French champagne and Swiss wine (as well as nice non-alcoholic libations) and dramatic windows that run up to part of the ceiling. The bathroom, meanwhile, rivals those found in most airline business class cabins, with a marble sink, hardwood interiors, and deluxe amenities including an essential oil roll-on.
Tea and coffee service starts the journey, and even if you are a coffee drinker, don't miss the opportunity to try a flavor or two of the tea, crafted by Glattfelder, a family-owned St. Moritz company noted for their use of hand-gathered aromatic herbs and fruits from the Alps. About 90 minutes in, a multi-course lunch begins with savory appetizers, including glass mini-tarts holding soft cheese and steak tartare along with a small portion of seasoned nuts. The presentation and wow factor sustains through most of the ride with the attention to detail that would be expected in a top tier hotel's dining room. About 20 minutes later, a flavorful Pea Mint soup is poured and accented with dried alpine flower garnishes that suits the outdoor setting as the train begins to snake around villages and into higher elevations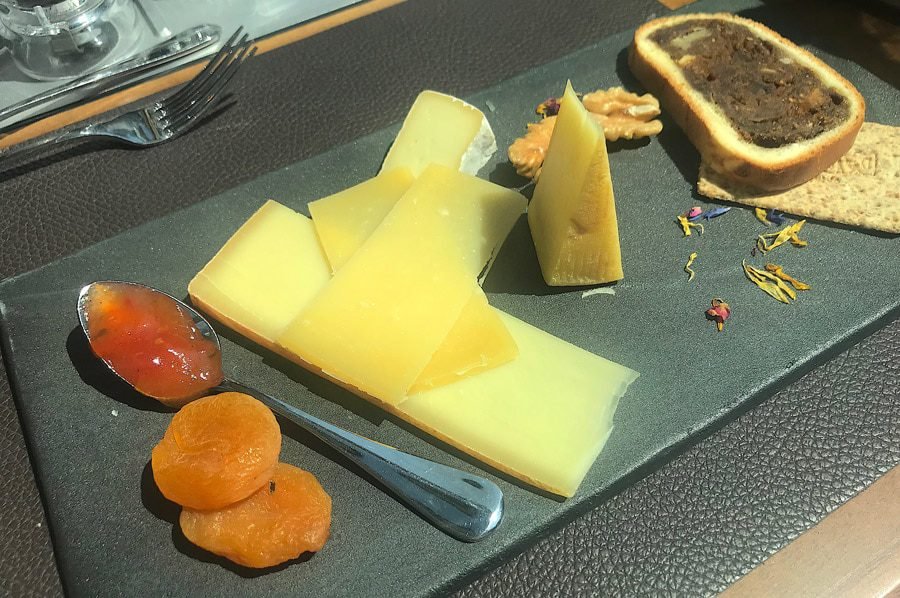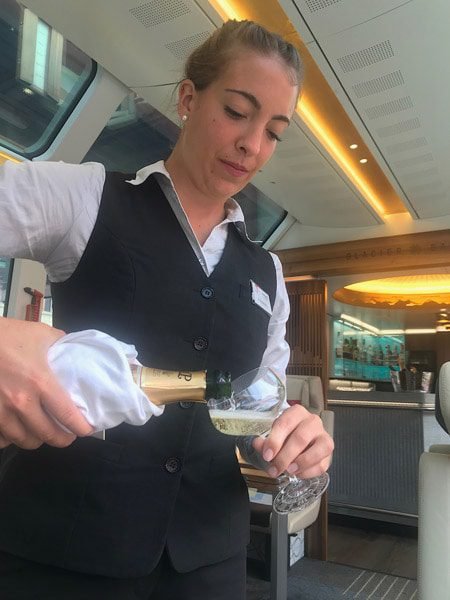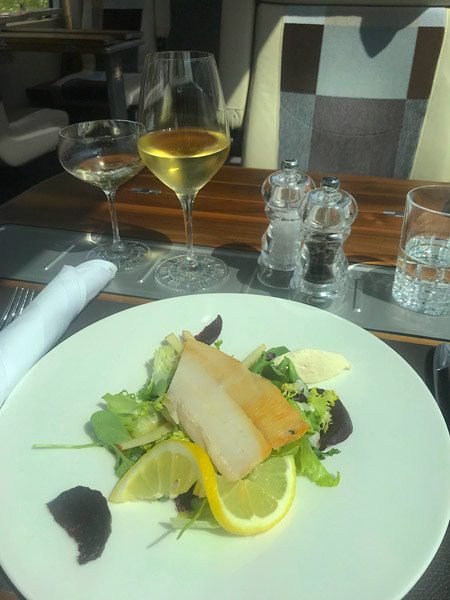 "Traveling aboard the Glacier Express is something very special, no matter what class car you are riding in, especially on a day like today with blue skies and sunshine," informs Tim Uebersax, director of catering for the Glacier Express whose resume also includes Relais & Chateau, and SWISS airlines' Business Class Catering. "When the multi-course meal is added in, especially in the way we prepare and serve the courses in the Excellence Class, it becomes something more meaningful when traveling with a spouse, parent, or other family members on a special occasion. You are waited on, and you get to see a big part of Switzerland in six hours while tasting what comes from it."
Given Switzerland's short growing season, dishes will be simple and uncomplicated. However, careful selection of organic ingredients from small producers and preparation style that shows what makes ingredients from these cantons (regions) uniquely Swiss is what makes the permanent signature dishes special whether they are savored in Excellence Class, or ordered a la carte or as a three-course in First Class. If you have dietary restrictions or are vegetarian, no problem, as you can custom tailor your culinary adventure as you book it in advance.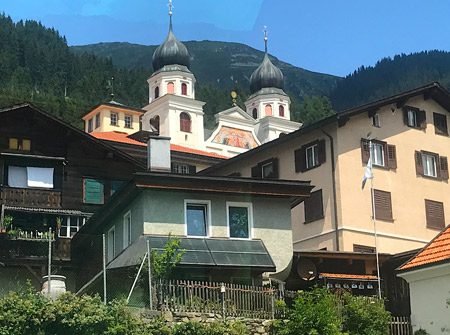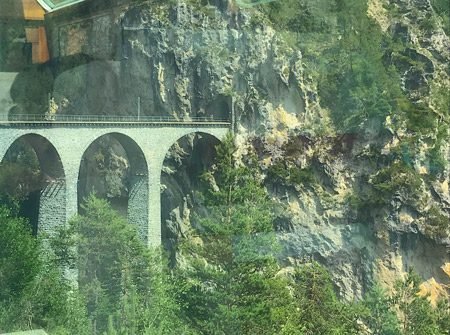 As the train rolls deeper into the Alps, the dishes uncannily match up with the visuals outside the panoramic windows. The main course, Swiss Beef Tenderloin, is accompanied with mashed potatoes and just a hint of truffle oil, carrots, spring onions and gravy with mountain herbs. A half hour later, a regional cheese plate with Graubunden mountain cheese, sliced Aletsch Cheese and organic Langwiser sheep milk cheese is served along with tomato apricot chutney, pear bread and hearty wheat crackers. Shortly after the Landwasser Viaduct takes the passengers' collective breath away, about an hour outside of St. Moritz, warm chocolate cake with vanilla sauce and roasted almonds arrives on cue and is as luxurious as St. Moritz's reputation.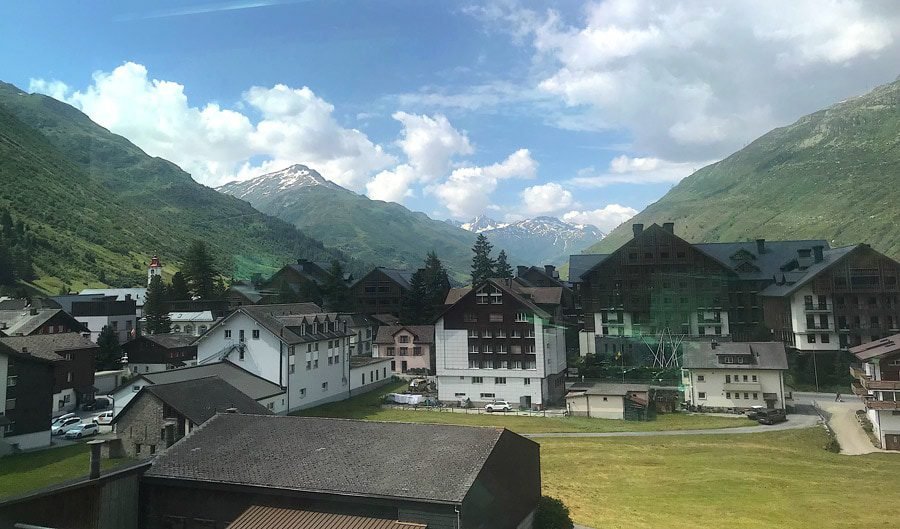 The journey concludes after the presentation of coffee, tea and petit fours, and after seven hours of idyllic farms and villages, I actually find myself a little sad that the journey is coming to an end. It brought up a memory of my father, who passed away this past January, describing his experiences in Switzerland during his 1968 honeymoon with my mother. After visiting quaint towns and villages like the ones the Glacier Express passes through, he was a bit envious of the locals' calm way of life and their ongoing contact with nature. He also described wonderful meals he had when they visited my mother's friends from an earlier trip—simple, elegant and rooted in earthy flavor. …down to those herbal teas! Even with the Excellence Class being a new thing aboard the Glacier Express, it certainly does capture the timeless appeal of Switzerland's natural assets.