New Decade New You
These new face and body medi-spa treatments will have you looking better than ever.
While the start of a new decade only happens every ten years, we can count on a birthday coming around year after year. What should be a day of joy and celebration is often met with dread. Creams, potions and magic spells to preserve beauty is as old as time itself and entrenched in our psyche. To make matters even more complex, many people of all ages feel more pressure than ever to conform to unrealistic standards.
I guess we can blame social media. Many plastic surgeons and dermatologists seem to think so. "I believe having 24/7 access to visual platforms such as Instagram and Snapchat really puts this into the forefront of our minds," says Dr. Demetri Arnaoutakis of the Lasky Clinic in Beverly Hills.  New York Facial Plastic Surgeon Dr. Andrew Jacono agrees: "In many ways, the cell phone and the selfie have drastically changed how people think about their appearance," he states.  Industry wide research and trade publications have noted a drastic increase in those seeking procedures of all kinds, including requests to look like a favorite celebrity or Instagram model, with many doctors noting an increase in younger patients concerned with prevention
There is a lot more to wanting to look our best other than the desire to be a carbon copy of someone else or a fantasy world of social media make believe.  Looking more youthful can not only boost confidence, but more acceptance and recognition in both one's career and social life.  Dr. Monica Bonakdar, founder of a prominent Orange County CA cosmetic dermatology practice, believes some enhancements can have a profound and life-changing effect.
"The modern person who looks young and vibrant will have an easier time attaining more desirable jobs and more social power," affirms Bonakdar, who has observed the discontent many express with their appearance regardless of age or gender, particularly with the current hyper-focus on selfies and filtered photos.
Unlike in the past, however, much of the stigma of disclosing a procedure has been lifted.  In fact, many are publicly proclaiming what injections they get regularly or even what's been tweaked a little here and there.
"With the rise of social media, celebrities and influencers even promote their favorite doctor for the treatments they undergo. This in a way has removed the "taboo" label of cosmetic injections and even surgeries." Dr. Demetri Arnaoutakis
The good news is there are more possibilities than ever before. With new innovations consistently becoming available, you've got options.  Lots of them. There's no better way to ring in a new decade then looking on the outside the way you feel on the inside.  To help you sift through the often baffling plethora of possibilities, here is what the experts say are the latest non-invasive cosmetic treatments this year.
Hello Jeuveau
What goes around comes around. What's old is new again.  Whatever expression you choose, Jeuveau is the first botulinum toxin introduced in a decade. Like its competitors, (Botox, Dysport, Xeiomin) Jeuveau is injected into the muscles to soften the appearance of frown lines (glabellar) between the eyebrows.  Unlike Botox, however, Jeuveau is not authorized for ancillary medical purpose, such as migraines, which translates to a lower price point.  Already nicknamed "Newtox", Jeaveau's marketing campaign is targeting a younger customer who wishes to prevent wrinkle formation, however the product is equally effective for patients of all ages with comparable results to the other brands.
Good as Gold
Baby-Botox.  Botox-Lite. Micro-Botox. All nicknames for a revolutionary new treatment that can deliver teeny tiny amounts of a neurotoxin or filler minus the injection.  A mico-needling tool of 24K gold with needles smaller than hair follicles, it infuses skin for a firmer and smoother appearance. It also shrinks pores and can diminish acne scars. 
The Hands That Time Forgot
You can inject or laser your face all you want, but youthful hands are equally important, and can be a dead giveaway if not.  Until now, unsightly hands could only be treated with dollops of lotion or keeping hands hidden.  If you were praying for a cure, someone heard you. Restalyne Lyft is the only FDA-approved injectable hyaluronic acid filler to add volume to back of the hands.  And since it has already been in use to add fullness to the cheeks and midface, you can do it all in one appointment and proudly show off your bling-y rings the same day.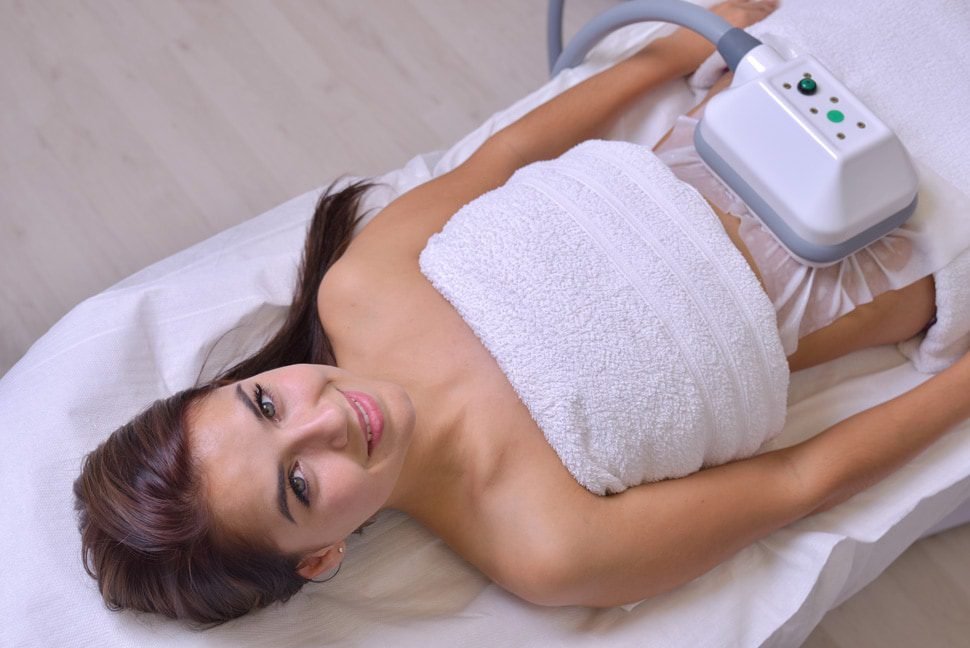 Hips Don't Lie
Liposuction has a new rival, and it doesn't require anesthesia or recovery. EMSCULPT is the newest FDA-approved device to build muscle and sculpt the body using highly-focused electromagnetic energy to initiate muscle contractions.  These energy driven contractions, the equivalent of 20K sit-ups (try that at the gym), help to build muscle tone and break down fat on the treated area.  The result is a deep remodeling of the inner structure for a markedly firmer and leaner appearance.  A series of four 30-minute treatments is the standard protocol for optimum results.
Facial Fine Tuning
Energy-delivered skin treatments are all the rage and constantly improving, particularly in the realm of skin resurfacing.  In the past, these methods could have harmful side effects, and in some cases, cause permanent damage. The latest and greatest advancement, Morpheus8, is safe for all skin types and tones. Penetrating deep into the skin, Morpheus8 is a fractional micro- needling device that utilizes radiofrequency energy to reshape and contour the face and body via subdermal adipose remodeling. Common treatment area include jowls, bra or back rolls, sagging knees or neck, and even acne and scarring.  Effects are long-term with minimal downtime.
Also considered a face remodeling miracle, Sculptra has been on the market for a few years but is quickly gaining traction as it is becoming more widely known.  A powerful collagen stimulator, Scultrpa is administered via a series of injections several weeks apart.  By stimulating the body's own collagen, tissue is allowed volumize gradually with results lasting up to several years.  A bio-activator made of poly-lactic acid, Scupltra is most commonly used for hollowness in the cheeks and temples due to age or significant weight loss.  It is also known to treat wrinkles and folds in the neck and decollaté.
Leave Your Bags Behind
We put our doctor experts on the spot and asked them which treatment they would choose for an immediately revitalized appearance. The consensus? A brighter and refreshed eye. "Since your eye and brow areas are often first to show signs of aging, my go-to procedure is a  hyaluronic acid filler under the eyes, which rejuvenates the under eye hollows resulting in a fresh, energized appearance," Jacono explains.  The filler stimulates the appearance of thicker fat pads under the eye, eliminating the tired "eye bag" look.  Restalyne and Juvederm are the most commonly used for this treatment.