Graffiti Joins The Fight
A bold young artist turns the tables on repression.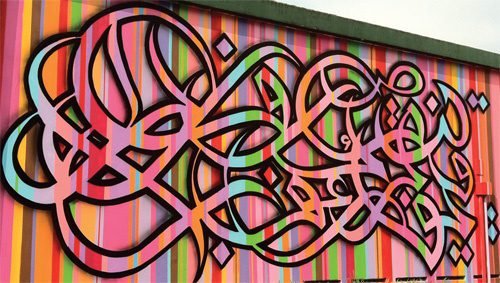 The Arab Spring, which first started flaring up in Tunisia and then in the blink of an eye spread across the Middle East, became a massive historic movement as a growing fight for freedom, fought by idealists from every walk of life – including the international art world. And El Seed, the noted Parisian-bred graffiti and spray painting artist of Tunisian descent, has concentrated a good part of his time on Tunisia's struggle for freedom.
In an exclusive interview with ALO, he talked to us from Doha, where he has been on a project called El Seed in Doha, in which his meaningful murals stretch along the walls of four 650-ft. tunnels, part of a newly constructed highway. His purpose is to demonstrate such important factors as identity, education and history which lead to peace.
El Seed's work of art in his assignment in Doha.
"Graffiti and spray painting are considered a part of hip hop culture and are to the art world the same as hip hop is different from other types of music, "he says." This art form has a long tradition as part of an underground subculture shunned by the mainstream. It is very liberating and most malleable. You can take it in so many different directions. You can paint outside, inside, on a large scale or super-sized. You can mold it into whatever you want."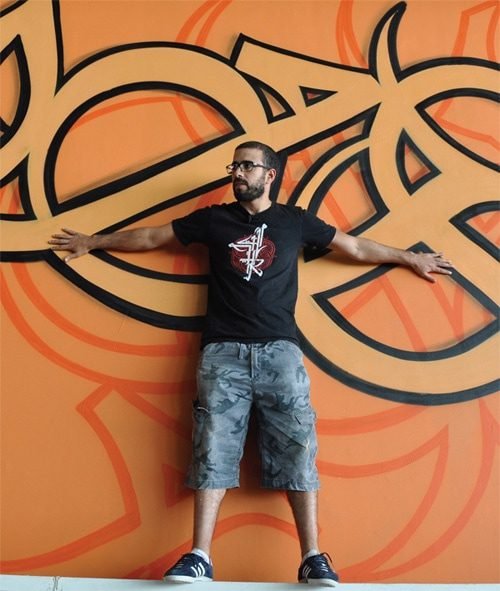 El Seed posing in front of his first mural in Doha.
El Seed
, who won't reveal his real name, explains, "When I was growing up, I was surrounded by nothing but hip hop, break dancing and graffiti. I had always been interested in art, mostly drawing and painting, and being in this environment in the Parisian suburbs, graffiti was a natural progression for me the moment I was exposed to it," he says. That interest grew, because he was already passionate about the aesthetics of Arabic calligraphy which he had been studying along with the language. "That's when it occurred to me" he says, "that I must go and rediscover my Tunisian ancestry. Before I knew Arabic calligraphy, I had treated graffiti as just a passing hobby. But it all changed as my love for calligraphy grew deeper. From then on, it became an inseparable part of my psyche, and I began to believe that it was the only way I could help keep the Tunisian efforts for change alive."
This idealist artist's murals often receive greater recognition for the very fact that they express a need to live in peace while respecting others. So when he was invited by a community-based organization Al Khaldounia to paint in Tunisia, he said, "Yes, but on one condition." He wanted to paint in his ancestral town of Gabes.
And when the tallest minaret of the main Jara mosque needed a color revamp, and the Imam agreed on the project, El Seed was, in his own words, simply over the moon.
The two walls were so immense that the scale was daunting. "It was definitely a steep learning curve on many levels. Its message written up front in Arabic calligraphy was clear. I picked up that verse from the Holy Quran based on its teaching of tolerance."
When asked where he had studied art, El Seed said his formal education was in business. "I have never taken an art course nor studied Arabic calligraphy. I learned on the streets with friends and mentors such as French graffiti artist Hest 1, who I highly respect, as well as friends and fellow artists such as Sundus Abdul Hadi and Shuck 2, one of the first in France to have used Arabic in graffiti. El Seed, who in his twenties moved first to New York and then to his present home, Montreal, has now reached a point in his career where he is funded by various foundations and cultural institutions worldwide and is often invited to do workshops or murals. His works have appeared in France, Germany, Canada, US, UK, Brazil, UAE, Tunisia, Kuwait, Saudi Arabia, South Africa and in many international publications.
The tallest minaret of the Jara Mosque.
"My messages change with the community I work in," he explains. "I try to bring something relevant to a place where I paint. Throughout all my work, I try to talk about topics that are often ignored or overlooked, and just by bringing graffiti and Arabic together, I think this brings forward a message that is slightly different than what is usually seen."
Asked how free or constrained the artists were in Tunisia before the Arab Uprising, he muttered, "Art was something reserved for the upper echelons of society. During the uprising, art took to the streets and has brought new visibility to graffiti and street artists, and this also produced new ones. I don't think artists are any more 'free' than they were under the Ben Ali regime, but I think that there are new socially accepted ways of appreciating art now, and that a lot of art is now branching out under the umbrella of free speech, which thankfully is returning to Tunisia. It's helping its people move forward and catch up with the rest of the free world.
When I went back to Tunisia last year, I found people fearlessly debating various issues. They spoke a lot more openly— suddenly everybody had an opinion about everything. I think this was the biggest change I saw, and the taboos especially about politics were nowhere evident. Tunisians are finding a new normal though it will take time to get there.
"At a time when the art world revolves around Western-oriented trends, I am proud to say that my works of art are rooted in Arabic customs. I feel very pleased. I hope I can maintain the work I do and continue taking it to new heights – both literally and figuratively."