'Eau d'Arabia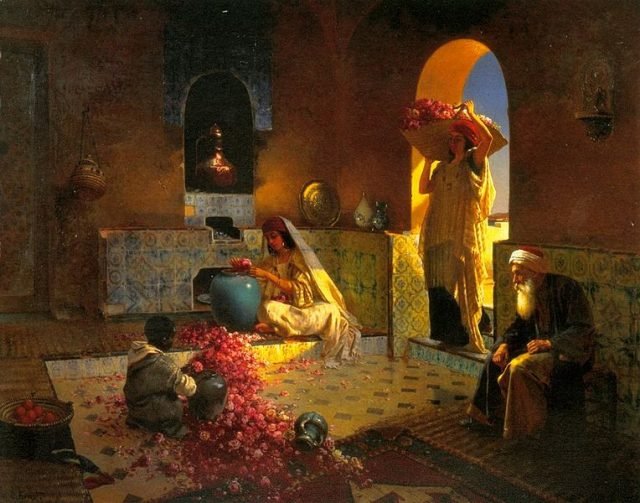 After thousands of years, Middle Eastern perfumery continues to fascinate.
Ancient trade routes of silk and spices. A gentle desert wind echoing with the trails of a rose taif from billowing robes. Love letters exchanged behind gated walls made all the more tempting with kisses of jasmine and myrrh. The allure of Oriental perfumery has conjured enough fantasy and fairytale to fill a second edition of The 1001 Nights. The truth is, Arabian perfumery is not only not born of a fictional world of earthly desires, but is indeed a well-documented practice of complex chemistry and skill that predates the Western world by millennia. It has set the foundation of modern perfume making, with recipes that are still in use.
In the Beginning
A Cuneiform tablet found in Mesopotamia dating to 1200 BCE depicts the life of Tapputi and her female colleague. Holding a high status in the Babylonian royal palace, the world's first recorded chemist and perfume-maker was a woman. Used primarily in religious ceremonies, her role and stature were of high significance. She devised procedures and techniques for scent extraction and distillation that lay the basis for all who would proceed her.
Two Arab chemists of the early middle ages can be attributed to the first incarnation of a perfume industry. Jābir ibn Hayyān and Al-Kindi founded many modern techniques which facilitated the collection of botanical aromas into a vapor that could be collected in the form of water or oil. Al-Kindi was especially influential with an extensive cache of research on ingredient combinations and recipes used for perfumes, cosmetics and pharmaceuticals.
Liquid perfumes were still a mixture of oil and crushed herbs before a Persian doctor and chemist known as Avicenna began to experiment with roses. His tenacious progression by trial resulted in the craft of extracting oils from flowers by distillation, which is the most frequently used process today.
From the courts of Al-Andalus in the west to the Crusaders returning from the east, Arabian perfumery made its way into Europe. While importing and exporting between continents continued, it took a prominent 18th century Italian woman marrying a French prince to give birth to a European perfume industry, most notably in France.
Modern Interpretations
Oriental influences have always been present in European fragrances, with sensibilities and trends shifting through the decades. But thanks in no small part to the tremendous buying power of the GCC, luxury market Oriental fragrances now amass a large segment of the commercial fragrance marketplace, with many European and American manufactures creating fragrances for the Middle Eastern market.
With so many new fragrance releases each year, we've selected a few that superlatively marry the ethos of both Middle Eastern and European perfumery into exceptional olfactory impressions.