Food At Your Fingertips
Call it fast food if you like, but your stomach will tell you otherwise. Read on to see our choices for the best from across the globe!
Falafel
The pursuit of the best vegetarian sandwich makes stops in Philadelphia, New York and Los Angeles.
Taïm, in the New York's West Village, offers tasty fried chickpea croquettes in its fresh pita from a cute shack. Don't be frightened by the lines; they move fast and the rewards are more than fulfilling. Three different samplings: roasted pepper, harissa and cilantro-parsley-mint, tempt and treat.
222 Waverly Place, Manhattan;
Ph: (212) 691-1287.
Maoz Vegetarian in Philadelphia offers the new age approach to falafel, allowing you to individualize your sandwich with its self-serve salad bar guaranteed to make yours one-of-a-kind. The extra tahini, slightly green cabbage, and black olives, tabouleh, pickled turnips and a dash of salt is our favorite.
248 South St., Philadelphia;
Ph: (215) 625-3500.
Last but not least, is Westwood's own Falafel King. A favorite of UCLA students, it is also home to the upscale folks who want to go back to their college roots with good food at inexpensive prices. Revered for its simplicity—steaming hot pitas with tahini sauce, lettuce and tomato—the taste represents the best L.A. has to offer, which is a bold statement in a city where falafel shacks are seemingly everywhere.
1059 Broxton Ave. Los Angeles;
Ph: (310) 208-4444.
Make your own Falafel
Make the good stuff right in your own kitchen. Fast, easy and tasty!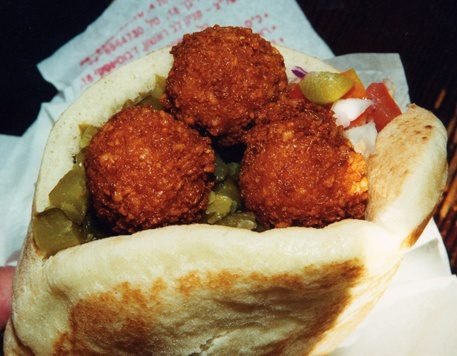 1 cup dried chickpeas (garbanzo beans) or 16 oz. can chickpeas
1 large onion, chopped
2 cloves garlic, chopped
3 tablespoons fresh parsley, chopped
1 teaspoon coriander
1 teaspoon cumin
½ teaspoon baking powder
Salt and Pepper
Oil for frying
1 cup dried chickpeas (garbanzo beans) or 16 oz. can chickpeas
1 large onion, chopped
2 cloves garlic, chopped
3 tablespoons fresh parsley, chopped
1 teaspoon coriander
1 teaspoon cumin
½ teaspoon baking powder
Salt and Pepper
Oil for frying
Place dried chickpeas in a bowl, covering with cold water. Allow to soak overnight. Omit this step if using canned beans.
Drain chickpeas and place in pan with fresh water. Bring to a boil. Allow to boil for 5 minutes, then let simmer on low for about an hour.
Drain and allow to cool for 15 minutes.
Combine chickpeas, garlic, onion, parsley, coriander, cumin, salt and pepper (to taste) in medium bowl. Add baking powder.
Mash chickpeas and other ingredients together into a thick paste. You can use a food processor for this.
Form the mixture into small balls about the size of a ping-pong ball. Slightly flatten.
Fry in 2 inches of oil until golden brown (5-7 minutes).
The simple delight that only three words can bring to any table.
Those of you who have experienced the pure joy of lunching on lahm bi ajine (Armenian pizza, paper-thin dough, with tasty meat, tomatoes and spices) in Lebanon or Armenia, know the utter delight that these three words bring to any table. There are so many good places to eat in those two countries that we don't have to name them. You simply can't go wrong there.
Outside is an entirely different matter, with charlatans peddling their would-be treats to an unsuspecting public. You can't find a good lahm bi ajine just anywhere in the U.S. But we found a real gem just steps from Michigan Avenue in the heart of Chicago's thriving Streeterville neighborhood. Sayat Nova's earthy Mediterranean spread is just the right blend of everything good and tops our list because they have been doing it right since 1970. Located at 157 E. Ohio St., Chicago 60611; Ph: (312) 644-9159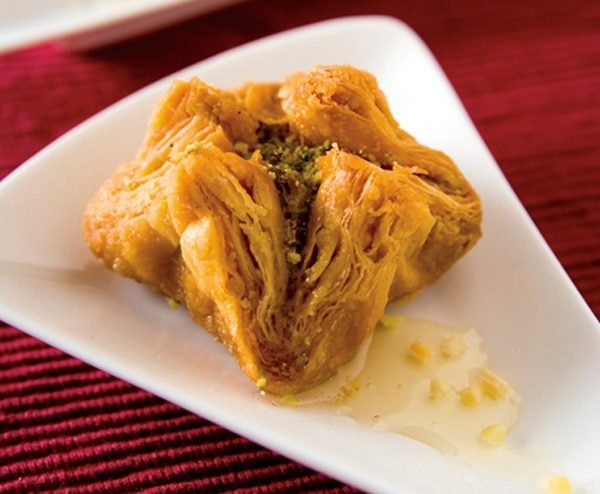 Have you ever experienced crepe paper-thin pastry basted with purest butter, embraces fresh nuts and an engaging sugar syrup? Find the best here.
Those crepe paper-thin pastry basted with purest butter, embraces fresh nuts and an engaging sugar syrup are calling you now!
It comes after dinner when your stomach is full, and just begs you to over eat. It's Baklava and there's only one place on earth that does it quite like Shatila, in Dearborn, Michigan, with most products available over the Internet. The Shatila staff bakes everything on site and offers Baklava so good that lots of people drive from all over the region just to taste a batch fresh from the oven.
14300 W. Warren, Dearborn, MI;
Ph: (313) 934-1520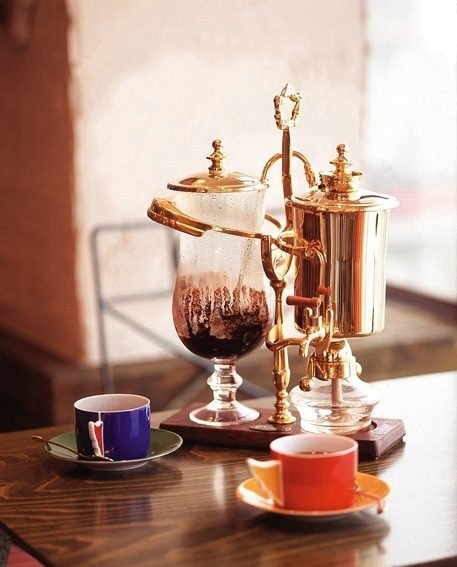 Ahweh
Call it whatever you want: Turkish, Lebanese, Arabic, Greek, Ahweh. However you call it, you can't find it at your local Starbucks or Coffee Bean. We can't get enough of those coffee grounds that are deliberately drunk along with the coffee and brewed with the sugar, rather than sweetened after brewing.
Most Middle Eastern restaurants offer it, but few perfect it. We found a few:
L.A.'s Bourgeois Pig Coffee- house
, with its shabby chic Moroccan Room, marries Arabia with the smokey blue atmosphere usually associated with our neighborhood coffeehouses. The budding writer or poet will find solace in the pungent flavors brewed here along with the free wireless Internet hookups. Creative thoughts simply fly from your head to the keyboard, fueled, of course, with caffeine power. Try the tea too—Moroccan mint being the choice here.
5931 Franklin Ave., Los Angeles, CA;
Ph: (323) 464-6008.
The bright red walls at the Gypsy House Cafe are just a hint of the truly imitable atmosphere marked by tapestries, plants and authentic Middle Eastern wall hangings. But the coffee fully embraces the Turkish proverb: "Coffee should be as black as hell, as strong as death, and as sweet as love." And that's what keeps the faithful pouring back in.
1279 Marion St, Denver, CO;
Ph: (303) 830-1112.
In the cozy college town of Cambridge, Massachusetts, Andala Coffee House stands out above the crowd with traditional islamic decor and amazingly large windows to watch the world pass by. The owners seamlessly blend Arabic-style brews amongst regular espresso and tea favorites to lure a mixed crowd of Middle Easterners and Americans. The enticing background music also beats to a cross-cultural crowd, which makes this East Coast experience a real multicultural affair. Peace. Out!
286 Franklin St., Cambridge, MA;
Ph: (617) 945-2212.
At Natashas Cafe (check website or toll free (888) 901-8412) you can get everything you need to make your own brew at home. The Millennium gift set is simple and romantic for two, including a double ibrik (that's the small copper brewing pot with the long handle), quarter pound of coffee (Turkish, Cairo and Africa blend), recipes, and demitasse cups and saucers. $40.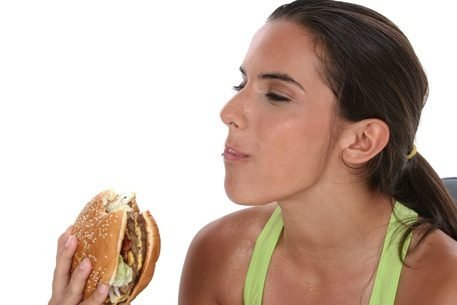 Cheeseburger
The line made famous by John Belushi on Saturday Night Live has a whole new meaning (and place to find them)!
The hamburger at Barbar in Hamra, Beirut (Ph.: +961 1 348814), served on a simple sesame seed bun, well-done with a mayo-laced side of cole slaw, is years ahead of its time and has not been duplicated anywhere it seems. Expats from Lebanon boast of its great flavor and unbeatable price (around $4.50). Those of us lucky enough to venture into Beirut know what we are talking about.
The closest we can find here in the States—as well as exotic stops in Bahrain, Kuwait, Qatar and the UAE—is Johnny Rockets. The international chain spreads its All-American flavor, complete with creamy milk shakes' classic 50s charm all over the world. It is especially appealing to the Middle Eastern crowd looking for more flavor and less drive-thru. Ph: (+961) -1- 348-814