Couture Calling: Fall Fashion 2019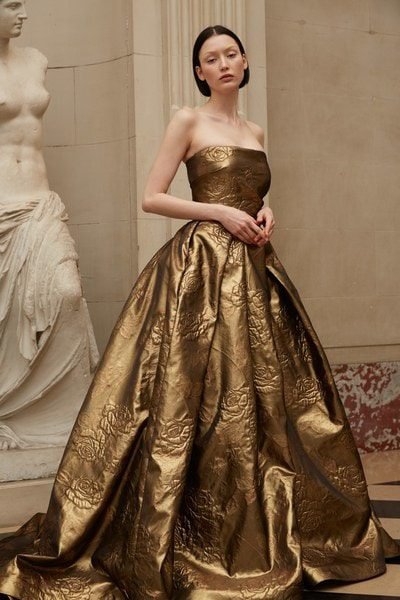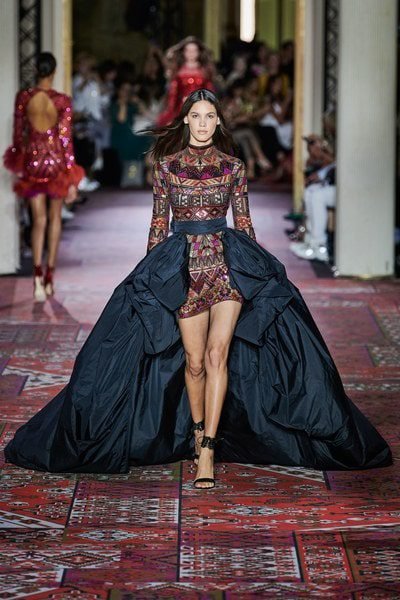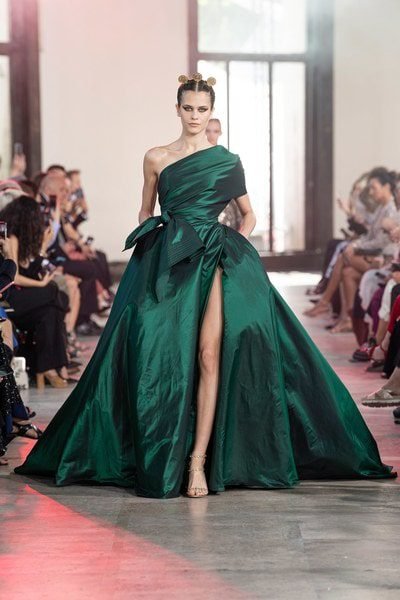 A Fanciful Feast for the Eyes
A round of fashion decade roulette, anyone? Or Pick Your Favorite Century, perhaps? Either way, if you like your fashion an intercontinental melting pot sprinkled with a blast from the past, Fall 2019 is your year.
Merging the 90's and the 19th century is one such trend. Think transparent black lace plus copious sheets of precious fabric paired with elements of grunge, such as combat boots, chokers, and chain-link accessories.  The 1980's makes itself loud and clear appearances of colored tights, neon, and updated power suits with some seriously sexy swagger.
From the 70's, the trend is long layers of knits in fun color pairings such as green and yellow, as well as a reinterpretation of lamē in sleek silhouettes. Going back a few centuries, romanticism reinvented with a sly wink to boudoir chic is pervasive. Think bustiers, lace collars, capes and poufy sleeves.  Dark and moody florals in rich brocades are also on hand to temper any saccharinity.
Renowned and loved for her unwavering, and often over the top, femininity, her famous frills are toned down a few notches this fall. Far from skimping on luxury, the collection drips in uninhibited splendor. From velvet and/or beaded crop tops and bustiers, to armor-plated gowns, the collection is an exercise in belle epoch perfection with a Hollywood femme-fatale thrown in for measure.
Global boho-style devotees can breathe a sigh of relief. Zuhair Murad sustains the rich-hippie aesthetic with his Morocco as muse fall couture collection. The Beirut-based designer fell in love with Marrakesh on his recent inaugural visit and his imagination runneth over, teeming with a souk's worth of pigment and wild imagery.
With more than a wink to 1970's YSL, a Moroccan rug served as the runway for the eclectic pastiche of mosaics and tiles reordered to elaborate dresses and pantsuits festooned with intricate beadwork in tattoo motifs upon layers of silk chiffon and taffeta. The ubiquitous thick, raised headbands that are reminiscent of a bridal taj served as the element of required kitsch that will no doubt be making its presence in malls everywhere.
The East/West trope continues. Elie Saab takes us on a magnificent journey juxtaposing saturated and celestial hues to an elevated mindfulness. Simultaneously channeling The King & I and Shogun, the collection is in turns romantic, courtly, and majestic. One-shouldered kimono-sleeved gowns and robes with thigh-high slits were proceeded by powdery-hued ball gowns with sequin and beadwork that appeared to float on air. There were bead-free gowns in shades of ruby, jade, and aubergine that were so rich one could drown in their glory. Lavishly executed embroidery and wide cinching waist belts are key elements that will be seen on this season's ready-to-wear.